About the map
This Florida county map displays its 67 counties, which rank 21st highest for the number of counties. Some of the most populated counties in Florida are Miami-Dade, Broward, and Pinellas.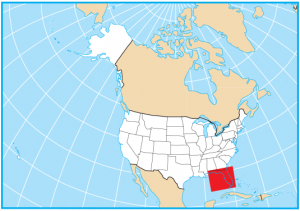 The state capital of Tallahassee is located in Leon County. But it's nowhere close to being one of the most populated cities in Florida. That would be Jacksonville in Duval County, part of northeast Florida.
For size, Palm Beach County on the east coast is the largest with an area of about 2,034 square miles. But the smallest is Union County occupying an area of just 240 square miles. For population, Miami-Dade County is the largest with over 2.7 million people. But Liberty County and Lafayette County have the lowest population with less than 10,000 residents.
Florida map collection
You are free to use our county map of Florida for educational and commercial uses. Attribution is required. How to attribute?
Florida county list
| County Name | Population (2020 est) | County Map | Area (sq mi) | Locator Map | FIPS Code |
| --- | --- | --- | --- | --- | --- |
| Alachua County | 271,218 | Alachua County | 968.7 | Alachua County Map | 12001 |
| Baker County | 29,566 | Baker County | 588.9 | Baker County Map | 12003 |
| Bay County | 171,322 | Bay County | 768.5 | Bay County Map | 12005 |
| Bradford County | 28,593 | Bradford County | 300.3 | Bradford County Map | 12007 |
| Brevard County | 608,459 | Brevard County | 1049.5 | Brevard County Map | 12009 |
| Broward County | 1,958,105 | Broward County | 1218.8 | Broward County Map | 12011 |
| Calhoun County | 14,078 | Calhoun County | 574.3 | Calhoun County Map | 12013 |
| Charlotte County | 194,711 | Charlotte County | 702.9 | Charlotte County Map | 12015 |
| Citrus County | 153,010 | Citrus County | 628.7 | Citrus County Map | 12017 |
| Clay County | 221,770 | Clay County | 619.5 | Clay County Map | 12019 |
| Collier County | 392,973 | Collier County | 2037.6 | Collier County Map | 12021 |
| Columbia County | 72,654 | Columbia County | 801.2 | Columbia County Map | 12023 |
| DeSoto County | 38,520 | DeSoto County | 639.3 | DeSoto County Map | 12027 |
| Dixie County | 17,057 | Dixie County | 714.1 | Dixie County Map | 12029 |
| Duval County | 966,728 | Duval County | 776 | Duval County Map | 12031 |
| Escambia County | 322,364 | Escambia County | 666.2 | Escambia County Map | 12033 |
| Flagler County | 118,451 | Flagler County | 506.3 | Flagler County Map | 12035 |
| Franklin County | 12,201 | Franklin County | 550.6 | Franklin County Map | 12037 |
| Gadsden County | 45,277 | Gadsden County | 528.3 | Gadsden County Map | 12039 |
| Gilchrist County | 18,885 | Gilchrist County | 355.3 | Gilchrist County Map | 12041 |
| Glades County | 14,198 | Glades County | 987 | Glades County Map | 12043 |
| Gulf County | 13,534 | Gulf County | 568.7 | Gulf County Map | 12045 |
| Hamilton County | 14,521 | Hamilton County | 519.3 | Hamilton County Map | 12047 |
| Hardee County | 26,822 | Hardee County | 638.3 | Hardee County Map | 12049 |
| Hendry County | 42,813 | Hendry County | 1189.8 | Hendry County Map | 12051 |
| Hernando County | 198,792 | Hernando County | 490.2 | Hernando County Map | 12053 |
| Highlands County | 106,639 | Highlands County | 1106.3 | Highlands County Map | 12055 |
| Hillsborough County | 1,497,957 | Hillsborough County | 1071.8 | Hillsborough County Map | 12057 |
| Holmes County | 19,594 | Holmes County | 488.8 | Holmes County Map | 12059 |
| Indian River County | 162,518 | Indian River County | 514.7 | Indian River County Map | 12061 |
| Jackson County | 46,085 | Jackson County | 952.3 | Jackson County Map | 12063 |
| Jefferson County | 14,543 | Jefferson County | 612 | Jefferson County Map | 12065 |
| Lafayette County | 8,482 | Lafayette County | 548.1 | Lafayette County Map | 12067 |
| Lake County | 375,492 | Lake County | 1155.9 | Lake County Map | 12069 |
| Lee County | 790,767 | Lee County | 816.7 | Lee County Map | 12071 |
| Leon County | 295,460 | Leon County | 702 | Leon County Map | 12073 |
| Levy County | 42,214 | Levy County | 1134.8 | Levy County Map | 12075 |
| Liberty County | 8,364 | Liberty County | 843.3 | Liberty County Map | 12077 |
| Madison County | 18,707 | Madison County | 716 | Madison County Map | 12079 |
| Manatee County | 411,219 | Manatee County | 750.2 | Manatee County Map | 12081 |
| Marion County | 373,513 | Marion County | 1662.5 | Marion County Map | 12083 |
| Martin County | 162,088 | Martin County | 655.3 | Martin County Map | 12085 |
| Miami-Dade County | 2,707,303 | Miami Dade County | 1978.5 | Miami Dade County Map | 12086 |
| Monroe County | 73,900 | Monroe County | 1039.1 | Monroe County Map | 12087 |
| Nassau County | 91,113 | Nassau County | 655.1 | Nassau County Map | 12089 |
| Okaloosa County | 212,820 | Okaloosa County | 938.6 | Okaloosa County Map | 12091 |
| Okeechobee County | 42,297 | Okeechobee County | 891.6 | Okeechobee County Map | 12093 |
| Orange County | 1,404,396 | Orange County | 1004.1 | Orange County Map | 12095 |
| Osceola County | 385,315 | Osceola County | 1506.3 | Osceola County Map | 12097 |
| Palm Beach County | 1,507,600 | Palm Beach County | 2219.7 | Palm Beach County Map | 12099 |
| Pasco County | 570,412 | Pasco County | 764.8 | Pasco County Map | 12101 |
| Pinellas County | 976,802 | Pinellas County | 286 | Pinellas County Map | 12103 |
| Polk County | 744,552 | Polk County | 2010 | Polk County Map | 12105 |
| Putnam County | 74,815 | Putnam County | 779.6 | Putnam County Map | 12107 |
| Saint Johns County | 278,715 | Saint Johns County | 615 | Saint Johns County Map | 12109 |
| Saint Lucie County | 337,186 | Saint Lucie County | 576.3 | Saint Lucie County Map | 12111 |
| Santa Rosa County | 189,139 | Santa Rosa County | 1025 | Santa Rosa County Map | 12113 |
| Sarasota County | 443,465 | Sarasota County | 576.9 | Sarasota County Map | 12115 |
| Seminole County | 474,171 | Seminole County | 346 | Seminole County Map | 12117 |
| Sumter County | 139,018 | Sumter County | 580.4 | Sumter County Map | 12119 |
| Suwannee County | 44,851 | Suwannee County | 691.8 | Suwannee County Map | 12121 |
| Taylor County | 21,600 | Taylor County | 1049.1 | Taylor County Map | 12123 |
| Union County | 15,182 | Union County | 249.8 | Union County Map | 12125 |
| Volusia County | 561,497 | Volusia County | 1160.7 | Volusia County Map | 12127 |
| Wakulla County | 34,319 | Wakulla County | 616.7 | Wakulla County Map | 12129 |
| Walton County | 76,648 | Walton County | 1067.9 | Walton County Map | 12131 |
| Washington County | 25,932 | Washington County | 616.2 | Washington County Map | 12133 |