Map of Charleston, South Carolina
Map of Charleston
Print out our Charleston map collection. We feature maps for the South Carolina city displaying roads/highways, things to do, and major landmarks. Get your bearings with our interactive map to find out what's going on in the city.
Charleston, South Carolina is not only famous for the "Charleston dance" named after it. But it's also known for its remarkable history, historical buildings, muggy landscape, and charming attractions.
Charleston is one of those cities that has a lot to offer. Also, it has one of the best downtowns in South Carolina, great cultural attractions, and a vibrant music scene.
Jump To: Interactive Map | Printable Road Map | 10 Things to Do | Reference Map
Charleston map collection
Interactive Map of Charleston
Charleston is the largest city in South Carolina and is located in the southeast of South Carolina in the coastal area. Get a sense of what's around you with this interactive map. Find what you love to do and see what's near your favorite restaurant, hotel, or event venue.
Charleston Road Map
When you are planning a road trip or looking for something new to do, or just need some help with directions, this Charleston road map is one of the most useful tools you have. You can plan your perfect road trip with this easy-to-use map and find all the highways and major roads of Charleston, South Carolina all in one place. If you want to travel within the state, then use our South Carolina road map to help navigate the roads.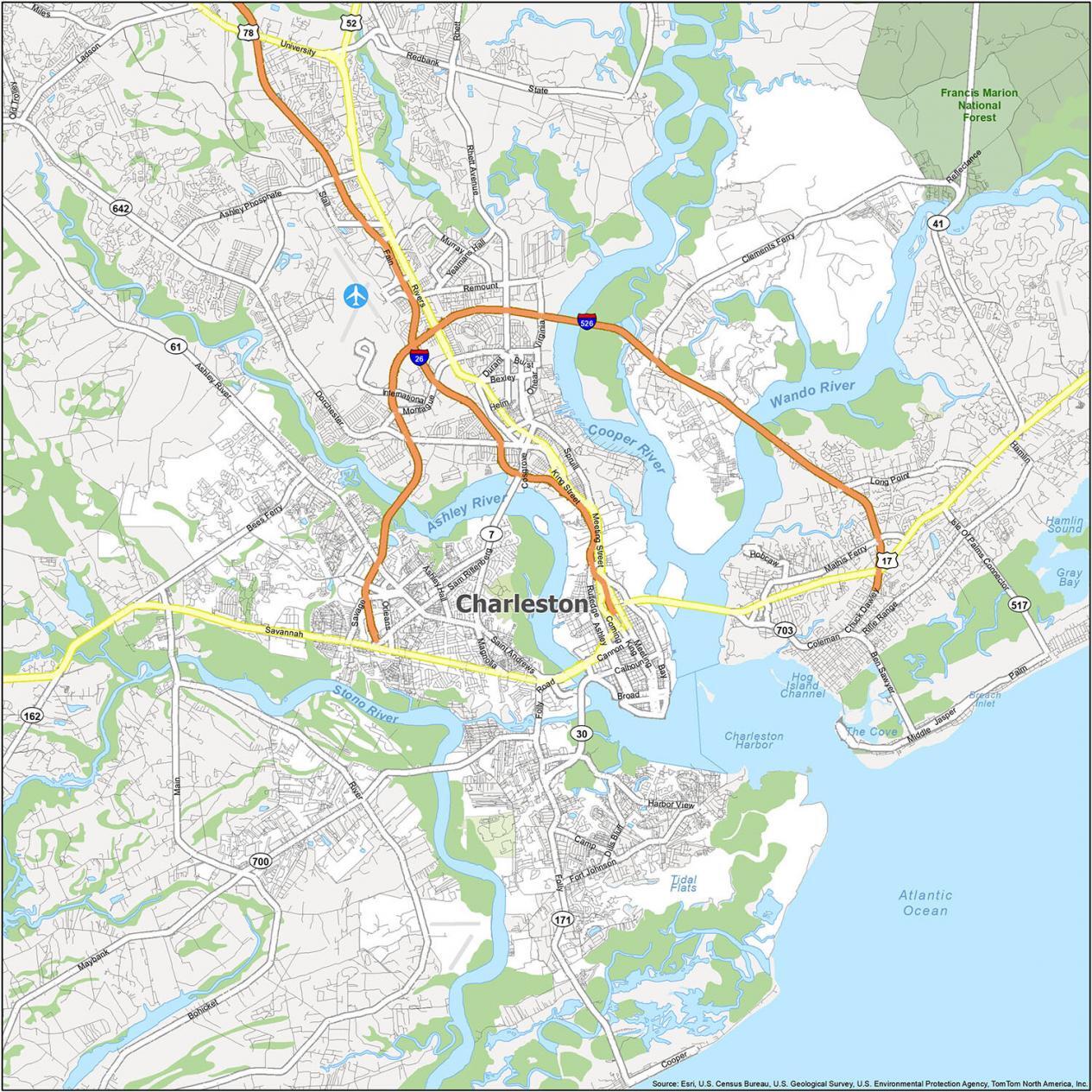 Interstate Highways: I-26, I-526
US Highways: 7, 17, 30, 41, 52, 61, 78, 171, Savannah Hwy
Major Roads: Ashley Ave, Ashley River Rd, Broad St, Calhoun St, Cannon St, Clements Ferry Rd, Coming St, Cypress St, Folly Rd, King St, Lockwood Blvd, Meeting St, Old Towne Rd, Romney St, Rutledge Ave, Saint Andrews Blvd, Sam Rittenberg Blvd, Spring St, Wesley Dr
10 Things To Do in Charleston
South Carolina is home to many interesting places such as the city of Charleston. If you're planning a road trip, this printable list of things to do can help you see all of the area's hidden gems, and help you find your way around. Explore all the points of interest and where the best places to dock and historical sites in the city.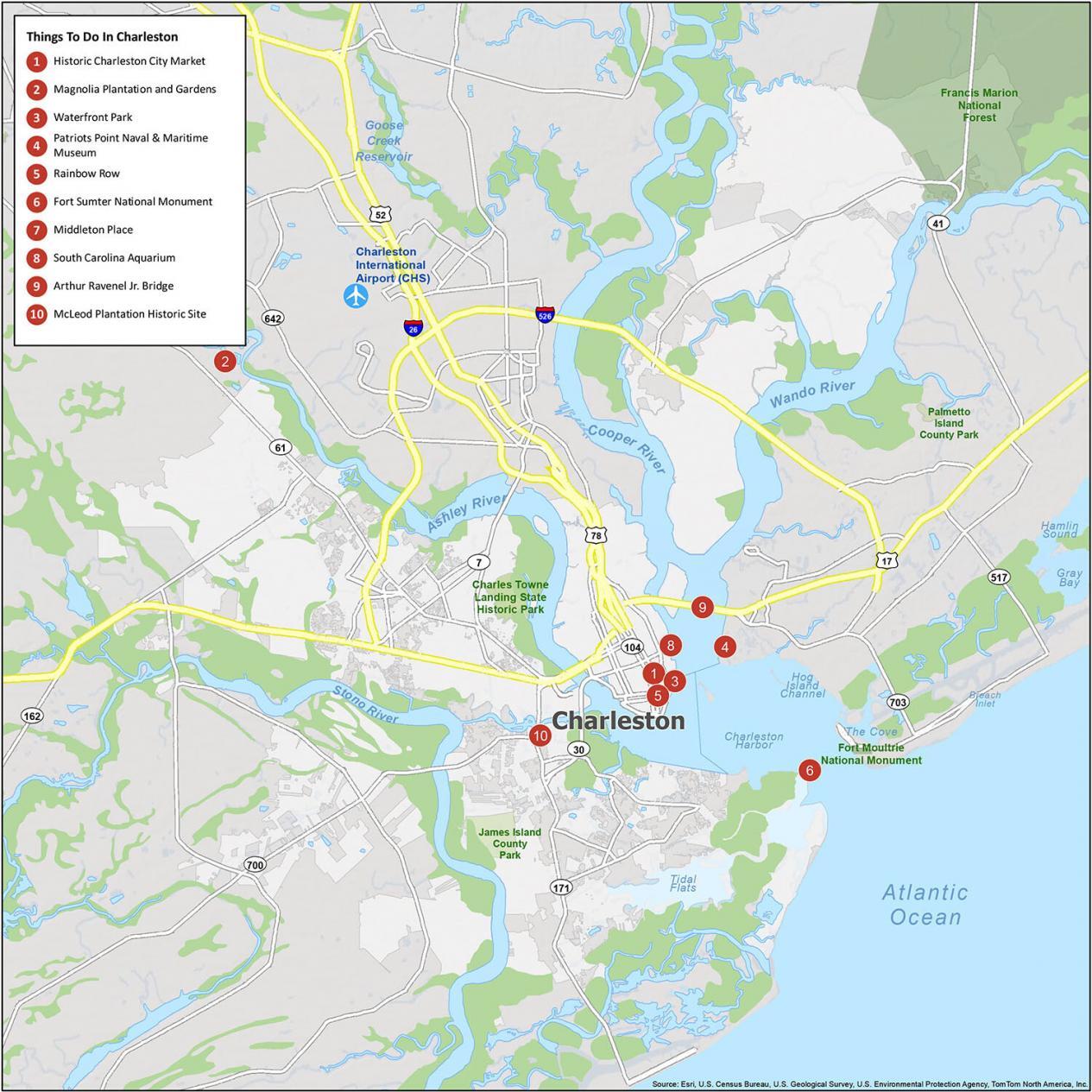 Historic Charleston City Market
Magnolia Plantation and Gardens
Waterfront Park
Patriots Point Naval & Maritime Museum
Rainbow Row
Fort Sumter National Monument
Middleton Place
South Carolina Aquarium
Arthur Ravenel Jr. Bridge
McLeod Plantation Historic Site
Charleston Reference Map
Whether you're planning a vacation or just trying to make your way around town, this map is a great tool to help you make the most of your time. You can rely on this map to show you the neighborhoods of Charleston, from its parks, rivers, beaches, and monuments.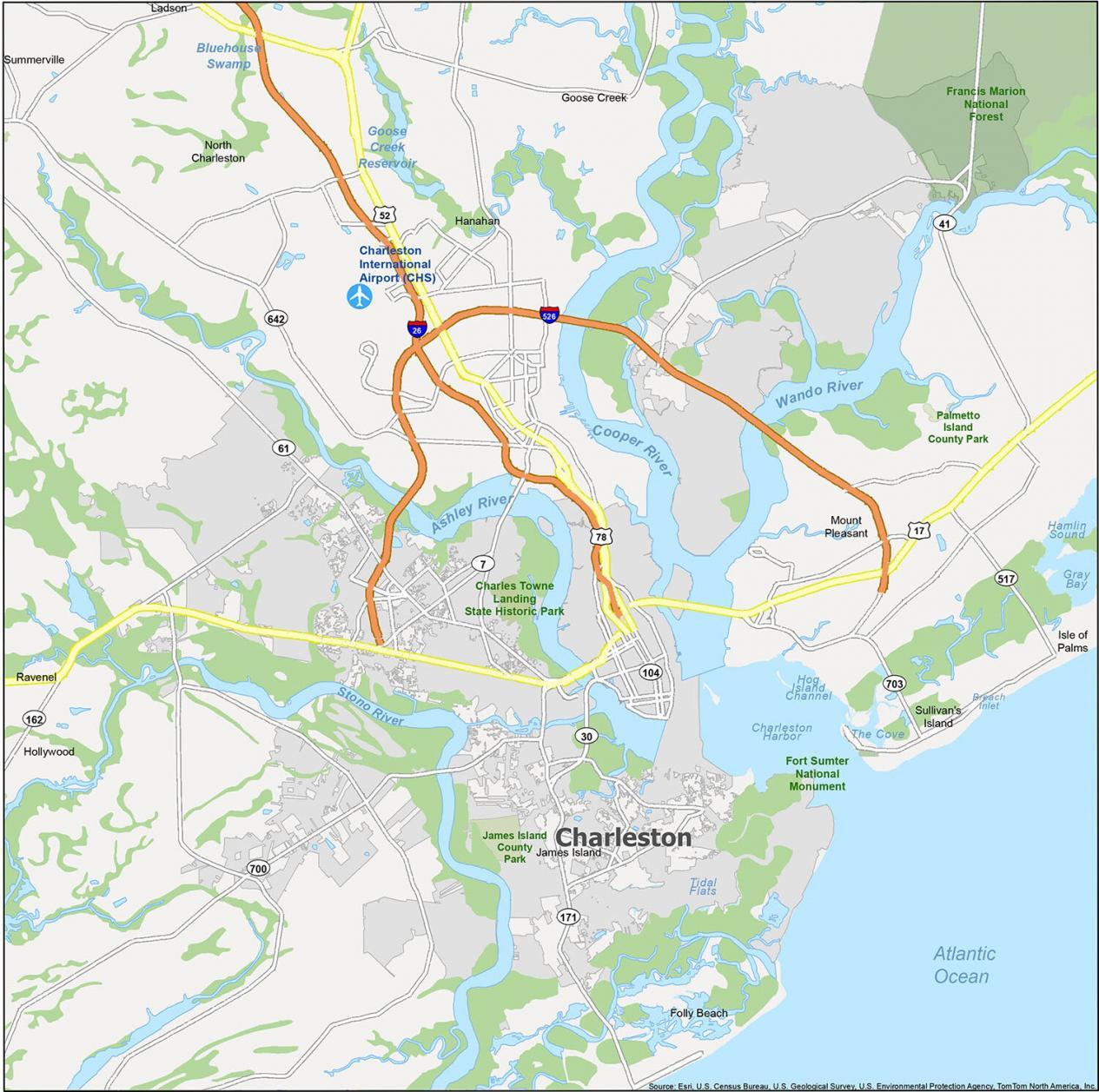 Cities: Charleston, Folly Beach, Goose Creek, Hanahan, Isle of Palms, North Charleston
Towns: Hollywood, James Island, Mount Pleasant, Ravenel, Sullivan's Island, Summerville
Census-designated place (CDP): Ladson
Rivers/Lakes: Ashley River, Cooper River, Stono River, Wando River, Charleston Harbor
South Carolina map collection
References