South Carolina County Map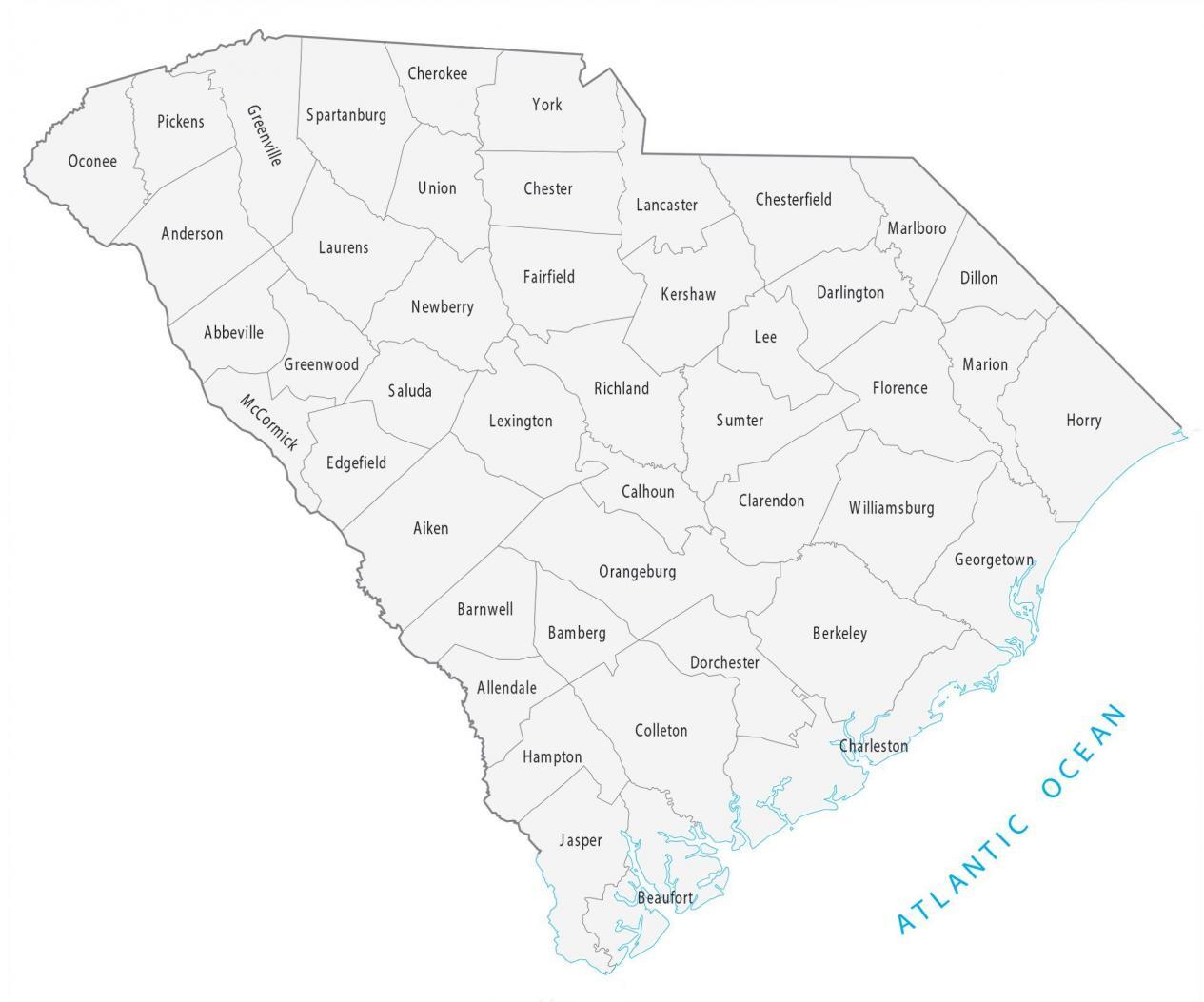 About the map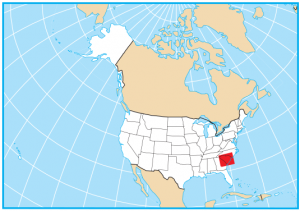 This South Carolina county map displays its 46 counties. Greenville, Richland, and Charleston counties are the most populated counties in South Carolina. South Carolina borders North Carolina, Georgia, and the Atlantic Ocean.
For size, Berkeley County is the largest county in South Carolina. It occupies an area of over 1200 square miles in the southeastern portion of the state. Conversely, the smallest county in South Carolina is Calhoun County, which is just under 400 square miles.
Greenville County is the most populated county in South Carolina with over 500,000 people. Richland County is the next most populated county and is home to Columbia, the capital and second-largest city of South Carolina.
South Carolina map collection
You are free to use our county map of South Carolina for educational and commercial uses. Attribution is required. How to attribute?
South Carolina County List
| County Name | Population (2020 est) | County Map | Area (sq mi) | Locator Map | FIPS Code |
| --- | --- | --- | --- | --- | --- |
| Abbeville County | 24,404 | Abbeville County | 511.8 | Abbeville County Map | 45001 |
| Aiken County | 172,895 | Aiken County | 1080.5 | Aiken County Map | 45003 |
| Allendale County | 8,331 | Allendale County | 412.3 | Allendale County Map | 45005 |
| Anderson County | 204,353 | Anderson County | 760.5 | Anderson County Map | 45007 |
| Bamberg County | 13,906 | Bamberg County | 395.5 | Bamberg County Map | 45009 |
| Barnwell County | 20,805 | Barnwell County | 557.4 | Barnwell County Map | 45011 |
| Beaufort County | 195,656 | Beaufort County | 605.9 | Beaufort County Map | 45013 |
| Berkeley County | 235,987 | Berkeley County | 1219.6 | Berkeley County Map | 45015 |
| Calhoun County | 14,554 | Calhoun County | 392.5 | Calhoun County Map | 45017 |
| Charleston County | 417,981 | Charleston County | 942.9 | Charleston County Map | 45019 |
| Cherokee County | 57,316 | Cherokee County | 397 | Cherokee County Map | 45021 |
| Chester County | 32,232 | Chester County | 586.2 | Chester County Map | 45023 |
| Chesterfield County | 45,606 | Chesterfield County | 805.2 | Chesterfield County Map | 45025 |
| Clarendon County | 33,415 | Clarendon County | 696.1 | Clarendon County Map | 45027 |
| Colleton County | 37,481 | Colleton County | 1066.4 | Colleton County Map | 45029 |
| Darlington County | 66,509 | Darlington County | 567.1 | Darlington County Map | 45031 |
| Dillon County | 30,367 | Dillon County | 406.8 | Dillon County Map | 45033 |
| Dorchester County | 165,737 | Dorchester County | 576.9 | Dorchester County Map | 45035 |
| Edgefield County | 27,120 | Edgefield County | 506.3 | Edgefield County Map | 45037 |
| Fairfield County | 22,059 | Fairfield County | 709.7 | Fairfield County Map | 45039 |
| Florence County | 137,588 | Florence County | 804.2 | Florence County Map | 45041 |
| Georgetown County | 63,353 | Georgetown County | 835.3 | Georgetown County Map | 45043 |
| Greenville County | 532,486 | Greenville County | 795.1 | Greenville County Map | 45045 |
| Greenwood County | 71,074 | Greenwood County | 462.8 | Greenwood County Map | 45047 |
| Hampton County | 18,053 | Hampton County | 562.5 | Hampton County Map | 45049 |
| Horry County | 365,449 | Horry County | 1143.6 | Horry County Map | 45051 |
| Jasper County | 31,588 | Jasper County | 663.5 | Jasper County Map | 45053 |
| Kershaw County | 67,472 | Kershaw County | 740.6 | Kershaw County Map | 45055 |
| Lancaster County | 100,926 | Lancaster County | 554.8 | Lancaster County Map | 45057 |
| Laurens County | 67,883 | Laurens County | 724 | Laurens County Map | 45059 |
| Lee County | 16,701 | Lee County | 411.2 | Lee County Map | 45061 |
| Lexington County | 303,946 | Lexington County | 757.9 | Lexington County Map | 45063 |
| Marion County | 30,158 | Marion County | 493.8 | Marion County Map | 45067 |
| Marlboro County | 25,581 | Marlboro County | 485.2 | Marlboro County Map | 45069 |
| McCormick County | 9,430 | McCormick County | 393.7 | McCormick County Map | 45065 |
| Newberry County | 38,445 | Newberry County | 647.2 | Newberry County Map | 45071 |
| Oconee County | 80,015 | Oconee County | 673.8 | Oconee County Map | 45073 |
| Orangeburg County | 85,343 | Orangeburg County | 1127.4 | Orangeburg County Map | 45075 |
| Pickens County | 127,983 | Pickens County | 511.9 | Pickens County Map | 45077 |
| Richland County | 419,051 | Richland County | 772.1 | Richland County Map | 45079 |
| Saluda County | 20,315 | Saluda County | 461.9 | Saluda County Map | 45081 |
| Spartanburg County | 326,205 | Spartanburg County | 819.2 | Spartanburg County Map | 45083 |
| Sumter County | 106,360 | Sumter County | 681.6 | Sumter County Map | 45085 |
| Union County | 26,991 | Union County | 516.2 | Union County Map | 45087 |
| Williamsburg County | 29,825 | Williamsburg County | 936.1 | Williamsburg County Map | 45089 |
| York County | 289,105 | York County | 695 | York County Map | 45091 |
References