South Carolina State Map – Places and Landmarks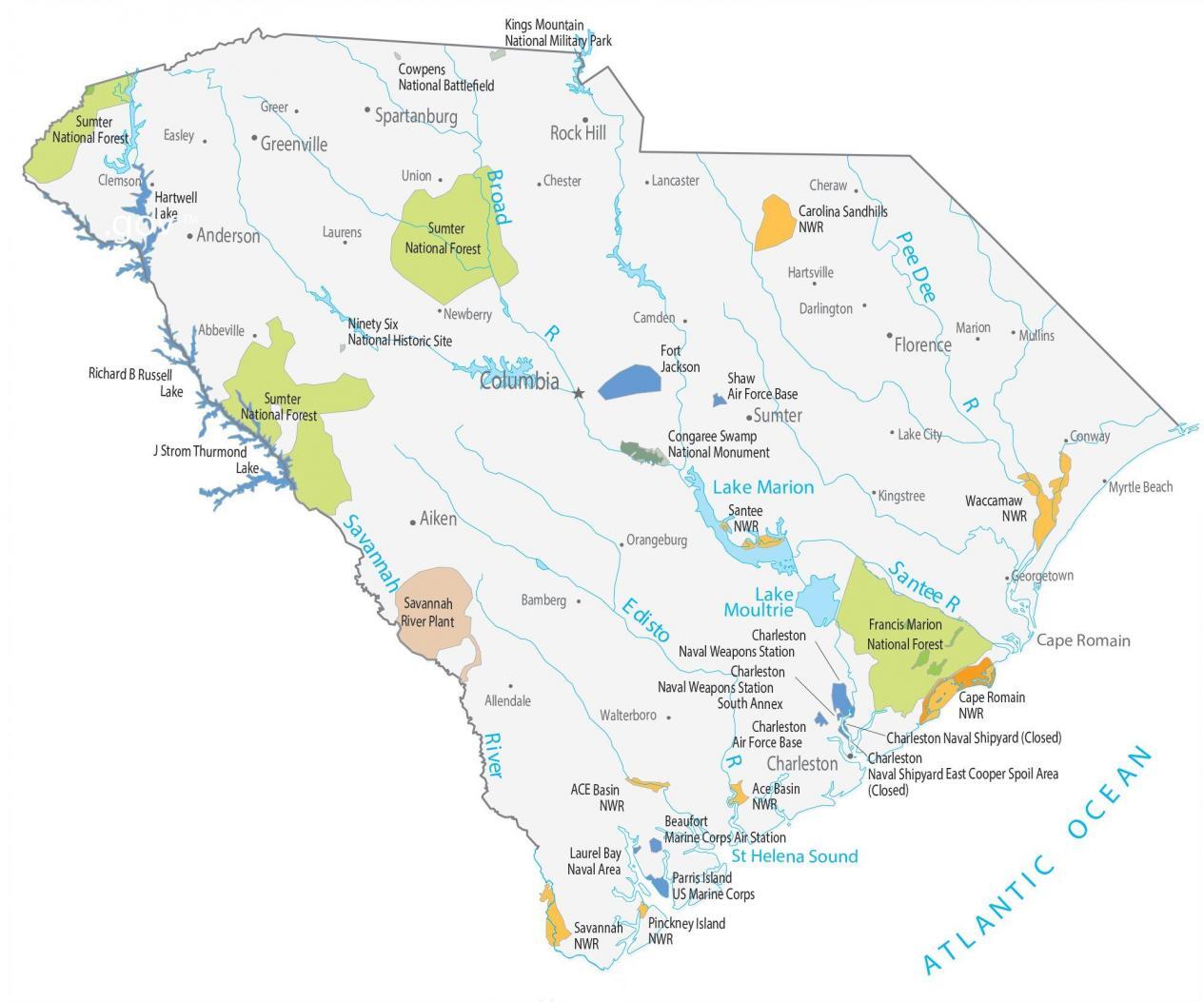 About the map
This South Carolina State Map shows major landmarks and places in South Carolina. For example, it has national forests, military bases, wildlife refuges, and other federal lands in South Carolina.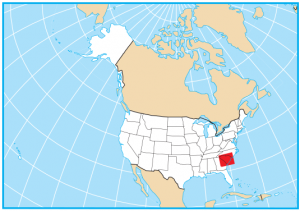 If you're into canoeing, hiking, or fishing, then Congaree Swamp National Park rises to the occasion. It's an area filled with hardwood forests, where waters from the Congaree and Wateree Rivers flow and nourish biodiversity in the land.
South Carolina also has some memorable military and historic sites. For instance, Cowpens National Battlefield is situated at a major battlefield of the American Revolutionary War. Next, the Ninety-Six National Historic Site preserves a 1,022-acre site in the Carolina backcountry.
South Carolina map collection
You are free to use our map of South Carolina for educational and commercial uses. Attribution is required. How to attribute?
Federal lands
National Forests (NF)
Sumter National Forest
Francis Marion Charleston National Forest
National Wildlife Refuge (NWR)
Carolina Sandhills NWR
Santee NWR
Waccamaw NWR
Savannah NWR
Pinckney Island NWR
Ace Basin NWR
Cape Romain NWR
Military Historic Sites
Cowpens National Battlefield
Kings Mountain National Military Park
Other Landmarks
Ninety-Six National Historic Site
Savannah River Plant
Congaree Swamp National Monument
St Helena Sound
Atlantic Ocean
Cape Romain
South Carolina lakes, rivers and reservoirs
Lakes and reservoirs
Hartwell Lake
J Strom Thurmond Lake
Richard B Russell Lake
Rivers and streams
Pee Dee River
Edisto River
Santee River
Broad River
Savannah River
Army, naval and military
Fort Jackson
Shaw Air Force Base
Laurel Bay Naval Area
Beaufort Marine Corps Air Station
Charleston Naval Shipyard
East Cooper Spoil Area (Closed)
Charleston Naval Weapons Station
South Annex
Charleston Air Force
Base Charleston Naval Shipyard (Closed)
Naval Weapons Station
Parris Island US Marine Corps
South Carolina Map – Landmarks and places
Columbia
Anderson
Charleston
Florence
Greenville
Rock Hill
Spartanburg
Sumter
Aiken
Abbeville
Allendale
Bamberg
Camden
Cheraw
Chester
Conway
Darlington
Georgetown
Greer
Hartsville
Kingstree
Lake City
Lancaster
Laurens
Marion
Mullins
Newberry
Orangeburg
Clemson
Union
Walterboro
Easley
Myrtle Beach
State capital
Columbia
References