Charlotte Map, North Carolina

Map of Charlotte
If you need a map of Charlotte, North Carolina – then keep reading below. We have a Charlotte map with roads, landmarks, and things to do. All are available to download to take on your journey through Queen City.
If you ever go to Charlotte, the main highlights are its attractions! It's a perfect fit for families because of its Motor Speedway, NASCAR Hall of Fame, and amusement parks like Carowinds.
The city of Charlotte, North Carolina is located in the Piedmont Triad region. It is the largest city in the state with a population of over 850,000. In this guide, we'll walk you through all the great things to do in Charlotte with several maps.
Jump To: Interactive Map | Printable Road Map | 10 Things to Do | Reference Map
Charlotte map collection
Interactive Map of Charlotte
If you live in Charlotte or are just visiting, you know how important it is to be able to navigate the city and get around. This interactive Charlotte map will help you get around Charlotte, NC. No matter where you are in the city, you can find information about places of interest, transportation, and parking that are available in the city.
Charlotte Road Map
A map of Charlotte is a great tool for exploring, locating places, and understanding where you are. Whether you're new in town or a local, we all love to explore places on a map, and Charlotte has much to explore! It includes interstates like I-77 and I-88, highways, and other major roads in the city so you'll never get lost. Use this North Carolina road map to travel around statewide.
Interstate Highways: I-277, I-485, I-495, I-77, I-85
US Highways: 16, 21, 24, 27, 29, 49, 51, 74, 115, 160, 277, 485, 495, 521, 1004, 1126, 1128, 1138, 1143, 1784, 2019, 2108, 2110, Independence Expy, Lancaster Hwy
Parkways/Expressways: Billy Graham Pky, Independence Expy, Josh Birmingham Pky
Major Roads: 3rd St, 4th St, 5th St, 7th St, Albemarle Rd, Arrowood Rd, Bellhaven Blvd, Brevard St, Brookshire Blvd, Brown Grier Rd, Caldwell St, Church St, Clanton Rd, Clarkson St, College St, Dalton Ave, Dixie Rd, East Blvd, Freedom Dr, Graham St, Independence Blvd, Johnston Rd, Mcdowell St, Mint St, Morehead St, Oakdale Rd, Old Statesville Rd, Peachtree Rd, Pineville-Matthews Rd, Providence Rd, Rozzelles Ferry Rd, South Blvd, Statesville Rd, Steele Creek Rd, Sunset Rd, Trade St, Tryon St, University City Blvd, Walnut Ave, West Blvd, Westinghouse Blvd, Wilgrove Mint Hill Rd, Wilkinson Blvd, Woodlawn Rd, York Rd
10 Things To Do in Charlotte
If you're looking to get around and see where you are in relation to your destination, you can also use this map to help you plan trips or navigate through this city. Plus, we point out some of the top attractions in the city like Charlotte Motor Speedway and the NASCAR Hall of Fame.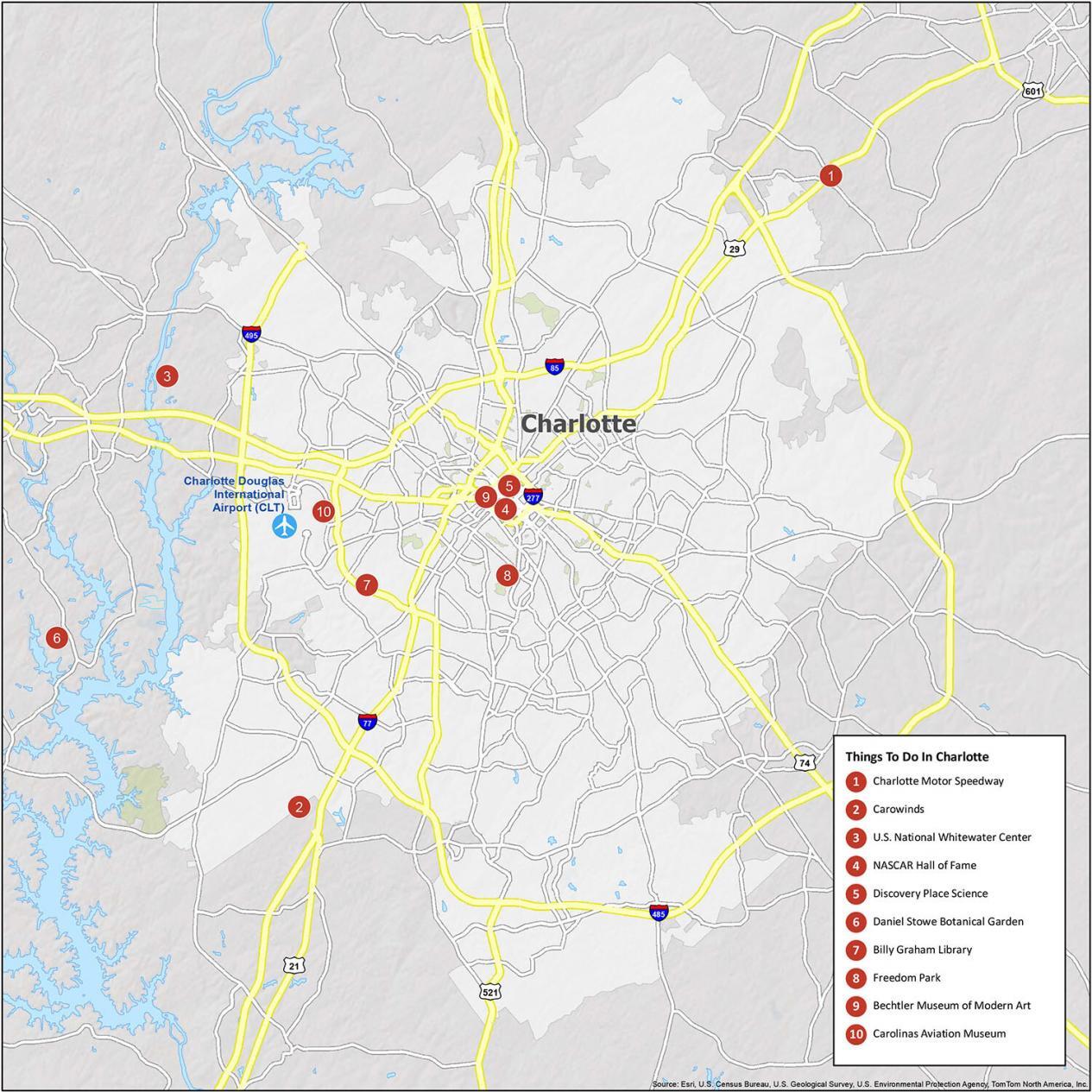 Charlotte Motor Speedway
Carowinds
U.S. National Whitewater Center
NASCAR Hall of Fame
Discovery Place Science
Daniel Stowe Botanical Garden
Billy Graham Library
Freedom Park
Bechtler Museum of Modern Art
Carolinas Aviation Museum
Charlotte Reference Map
This map is a great map for anyone looking to get a better understanding of the area, or who wants to rediscover the Charlotte area after a time away. Explore everything in one printable map that shows the parks, towns, and neighborhoods around Charlotte, North Carolina.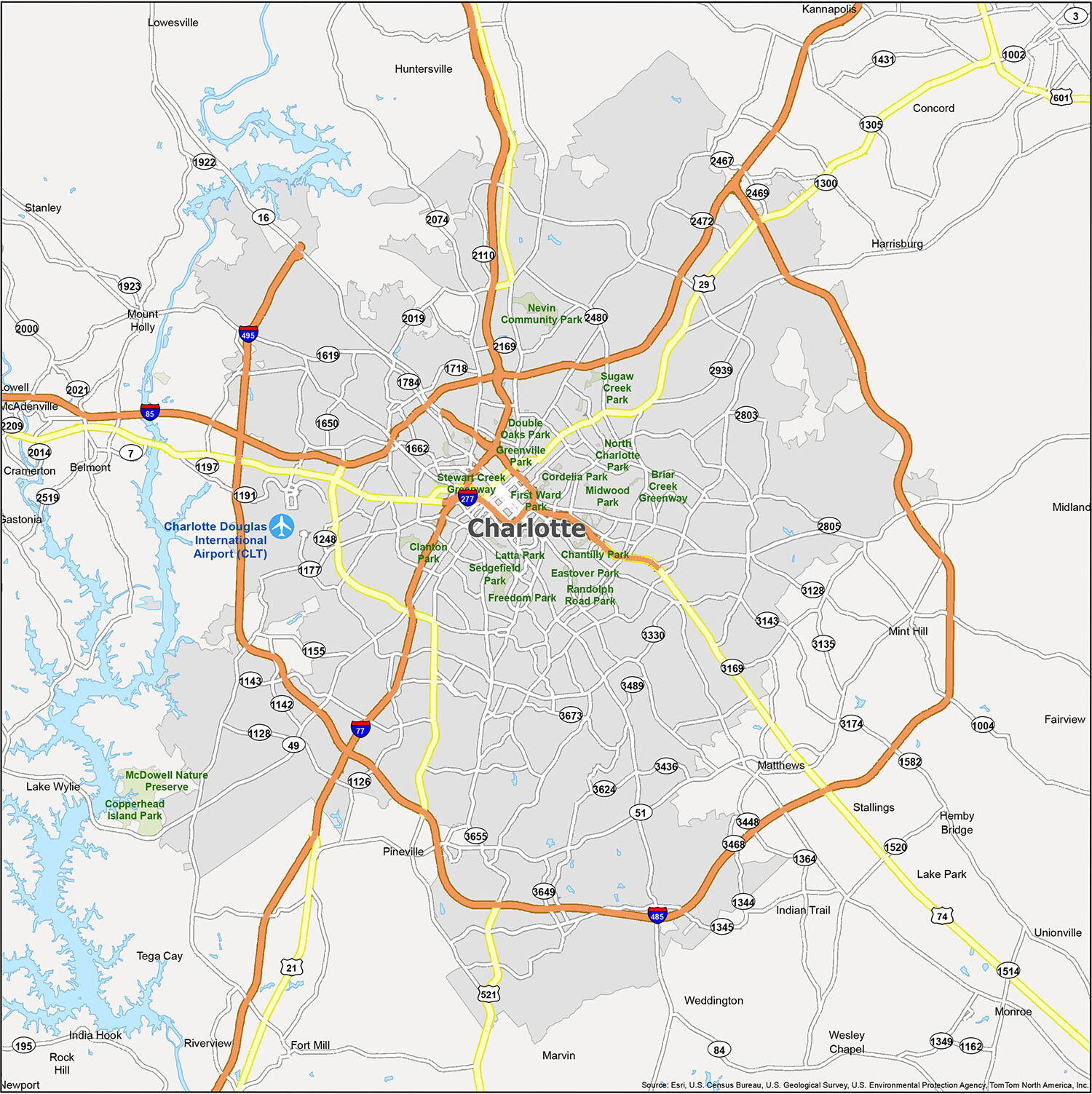 Cities: Belmont, Charlotte, Concord, Gastonia, Kannapolis, Lowell, Monroe, Mount Holly, Rock Hill, Tega Cay
Towns: Cramerton, Fairview, Fort Mill, Harrisburg, Hemby Bridge, Huntersville, Indian Trail, Matthews, McAdenville, Midland, Mint Hill, Pineville, Stallings, Stanley, Unionville, Weddington
Villages: Lake Park, Marvin, Wesley Chapel
Census-designated place (CDP): India Hook, Lake Wylie, Lowesville, Newport, Riverview
North Carolina map collection