North Carolina State Map – Places and Landmarks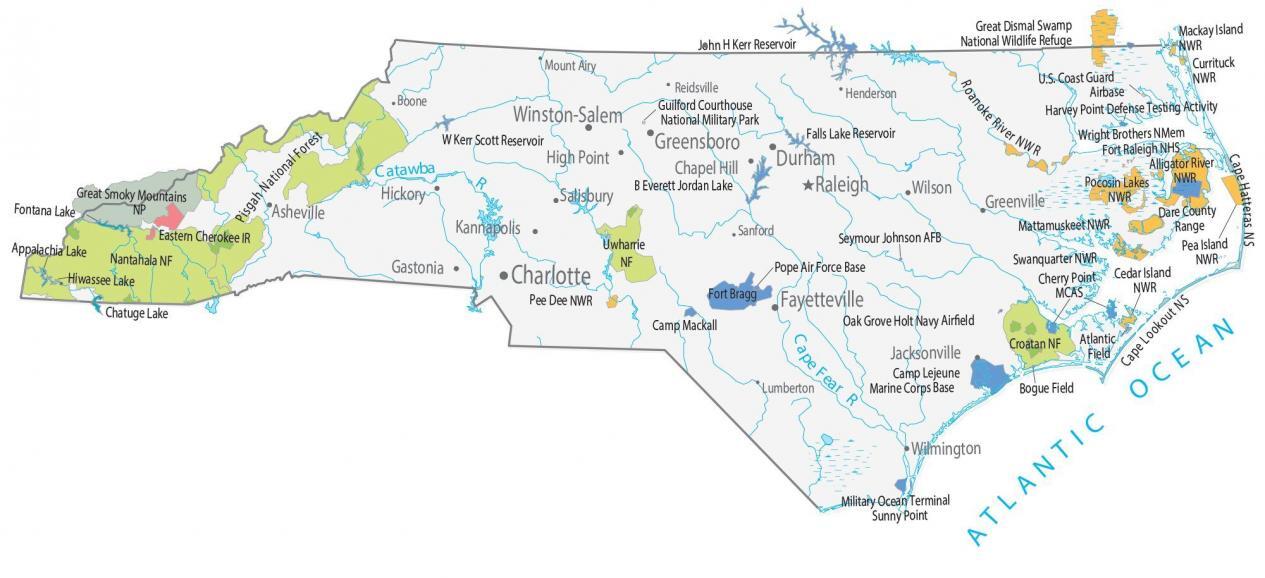 About the map
This North Carolina State Map shows major landmarks and places in North Carolina. For example, it features national forests, military bases, preserves, wildlife refuges, and other federal lands in North Carolina.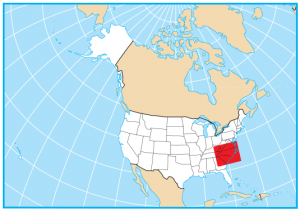 At the border between Tennessee and North Carolina, the Great Smoky Mountains National Park is the most-visited national park in the United States. It's filled with waterfalls, wildlife, and hiking all set in the peaceful Great Smoky Mountains.
North Carolina isn't only known for the Great Smoky Mountains National Park, it has 4 national forests, 11 national wildlife refuges, and 2 national refuges. Not only this, but Wright Brothers National Memorial is a must-see for any trip to North Carolina.
North Carolina map collection
You are free to use our map of North Carolina for educational and commercial uses. Attribution is required. How to attribute?
Federal lands
National Park (NP)
Great Smoky Mountains NP
National Forests (NF)
National Wildlife Refuge (NWR)
Alligator River NWR
Pocosin Lakes NWR
Pea Island NWR
Mattamuskeet NWR
Swanquarter NWR
Cedar Island NWR
Pee Dee NWR
Roanoke River NWR
Great Dismal Swamp NWR
Mackay Island NWR
Currituck NWR
Other Landmarks
Wright Brothers National Memorial
Fort Raleigh National Historic Site
Cape Lookout National Seashore
Cape Hatteras National Seashore
North Carolina lakes, rivers and reservoirs
Lakes and reservoirs
John H Kerr Reservoir
Hiwassee Lake
Appalachia Lake
Chatuge Lake
Atlantic Ocean
Falls Lake Reservoir
B Everett Jordan Lake
W Kerr Scott Reservoir
Fontana Lake
Chesapeake Bay
Rivers and streams
Catawba River
Cape Fear River
Indian Reserves (IR)
Eastern Cherokee IR
Army, naval and military
U.S. Coast Guard Airbase
Dare County Range
Seymour Johnson Air Force Base
Guilford Courthouse National Military Park
Oak Grove Holt Navy Airfield
Cherry Point Marine Corps Air Station
Fort Bragg
Pope Air Force Base
Bogue Field Landing
Camp Mackall
Camp Lejeune
Marine Corps Base
Military Ocean Terminal
Naval Facility Engineering Command
Harvey Point Defense Testing Activity
North Carolina Map – Landmarks and places
Charlotte
Raleigh
Durham
Greensboro
Winston-Salem
Fayetteville
Asheville
Chapel Hill
Gastonia
Greenville
Hickory
High Point
Jacksonville
Kannapolis
Salisbury
Wilmington
Wilson
Boone
Henderson
Lumberton
Mount Airy
Reidsville
Sanford
State capital
Raleigh
References