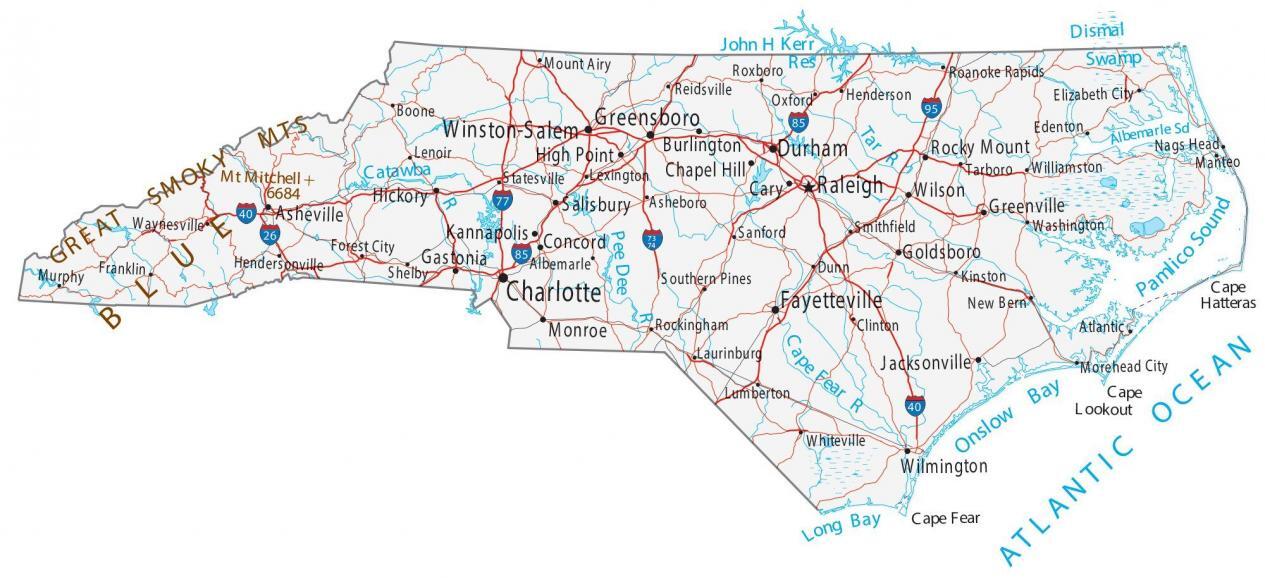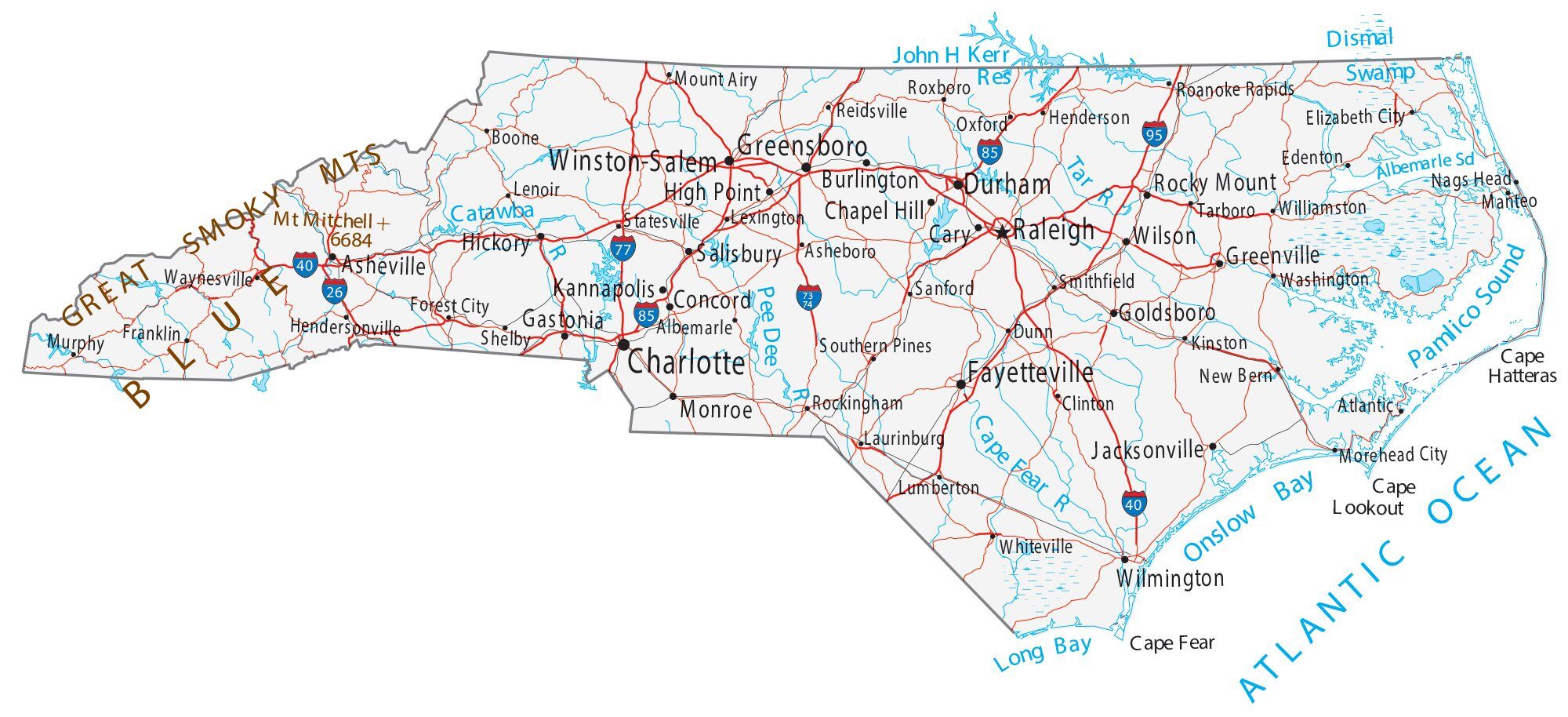 About the map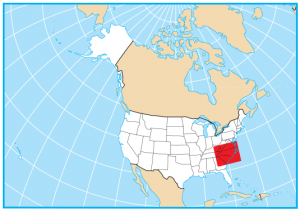 This North Carolina map contains cities, roads, rivers and lakes. For example, Charlotte, Raleigh and Greensboro are major cities in this map of North Carolina.
North Carolina is known for a lot. For instance, the Wright Brothers flew their first flight here with the first powered aircraft in 1903. It's also the home of Pepsi with its arch nemesis to Georgia's Coca Cola.
The Appalachian Mountains are in the west. Whereas the Piedmont Plateau is situated in the center of the state. Finally, the east is the Atlantic Coastal Plain. North Carolina borders Virginia, Tennessee, Georgia and South Carolina. Geographically, North Carolina is on the east coast of the United States along the coast of the Atlantic Ocean.
North Carolina map collection





North Carolina Maps
City Maps in North Carolina
State capital
Raleigh
Major cities and towns
Charlotte
Raleigh
Greensboro
Fayetteville
Durham
Winston-Salem
Asheville
Burlington
Cary
Chapel Hill
Concord
Gastonia
Goldsboro
Greenville
Hickory
High Point
Jacksonville
Kannapolis
Rocky Mount
Salisbury
Wilmington
Wilson
Monroe
Albemarle
Asheboro
Boone
Clinton
Dunn
Edenton
Elizabeth City
Forest City
Franklin
Henderson
Hendersonville
Kinston
Laurinburg
Lenoir
Lexington
Lumberton
Manteo
Morehead City
Mount Airy
Murphy
Nags Head
New Bern
Oxford
Reidsville
Roanoke Rapids
Rockingham
Roxboro
Sanford
Shelby
Smithfield
Southern Pines
Statesville
Tarboro
Washington
Waynesville
Whiteville
Williamston
Atlantic
Interstate highways
Interstate-26 (I-26)
Interstate-40 (I-40)
Interstate-73 (I-73)
Interstate-74 (I-74)
Interstate-77 (I-77)
Interstate-85 (I-85)
Interstate-95 (I-95)
Lakes, rivers and creeks
Catawba River
Cape Fear River
John H Kerr Reservoir
Tar River
Pee Dee River
Pamlico Sound
Onslow Bay
Long Bay
Atlantic Ocean
Chesapeake Bay
Albemarle Sound
Dismal Swamp
Landmarks in North Carolina
Blue Ridge
Great Smoky Mountains
Mount Mitchell
Cape Fear
Cape Lookout
Cape Hatteras
References
Free US Maps
Select a state to view its map