Columbia South Carolina Map

Map of Columbia
Check out this Columbia map collection for the city named after Christopher Columbus, himself. The city of Columbia has a southern charm and is also the capital city for the state of South Carolina.
This map collection features a highway/road map, general reference, and things to do. Plus, we include an interactive map so you can get to know the city better.
Columbia is a welcoming city in the heart of South Carolina. With a population of 135,000, Columbia booms with excitement for each new day, known for its parks, museums, and scenery.
Jump To: Interactive Map | Printable Road Map | 10 Things to Do | Reference Map
Columbia map collection
Interactive Map of Columbia
This interactive map is perfect for finding the ideal vacation spot or visiting family and friends. The map provides a detailed, accurate, and up-to-date view of the area with the ability to zoom in on specific locations. Check out the heart of the city of Columbia and explore its lakes and rivers like the nearby Lake Murray and Broad River.
Columbia Road Map
Get the most out of your visit to the city of Columbia. This map will help you navigate around the city on foot or by car. Get details on all the highways and roads in the city This map is easy to use and helps you work out where to go, what to see, and what to do in the city. Otherwise, use this South Carolina road map if you're going to get out of the city.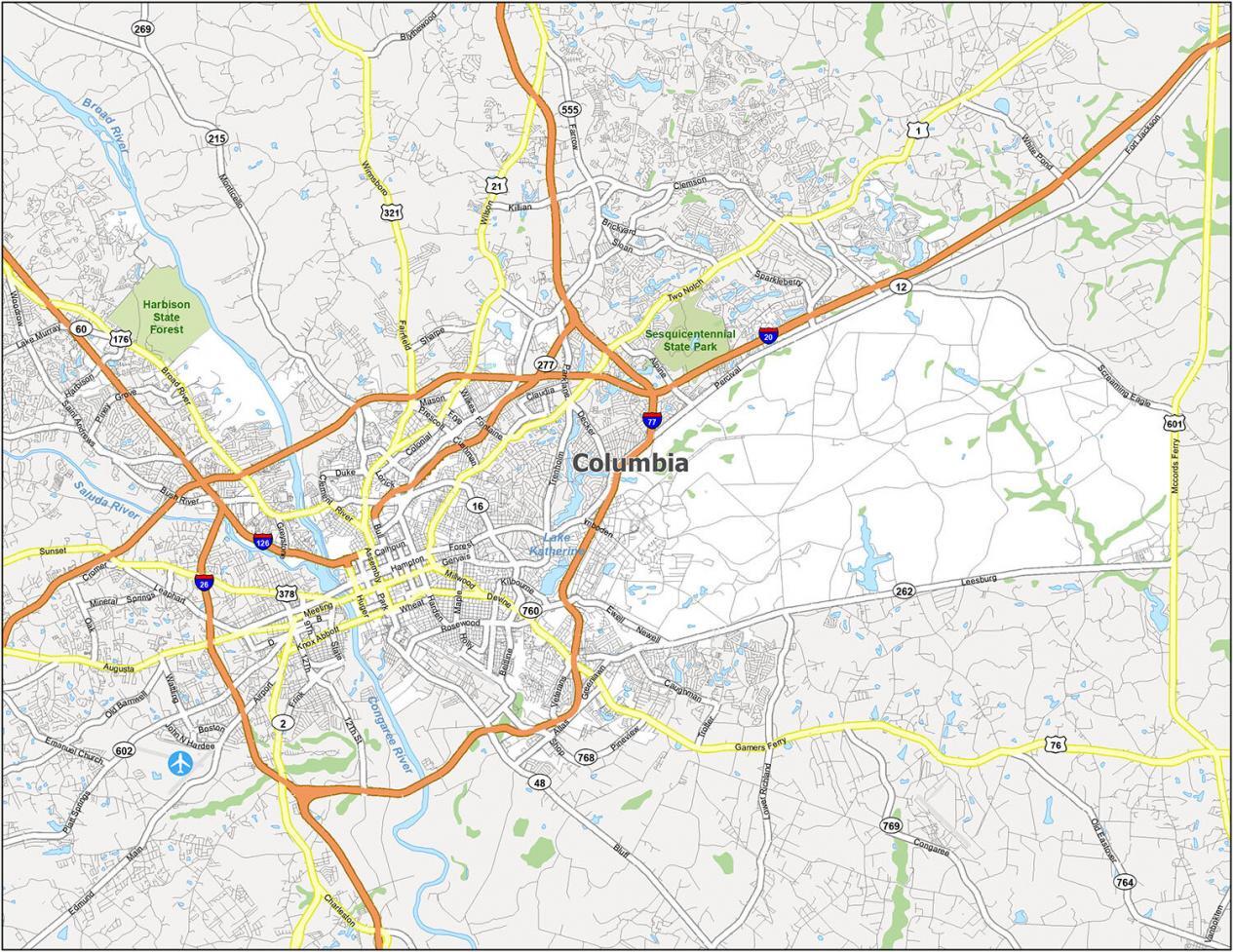 Interstate Highways: I-20, I-26, I-77, I-126
US Highways: 1, 12, 16, 21, 48, 60, 76, 126, 176, 215, 277, 321, 378, 555, 601,
Major Roads: Assembly St, Beltline Blvd, Blossom St, Bluff Rd, Broad River Rd, Bull St, Colonial Dr, Cross Hill Rd, Devine St, Elmwood Ave, Fairfield Rd, Farrow Rd, Forest Dr, Garners Ferry Rd, Gervais St, Hampton St, Harden St, Heyward St, Huger St, Imboden St, Lake Murray Blvd, Main St, Mccords Ferry Rd, Millwood Ave, Monticello Rd, Park St, Percival Rd, River Dr, Rosewood Dr, Saluda Ave, Taylor St, Two Notch Rd, Williams St, Wilson Blvd
10 Things To Do in Columbia
This beautifully designed map of Columbia South Carolina is a great way to see all the great places you can visit in the region. With sites like the Columbia Museum of Art or the Riverbanks Zoo and Garden, there is so much to see and do. You will be able to plan your next adventure and find the perfect itinerary.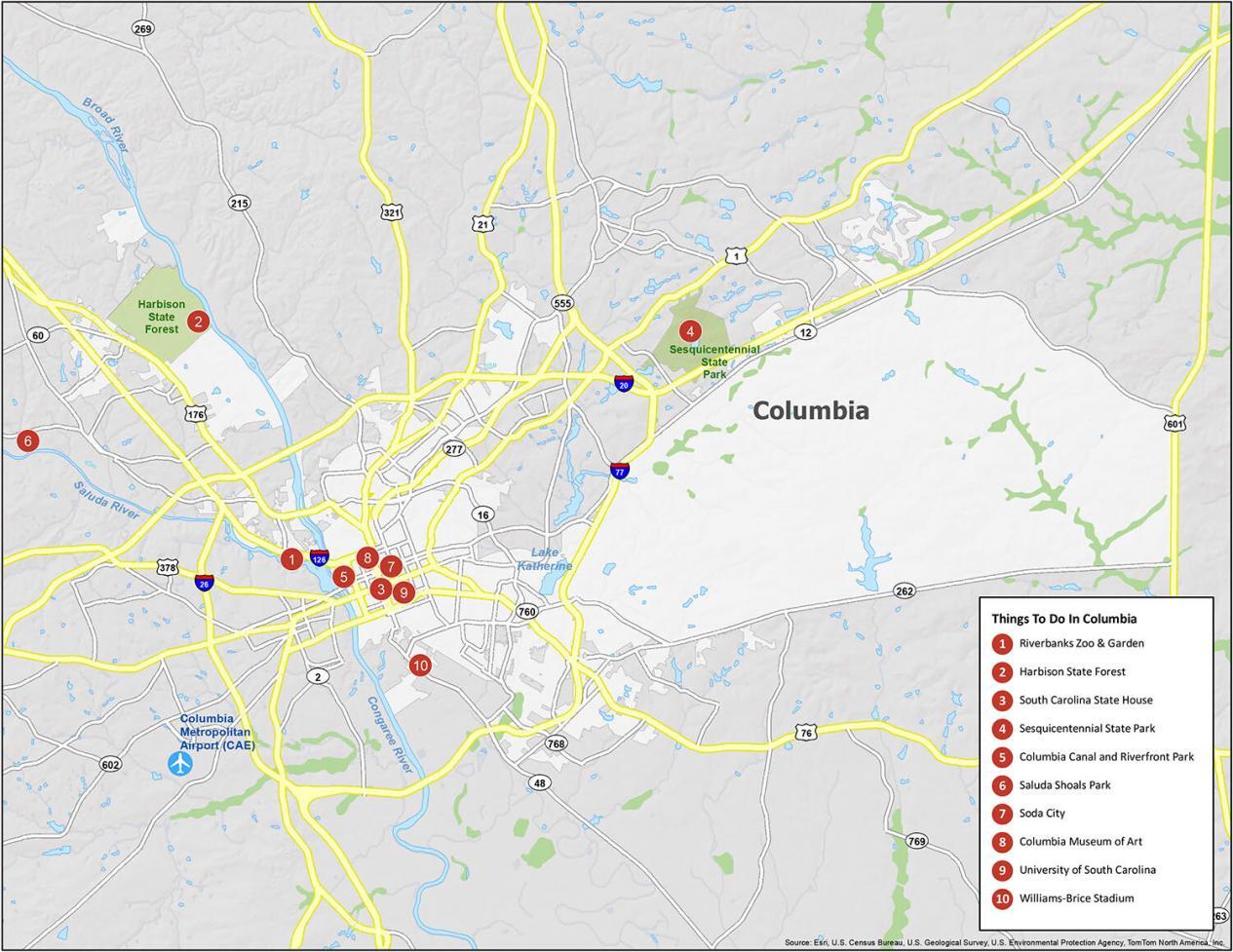 Columbia is a charming city with lots of appeal. If you ever plan to go to Columbia South Carolina, here are our travel recommendations for you to visit.
Riverbanks Zoo & Garden
Harbison State Forest
South Carolina State House
Sesquicentennial State Park
Columbia Canal and Riverfront Park
Saluda Shoals Park
Soda City
Columbia Museum of Art
University of South Carolina
Williams-Brice Stadium
Columbia Reference Map
With this map, you can explore the many neighborhoods, places, and nearby towns of Columbia. This map has been created to provide all the information you need before you start your journey with a good point of reference. Designed to make traveling around the city a breeze, this map has the information you need to decide which is the best place for you.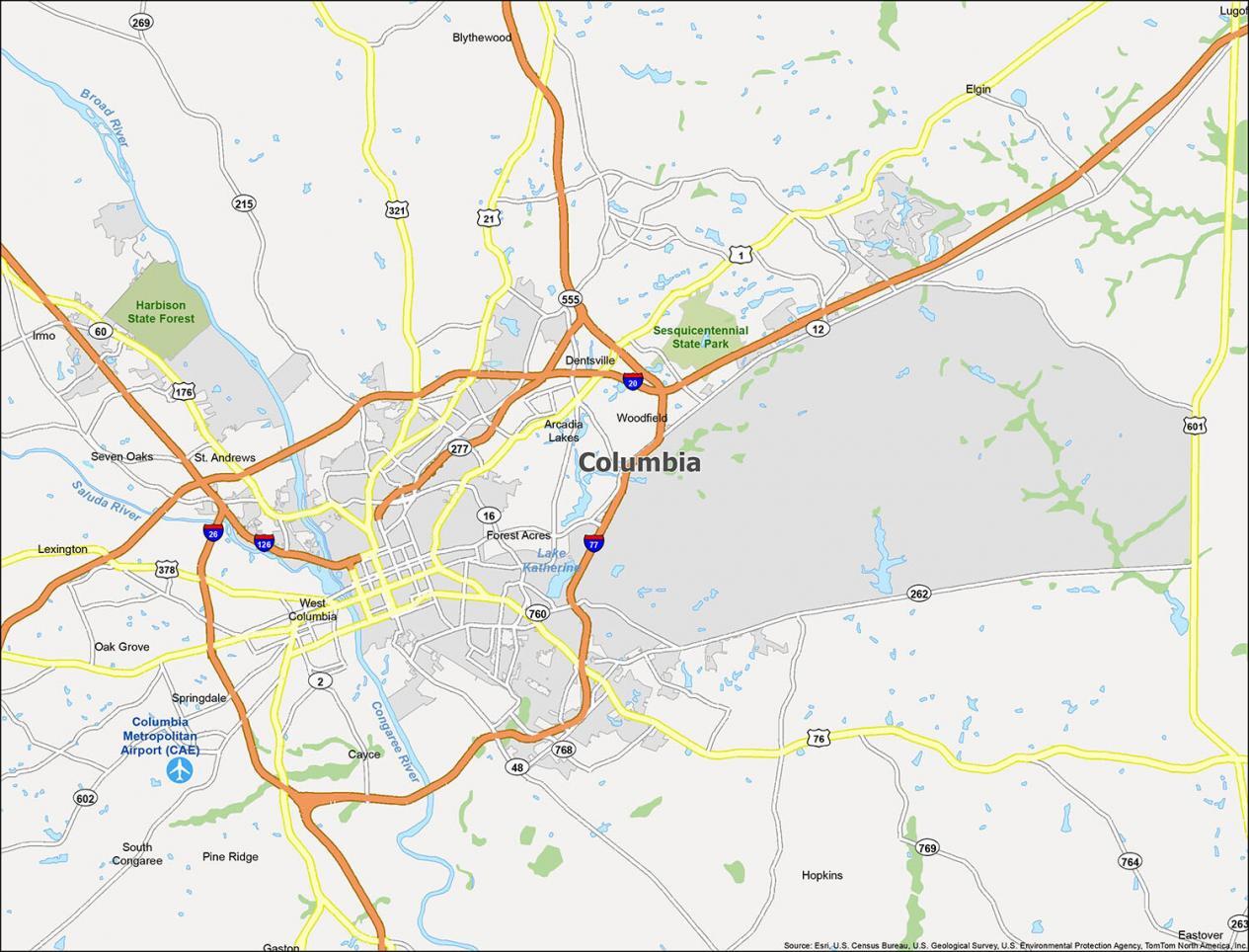 Airport: Columbia Metropolitan Airport (CAE)
Cities: Cayce, Columbia, Forest Acres, West Columbia
Towns: Arcadia Lakes, Blythewood, Eastover, Elgin, Gaston, Irmo, Lexington, Pine Ridge, South Congaree, Springdale
Census-designated place (CDP): Dentsville, Gadsden, Hopkins, Lugoff, Oak Grove, Seven Oaks, St. Andrews, Woodfield
South Carolina map collection
References