Map of Daytona Beach, Florida
Map of Daytona Beach
This Daytona Beach map collection has it all. It features highways/roads, major landmarks, and things to do. The name says it all for Daytona Beach. When you go, you have to relax on one of its sandy, pristine beaches or play a round of golf.
Otherwise, the city is all about competitive racing. The Daytona International Speedway is home to the Daytona 500. When it comes to racing, this is the most prestigious NASCAR event in the United States!
Daytona Beach is one of the most beautiful cities in Florida. With an estimated population of close to 70,000, the city features a beautiful boardwalk, a long beach, and an array of hotels and resorts. Learn more about this city below.
Jump To: Interactive Map | Printable Road Map | 10 Things to Do | Reference Map
Daytona Beach map collection
Interactive Map of Daytona Beach
Want to plan your next vacation? Decide where your next family vacation will take you? Or just explore the area? This interactive map is the perfect way to get started. Visit the famous Daytona speedways, beaches, restaurants, bars, and more. The city, which sits on the Atlantic Ocean, is a popular getaway for Florida residents and tourists alike.
Daytona Beach Road Map
This Daytona Beach road map is the perfect way to plan your vacation! Daytona Beach has a lot of things to do and see, so keeping this map nearby will help you figure out what your next adventure will be. This map is designed to give you a general overview of the city and will show you all the main roads you might travel on. But if you plan on traveling outside the city, use this Florida road map to navigate around the state.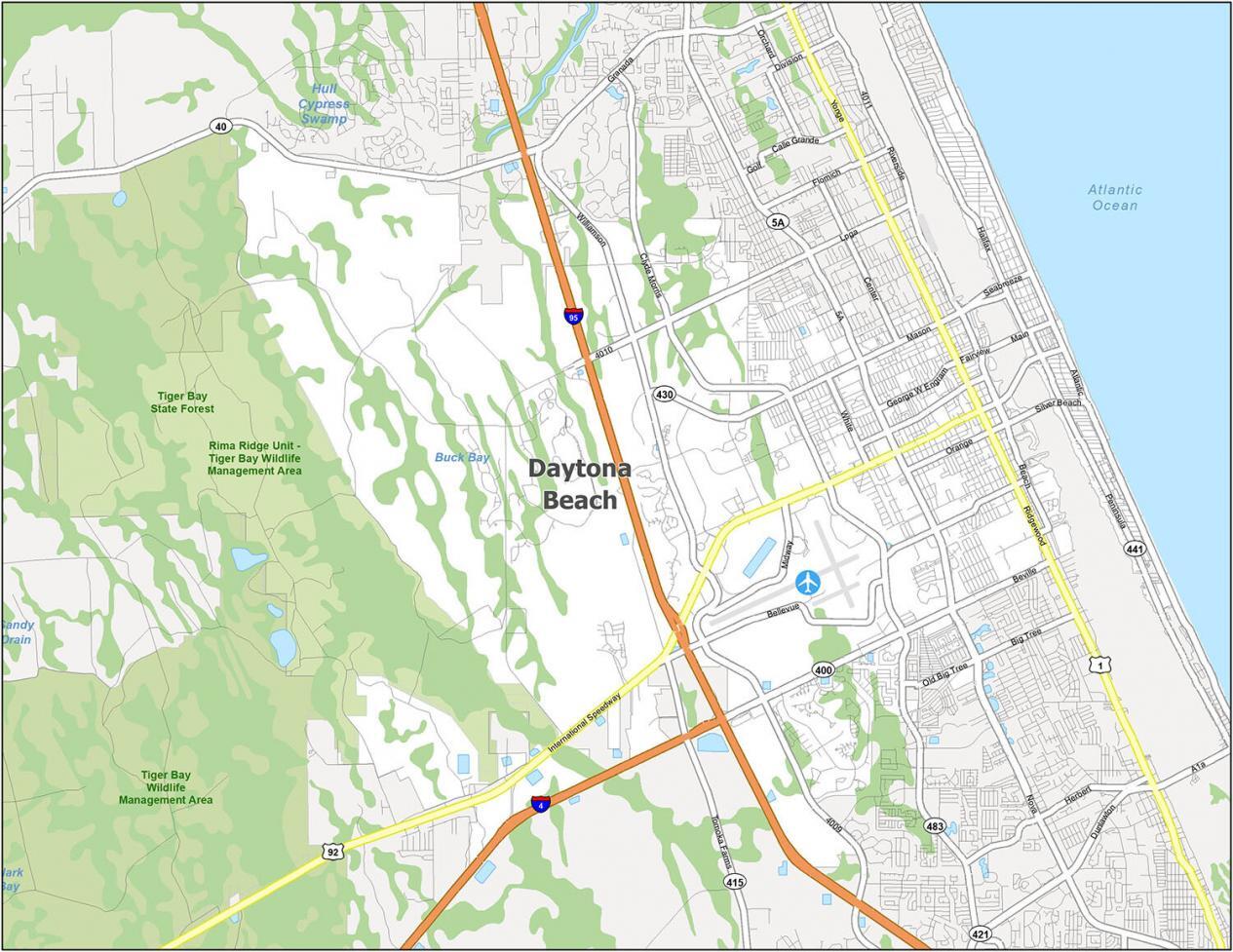 Interstate Highways: I-4, I-95
US Highways: 1, 5A, 92, 400,
Parkways: Aviation Center Pky
Major Roads: 2nd Ave, 415 Rd, 430 Rd, 483 Rd, 4009 Rd, 4010 Rd, 4068 Rd, Atlantic Ave, Beach St, Bellevue Ave, Beville Rd, Big Tree Rd, Center Ave, Center St, Clyde Morris Blvd, Dr. Mary Mcleod Bethune Blvd, Fairview Ave, Florida State A1A Rd, George W Engram Blvd, Halifax Ave, International Speedway Blvd, LPGA Blvd, Main St, Mason Ave, Midway Ave, Nova Rd, Oakridge Blvd, Old Big Tree Rd, Orange Ave, Peninsula Dr, Pine St, Ridgewood Ave, Seabreeze Blvd, Silver Beach Ave, Tomoka Farms Rd, White St, Wilder Blvd, Williamson Blvd
10 Things To Do in Daytona Beach
There are so many things to do in Daytona Beach, that it's hard to decide where to go. The city is home to Daytona International Speedway, one of the most famous racetracks in the world. Daytona Beach is also home to several unique attractions, including the famous Daytona Beach Boardwalk, a stretch of shops, and eateries all along the seashore. Overall, it's an ideal tourist destination for all ages.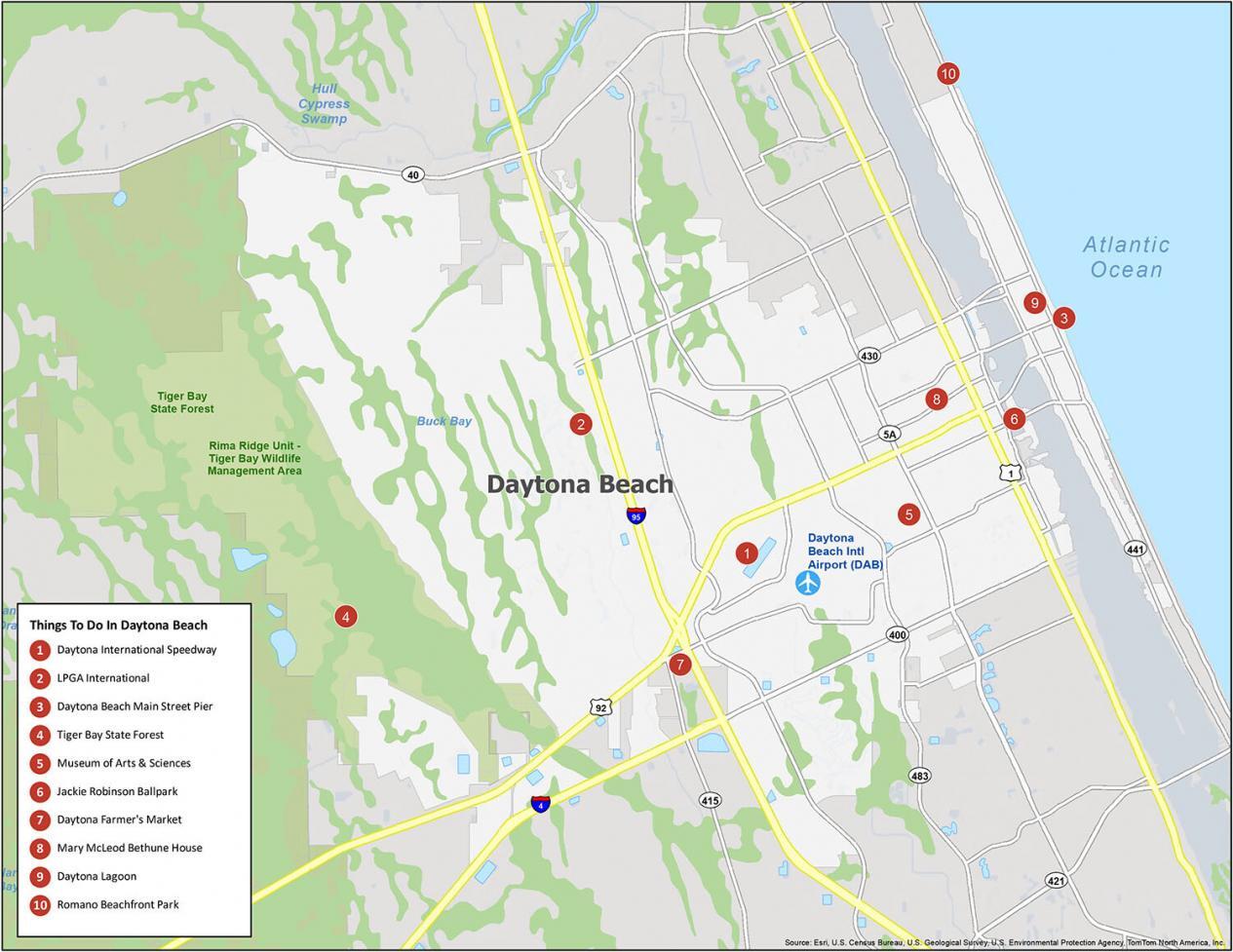 What I've got to say about Daytona Beach is that it's unique. It has some of the most unprecedented attractions for sports, beaches, and the environment. We only have 10 places to visit, but it can go much farther beyond this list. Of the best of the best, here are our top 10 travel recommendations for Daytona Beach, Florida.
Daytona International Speedway
LPGA International
Daytona Beach Main Street Pier
Tiger Bay State Forest
Museum of Arts & Sciences
Jackie Robinson Ballpark
Daytona Farmer's Market
Mary McLeod Bethune House
Daytona Lagoon
Romano Beachfront Park
Daytona Beach Reference Map
This map is the perfect companion for any road trip in Florida. You'll never miss a thing when you come to town with this ultra-handy tool. The map will guide you to the best local sights and destinations, as well as tell you about wildlife areas, swamps, and bays.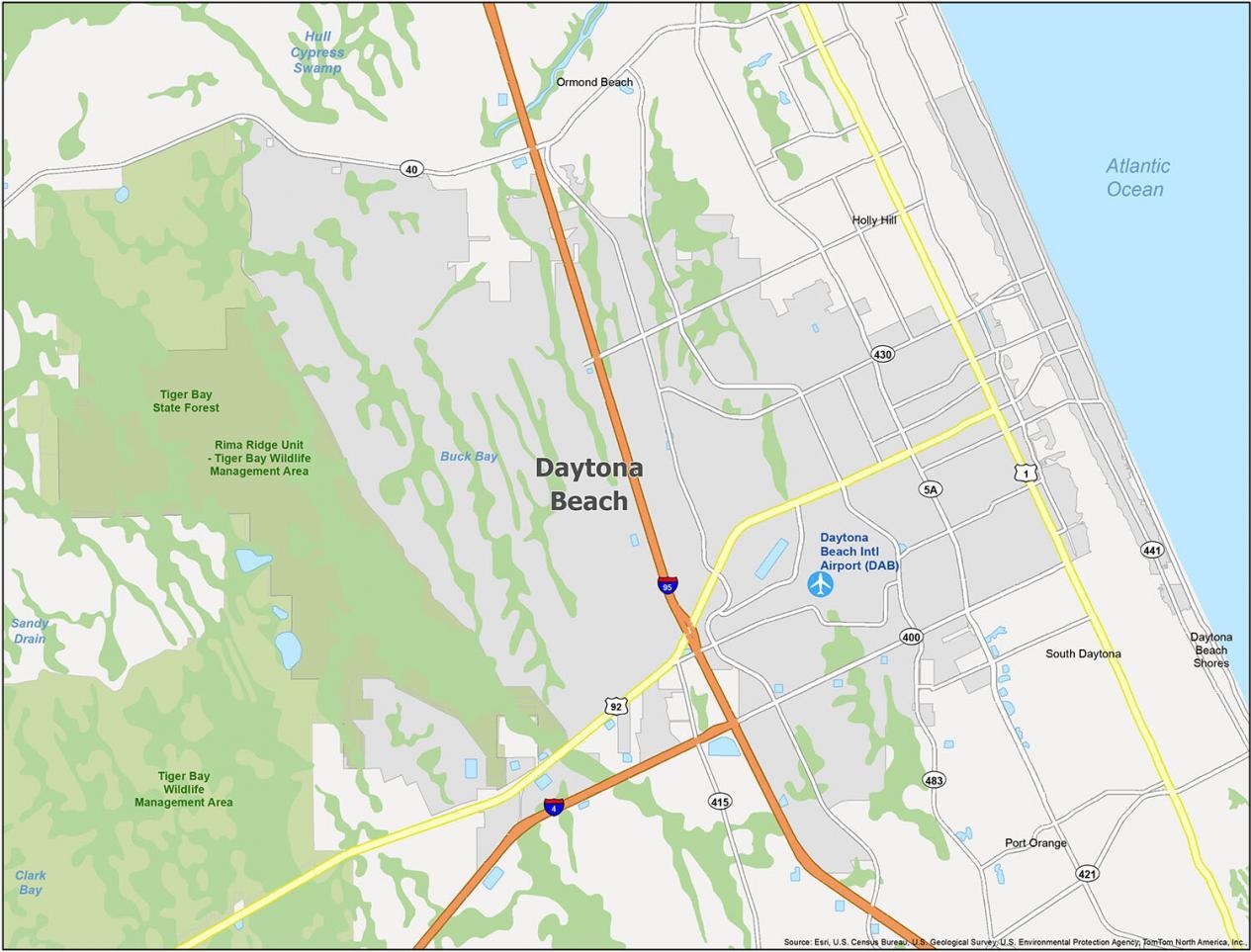 Airport: Daytona Beach International Airport (DAB)
Cities: Daytona Beach, Daytona Beach Shores, Holly Hill, Ormond Beach, Port Orange, South Daytona
Water Features: Atlantic Ocean, Buck Bay, Hull Cypress Swamp
Forests: Tiger Bay State Forest
Florida map collection