Map of Des Moines
This Des Moines map collection features a highway/road map, reference map, and a list of things to do. You can also interactively discover everything there is to see in Des Moines, Iowa like its museums, parks, and gardens.
If you are looking for a city in the Midwest, you can't do much better than Des Moines, Iowa. Home to the capital city of Iowa, the population of this city is around 215,000 people, making it the most populous metro area in the state.
Visit Des Moines, nicknamed the Hartford of the West, where you will explore the cultural and historic landmarks of the city. Plus, explore the sites and shop the stores of this great American city.
Jump To: Interactive Map | Printable Road Map | 10 Things to Do | Reference Map
Des Moines map collection
Interactive Map of Des Moines
Get to know what's going on in this amazing city with a visit to one of the fastest-growing cities in the Midwest. Whether you're looking for the best restaurant or just want to find a new place to visit, this interactive map is perfect for you. It allows you to zoom in to see the different areas. You can get a detailed view so that you can locate your favorite places before your visit.
Des Moines Road Map
When you travel to Des Moines, you will be able to take in the sights and sounds of the city while using this convenient printable one-page map. This map features a ton of information about key locations in and around the city. Additionally, it shows its interstate highways like I-35, I-80, and I-235 as well as its major roads so you never get lost again. But if you want to travel outside the city, take a look at this Iowa road map for more highway and road information.
Interstate Highways: I-235
US Highways: 5, 6, 28, 46, 65, 69, 163
Parkways/Freeways: George Flagg Pky, Martin Luther King Jr Pky
Major Roads: 1st St, 2nd Ave, 2nd St, 14th St, 15th St, 30th St, 58th St, 63rd St, 64th Ave, Army Post Rd, Douglas Ave, Euclid Ave, Hickman Rd, Merle Hay Rd, Hickman Rd, Hubbell Ave, University Ave, Vandalia Rd
10 Things To Do in Des Moines
When you travel to Des Moines, Iowa, you can enjoy a variety of things to do, including visiting the Iowa State Capitol Building and walking the Pappajohn Sculpture Park. This map lets you explore the fun things to do in Des Moines Iowa and learn about the city, located at the confluence of the Raccoon and Des Moines Rivers.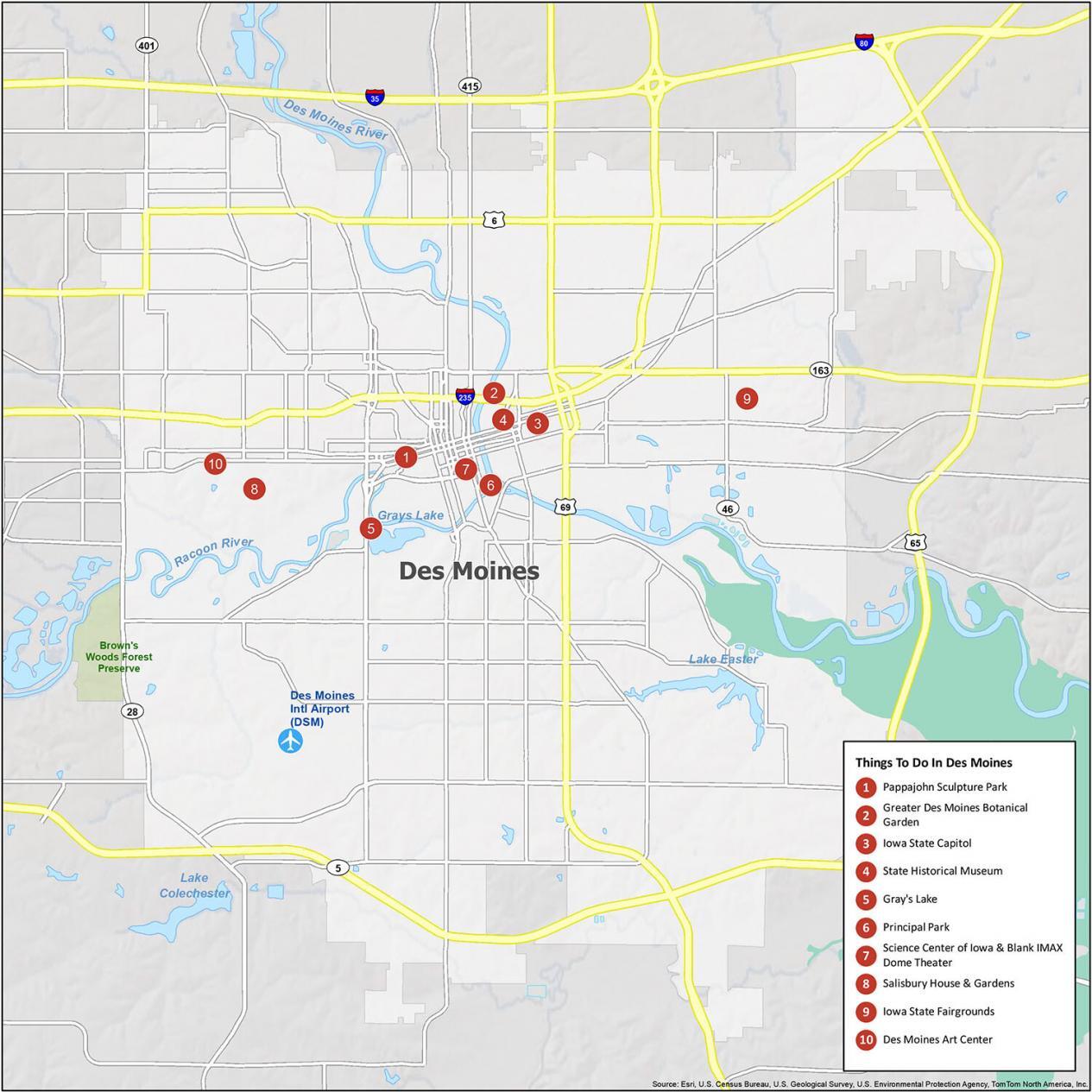 The top site to see in Des Moines, Iowa is Pappajohn Sculpture Park. It's a 4.4-acre park with 24 sculptures. It's like a "Where's Waldo" as you try to find them all. But there's more. If you travel to Des Moines, Iowa, here are our top 10 travel recommendations.
Pappajohn Sculpture Park
Greater Des Moines Botanical Garden
Iowa State Capitol
State Historical Museum
Gray's Lake
Principal Park
Science Center of Iowa & Blank IMAX Dome Theater
Salisbury House & Gardens
Iowa State Fairgrounds
Des Moines Art Center
Des Moines Reference Map
Get a sense of the city, the county, and the state by looking at this reference map of the area. For example, you'll be able to see neighborhoods, lakes, and rivers. With a variety of things to do, Des Moines is the perfect place to explore with this map. Learn about this city more with a detailed map of Des Moines and its surrounding areas.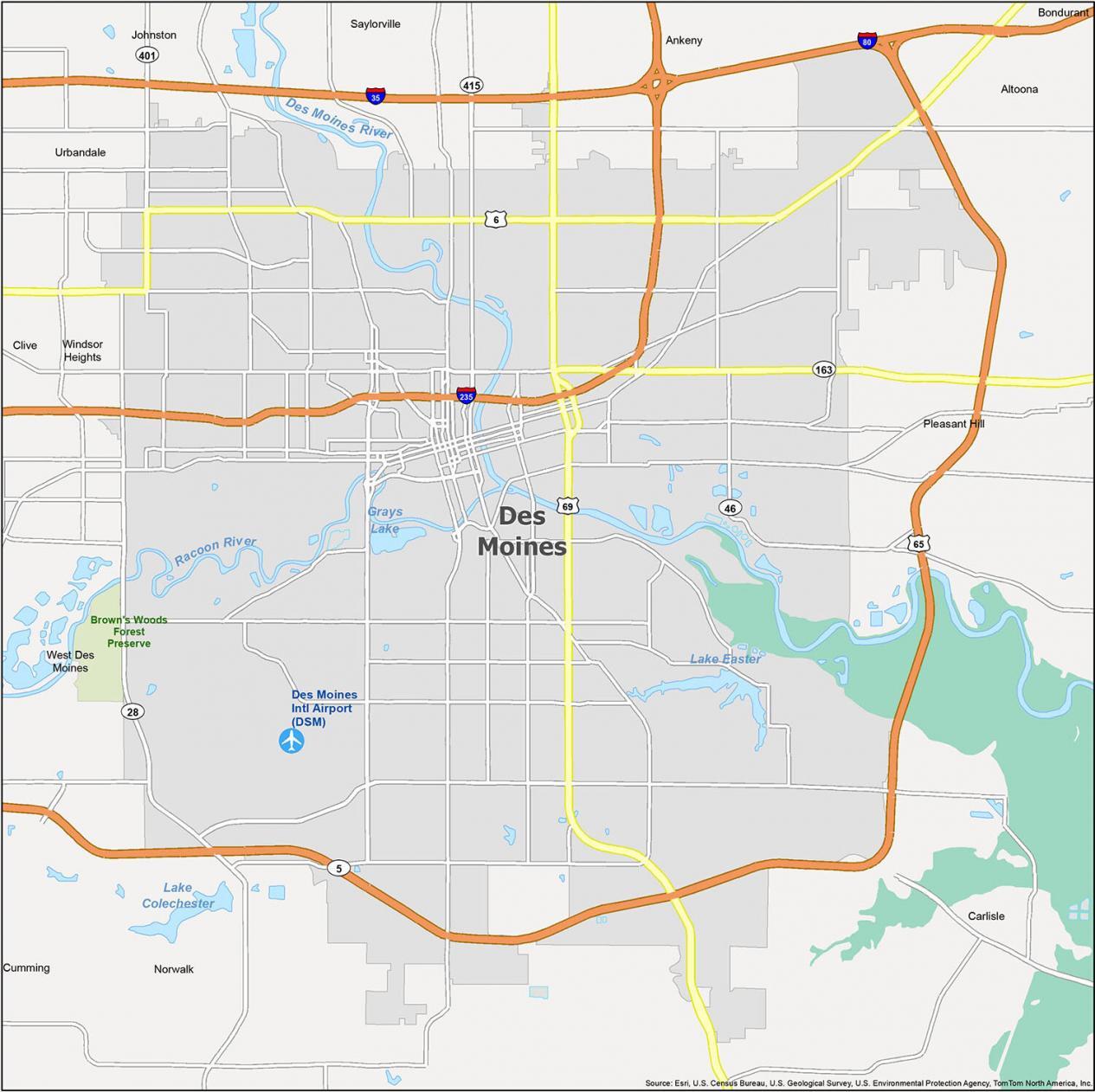 Airport: Des Moines International Airport (DSM)
Cities: Altoona, Ankeny, Bondurant, Carlisle, Clive, Cumming, Des Moines, Johnston, Norwalk, Pleasant Hill, Urbandale, West Des Moines, Windsor Heights
Census-designated place (CDP): Saylorville
Water Features: Des Moines River, Racoon River, Grays Lake, Lake Easter, Lake Colchester
Des Moines, Iowa maps
Iowa map collection
References