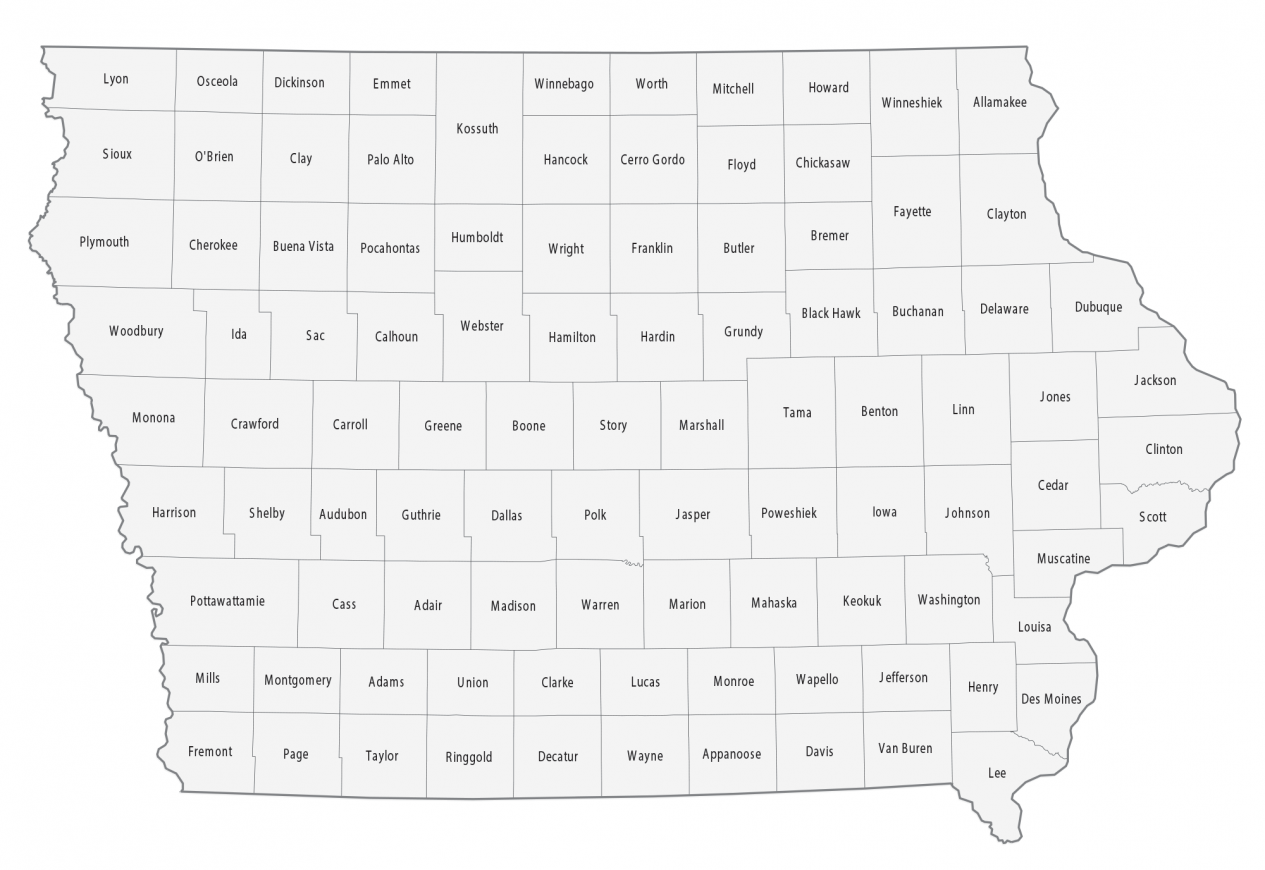 About the map
This Iowa county map displays its 99 counties. Despite having a relatively small population, Iowa has the ninth most counties out of all other states in America.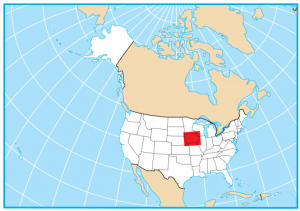 Polk County is the most populated in Iowa holding the state capital of Des Moines. Next, Linn, Scott, and Johnson counties have populations all over 150,000 people.
In terms of size, Kossuth County stands out occupying an area of 974.2 square miles. But the smallest county is Osceola County in northwest Iowa. Counties in Iowa have a very rectangular shape boundary and appearance.
Iowa map collection
You are free to use our county map of Iowa for educational and commercial uses. Attribution is required. How to attribute?
Iowa county list
| County Name | Population (2020 est) | County Map | Area (sq mi) | Locator Map | FIPS Code |
| --- | --- | --- | --- | --- | --- |
| Adair County | 7,059 | Adair County | 570.3 | Adair County Map | 19001 |
| Adams County | 3,588 | Adams County | 425.5 | Adams County Map | 19003 |
| Allamakee County | 13,642 | Allamakee County | 658.8 | Allamakee County Map | 19005 |
| Appanoose County | 12,430 | Appanoose County | 516.2 | Appanoose County Map | 19007 |
| Audubon County | 5,481 | Audubon County | 443.4 | Audubon County Map | 19009 |
| Benton County | 25,414 | Benton County | 718.5 | Benton County Map | 19011 |
| Black Hawk County | 130,786 | Black Hawk County | 572.7 | Black Hawk County Map | 19013 |
| Boone County | 26,277 | Boone County | 573.6 | Boone County Map | 19015 |
| Bremer County | 25,311 | Bremer County | 439.6 | Bremer County Map | 19017 |
| Buchanan County | 21,287 | Buchanan County | 573.1 | Buchanan County Map | 19019 |
| Buena Vista County | 19,772 | Buena Vista County | 580.3 | Buena Vista County Map | 19021 |
| Butler County | 14,333 | Butler County | 581.5 | Butler County Map | 19023 |
| Calhoun County | 9,473 | Calhoun County | 572.1 | Calhoun County Map | 19025 |
| Carroll County | 19,914 | Carroll County | 570.1 | Carroll County Map | 19027 |
| Cass County | 12,817 | Cass County | 564.9 | Cass County Map | 19029 |
| Cedar County | 18,485 | Cedar County | 581.9 | Cedar County Map | 19031 |
| Cerro Gordo County | 42,103 | Cerro Gordo County | 575.1 | Cerro Gordo County Map | 19033 |
| Cherokee County | 11,190 | Cherokee County | 577.1 | Cherokee County Map | 19035 |
| Chickasaw County | 11,834 | Chickasaw County | 505.7 | Chickasaw County Map | 19037 |
| Clarke County | 9,353 | Clarke County | 431.7 | Clarke County Map | 19039 |
| Clay County | 15,976 | Clay County | 572.6 | Clay County Map | 19041 |
| Clayton County | 17,321 | Clayton County | 792.8 | Clayton County Map | 19043 |
| Clinton County | 46,392 | Clinton County | 709.7 | Clinton County Map | 19045 |
| Crawford County | 16,834 | Crawford County | 715 | Crawford County Map | 19047 |
| Dallas County | 96,963 | Dallas County | 591.7 | Dallas County Map | 19049 |
| Davis County | 9,051 | Davis County | 504.9 | Davis County Map | 19051 |
| Decatur County | 7,769 | Decatur County | 533.5 | Decatur County Map | 19053 |
| Delaware County | 16,937 | Delaware County | 578.9 | Delaware County Map | 19055 |
| Des Moines County | 38,708 | Des Moines County | 429.6 | Des Moines County Map | 19057 |
| Dickinson County | 17,549 | Dickinson County | 403.7 | Dickinson County Map | 19059 |
| Dubuque County | 97,590 | Dubuque County | 616.6 | Dubuque County Map | 19061 |
| Emmet County | 9,095 | Emmet County | 402.3 | Emmet County Map | 19063 |
| Fayette County | 19,258 | Fayette County | 731.3 | Fayette County Map | 19065 |
| Floyd County | 15,480 | Floyd County | 501.4 | Floyd County Map | 19067 |
| Franklin County | 9,971 | Franklin County | 582.6 | Franklin County Map | 19069 |
| Fremont County | 6,729 | Fremont County | 516.6 | Fremont County Map | 19071 |
| Greene County | 8,795 | Greene County | 571.3 | Greene County Map | 19073 |
| Grundy County | 12,217 | Grundy County | 501.9 | Grundy County Map | 19075 |
| Guthrie County | 10,737 | Guthrie County | 593.1 | Guthrie County Map | 19077 |
| Hamilton County | 14,716 | Hamilton County | 577.3 | Hamilton County Map | 19079 |
| Hancock County | 10,507 | Hancock County | 573.1 | Hancock County Map | 19081 |
| Hardin County | 16,575 | Hardin County | 570.1 | Hardin County Map | 19083 |
| Harrison County | 13,928 | Harrison County | 700.9 | Harrison County Map | 19085 |
| Henry County | 19,697 | Henry County | 436.6 | Henry County Map | 19087 |
| Howard County | 9,176 | Howard County | 473.6 | Howard County Map | 19089 |
| Humboldt County | 9,473 | Humboldt County | 435.7 | Humboldt County Map | 19091 |
| Ida County | 6,833 | Ida County | 432 | Ida County Map | 19093 |
| Iowa County | 16,138 | Iowa County | 587.5 | Iowa County Map | 19095 |
| Jackson County | 19,205 | Jackson County | 649.6 | Jackson County Map | 19097 |
| Jasper County | 37,148 | Jasper County | 732.9 | Jasper County Map | 19099 |
| Jefferson County | 18,347 | Jefferson County | 436.9 | Jefferson County Map | 19101 |
| Johnson County | 153,740 | Johnson County | 623.3 | Johnson County Map | 19103 |
| Jones County | 20,617 | Jones County | 577 | Jones County Map | 19105 |
| Keokuk County | 10,085 | Keokuk County | 579.9 | Keokuk County Map | 19107 |
| Kossuth County | 14,680 | Kossuth County | 974.2 | Kossuth County Map | 19109 |
| Lee County | 33,480 | Lee County | 539.8 | Lee County Map | 19111 |
| Linn County | 227,854 | Linn County | 724.5 | Linn County Map | 19113 |
| Louisa County | 11,011 | Louisa County | 417.3 | Louisa County Map | 19115 |
| Lucas County | 8,518 | Lucas County | 434.4 | Lucas County Map | 19117 |
| Lyon County | 11,756 | Lyon County | 586.6 | Lyon County Map | 19119 |
| Madison County | 16,521 | Madison County | 562.2 | Madison County Map | 19121 |
| Mahaska County | 22,370 | Mahaska County | 573.5 | Mahaska County Map | 19123 |
| Marion County | 33,168 | Marion County | 570.5 | Marion County Map | 19125 |
| Marshall County | 39,495 | Marshall County | 573 | Marshall County Map | 19127 |
| Mills County | 14,766 | Mills County | 440.7 | Mills County Map | 19129 |
| Mitchell County | 10,647 | Mitchell County | 469.5 | Mitchell County Map | 19131 |
| Monona County | 8,598 | Monona County | 698.9 | Monona County Map | 19133 |
| Monroe County | 7,770 | Monroe County | 434.2 | Monroe County Map | 19135 |
| Montgomery County | 9,935 | Montgomery County | 425 | Montgomery County Map | 19137 |
| Muscatine County | 42,394 | Muscatine County | 449.2 | Muscatine County Map | 19139 |
| O'Brien County | 13,679 | OBrien County | 573.2 | OBrien County Map | 19141 |
| Osceola County | 5,987 | Osceola County | 399.7 | Osceola County Map | 19143 |
| Page County | 15,073 | Page County | 535.5 | Page County Map | 19145 |
| Palo Alto County | 8,845 | Palo Alto County | 569.4 | Palo Alto County Map | 19147 |
| Plymouth County | 25,219 | Plymouth County | 861.7 | Plymouth County Map | 19149 |
| Pocahontas County | 6,607 | Pocahontas County | 578.7 | Pocahontas County Map | 19151 |
| Polk County | 494,281 | Polk County | 591.5 | Polk County Map | 19153 |
| Pottawattamie County | 93,328 | Pottawattamie County | 959.1 | Pottawattamie County Map | 19155 |
| Poweshiek County | 18,381 | Poweshiek County | 586.1 | Poweshiek County Map | 19157 |
| Ringgold County | 4,801 | Ringgold County | 538.9 | Ringgold County Map | 19159 |
| Sac County | 9,603 | Sac County | 578.3 | Sac County Map | 19161 |
| Scott County | 173,216 | Scott County | 468.6 | Scott County Map | 19163 |
| Shelby County | 11,430 | Shelby County | 591.4 | Shelby County Map | 19165 |
| Sioux County | 35,043 | Sioux County | 768.6 | Sioux County Map | 19167 |
| Story County | 98,237 | Story County | 573.6 | Story County Map | 19169 |
| Tama County | 16,801 | Tama County | 722.3 | Tama County Map | 19171 |
| Taylor County | 6,092 | Taylor County | 534.7 | Taylor County Map | 19173 |
| Union County | 12,157 | Union County | 425.8 | Union County Map | 19175 |
| Van Buren County | 7,069 | Van Buren County | 490.5 | Van Buren County Map | 19177 |
| Wapello County | 34,985 | Wapello County | 436 | Wapello County Map | 19179 |
| Warren County | 52,265 | Warren County | 573.3 | Warren County Map | 19181 |
| Washington County | 21,992 | Washington County | 570.8 | Washington County Map | 19183 |
| Wayne County | 6,415 | Wayne County | 527.1 | Wayne County Map | 19185 |
| Webster County | 35,934 | Webster County | 718.4 | Webster County Map | 19187 |
| Winnebago County | 10,277 | Winnebago County | 401.6 | Winnebago County Map | 19189 |
| Winneshiek County | 19,862 | Winneshiek County | 690.1 | Winneshiek County Map | 19191 |
| Woodbury County | 103,138 | Woodbury County | 878.1 | Woodbury County Map | 19193 |
| Worth County | 7,359 | Worth County | 402 | Worth County Map | 19195 |
| Wright County | 12,416 | Wright County | 582.3 | Wright County Map | 19197 |
References