Iowa State Map – Places and Landmarks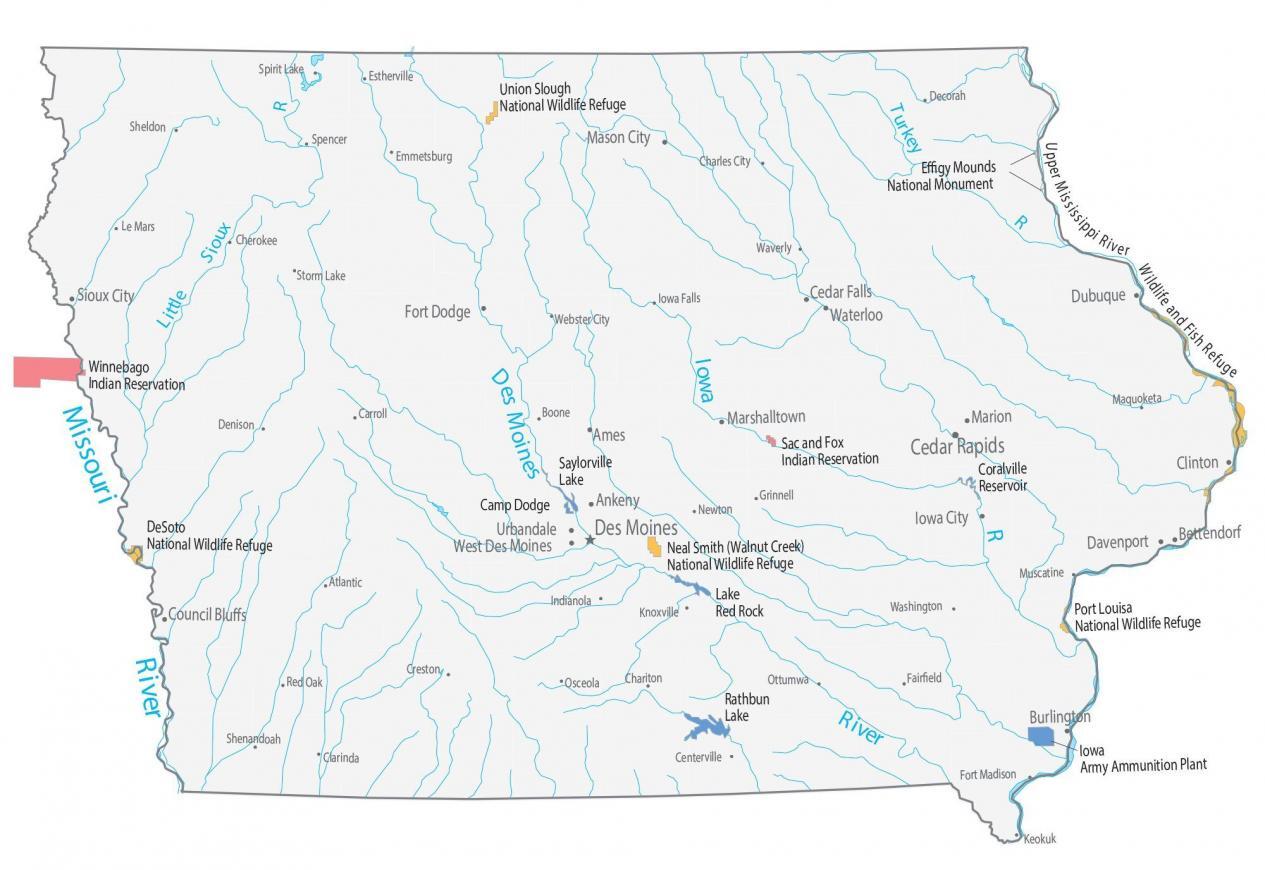 About the map
This Iowa State Map shows major landmarks and places in Iowa. For example, it features national wildlife refuges, military bases, and other federal lands in Iowa.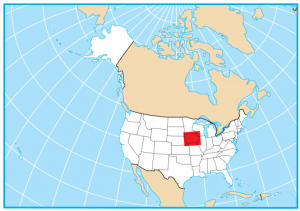 Iowa doesn't have any national parks or national forests. But it does have over 40,000 acres of state forests. The largest is Stephens State Forest in Lucas County.
Despite the fact it has no national parks or forests, it's fortunate to have several national wildlife refuges. For example, Union Slough, Neal Smith (Walnut Creek), DeSoto NWR, and Port Louisa NWR are scattered among the state. Not to mention it has Effigy Mounds National Monument, which consists of 200 prehistoric mounds built by Native Americans.
Iowa map collection
You are free to use our map of Iowa for educational and commercial uses. Attribution is required. How to attribute?
Federal lands
Lakes and Reservoir
Coralville Reservoir
Saylorville Lake
Lake Red Rock
Rathbun Lake
National Wildlife Refuge (NWR)
Union Slough NWR
Neal Smith (Walnut Creek) NWR
DeSoto NWR
Port Louisa NWR
National Monuments
Effigy Mounds National Monument
Wildlife and Fish Refuge
Upper Mississippi River Wildlife and Fish Refuge
Rivers in Iowa
Missouri River
Iowa River
Little Sioux River
Des Moines River
Turkey River
Indian Reserves (IR)
Winnebago IR
Sac and Fox IR
Army, naval and military
Camp Dodge
Iowa Army Ammunition Plant
Iowa landmarks and places
Des Moines
Ames
Ankeny
Bettendorf
Cedar Falls
Clinton
Council Bluffs
Davenport
Dubuque
Iowa City
Marshalltown
Mason City
Sioux City
Urbandale
Waterloo
West Des Moines
Burlington
Fort Dodge
Marion
Cedar Rapids
Atlantic
Boone Carroll
Centerville
Chariton
Charles City
Cherokee
Creston
Clarinda
Decorah
Denison
Emmetsburg
Estherville
Fairfield
Fort Madison
Grinnell
Indianola
Iowa Falls
Knoxville
Le Mars
Maquoketa
Muscatine
Newton
Red Oak
Sheldon
Shenandoah
Spencer
Spirit Lake
Storm Lake
Washington
Waverly
Webster City
Keokuk
State capital
Des Moines
References