Map of Detroit
Check out this map of Detroit with everything from highways/roads, landmarks, and places of reference. If you want to really discover Detroit, then check out the Google Map below for you to interactively explore the city.
Detroit is the largest city in Michigan and the second-largest city in the Midwest after Chicago. Get to know the city of Detroit with this map collection of Detroit.
From the world-famous Detroit Institute of Arts to the innovative Henry Ford Museum, check out the top attractions in Motor City by reading all the maps below.
Jump To: Interactive Map | Printable Road Map | 10 Things to Do | Reference Map
Detroit map collection
Interactive Map of Detroit
This interactive map is detailed and easy to use. It includes information about the city's top attractions along with where to stay and where to eat. There are also a variety of parks and hiking trails throughout the city and on the outskirts. The city is located on the Detroit River and the massive Lake St. Clair to the northeast. It's also the home to several sports teams like the Tigers (baseball), Lions (football), Pistons (basketball), and the Red Wings (hockey).
Detroit Road Map
Detroit is a major transportation hub, and home to several major companies, including General Motors, Ford, and Chrysler. No more getting lost in the Motor City with this printable map of the city. This map will help you navigate your way through the city offering a bird's eye view of its interstates, highways, and major roads. Use this map to plan your vacation to visit Motor City or make sure to use our road map of Michigan if you're driving in the state.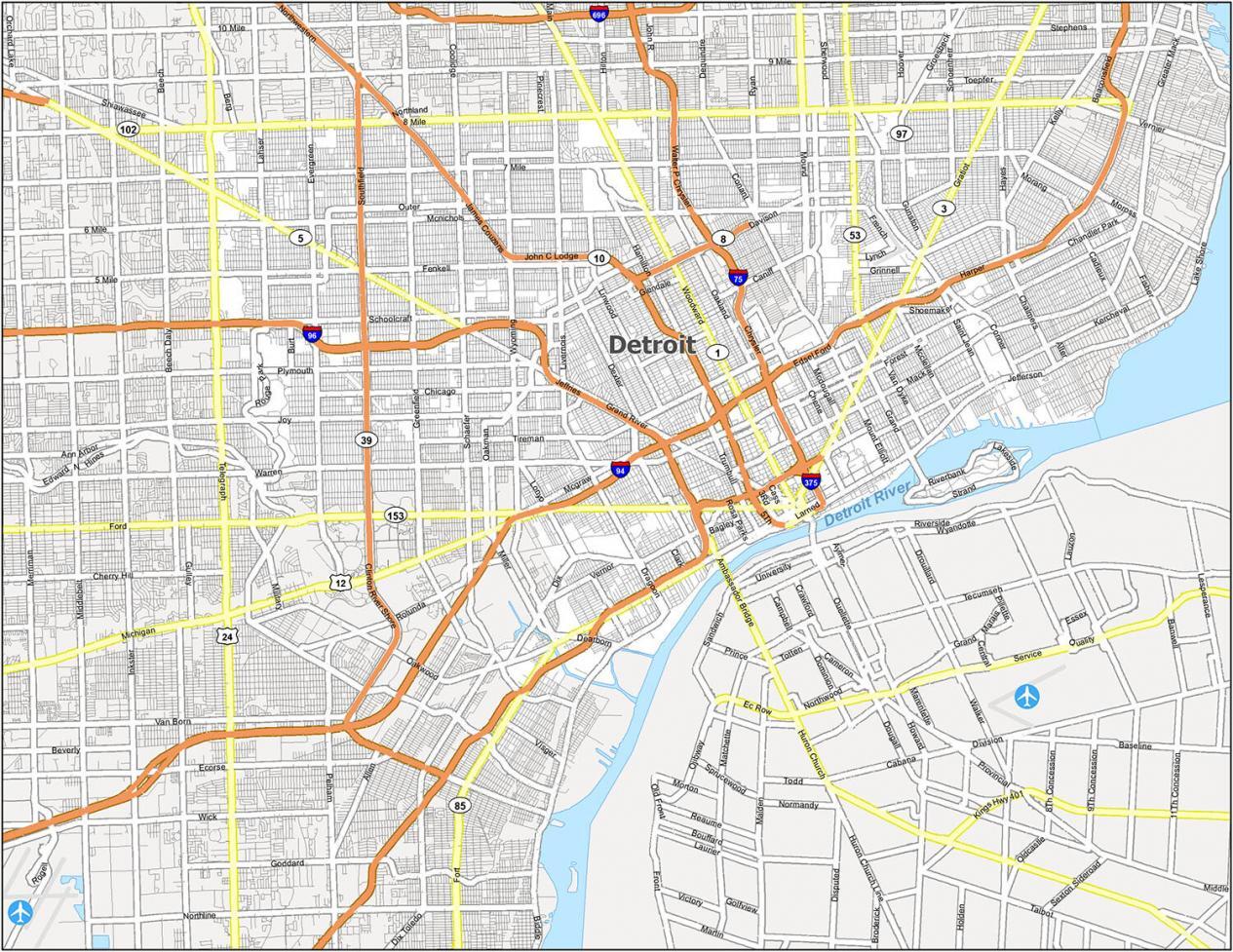 Interstate Highways: I-75, I-94, I-96, I-375
US Highways: 3, 5, 8, 10, 12, 24, 39, 53, 85, 102, 153, Vernor Hwy, Schaefer Hwy, Detroit Windsor Tunnel
Parkways/Freeways: Edsel Ford Fwy, Fisher Fwy, James Couzens Fwy, Jeffries Fwy, John C Lodge Expy, John C Lodge Fwy, Southfield Fwy, Walter P Chrysler Fwy,
Major Roads: 5th St, 8 Mile Rd, Ambassador Bridge, Cadillac Blvd, Cass Ave, Chrysler Dr, Clark St, Conner St, Davison St, Dragoon St, Evergreen Rd, Fenkell St, Ford Rd, Forest Ave, Grand River Ave, Gratiot Ave, Greenfield Rd, Harper Ave, Jefferson Ave, Lafayette Blvd, Livernois St, McGraw St, McNichols Rd, Michigan Ave, Monroe St, Mound Rd, Mount Elliott St, Oakwood Blvd, Porter St, Randolph St, Telegraph Rd, Van Dyke St, Warren Ave, Woodward Ave
10 Things To Do in Detroit
The Detroit metropolitan area is one of the most important areas in Michigan and even the entire Midwest. It's home to one of the most influential art scenes in the United States. Whether you're an urban explorer, a foodie, a family-focused traveler, or a solo adventurer, you'll find something to keep you busy in the Motor City. Use this Detroit Map like it's your guide to the city.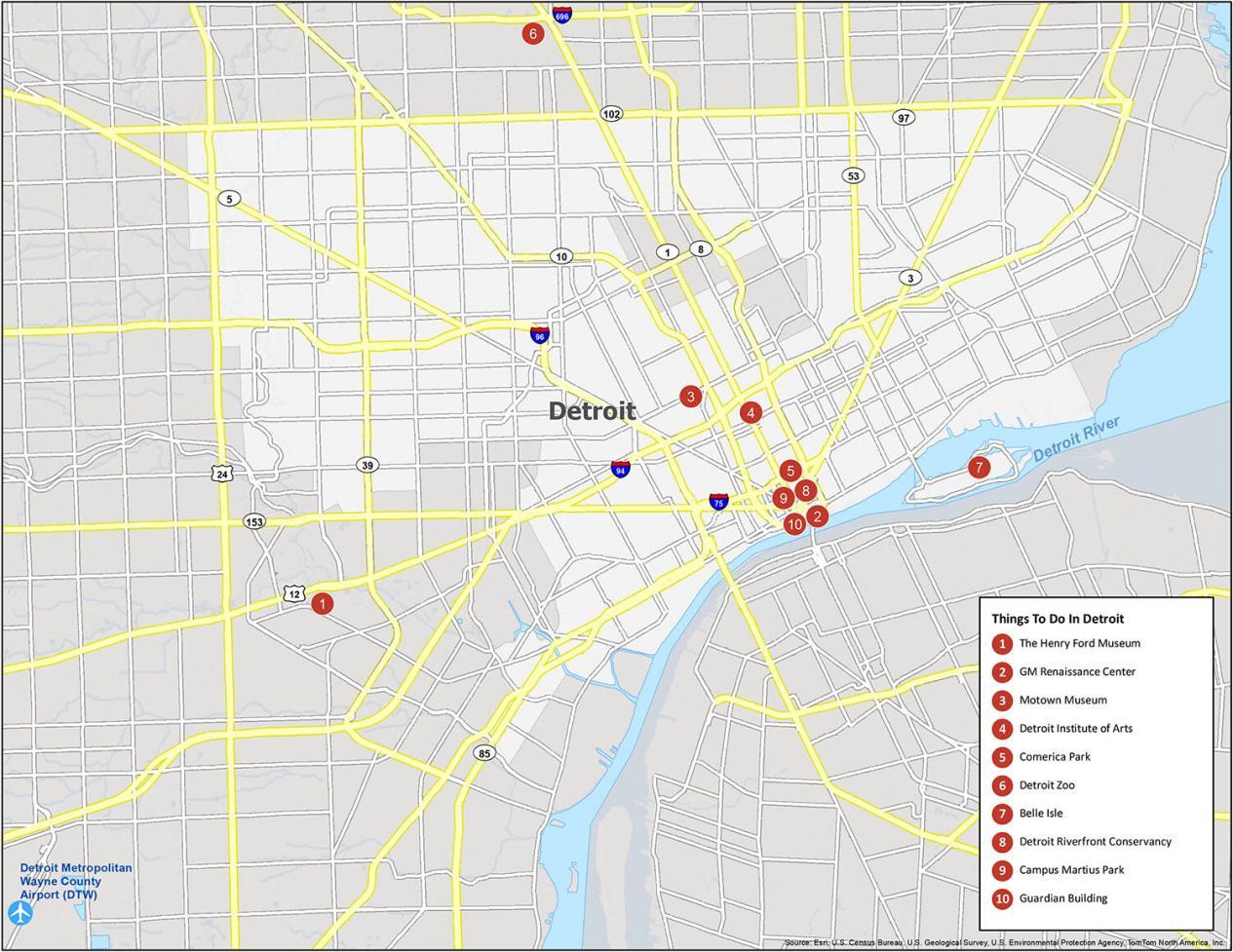 Detroit is known as the motor city because it's recognized for pioneering the American automotive industry. If you travel to Detroit, here are our top 10 travel recommendations.
The Henry Ford Museum
GM Renaissance Center
Motown Museum
Detroit Institute of Arts
Comerica Park
Detroit Zoo
Belle Isle
Detroit Riverfront Conservancy
Campus Martius Park
Guardian Building
Detroit Reference Map
Discover the diversity of Detroit's neighborhoods, and attractions. The city's architecture is as varied as its neighborhoods, with housing styles ranging from historical homes to modern lofts. The city also has a thriving arts community and a number of museums and cultural institutions. Experience the spirit of Detroit by getting the chance to meet new people and learn a new culture of America.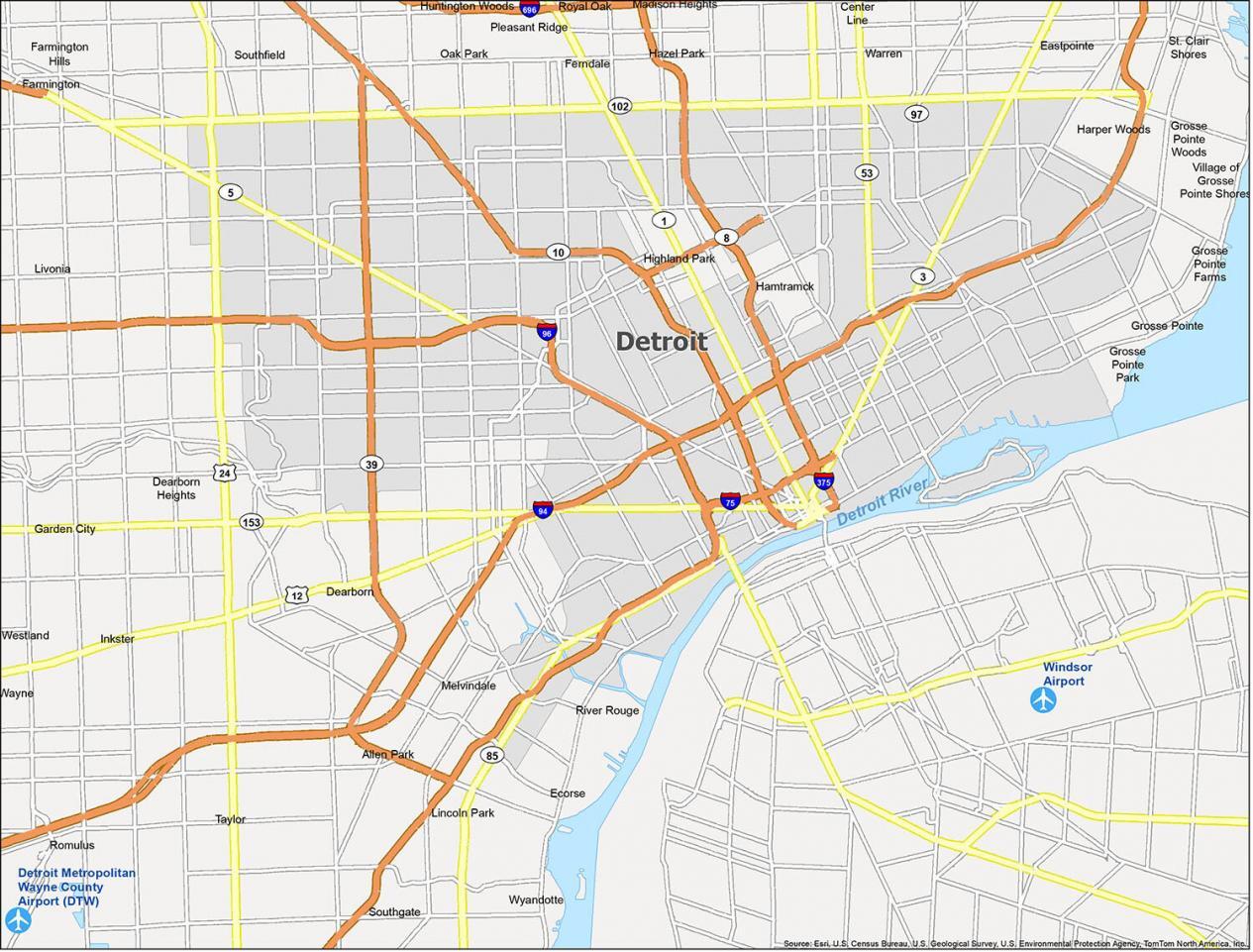 Airport: Detroit Metropolitan Wayne County Airport (DTW)
Cities: Allen Park, Center Line, Dearborn, Dearborn Heights, Detroit, Eastpointe, Ecorse, Farmington, Farmington Hills, Ferndale, Garden City, Grosse Pointe, Grosse Pointe Farms, Grosse Pointe Park, Grosse Pointe Woods, Hamtramck, Harper Woods, Hazel Park, Highland Park, Huntington Woods, Inkster, Lincoln Park, Livonia, Madison Heights, Melvindale, Oak Park, Pleasant Ridge, River Rouge, Romulus, Royal Oak, Southfield, Southgate, St. Clair Shores, Taylor, Village of Grosse Pointe Shores, Warren, Wayne, Westland, Wyandotte