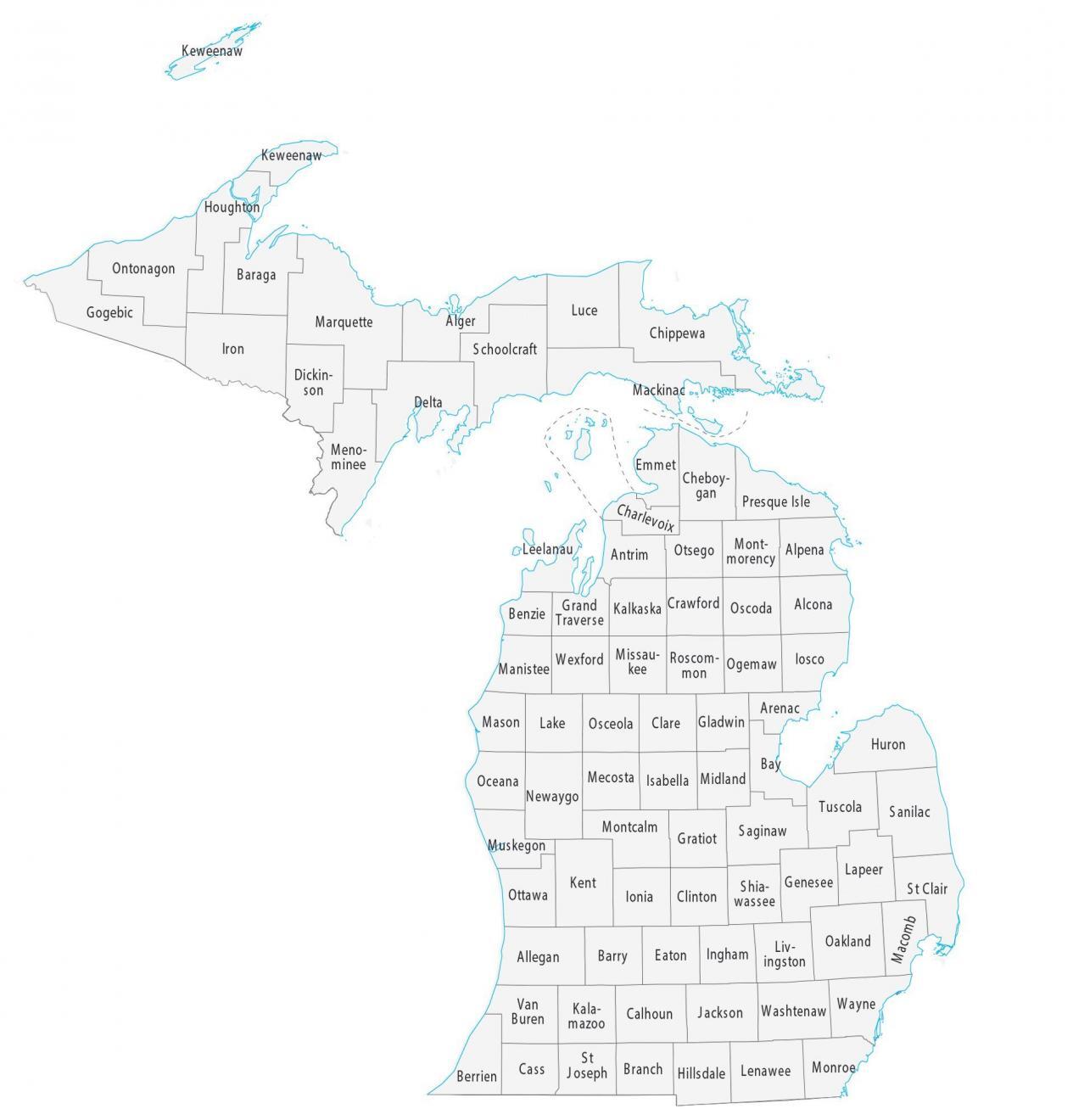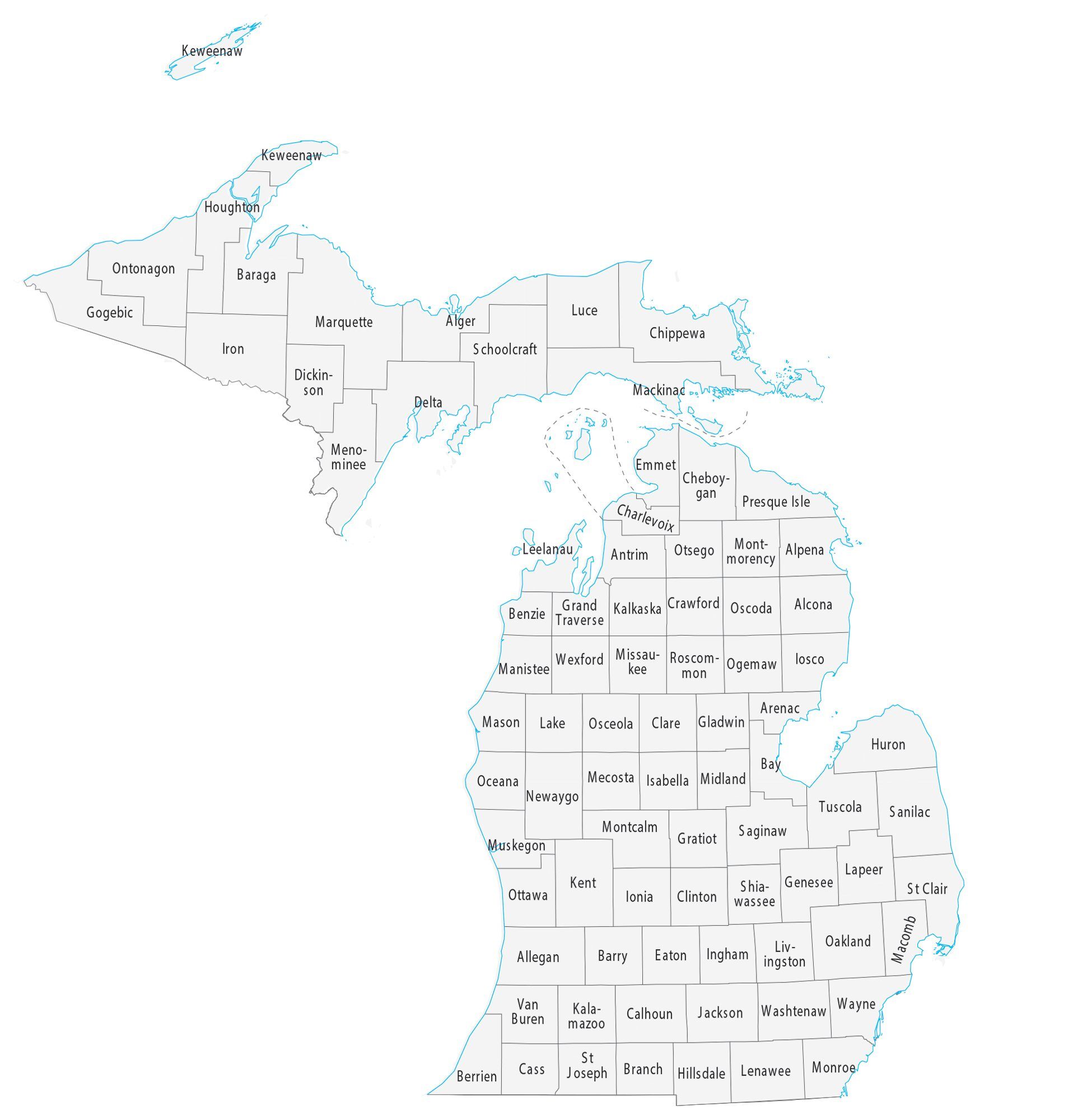 Michigan map collection
You are free to use our county map of Michigan for educational and commercial uses. Attribution is required. How to attribute?
About the map
This Michigan county map displays its 83 counties, which ranks 15th for the number of counties. The geography of Michigan is very unique compared to other states because Lake Michigan actually splits it into two separate pieces.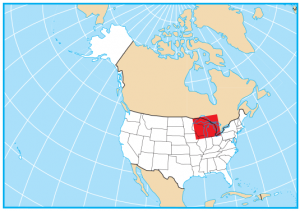 By far, the most populated county in Michigan is Wayne County with close to 1.75 million people. Next comes Oakland, Macomb, and Kent County. The least populated county in Michigan is Keweenaw County with just over 2000 residents.
For area, Marquette County in northwest Michigan is the largest. But the smallest county is Benzie County which occupies an area of about 350 square miles. Also notable, both Keweenaw and Charlevoix County contain island(s) that are not part of the mainland in Michigan.
Michigan county list
| County Name | Population (2020 est) | County Map | Area (sq mi) | Locator Map | FIPS Code |
| --- | --- | --- | --- | --- | --- |
| Alcona County | 10,505 | Alcona County | 694.4 | Alcona County Map | 26001 |
| Alger County | 9,015 | Alger County | 936.8 | Alger County Map | 26003 |
| Allegan County | 118,927 | Allegan County | 842.5 | Allegan County Map | 26005 |
| Alpena County | 28,238 | Alpena County | 594.2 | Alpena County Map | 26007 |
| Antrim County | 23,449 | Antrim County | 524.9 | Antrim County Map | 26009 |
| Arenac County | 14,953 | Arenac County | 367.8 | Arenac County Map | 26011 |
| Baraga County | 8,164 | Baraga County | 917 | Baraga County Map | 26013 |
| Barry County | 62,061 | Barry County | 577 | Barry County Map | 26015 |
| Bay County | 102,387 | Bay County | 448.5 | Bay County Map | 26017 |
| Benzie County | 17,852 | Benzie County | 347.6 | Benzie County Map | 26019 |
| Berrien County | 153,025 | Berrien County | 580.2 | Berrien County Map | 26021 |
| Branch County | 43,424 | Branch County | 519.6 | Branch County Map | 26023 |
| Calhoun County | 133,580 | Calhoun County | 718.3 | Calhoun County Map | 26025 |
| Cass County | 51,584 | Cass County | 508.4 | Cass County Map | 26027 |
| Charlevoix County | 26,105 | Charlevoix County | 453.7 | Charlevoix County Map | 26029 |
| Cheboygan County | 25,365 | Cheboygan County | 795.9 | Cheboygan County Map | 26031 |
| Chippewa County | 36,958 | Chippewa County | 1579.4 | Chippewa County Map | 26033 |
| Clare County | 30,771 | Clare County | 575.3 | Clare County Map | 26035 |
| Clinton County | 79,753 | Clinton County | 574.6 | Clinton County Map | 26037 |
| Crawford County | 13,981 | Crawford County | 563.3 | Crawford County Map | 26039 |
| Delta County | 35,612 | Delta County | 1179.1 | Delta County Map | 26041 |
| Dickinson County | 25,112 | Dickinson County | 776.5 | Dickinson County Map | 26043 |
| Eaton County | 110,148 | Eaton County | 579.4 | Eaton County Map | 26045 |
| Emmet County | 33,342 | Emmet County | 483 | Emmet County Map | 26047 |
| Genesee County | 404,794 | Genesee County | 649.6 | Genesee County Map | 26049 |
| Gladwin County | 25,424 | Gladwin County | 515.9 | Gladwin County Map | 26051 |
| Gogebic County | 13,842 | Gogebic County | 1144.2 | Gogebic County Map | 26053 |
| Grand Traverse County | 93,592 | Grand Traverse County | 490.3 | Grand Traverse County Map | 26055 |
| Gratiot County | 40,283 | Gratiot County | 571.6 | Gratiot County Map | 26057 |
| Hillsdale County | 45,658 | Hillsdale County | 607 | Hillsdale County Map | 26059 |
| Houghton County | 35,126 | Houghton County | 1019.8 | Houghton County Map | 26061 |
| Huron County | 30,653 | Huron County | 838.2 | Huron County Map | 26063 |
| Ingham County | 290,609 | Ingham County | 560.7 | Ingham County Map | 26065 |
| Ionia County | 64,553 | Ionia County | 580 | Ionia County Map | 26067 |
| Iosco County | 25,140 | Iosco County | 566.3 | Iosco County Map | 26069 |
| Iron County | 11,066 | Iron County | 1211.3 | Iron County Map | 26071 |
| Isabella County | 69,504 | Isabella County | 577.7 | Isabella County Map | 26073 |
| Jackson County | 156,920 | Jackson County | 723.5 | Jackson County Map | 26075 |
| Kalamazoo County | 265,988 | Kalamazoo County | 580.3 | Kalamazoo County Map | 26077 |
| Kalkaska County | 18,003 | Kalkaska County | 570.6 | Kalkaska County Map | 26079 |
| Kent County | 658,708 | Kent County | 871.9 | Kent County Map | 26081 |
| Keweenaw County | 2,119 | Keweenaw County | 561.4 | Keweenaw County Map | 26083 |
| Lake County | 11,587 | Lake County | 574.3 | Lake County Map | 26085 |
| Lapeer County | 87,635 | Lapeer County | 662.8 | Lapeer County Map | 26087 |
| Leelanau County | 21,743 | Leelanau County | 375.6 | Leelanau County Map | 26089 |
| Lenawee County | 97,808 | Lenawee County | 761.6 | Lenawee County Map | 26091 |
| Livingston County | 192,335 | Livingston County | 585.4 | Livingston County Map | 26093 |
| Luce County | 6,126 | Luce County | 926.5 | Luce County Map | 26095 |
| Mackinac County | 10,839 | Mackinac County | 1063.6 | Mackinac County Map | 26097 |
| Macomb County | 870,791 | Macomb County | 483.9 | Macomb County Map | 26099 |
| Manistee County | 24,738 | Manistee County | 554 | Manistee County Map | 26101 |
| Marquette County | 65,834 | Marquette County | 1870.2 | Marquette County Map | 26103 |
| Mason County | 29,164 | Mason County | 509.2 | Mason County Map | 26105 |
| Mecosta County | 43,907 | Mecosta County | 571.2 | Mecosta County Map | 26107 |
| Menominee County | 22,608 | Menominee County | 1052 | Menominee County Map | 26109 |
| Midland County | 83,441 | Midland County | 528.1 | Midland County Map | 26111 |
| Missaukee County | 15,152 | Missaukee County | 573.9 | Missaukee County Map | 26113 |
| Monroe County | 150,568 | Monroe County | 556.1 | Monroe County Map | 26115 |
| Montcalm County | 63,476 | Montcalm County | 720.8 | Montcalm County Map | 26117 |
| Montmorency County | 9,337 | Montmorency County | 562.6 | Montmorency County Map | 26119 |
| Muskegon County | 173,883 | Muskegon County | 520.7 | Muskegon County Map | 26121 |
| Newaygo County | 49,348 | Newaygo County | 861.8 | Newaygo County Map | 26123 |
| Oakland County | 1,253,459 | Oakland County | 907.2 | Oakland County Map | 26125 |
| Oceana County | 26,819 | Oceana County | 546.1 | Oceana County Map | 26127 |
| Ogemaw County | 20,923 | Ogemaw County | 574.9 | Ogemaw County Map | 26129 |
| Ontonagon County | 5,656 | Ontonagon County | 1328.5 | Ontonagon County Map | 26131 |
| Osceola County | 23,466 | Osceola County | 573 | Osceola County Map | 26133 |
| Oscoda County | 8,368 | Oscoda County | 571.6 | Oscoda County Map | 26135 |
| Otsego County | 24,765 | Otsego County | 526.3 | Otsego County Map | 26137 |
| Ottawa County | 294,635 | Ottawa County | 577.1 | Ottawa County Map | 26139 |
| Presque Isle County | 12,665 | Presque Isle County | 684.8 | Presque Isle County Map | 26141 |
| Roscommon County | 23,986 | Roscommon County | 580 | Roscommon County Map | 26143 |
| Saginaw County | 189,868 | Saginaw County | 816 | Saginaw County Map | 26145 |
| Saint Clair County | 159,293 | Saint Clair County | 724.8 | Saint Clair County Map | 26147 |
| Saint Joseph County | 60,848 | Saint Joseph County | 520.9 | Saint Joseph County Map | 26149 |
| Sanilac County | 40,747 | Sanilac County | 964.1 | Sanilac County Map | 26151 |
| Schoolcraft County | 8,104 | Schoolcraft County | 1221.8 | Schoolcraft County Map | 26153 |
| Shiawassee County | 67,738 | Shiawassee County | 540.9 | Shiawassee County Map | 26155 |
| Tuscola County | 52,289 | Tuscola County | 815.2 | Tuscola County Map | 26157 |
| Van Buren County | 75,474 | Van Buren County | 623.1 | Van Buren County Map | 26159 |
| Washtenaw County | 366,473 | Washtenaw County | 722.4 | Washtenaw County Map | 26161 |
| Wayne County | 1,740,623 | Wayne County | 617.2 | Wayne County Map | 26163 |
| Wexford County | 33,743 | Wexford County | 575.5 | Wexford County Map | 26165 |
References