Michigan State Map – Places and Landmarks
Michigan Maps
City Maps of Michigan
About the map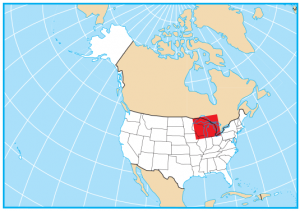 This Michigan State Map shows major landmarks and places in Michigan. For example, it features national forests, wildlife refuges, and other federal lands in Michigan.
If you asked me one thing to see in the state of Michigan, it would have to be the Isle Royale National Park. This national park is situated in Lake Superior, completely away from civilization. It's perfect for kayaking, hiking, or any outdoor adventure.
Also, extremely interesting is the Pictured Rocks National Lakeshore. This serene landscape of shoreline, cliffs, beaches, forests, and waterfalls is for any family with a focus on outdoor adventuring.
Federal lands
National Park (NP)
Isle Royale National Park
National Forests (NF)
Hiawatha National Forest
Ottawa National Forest
Huron National Forest
Manistee National Forest
National Wildlife Refuge (NWR)
Huron NWR
Seney NWR
Harbor Island NWR
Michigan Islands NWR
Shiawassee NWR
National Recreation (NRA)
Grand Island NRA
Other Landmarks
Upper Peninsula Experimental Forest
Pictured Rocks National Lakeshore
Sleeping Bear Dunes National Lakeshore
Michigan lakes, rivers and reservoirs
Lakes, rivers and reservoirs
Menominee River
Manistee River
Muskegon River
Saginaw Bay
Georgian Bay
Lake Michigan
Lake Huron
Lake Erie
Lake Superior
Indian Reserves (IR)
L'Anse IR
Bay Mills IR
Ontonagon IR
Hannahville IR
Isabella IR
K. I. Sawyer Air Force Base (Closed)
Camp Grayling Military Reservation
Wurtsmith Air Force Base (Closed)
Selfridge Air Force Base
Custer Reserve Forces Training Area
Populated places in Michigan
Detroit
Lansing
Battle Creek
Bay City
Burton
Dearborn
East Lansing
Holland
Kalamazoo
Kentwood
Midland
Muskegon
Port Huron
Portage
Saginaw
Wyoming
Taylor
Troy
Ann Arbor
Flint
Grand Rapids
Livonia
Warren
Alpena
Cadillac
Cheboygan
Coldwater
Crystal Falls
Frankfort
Gaylord
Hancock
Houghton
Ludington
Mackinaw City
Manistee
Manistique
Marquette
Menominee
Monroe
Munising
Ontonagon
St Joseph
Sault Ste Marie
Standish
Tawas City
State capital
Lansing
References
From Alabama to Wyoming, we display all 50 US states and capital cities. This United States map with capitals is a simple representation of continental US.
Download our lakes and rivers map of the United States. It's free to use for any purpose. Or select from any of the 50 states for detailed lakes and rivers.
This US time zone map shows the six time zones of the United States such as the Eastern, Central, Mountain, Pacific, Alaska and Hawaii-Aleutian time zones.
US State Maps