Map of Green Bay, Wisconsin

Map of Green Bay
This Green Bay map shows major highways/roads, reference information, and things to do. Print it off before you go to help explore the city. But first, get close and personal in our interactive Google Map of Green Bay, Wisconsin.
Green Bay is in the northern part of the state of Wisconsin and is the oldest settlement in the state. With its picturesque scenery, rustic charm, and world-class lifestyle, the city has something for everyone. From urban amenities to rural charm, there is a lot to love about life in Green Bay.
The people of Green Bay are proud of their city and its surrounding areas. Green Bay is one of the most popular vacation destinations in Wisconsin. Green Bay is home to the Green Bay Packers, a National Football League team that has won four Super Bowls. Learn more about it with this map collection.
Jump To: Interactive Map | Printable Road Map | 10 Things to Do | Reference Map
Green Bay map collection
Interactive Map of Green Bay
The Green Bay area has a lot to offer. From casinos and museums to parks and lakes, there is a lot to see and do in Green Bay. Explore the City of Green Bay and the surrounding areas from this interactive map that shows you where to go, what places are nearby, and where you can find things to do. This map is a great way to explore the area such as the Fox River that flows through it and empties into the large water body Green Bay to the northeast.
Green Bay Road Map
Whether you're planning a trip, an adventure, or if you're just curious about what's going on in this great American city, this Green Bay road map is the perfect tool for you. If you're thinking about taking a road trip, this map shows interstates like the I-43, US highways, and major roads. Print this map before you go and you'll never get lost. But if you're going outside Green Bay, use our Wisconsin road map for highway and road information.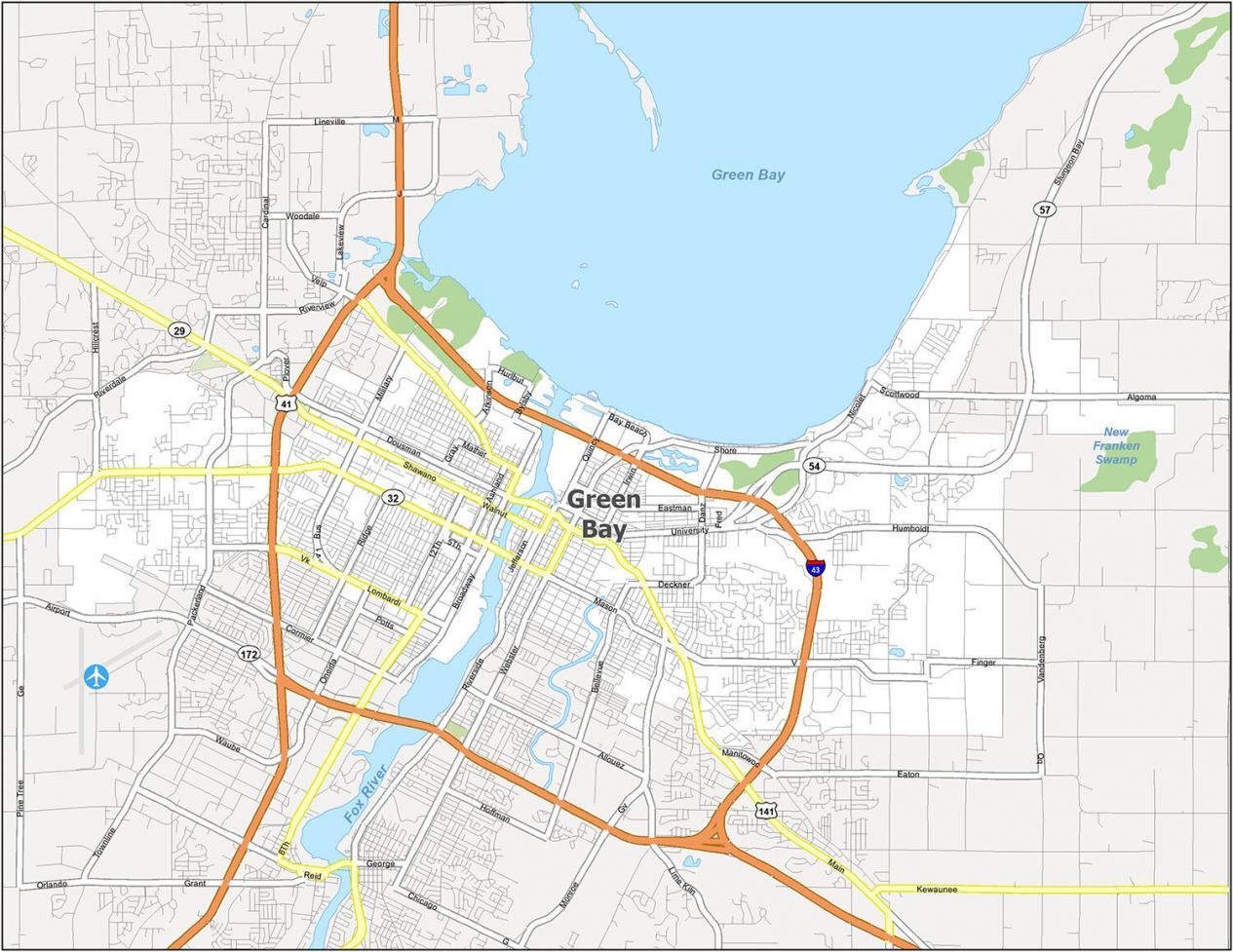 Interstate Highways: 41, 43
US Highways: 29, 32, 54, 57, 141
Major Roads: 12th Ave, Algoma Rd, Ashland Ave, Atkinson Dr, Bader St, Bellevue St, Broadway, Bylsby Ave, Cormier Rd, Danz Ave, Deckner Ave, Dousman St, Erie Rd, Finger Rd, Fred St, Gray St, Hazelwood Ln, Hillcrest Dr, Humboldt Rd, Hurlbut St, Irwin Ave, Jefferson St, Lime Kiln Rd, Lombardi Ave, Madison St, Main St, Marsch Rd, Mason St, Mather St, Military Ave, Monroe Ave, Nicolet Dr, Packerland Dr, Prairie Ave, Quincy St, Ridge Rd, Scottwood Dr, Shawano Ave, Shore Dr, Sturgeon Bay Rd, University Ave, Velp Ave, Walnut St, Webster Ave
10 Things To Do in Green Bay
When you're planning a vacation, it can be hard to find the best local attractions. This map will provide you with a wide variety of information about the city of Green Bay. Take a vacation and explore some of the most notable attractions, landmarks, and other points of interest in Green Bay Wisconsin. Whether you are from out of town or just looking for some local recommendations, this map is the perfect guide to Green Bay Wisconsin.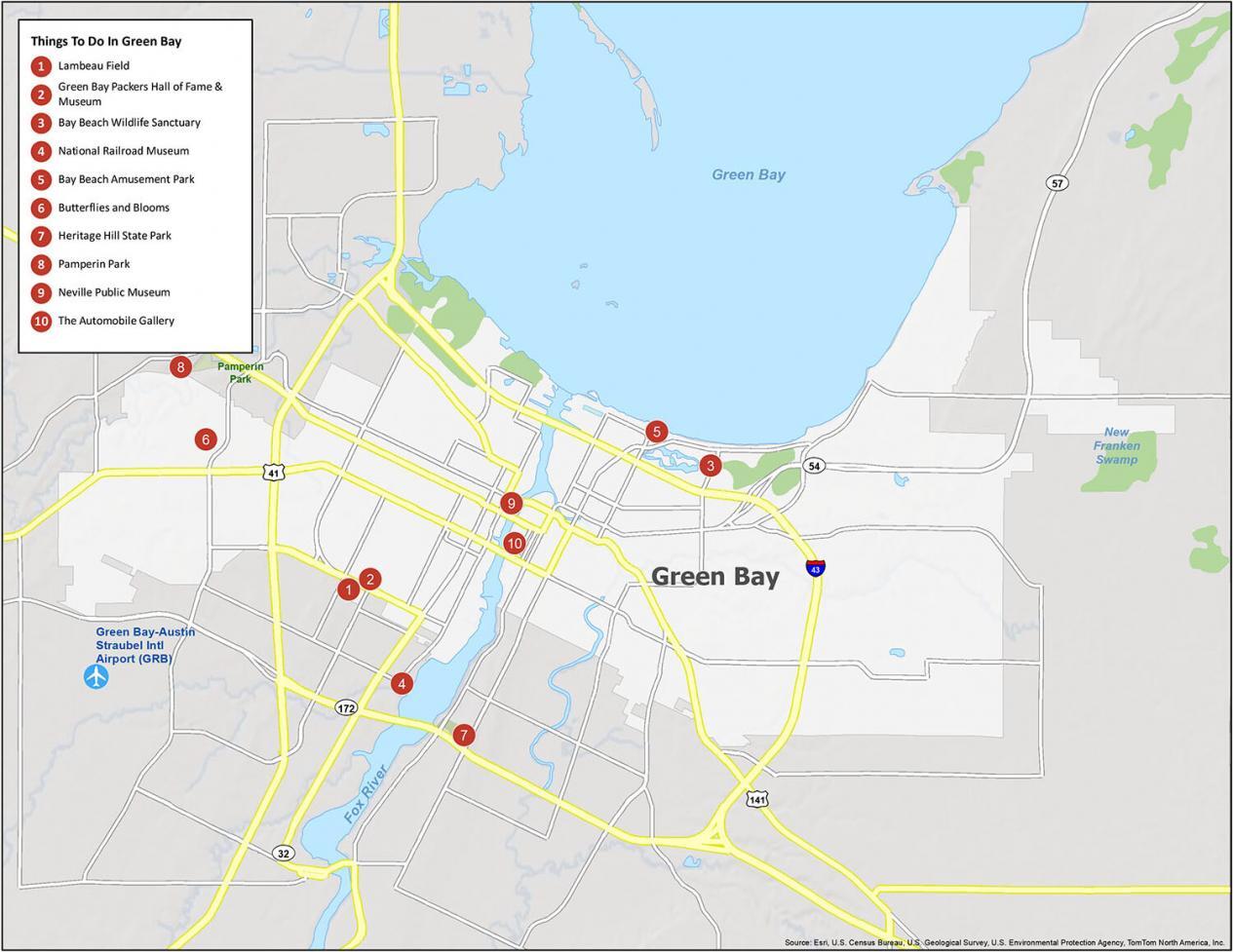 Green Bay is home to the Packers, Lambeau Field, and the Packers Hall of Fame and Museum. But it has more to offer with parks, museums, and botanical gardens. If you ever plan to travel to Green Bay, Wisconsin, we recommend checking out these tourist attractions.
Lambeau Field
Green Bay Packers Hall of Fame & Museum
Bay Beach Wildlife Sanctuary
National Railroad Museum
Bay Beach Amusement Park
Butterflies and Blooms
Heritage Hill State Park
Pamperin Park
Neville Public Museum
The Automobile Gallery
Green Bay Reference Map
Get a bird's eye view of the city, its attractions, and more. This map is not only a great resource for your vacation planning but also for your day-to-day trips as well. The map provides an overview of the entire city, highlighting key areas to visit. See what's around you when you plan your next trip to Green Bay.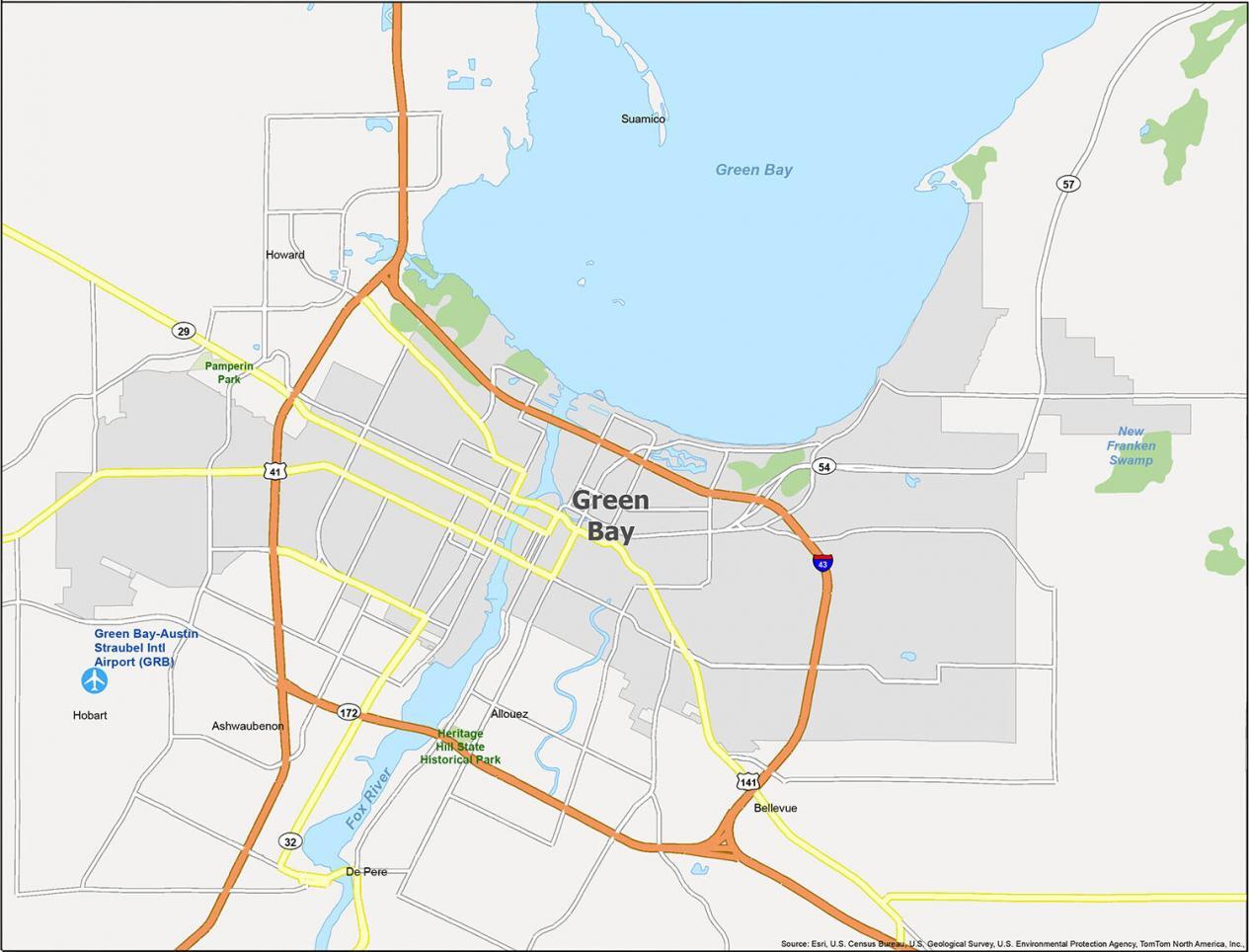 Airports: Green Bay Austin Straubel International Airport (GRB)
Cities: De Pere, Green Bay
Villages Allouez, Ashwaubenon, Bellevue, Hobart, Howard, Suamico
Water features: Green Bay, Fox River, New Franken Swamp
Parks: Pamperin Park, Heritage Hill State Historical Park
Wisconsin map collection
References