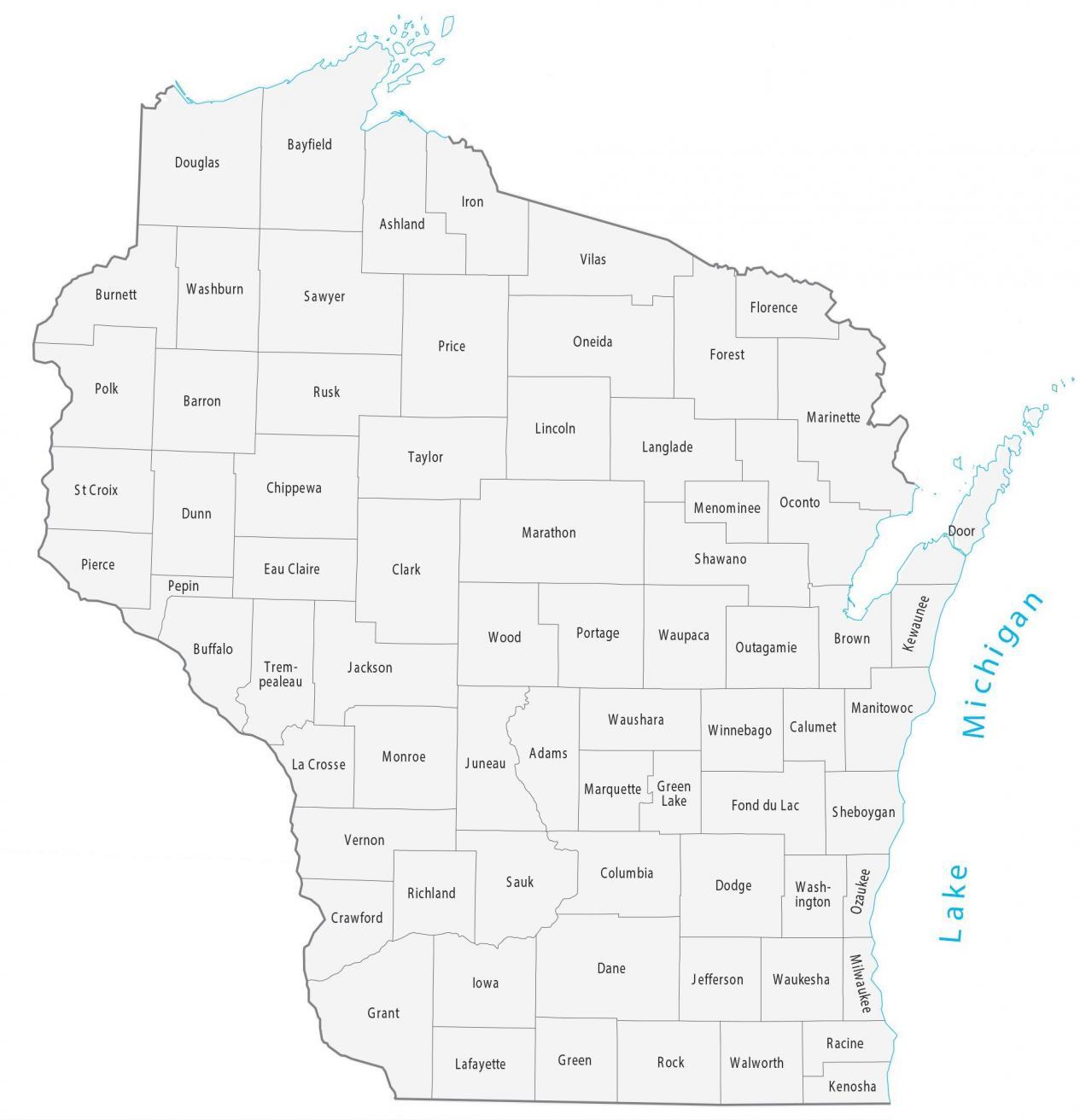 About the map
This Wisconsin county map displays its 72 counties. Wisconsin's tally of 72 counties makes it the 19th highest in the United States. Major counties in Wisconsin include Milwaukee County, Dane County, and Waukesha County.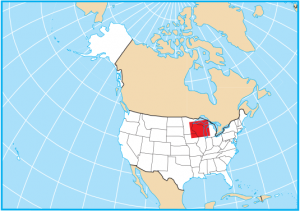 For size, Marathon County is the largest county with an area of about 1576 square miles. Then, Bayfield, Marinette, and Sawyer County are the next largest. On the other hand, the smallest county in Wisconsin is Ozaukee County right next door to Milwaukee County. Ozaukee County occupies an area of just 234 square miles.
The most populous county in Wisconsin is Milwaukee County, which has close to 950,000 people. Its population makes it 53rd among all counties in the United States. Conversely, Florence County is the least populated in Wisconsin with less than 4500 residents.
Wisconsin map collection
You are free to use our county map of Wisconsin for educational and commercial uses. Attribution is required. How to attribute?
Wisconsin County List
| County Name | Population (2020 est) | County Map | Area (sq mi) | Locator Map | FIPS Code |
| --- | --- | --- | --- | --- | --- |
| Adams County | 20,498 | Adams County | 688 | Adams County Map | 55001 |
| Ashland County | 15,415 | Ashland County | 1052.9 | Ashland County Map | 55003 |
| Barron County | 45,090 | Barron County | 890 | Barron County Map | 55005 |
| Bayfield County | 15,242 | Bayfield County | 1510.9 | Bayfield County Map | 55007 |
| Brown County | 264,610 | Brown County | 535.1 | Brown County Map | 55009 |
| Buffalo County | 13,033 | Buffalo County | 709.6 | Buffalo County Map | 55011 |
| Burnett County | 15,557 | Burnett County | 880.4 | Burnett County Map | 55013 |
| Calumet County | 50,209 | Calumet County | 397.1 | Calumet County Map | 55015 |
| Chippewa County | 64,737 | Chippewa County | 1041.3 | Chippewa County Map | 55017 |
| Clark County | 34,720 | Clark County | 1219 | Clark County Map | 55019 |
| Columbia County | 57,668 | Columbia County | 796.2 | Columbia County Map | 55021 |
| Crawford County | 16,021 | Crawford County | 599.3 | Crawford County Map | 55023 |
| Dane County | 552,536 | Dane County | 1238.1 | Dane County Map | 55025 |
| Dodge County | 87,336 | Dodge County | 906.8 | Dodge County Map | 55027 |
| Door County | 27,889 | Door County | 487.4 | Door County Map | 55029 |
| Douglas County | 43,702 | Douglas County | 1333 | Douglas County Map | 55031 |
| Dunn County | 45,452 | Dunn County | 863.9 | Dunn County Map | 55033 |
| Eau Claire County | 105,260 | Eau Claire County | 645.3 | Eau Claire County Map | 55035 |
| Florence County | 4,298 | Florence County | 497.3 | Florence County Map | 55037 |
| Fond du Lac County | 102,902 | Fond du Lac County | 765.9 | Fond du Lac County Map | 55039 |
| Forest County | 8,960 | Forest County | 1046.3 | Forest County Map | 55041 |
| Grant County | 51,021 | Grant County | 1183.3 | Grant County Map | 55043 |
| Green County | 36,603 | Green County | 584.5 | Green County Map | 55045 |
| Green Lake County | 18,908 | Green Lake County | 380.3 | Green Lake County Map | 55047 |
| Iowa County | 23,640 | Iowa County | 768 | Iowa County Map | 55049 |
| Iron County | 5,698 | Iron County | 802.4 | Iron County Map | 55051 |
| Jackson County | 20,630 | Jackson County | 1000.2 | Jackson County Map | 55053 |
| Jefferson County | 85,038 | Jefferson County | 582.8 | Jefferson County Map | 55055 |
| Juneau County | 26,908 | Juneau County | 804.5 | Juneau County Map | 55057 |
| Kenosha County | 169,671 | Kenosha County | 279.7 | Kenosha County Map | 55059 |
| Kewaunee County | 20,386 | Kewaunee County | 344 | Kewaunee County Map | 55061 |
| La Crosse County | 118,502 | La Crosse County | 479.9 | La Crosse County Map | 55063 |
| Lafayette County | 16,646 | Lafayette County | 634.7 | Lafayette County Map | 55065 |
| Langlade County | 19,119 | Langlade County | 887.8 | Langlade County Map | 55067 |
| Lincoln County | 27,566 | Lincoln County | 907 | Lincoln County Map | 55069 |
| Manitowoc County | 78,757 | Manitowoc County | 595.6 | Manitowoc County Map | 55071 |
| Marathon County | 135,593 | Marathon County | 1576.1 | Marathon County Map | 55073 |
| Marinette County | 40,262 | Marinette County | 1429.1 | Marinette County Map | 55075 |
| Marquette County | 15,585 | Marquette County | 464.3 | Marquette County Map | 55077 |
| Menominee County | 4,546 | Menominee County | 365 | Menominee County Map | 55078 |
| Milwaukee County | 945,016 | Milwaukee County | 242.8 | Milwaukee County Map | 55079 |
| Monroe County | 46,582 | Monroe County | 908.3 | Monroe County Map | 55081 |
| Oconto County | 38,383 | Oconto County | 1017.2 | Oconto County Map | 55083 |
| Oneida County | 35,751 | Oneida County | 1235.9 | Oneida County Map | 55085 |
| Outagamie County | 188,766 | Outagamie County | 644.4 | Outagamie County Map | 55087 |
| Ozaukee County | 90,043 | Ozaukee County | 234.3 | Ozaukee County Map | 55089 |
| Pepin County | 7,271 | Pepin County | 248.7 | Pepin County Map | 55091 |
| Pierce County | 42,700 | Pierce County | 591.8 | Pierce County Map | 55093 |
| Polk County | 43,794 | Polk County | 956.3 | Polk County Map | 55095 |
| Portage County | 71,032 | Portage County | 822.7 | Portage County Map | 55097 |
| Price County | 13,245 | Price County | 1278.4 | Price County Map | 55099 |
| Racine County | 195,802 | Racine County | 340.2 | Racine County Map | 55101 |
| Richland County | 17,258 | Richland County | 589.3 | Richland County Map | 55103 |
| Rock County | 163,084 | Rock County | 726 | Rock County Map | 55105 |
| Rusk County | 14,022 | Rusk County | 930.9 | Rusk County Map | 55107 |
| Saint Croix County | 91,838 | Saint Croix County | 735.7 | Saint Croix County Map | 55109 |
| Sauk County | 64,449 | Sauk County | 848.5 | Sauk County Map | 55111 |
| Sawyer County | 16,700 | Sawyer County | 1350.3 | Sawyer County Map | 55113 |
| Shawano County | 40,786 | Shawano County | 909.3 | Shawano County Map | 55115 |
| Sheboygan County | 115,240 | Sheboygan County | 517.6 | Sheboygan County Map | 55117 |
| Taylor County | 20,318 | Taylor County | 984.5 | Taylor County Map | 55119 |
| Trempealeau County | 29,681 | Trempealeau County | 742 | Trempealeau County Map | 55121 |
| Vernon County | 30,861 | Vernon County | 816.4 | Vernon County Map | 55123 |
| Vilas County | 22,356 | Vilas County | 1017.8 | Vilas County Map | 55125 |
| Walworth County | 103,953 | Walworth County | 576.4 | Walworth County Map | 55127 |
| Washburn County | 15,712 | Washburn County | 853 | Washburn County Map | 55129 |
| Washington County | 136,445 | Washington County | 435.7 | Washington County Map | 55131 |
| Waukesha County | 406,172 | Waukesha County | 580.5 | Waukesha County Map | 55133 |
| Waupaca County | 50,664 | Waupaca County | 765.3 | Waupaca County Map | 55135 |
| Waushara County | 24,326 | Waushara County | 637.4 | Waushara County Map | 55137 |
| Winnebago County | 171,631 | Winnebago County | 578.6 | Winnebago County Map | 55139 |
| Wood County | 72,560 | Wood County | 809.4 | Wood County Map | 55141 |
References