Map of Honolulu
Check out this Honolulu map with roads, reference information, and things to do within the Aloha State. But first, browse everything there is to do with an interactive Google Map of Honolulu, Hawaii.
Hawaii is the 50th state of the United States of America with Honolulu as the state capital. Honolulu is a city of palm trees, beaches, tropical flowers, rainforests, and a world-famous volcano.
With this detailed map of Honolulu, you can learn about the many attractions and special places that make this a great place to live. Discover the city through this map collection of Honolulu.
Jump To: Interactive Map | Printable Road Map | 10 Things to Do | Reference Map
Honolulu map collection
Interactive Map of Honolulu
This interactive map of Honolulu is a great way to get an overview of the city, find your way around, and discover hidden gems. Search, plan and discover local attractions and businesses. This map will help you find your way through the most popular attractions, restaurants, hotels, and more in the city. Or you can just use it to find the best beaches, hiking trails, museums, and more. Whether you're planning a vacation, visiting for work, or just looking for your next adventure, use this interactive map to find a Hawaii vacation adventure that is perfect for you.
Honolulu Road Map
If you are planning a trip to Hawaii, or are already there and want to explore the island, this map will help you find your way around. Get the lay of the land with this detailed map so you navigate the streets of Honolulu with this map. Our detailed map of the Hawaiian island will help you get to where you need to be on your next trip to Honolulu. Then, you'll have a better understanding of what to do when planning your trip to paradise. But if you're traveling outside Honolulu, make sure to check out our Hawaii road map for more highway information.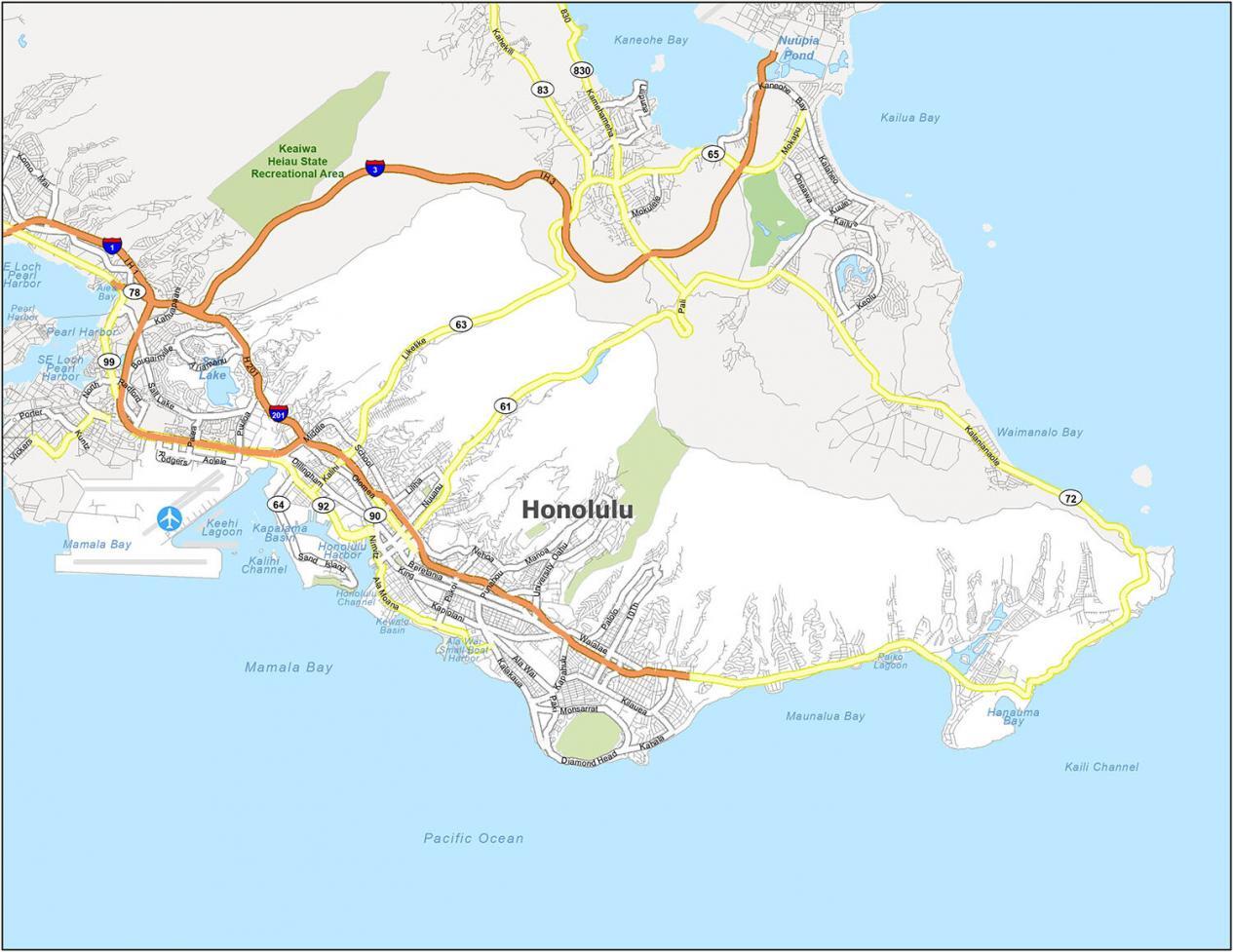 Interstate Highways: I-1, I-201
US Highways: 61, 63, 72, 90, 92, 98, Kalanianaole Hwy, Kamehameha Hwy, Likelike Hwy, Nimitz Hwy, Pali Hwy
Major Roads: Ala Moana Blvd, Dillingham Blvd, Halona St, Kalihi St, Kalakaua Ave, Kalihi St, Kapiolani Blvd, Liliha St, Olomea St, Punchbowl St, School St, Vineyard Blvd
10 Things To Do in Honolulu
This map is the perfect way to explore Honolulu. Whether you want to plan your vacation, find a place to explore, or just find out what's around the corner, this map is your best bet. If you are exploring or traveling, take a look at our map to see what places are a must-see. Use this map to plan your trip and pinpoint the best things to do like Diamond Head, Waikiki Beach, and Pearl Harbor National Memorial. With this map, you will be able to find the best places and marvel at the wonders of Honolulu.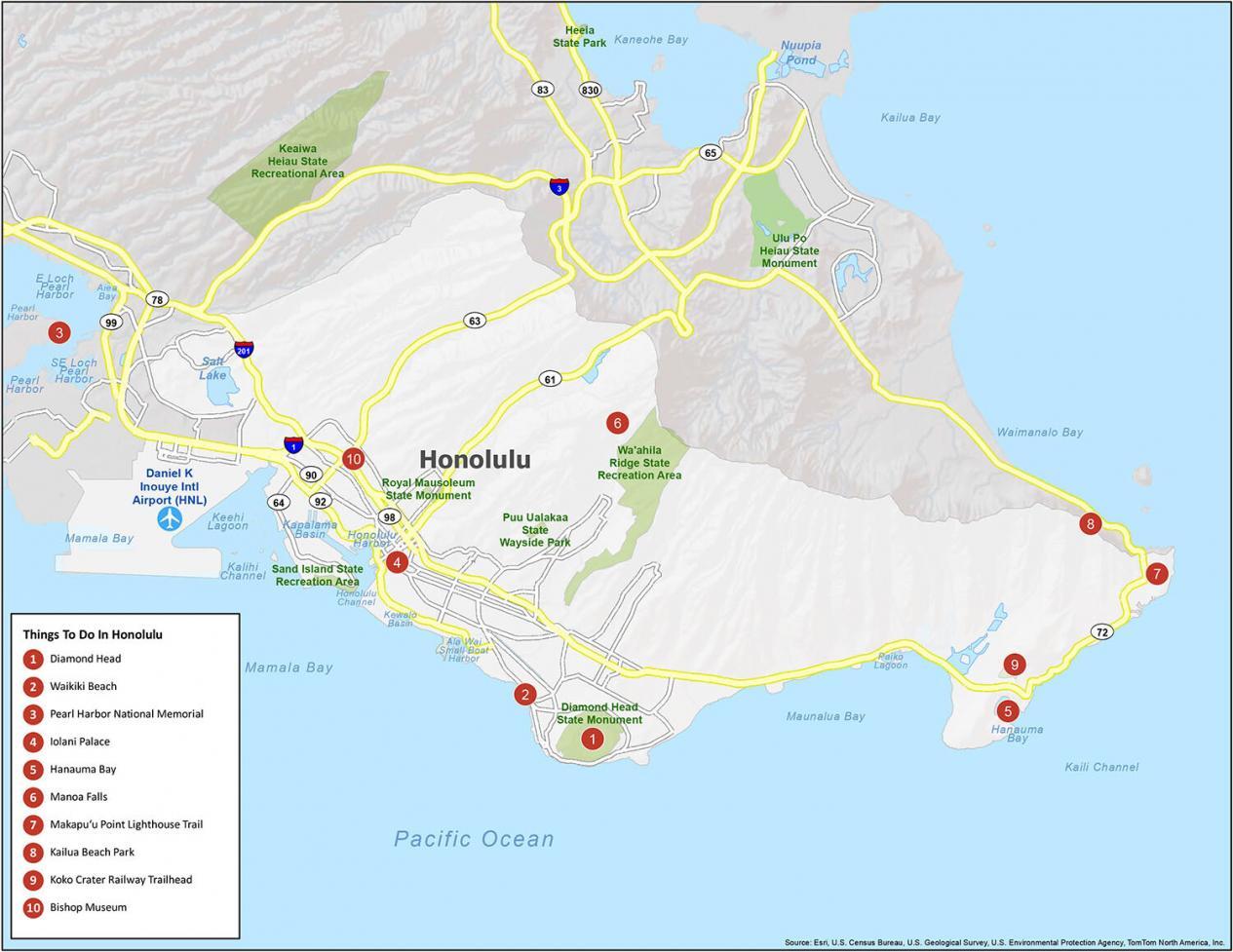 Honolulu is surrounded by sandy beaches and breathless scenes like Diamond Head. It's like paradise with ancient, humbling, and effortless beauty. If you ever go to Honolulu, we recommend from our list of 10 things to do.
Diamond Head
Waikiki Beach
Pearl Harbor National Memorial
Iolani Palace
Hanauma Bay
Manoa Falls
Makapuʻu Point Lighthouse Trail
Kailua Beach Park
Koko Crater Railway Trailhead
Bishop Museum
Honolulu Reference Map
Our reference map of Honolulu is the perfect way to explore the city and surrounding areas. With incredible detail down to the last basin, harbor, or channel, our map is a valuable resource for Hawaiians and visitors alike. Located in the Pacific Ocean, you can learn about Hawaii's natural and cultural treasures. This map is the perfect tool for planning your trip to this beautiful city so you can easily plot your course and get around to anywhere you need to go.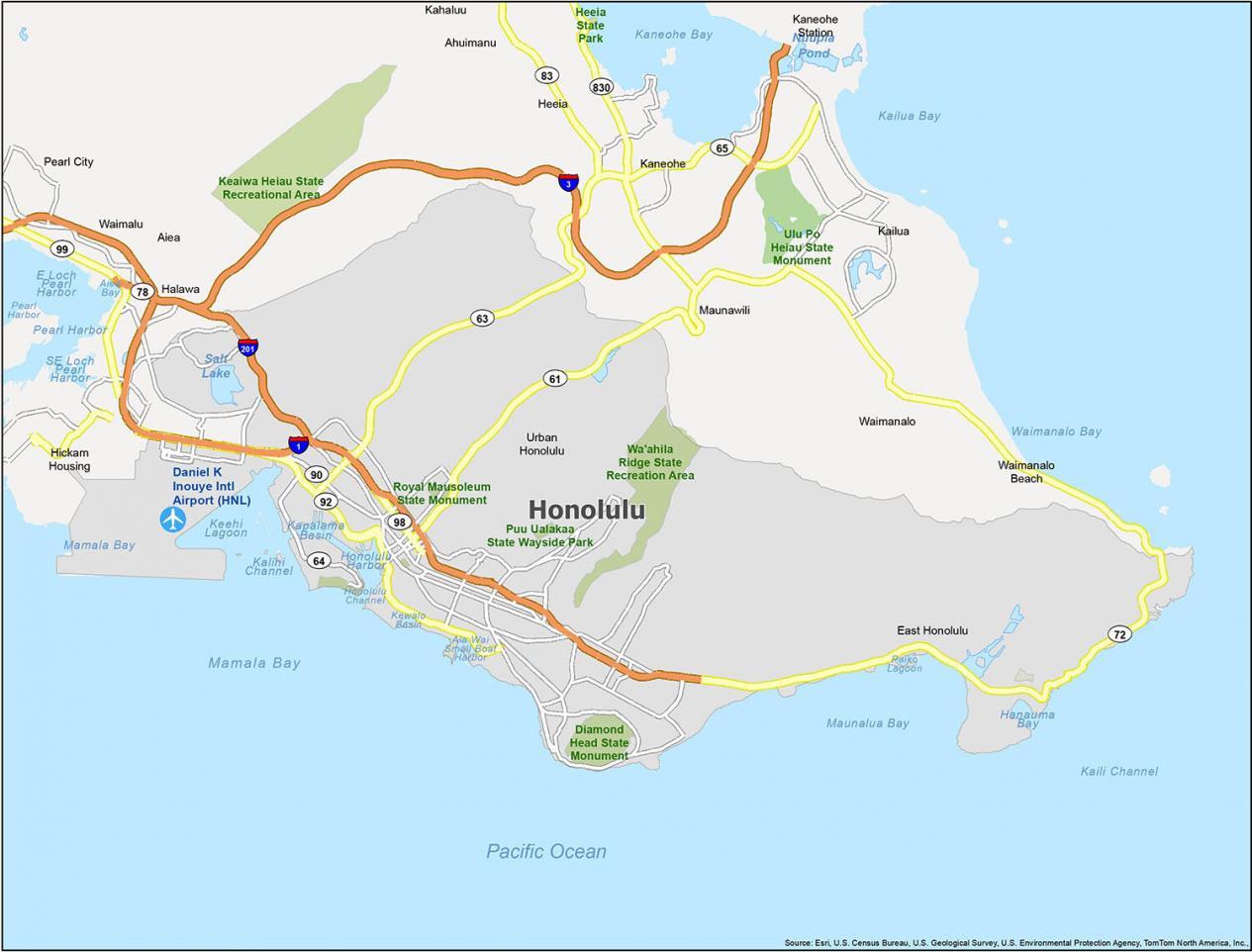 Airports: Daniel K. Inouye International Airport (HNL)
Census-designated place (CDP): Ahuimanu, Aiea, East Honolulu, Halawa, Heeia, Hickam Housing, Kahaluu, Kailua, Kaneohe, Kaneohe Station, Maunawili, Pearl City, Urban Honolulu, Waimalu, Waimanalo, Waimanalo Beach
Water features: Aiea Bay, Ala Wai Small Boat Harbor, Honolulu Channel, Honolulu Harbor, Kalihi Channel, Kaili Channel, Kapalama Basin, Keehi Lagoon, Kewalo Basin, Mamala Bay, Maunalua Bay, Paiko Lagoon, Salt Lake
Hawaii map collection
References