Hawaii State Map – Places and Landmarks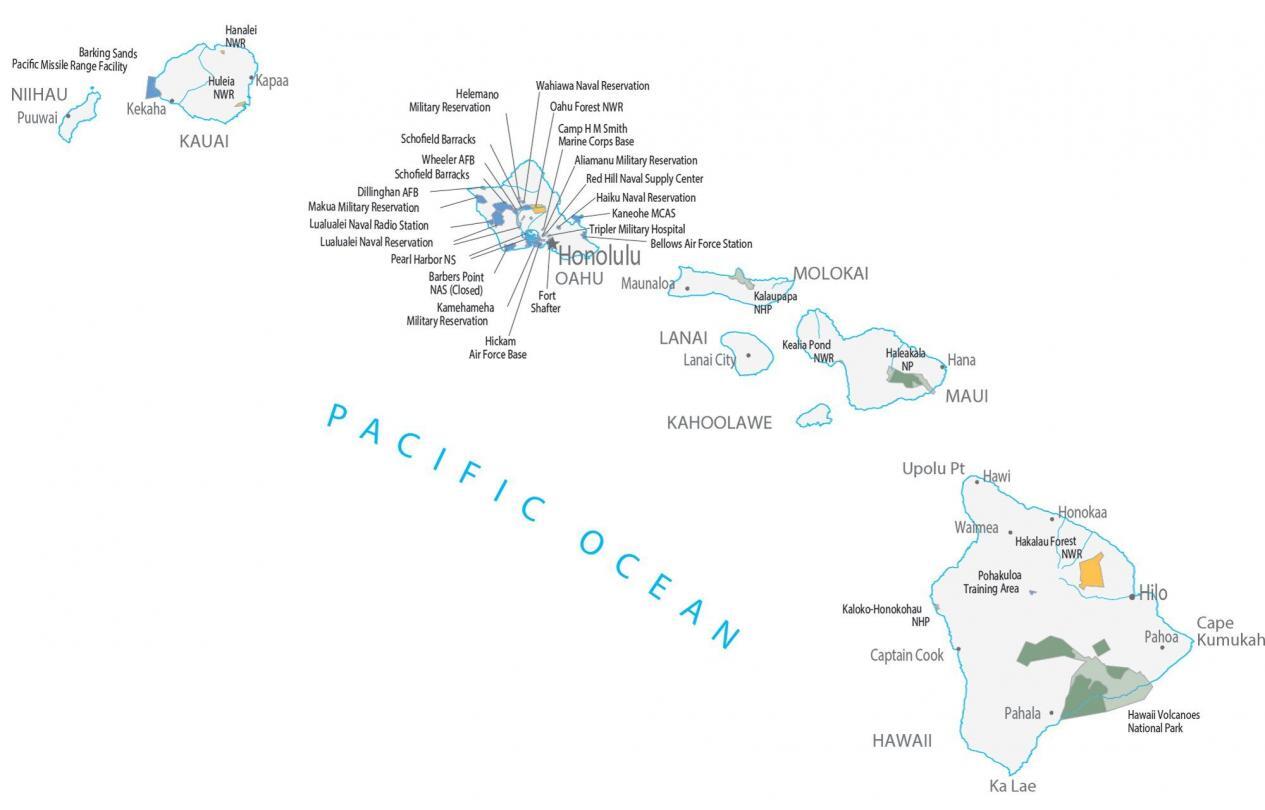 About the map
This Hawaii State Map shows major landmarks and places in Hawaii. It includes national parks, military bases, preserves, wildlife refuges, and other federal lands in Hawaii.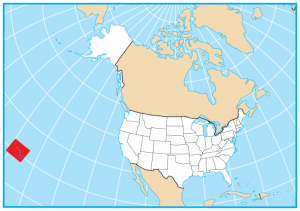 Well, it doesn't get any better than this. Hawaii has some of the world's most active volcanoes in the world. You can see some of them in Hawaii Volcanoes National Park including Kilauea and Mauna Loa.
But if active volcanoes aren't your cup of tea, then you'll want to go to Haleakalā National Park on Maui. It's best known for its dormant volcano Haleakala, and its waterfalls set in bamboo forests. There are also several military reservations and air force bases as well throughout the state of Hawaii.
Hawaii map collection
You are free to use our map of Hawaii for educational and commercial uses. Attribution is required. How to attribute?
Federal lands
National Park (NP)
Hawaii Volcanoes NP
Haleakala NP
National Forests (NHP)
Kaloko-Honokohau NHP
Kalaupapa NHP
National Wildlife Refuge (NWR)
Huleia NWR
Hanalei NWR
Hakalau Forest NWR
Kealia Pond NWR
Oahu Forest NWR
Hawaii channels and rivers
Channels
Kaulakahi Channel
Kauai Channel
Kaiwi Channel
Alenuihaha Channel
Kalohi Channel
Pailolo Channel
Kealaikahiki Channel
Bays
Rivers and streams
Olokele River
Wailua River
Army, naval and military
Barking Sands Pacific Missile Range Facility
Pohakuloa Training Area
Barbers Point NAS (Closed)
Kamehameha Military Reservation
Hickam Air Force Base
Camp H M Smith Marine Corps Base
Aliamanu Military Reservation
Red Hill Naval Supply Center
Haiku Naval Reservation
Bellows Air Force Station
Schofield Barracks
Helemano Military Reservation
Lualualei Naval Reservation
Pearl Harbor NS
Dillinghan Air Force Base
Wahiawa Naval Reservation
Makua Military Reservation
Wheeler Air Force Base
Lualualei Naval Radio Station
Kaneohe Marine Corps
Tripler Military Hospital
Fort Shafter
Hawaii populated places
Honolulu
Hilo
Captain Cook
Hawi
Honokaa
Hana
Kapaa
Kekaha
Lanai City
Maunaloa
Pahala
Pahoa
Puuwai
Waimea
State capital
Honolulu
Major landmarks and features
Islands in Hawaii
Landmarks and features
Pacific Ocean
Kalopa Gulch
Ka Lae
Pearl Harbor
Cape Kumukahi
Upolu Pt
City and Island Maps of Hawaii
References