Illinois Maps
Illinois Cities
Illinois map collection
You are free to use our map of Illinois for educational and commercial uses. Attribution is required. How to attribute?
About the map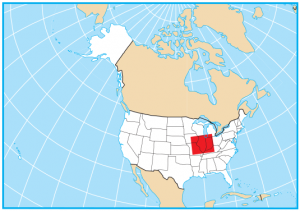 This Illinois State Map shows major landmarks and populated places. For example, it includes national forests, military bases, wildlife refuges, and other federal lands in Illinois.
Some of Illinois' biggest highlights include the Shawnee National Forest, which spans an area of 1,000+ km². Also, Chautauqua National Wildlife Refuge mostly consists of wetlands and is located in the middle of the Mississippi Flyway along the Illinois River.
Also, Illinois is home to the US Department of Energy's Fermilab, which is a particle acceleration laboratory just outside of the city of Chicago. Otherwise, the state of Illinois contains the Argonne National Laboratory, which is a world-class research facility situated in Argonne, Illinois. Both have tours available around the laboratories.
Federal lands
National Forests (NF)
Shawnee National Forest
National Wildlife Refuge (NWR)
Chautauqua NWR
Port Louisa NWR
Chautauqua NWR
Emiquon NWR
Great River NWR
Meredosia NWR
Great River NWR
Two Rivers NWR
Crab Orchard NWR
Cypress Creek NWR
Other Landmarks
Fermi National Accelerator Laboratory
Argonne National Laboratory
Upper Mississippi River Wildlife and Fish Refuge
Midewin National Tallgrass Prairie
Illinois lakes, rivers and reservoirs
Lakes and reservoirs
Lake Shelbyville
Carlyle Lake
Rend Lake
Rivers and streams
Kaskaskia River
Wabash River
Mississippi River
Military and penitentiary
Great Lakes Naval Training Center
Fort Sheridan (Closed)
Savanna Army Depot (Closed)
Glenview Naval Air Station (Closed)
Joliet Army Ammunition Plant
Rock Island Arsenal
Charles Melvin Price Support Center
Scott Air Force Base
Penitentiary
Marion Federal Penitentiary
Illinois populated places
Springfield
Chicago
Alton
Belleville
Bloomington
Champaign
Danville
De Kalb
Decatur
East St Louis
Elgin
Evanston
Galesburg
Kankakee
Moline
Normal
Pekin
Quincy
Rock Island
Skokie
Urbana
Waukegan
Peoria
Rockford
Joliet
Beardstown
Cairo
Canton
Carmi
Centralia
Dixon
Effingham
Kewanee
Lincoln
Macomb
Monmouth
Mount Vernon
Olney
Pittsfield
Sterling
Streator
Vandalia
Rantoul
Pana
Carbondale
State capital
Springfield
A US national parks map that displays the 5 regions and 62 national parks of the United States. Hawaii and Alaska have inset maps with outlines and names.
This US Regions map displays the four regions and nine divisions from the US Census Bureau including the Northeast, Midwest, South, and West.
A US county map that displays the 3,142 counties and equivalents including parishes, boroughs, census areas, independent cities and the District of Columbia.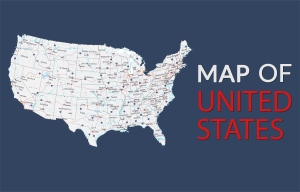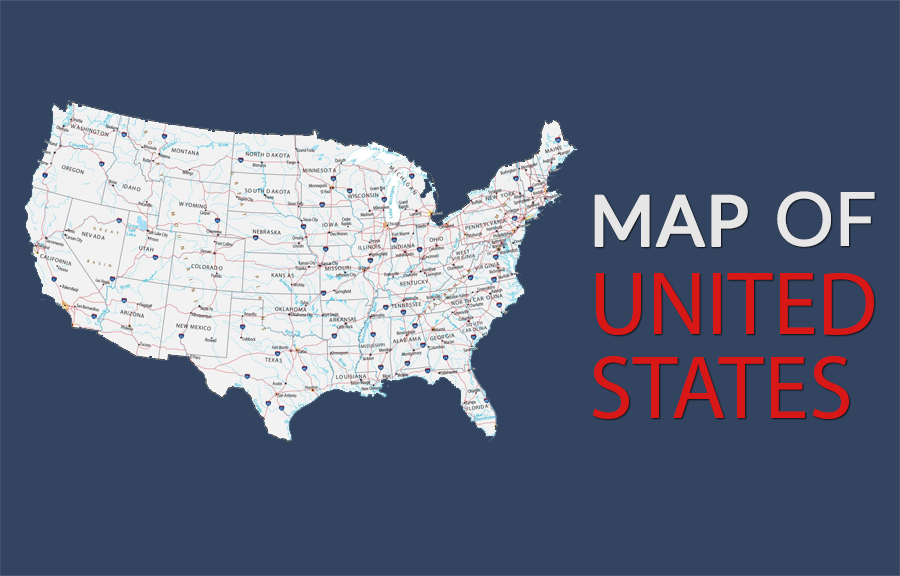 This map of the United States of America displays cities, highways, rivers and lakes. It includes the 50 states of America and capital of Washington, DC.
References
US State Maps
Select a state to view its map