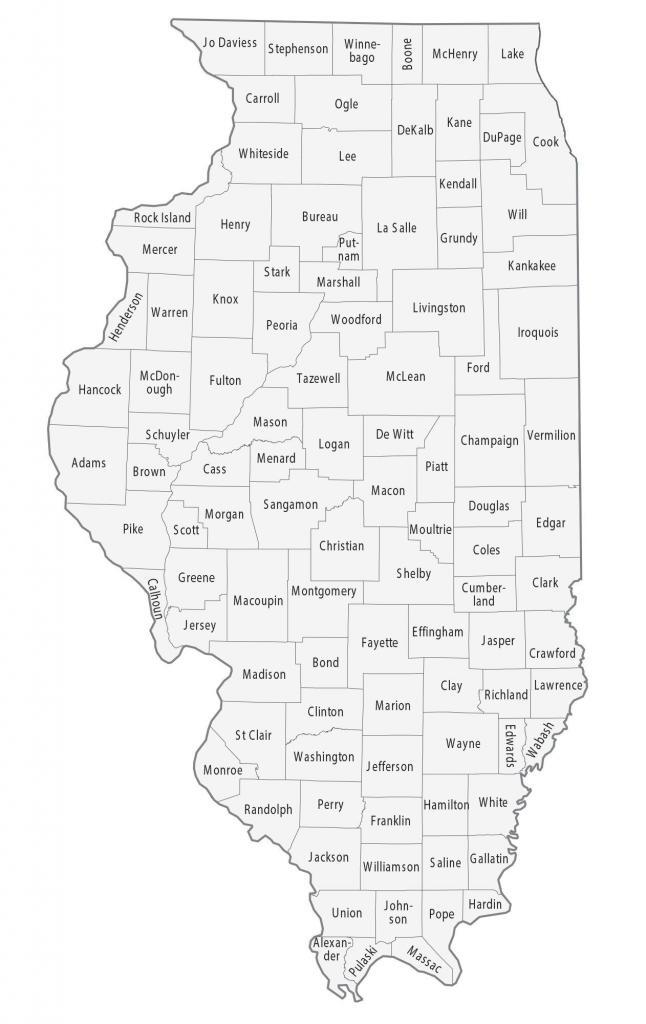 About the map
This Illinois county map displays its 102 counties. Illinois' high number of counties ranks 7th highest in the United States falling behind just Texas, Georgia, Virginia, Kentucky, Missouri, and Kansas.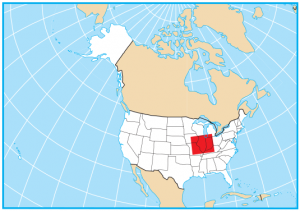 Cook County has the highest population in Illinois with over 5 million people. In fact, Cook County is the second-most populated county in the United States just behind Los Angeles County in California.
The largest county in size is McLean County at 1186.3 square miles in area. Then, this is followed by La Salle, Iroquois, and Livingston County. But the smallest county in Idaho is Putnam County just 172.3 square miles in area.
Illinois map collection
You are free to use our county map of Illinois for educational and commercial uses. Attribution is required. How to attribute?
Illinois county list
| County Name | Population (2020 est) | County Map | Area (sq mi) | Locator Map | FIPS Code |
| --- | --- | --- | --- | --- | --- |
| Adams County | 64,783 | Adams County Map | 871.4 | Adams County Map Illinois | 17001 |
| Alexander County | 5,497 | Alexander County Map | 252 | Alexander County Map Illinois | 17003 |
| Bond County | 16,262 | Bond County Map | 386.1 | Bond County Map Illinois | 17005 |
| Boone County | 52,777 | Boone County Map | 282.1 | Boone County Map Illinois | 17007 |
| Brown County | 6,546 | Brown County Map | 307.2 | Brown County Map Illinois | 17009 |
| Bureau County | 32,303 | Bureau County Map | 873.5 | Bureau County Map Illinois | 17011 |
| Calhoun County | 4,616 | Calhoun County Map | 280.3 | Calhoun County Map Illinois | 17013 |
| Carroll County | 14,241 | Carroll County Map | 465.8 | Carroll County Map Illinois | 17015 |
| Cass County | 11,925 | Cass County Map | 383.7 | Cass County Map Illinois | 17017 |
| Champaign County | 209,192 | Champaign County Map | 997.5 | Champaign County Map Illinois | 17019 |
| Christian County | 32,075 | Christian County Map | 715.8 | Christian County Map Illinois | 17021 |
| Clark County | 15,268 | Clark County Map | 504.9 | Clark County Map Illinois | 17023 |
| Clay County | 13,079 | Clay County Map | 469.5 | Clay County Map Illinois | 17025 |
| Clinton County | 37,398 | Clinton County Map | 503.8 | Clinton County Map Illinois | 17027 |
| Coles County | 50,383 | Coles County Map | 510.1 | Coles County Map Illinois | 17029 |
| Cook County | 5,108,284 | Cook County Map | 958.2 | Cook County Map Illinois | 17031 |
| Crawford County | 18,512 | Crawford County Map | 445.9 | Crawford County Map Illinois | 17033 |
| Cumberland County | 10,649 | Cumberland County Map | 347 | Cumberland County Map Illinois | 17035 |
| De Witt County | 15,368 | DeKalb County Map | 405.1 | DeKalb County Map Illinois | 17039 |
| DeKalb County | 104,491 | De Witt County Map | 634.6 | De Witt County Map Illinois | 17037 |
| Douglas County | 19,510 | Douglas County Map | 417.4 | Douglas County Map Illinois | 17041 |
| DuPage County | 917,481 | DuPage County Map | 336.5 | DuPage County Map Illinois | 17043 |
| Edgar County | 16,858 | Edgar County Map | 624 | Edgar County Map Illinois | 17045 |
| Edwards County | 6,356 | Edwards County Map | 222.6 | Edwards County Map Illinois | 17047 |
| Effingham County | 34,065 | Effingham County Map | 479.9 | Effingham County Map Illinois | 17049 |
| Fayette County | 21,264 | Fayette County Map | 722.1 | Fayette County Map Illinois | 17051 |
| Ford County | 12,949 | Ford County Map | 486.1 | Ford County Map Illinois | 17053 |
| Franklin County | 38,060 | Franklin County Map | 431.5 | Franklin County Map Illinois | 17055 |
| Fulton County | 33,690 | Fulton County Map | 882.6 | Fulton County Map Illinois | 17057 |
| Gallatin County | 4,793 | Gallatin County Map | 328.2 | Gallatin County Map Illinois | 17059 |
| Greene County | 12,702 | Greene County Map | 547.2 | Greene County Map Illinois | 17061 |
| Grundy County | 50,993 | Grundy County Map | 430.4 | Grundy County Map Illinois | 17063 |
| Hamilton County | 8,084 | Hamilton County Map | 435.9 | Hamilton County Map Illinois | 17065 |
| Hancock County | 17,422 | Hancock County Map | 813.4 | Hancock County Map Illinois | 17067 |
| Hardin County | 3,808 | Hardin County Map | 181.6 | Hardin County Map Illinois | 17069 |
| Henderson County | 6,535 | Henderson County Map | 395.3 | Henderson County Map Illinois | 17071 |
| Henry County | 48,411 | Henry County Map | 825.6 | Henry County Map Illinois | 17073 |
| Iroquois County | 26,711 | Iroquois County Map | 1119 | Iroquois County Map Illinois | 17075 |
| Jackson County | 56,675 | Jackson County Map | 602.4 | Jackson County Map Illinois | 17077 |
| Jasper County | 9,465 | Jasper County Map | 498.1 | Jasper County Map Illinois | 17079 |
| Jefferson County | 37,235 | Jefferson County Map | 583.8 | Jefferson County Map Illinois | 17081 |
| Jersey County | 21,616 | Jersey County Map | 377.1 | Jersey County Map Illinois | 17083 |
| Jo Daviess County | 21,239 | Jo Daviess County Map | 618.6 | Jo Daviess County Map Illinois | 17085 |
| Johnson County | 12,358 | Johnson County Map | 348.9 | Johnson County Map Illinois | 17087 |
| Kane County | 531,010 | Kane County Map | 524.2 | Kane County Map Illinois | 17089 |
| Kankakee County | 108,594 | Kankakee County Map | 681.4 | Kankakee County Map Illinois | 17091 |
| Kendall County | 130,638 | Kendall County Map | 322.4 | Kendall County Map Illinois | 17093 |
| Knox County | 49,053 | Knox County Map | 719.7 | Knox County Map Illinois | 17095 |
| La Salle County | 107,571 | Lake County Map | 1148.3 | Lake County Map Illinois | 17099 |
| Lake County | 693,593 | La Salle County Map | 469.6 | La Salle County Map Illinois | 17097 |
| Lawrence County | 15,467 | Lawrence County Map | 374.2 | Lawrence County Map Illinois | 17101 |
| Lee County | 33,647 | Lee County Map | 729.4 | Lee County Map Illinois | 17103 |
| Livingston County | 35,414 | Livingston County Map | 1045.4 | Livingston County Map Illinois | 17105 |
| Logan County | 28,383 | Logan County Map | 618.9 | Logan County Map Illinois | 17107 |
| Macon County | 103,015 | Macon County Map | 585.6 | Macon County Map Illinois | 17115 |
| Macoupin County | 44,567 | Macoupin County Map | 867.7 | Macoupin County Map Illinois | 17117 |
| Madison County | 262,635 | Madison County Map | 739.9 | Madison County Map Illinois | 17119 |
| Marion County | 37,045 | Marion County Map | 576 | Marion County Map Illinois | 17121 |
| Marshall County | 11,309 | Marshall County Map | 398.5 | Marshall County Map Illinois | 17123 |
| Mason County | 13,173 | Mason County Map | 563.4 | Mason County Map Illinois | 17125 |
| Massac County | 13,636 | Massac County Map | 241.8 | Massac County Map Illinois | 17127 |
| McDonough County | 29,295 | McDonough County Map | 590.1 | McDonough County Map Illinois | 17109 |
| McHenry County | 305,888 | McHenry County Map | 611.1 | McHenry County Map Illinois | 17111 |
| McLean County | 171,256 | McLean County Map | 1186.3 | McLean County Map Illinois | 17113 |
| Menard County | 12,068 | Menard County Map | 315.4 | Menard County Map Illinois | 17129 |
| Mercer County | 15,225 | Mercer County Map | 568.9 | Mercer County Map Illinois | 17131 |
| Monroe County | 34,739 | Monroe County Map | 397.8 | Monroe County Map Illinois | 17133 |
| Montgomery County | 28,045 | Montgomery County Map | 709.6 | Montgomery County Map Illinois | 17135 |
| Morgan County | 33,400 | Morgan County Map | 572.2 | Morgan County Map Illinois | 17137 |
| Moultrie County | 14,347 | Moultrie County Map | 344.5 | Moultrie County Map Illinois | 17139 |
| Ogle County | 50,306 | Ogle County Map | 763.2 | Ogle County Map Illinois | 17141 |
| Peoria County | 177,652 | Peoria County Map | 633.4 | Peoria County Map Illinois | 17143 |
| Perry County | 20,664 | Perry County Map | 446.8 | Perry County Map Illinois | 17145 |
| Piatt County | 16,355 | Piatt County Map | 440.2 | Piatt County Map Illinois | 17147 |
| Pike County | 15,239 | Pike County Map | 848.1 | Pike County Map Illinois | 17149 |
| Pope County | 4,142 | Pope County Map | 374.7 | Pope County Map Illinois | 17151 |
| Pulaski County | 5,201 | Pulaski County Map | 207.9 | Pulaski County Map Illinois | 17153 |
| Putnam County | 5,716 | Putnam County Map | 172.3 | Putnam County Map Illinois | 17155 |
| Randolph County | 31,351 | Randolph County Map | 597.9 | Randolph County Map Illinois | 17157 |
| Richland County | 15,507 | Richland County Map | 362 | Richland County Map Illinois | 17159 |
| Rock Island County | 140,907 | Rock Island County Map | 451.1 | Rock Island County Map Illinois | 17161 |
| Saint Clair County | 258,046 | Saint Clair County Map | 674.1 | Saint Clair County Map Illinois | 17163 |
| Saline County | 23,182 | Saline County Map | 386.8 | Saline County Map Illinois | 17165 |
| Sangamon County | 193,882 | Sangamon County Map | 876.9 | Sangamon County Map Illinois | 17167 |
| Schuyler County | 6,738 | Schuyler County Map | 441.4 | Schuyler County Map Illinois | 17169 |
| Scott County | 4,950 | Scott County Map | 253.3 | Scott County Map Illinois | 17171 |
| Shelby County | 21,299 | Shelby County Map | 768.1 | Shelby County Map Illinois | 17173 |
| Stark County | 5,262 | Stark County Map | 288.3 | Stark County Map Illinois | 17175 |
| Stephenson County | 43,831 | Stephenson County Map | 564.7 | Stephenson County Map Illinois | 17177 |
| Tazewell County | 130,777 | Tazewell County Map | 657.2 | Tazewell County Map Illinois | 17179 |
| Union County | 16,498 | Union County Map | 422.3 | Union County Map Illinois | 17181 |
| Vermilion County | 74,855 | Vermilion County Map | 901.7 | Vermilion County Map Illinois | 17183 |
| Wabash County | 11,190 | Wabash County Map | 227.6 | Wabash County Map Illinois | 17185 |
| Warren County | 16,696 | Warren County Map | 543.1 | Warren County Map Illinois | 17187 |
| Washington County | 13,764 | Washington County Map | 563.7 | Washington County Map Illinois | 17189 |
| Wayne County | 16,031 | Wayne County Map | 715.5 | Wayne County Map Illinois | 17191 |
| White County | 13,364 | White County Map | 501.8 | White County Map Illinois | 17193 |
| Whiteside County | 54,656 | Whiteside County Map | 696.7 | Whiteside County Map Illinois | 17195 |
| Will County | 688,726 | Will County Map | 849.4 | Will County Map Illinois | 17197 |
| Williamson County | 66,415 | Williamson County Map | 444.3 | Williamson County Map Illinois | 17199 |
| Winnebago County | 281,295 | Winnebago County Map | 519.3 | Winnebago County Map Illinois | 17201 |
| Woodford County | 38,091 | Woodford County Map | 540.8 | Woodford County Map Illinois | 17203 |
References