Map of Illinois – Cities and Roads
Illinois Maps
Illinois Cities
About the map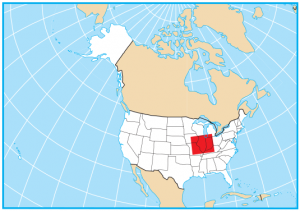 A city and road map of Illinois that has major rivers, lakes, and landmarks. Chicago, Springfield, and Aurora are major cities shown in this Illinois map.
Illinois is the "Land of Lincoln". Even though Lincoln was born in Kentucky, he lived here until he became president. Overall, this slogan represents a symbol of democracy.
The state of Illinois is basically equal to Chicago. This represents more than half the population residing here. Also, Illinois is known as the "Slaughterhouse of America". In fact, cows were brought here from Texas to be slaughtered, and this is the origin of the nickname.
State capital
Springfield
Major cities and towns
Chicago
Springfield
Aurora
Naperville
Peoria
Rockford
Joliet
Alton
Belleville
Bloomington
Champaign
Chicago Heights
Danville
De Kalb
Decatur
East St Louis
Elgin
Evanston
Freeport
Galesburg
Granite City
Kankakee
Moline
Normal Pekin
Quincy
Rock Island
Skokie
Urbana
Waukegan
North Chicago
Arlington Heights
Palatine
Beardstown
Cairo
Canton
Carmi
Centralia
Charleston
Dixon
Effingham
Harrisburg
Havana
Jacksonville
Jerseyville
Kewanee
La Salle
Lincoln
Macomb
Marion
Mattoon
Monmouth
Mount Vernon
Olney
Ottawa
Peru
Pittsfield
Pontiac
Salem
Sterling
Streator
Vandalia
West Frankfort
Rantoul
Pana
Carbondale
Interstate highways
Interstate-24(I-24)
Interstate-39 (I-39)
Interstate-55 (I-55)
Interstate-57 (I-57)
Interstate-64 (I-64)
Interstate-70 (I-70)
Interstate-72 (I-72)
Interstate-74 (I-74)
Interstate-80 (I-80)
Interstate-88 (I-88)
Interstate-90 (I-90)
Interstate-94 (I-94)
Lakes, rivers and creeks
Illinois River
Wabash River
Carlyle Lake
Kaskaskia River
Ohio River
Mississippi River
Lake Michigan
Rend Lake
Landmarks in Illinois
Charles Mound
This map of USA displays states, cities and census boundaries. An elevation surface highlights major physical landmarks like mountains, lakes and rivers.
A physical map of the United States that features mountains, plateaus, lakes, rivers, cities and capitals. It includes inset maps for Hawaii and Alaska.
How much rain falls in the United States? Take a close look at this US precipitation map to see where it falls the most and least. You'll see it fluctuates.
Free US Maps
Select a state to view its map