About the map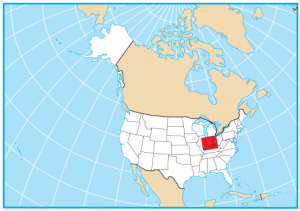 This Indiana county map displays its 92 counties. The number of counties in Indiana ranks as 12th highest in the United States. It's less than Texas, Georgia, Virginia, Kentucky, Missouri, Kansas, Illinois, North Carolina, Iowa, Tennessee and Nebraska.
The most populated county in Indiana is Marion because it holds the state capital of Indianapolis. In fact, it's so populated that it's almost in the top 50 for highest population in all of the United States. Other major counties in Indiana include Lake, Allen and Hamilton County for highest population, each with 300,000+ people.
In terms of area, Allen County is the largest with a size of about 660 square miles. But the smallest county is Ohio County occupying an area of just 87.2 square miles. This small county of Ohio is next to Switzerland County. Interestingly, its name originated because of its early Swiss settlers.
Indiana county map
References
Free US Maps
Select a state to view its map
Still looking for a real map?
National Geographic
carries a full range of Country Maps, US Maps, World Maps, Regional Maps, Historical Maps and Celestial Maps.