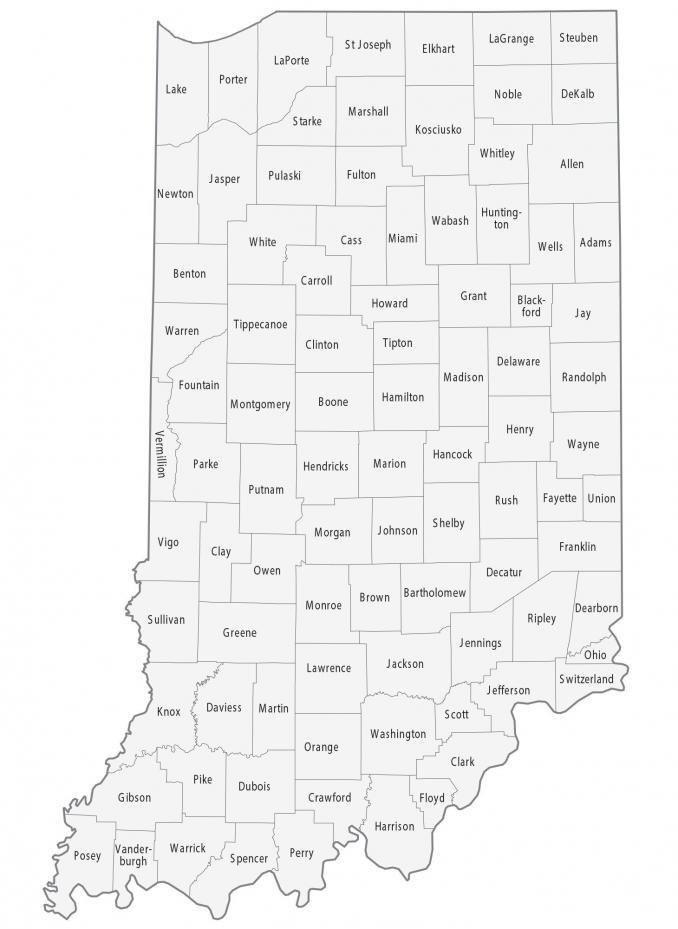 About the map
This Indiana county map displays its 92 counties. The number of counties in Indiana ranks as the 12th highest in the United States. The most populated county in Indiana is Marion because it holds the state capital of Indianapolis.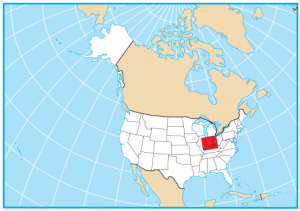 In fact, it's so populated that it's almost in the top 50 for the highest population in all of the United States. Other major counties in Indiana include Lake, Allen, and Hamilton County for the highest population, each with 300,000+ people.
In terms of area, Allen County is the largest with a size of about 660 square miles. But Ohio County is the smallest county occupying an area of just 87.2 square miles. This small county of Ohio is next to Switzerland County. Interestingly, its name originated because of its early Swiss settlers
Indiana map collection
You are free to use our county map of Indiana for educational and commercial uses. Attribution is required. How to attribute?
Indiana county list
| County Name | Population (2020 est) | County Map | Area (sq mi) | Locator Map | FIPS Code |
| --- | --- | --- | --- | --- | --- |
| Adams County | 35,839 | Adams County | 340 | Adams County Map | 18001 |
| Allen County | 382,187 | Allen County | 660 | Allen County Map | 18003 |
| Bartholomew County | 84,447 | Bartholomew County | 409.9 | Bartholomew County Map | 18005 |
| Benton County | 8,741 | Benton County | 406.3 | Benton County Map | 18007 |
| Blackford County | 11,782 | Blackford County | 165.6 | Blackford County Map | 18009 |
| Boone County | 69,347 | Boone County | 423.2 | Boone County Map | 18011 |
| Brown County | 15,112 | Brown County | 316 | Brown County Map | 18013 |
| Carroll County | 20,228 | Carroll County | 375 | Carroll County Map | 18015 |
| Cass County | 37,388 | Cass County | 414.8 | Cass County Map | 18017 |
| Clark County | 119,266 | Clark County | 375.8 | Clark County Map | 18019 |
| Clay County | 26,246 | Clay County | 360.4 | Clay County Map | 18021 |
| Clinton County | 32,206 | Clinton County | 405.3 | Clinton County Map | 18023 |
| Crawford County | 10,629 | Crawford County | 309 | Crawford County Map | 18025 |
| Daviess County | 33,505 | Daviess County | 436.2 | Daviess County Map | 18027 |
| Dearborn County | 49,824 | Dearborn County | 307.4 | Dearborn County Map | 18029 |
| Decatur County | 26,584 | Decatur County | 373.4 | Decatur County Map | 18031 |
| DeKalb County | 43,670 | DeKalb County | 363.9 | DeKalb County Map | 18033 |
| Delaware County | 113,454 | Delaware County | 395.9 | Delaware County Map | 18035 |
| Dubois County | 42,542 | Dubois County | 435.2 | Dubois County Map | 18037 |
| Elkhart County | 206,161 | Elkhart County | 467.9 | Elkhart County Map | 18039 |
| Fayette County | 22,892 | Fayette County | 215.1 | Fayette County Map | 18041 |
| Floyd County | 78,936 | Floyd County | 148.6 | Floyd County Map | 18043 |
| Fountain County | 16,511 | Fountain County | 398 | Fountain County Map | 18045 |
| Franklin County | 22,761 | Franklin County | 391 | Franklin County Map | 18047 |
| Fulton County | 20,018 | Fulton County | 371.3 | Fulton County Map | 18049 |
| Gibson County | 33,825 | Gibson County | 498.8 | Gibson County Map | 18051 |
| Grant County | 65,225 | Grant County | 414.9 | Grant County Map | 18053 |
| Greene County | 32,203 | Greene County | 545.9 | Greene County Map | 18055 |
| Hamilton County | 344,238 | Hamilton County | 402.4 | Hamilton County Map | 18057 |
| Hancock County | 79,553 | Hancock County | 307 | Hancock County Map | 18059 |
| Harrison County | 40,682 | Harrison County | 486.7 | Harrison County Map | 18061 |
| Hendricks County | 173,251 | Hendricks County | 408.9 | Hendricks County Map | 18063 |
| Henry County | 48,033 | Henry County | 394.8 | Henry County Map | 18065 |
| Howard County | 82,732 | Howard County | 294 | Howard County Map | 18067 |
| Huntington County | 36,395 | Huntington County | 387.7 | Huntington County Map | 18069 |
| Jackson County | 44,222 | Jackson County | 514.3 | Jackson County Map | 18071 |
| Jasper County | 33,440 | Jasper County | 561.4 | Jasper County Map | 18073 |
| Jay County | 20,416 | Jay County | 384.1 | Jay County Map | 18075 |
| Jefferson County | 32,110 | Jefferson County | 363 | Jefferson County Map | 18077 |
| Jennings County | 27,515 | Jennings County | 378.3 | Jennings County Map | 18079 |
| Johnson County | 160,607 | Johnson County | 321.8 | Johnson County Map | 18081 |
| Knox County | 36,522 | Knox County | 524.6 | Knox County Map | 18083 |
| Kosciusko County | 78,988 | Kosciusko County | 554.4 | Kosciusko County Map | 18085 |
| LaGrange County | 40,119 | LaGrange County | 386.8 | LaGrange County Map | 18087 |
| Lake County | 487,536 | Lake County | 504.2 | Lake County Map | 18089 |
| LaPorte County | 109,663 | LaPorte County | 603.7 | LaPorte County Map | 18091 |
| Lawrence County | 45,496 | Lawrence County | 452 | Lawrence County Map | 18093 |
| Madison County | 129,681 | Madison County | 453 | Madison County Map | 18095 |
| Marion County | 966,183 | Marion County | 403 | Marion County Map | 18097 |
| Marshall County | 46,108 | Marshall County | 449.8 | Marshall County Map | 18099 |
| Martin County | 10,079 | Martin County | 340.5 | Martin County Map | 18101 |
| Miami County | 35,328 | Miami County | 377.4 | Miami County Map | 18103 |
| Monroe County | 148,219 | Monroe County | 411.2 | Monroe County Map | 18105 |
| Montgomery County | 38,365 | Montgomery County | 505.4 | Montgomery County Map | 18107 |
| Morgan County | 70,707 | Morgan County | 409.6 | Morgan County Map | 18109 |
| Newton County | 13,907 | Newton County | 403.5 | Newton County Map | 18111 |
| Noble County | 47,832 | Noble County | 417.4 | Noble County Map | 18113 |
| Ohio County | 5,892 | Ohio County | 87.2 | Ohio County Map | 18115 |
| Orange County | 19,651 | Orange County | 408.2 | Orange County Map | 18117 |
| Owen County | 20,833 | Owen County | 387.9 | Owen County Map | 18119 |
| Parke County | 16,871 | Parke County | 449.8 | Parke County Map | 18121 |
| Perry County | 19,154 | Perry County | 386.3 | Perry County Map | 18123 |
| Pike County | 12,378 | Pike County | 341.6 | Pike County Map | 18125 |
| Porter County | 170,980 | Porter County | 419.6 | Porter County Map | 18127 |
| Posey County | 25,275 | Posey County | 419.5 | Posey County Map | 18129 |
| Pulaski County | 12,388 | Pulaski County | 434.5 | Pulaski County Map | 18131 |
| Putnam County | 37,469 | Putnam County | 482.5 | Putnam County Map | 18133 |
| Randolph County | 24,191 | Randolph County | 453.3 | Randolph County Map | 18135 |
| Ripley County | 28,448 | Ripley County | 448.1 | Ripley County Map | 18137 |
| Rush County | 16,649 | Rush County | 408.6 | Rush County Map | 18139 |
| Saint Joseph County | 271,484 | Saint Joseph County | 461.4 | Saint Joseph County Map | 18141 |
| Scott County | 23,788 | Scott County | 192.7 | Scott County Map | 18143 |
| Shelby County | 44,871 | Shelby County | 412.7 | Shelby County Map | 18145 |
| Spencer County | 20,225 | Spencer County | 401.3 | Spencer County Map | 18147 |
| Starke County | 23,049 | Starke County | 312.4 | Starke County Map | 18149 |
| Steuben County | 34,831 | Steuben County | 322.5 | Steuben County Map | 18151 |
| Sullivan County | 20,578 | Sullivan County | 454 | Sullivan County Map | 18153 |
| Switzerland County | 10,724 | Switzerland County | 223.7 | Switzerland County Map | 18155 |
| Tippecanoe County | 196,115 | Tippecanoe County | 503.1 | Tippecanoe County Map | 18157 |
| Tipton County | 15,227 | Tipton County | 260.5 | Tipton County Map | 18159 |
| Union County | 7,119 | Union County | 165.2 | Union County Map | 18161 |
| Vanderburgh County | 182,447 | Vanderburgh County | 235.6 | Vanderburgh County Map | 18163 |
| Vermillion County | 15,329 | Vermillion County | 260 | Vermillion County Map | 18165 |
| Vigo County | 106,608 | Vigo County | 410.5 | Vigo County Map | 18167 |
| Wabash County | 30,784 | Wabash County | 421 | Wabash County Map | 18169 |
| Warren County | 8,194 | Warren County | 366.6 | Warren County Map | 18171 |
| Warrick County | 63,269 | Warrick County | 390.4 | Warrick County Map | 18173 |
| Washington County | 28,213 | Washington County | 516.2 | Washington County Map | 18175 |
| Wayne County | 65,778 | Wayne County | 404.4 | Wayne County Map | 18177 |
| Wells County | 28,142 | Wells County | 370.3 | Wells County Map | 18179 |
| White County | 24,165 | White County | 508.7 | White County Map | 18181 |
| Whitley County | 34,378 | Whitley County | 337.9 | Whitley County Map | 18183 |
References