Indianapolis Map, Indiana

Map of Indianapolis
Indianapolis is home of the Motor Speedway and is the largest city in Indiana. If you go, make sure to print this Indianapolis map collection with highways, roads, things to do, and more.
Whether you're looking to get away from it all or want to spend some time simply enjoying the city, there are plenty of hidden treasures in Indianapolis that you should check out. From parks to museums and nature trails, Indianapolis has it all.
Use this Indianapolis map as your guide to finding what to see in the capital city of Hoosier State. You can discover the city's rich history and culture, where to go, and how to get to major landmarks in the city.
Jump To: Interactive Map | Printable Road Map | 10 Things to Do | Reference Map
Indianapolis map collection
Interactive Map of Indianapolis
Indianapolis has been known for its quality of life for a long time now, so we're not surprised that it has a ton of fun places to explore. Our interactive map is the perfect way to see all of the places you should be visiting. Dive in and explore your way around the city, including the best historic and cultural sites, restaurants, shopping, and hotels in downtown Indianapolis. Get the most out of your visit to the city with this map and guide.
Indianapolis Road Map
The Hoosier State has everything you could want, and now you can plan your trip to the state that is full of history and culture. This printable Indianapolis road map is a quick and easy way to navigate the city. It's the perfect tool for finding your way around and getting the lay of the land. It conveniently includes all the major interstates, highways, and roads in Indianapolis so you can find the right place to stay and explore.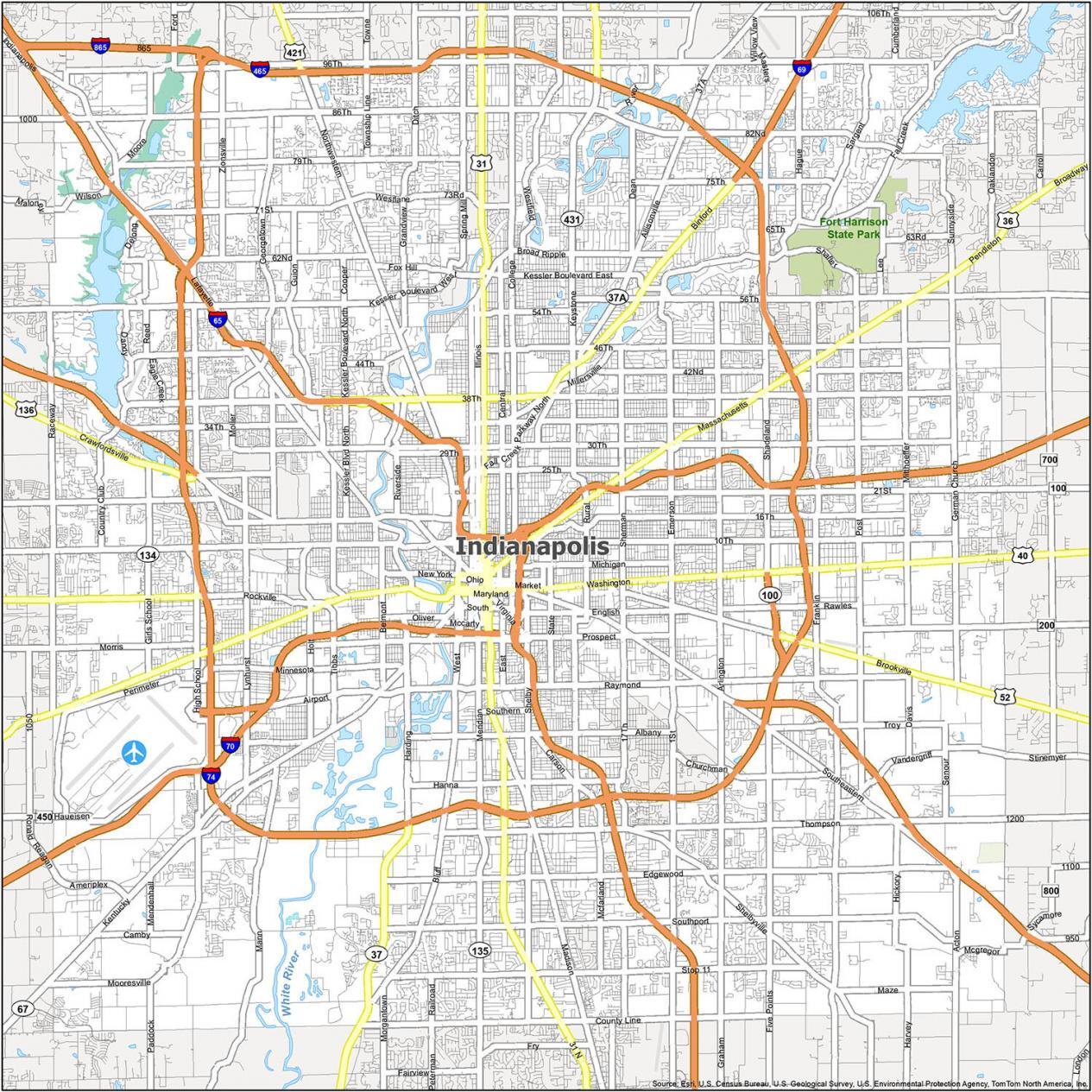 Interstate Highways: I-65, I-69, I-70, I-74, I-465
US Highways: 31, 36, 37A, 37, 40, 52, 67, 69, 74, 100, 135, 136, 421, 431, Airport Expy, Pendleton Pike
Parkways/Freeways: Ameriplex Pky, Fall Creek Parkway North Dr,
Major Roads: 10th St, 38th St, 6 Points Rd, Allisonville Rd, Bellefontaine St, Binford Ave, Binford Blvd, Brookside Ave, Brookville Rd, Crawfordsville Rd, Dearborn St, Delaware St, Dr. Martin Luther King Jr St, East St, Harding St, High School Rd, Kentucky Ave, Keystone Ave, Lower Terminal Dr, Madison Ave, Maryland St, Massachusetts Ave, Meridian St, Missouri St, Morris St, New York St, Pennsylvania St, Raymond St, Rockville Rd, Shadeland Ave, Shadeland Dr, Sky Bridge Dr, South St, Temple Ave, Troy Ave, Washington St, West St
10 Things To Do in Indianapolis
Want to explore Indianapolis? This map will show you the best places to visit and the best things to do. Whether you're a history buff, a nature lover, or a fan of architecture, there's a place in Indianapolis for you. The map includes all the most popular attractions like Lucas Oil Stadium, the Children's Museums, the Indianapolis Zoo, and more.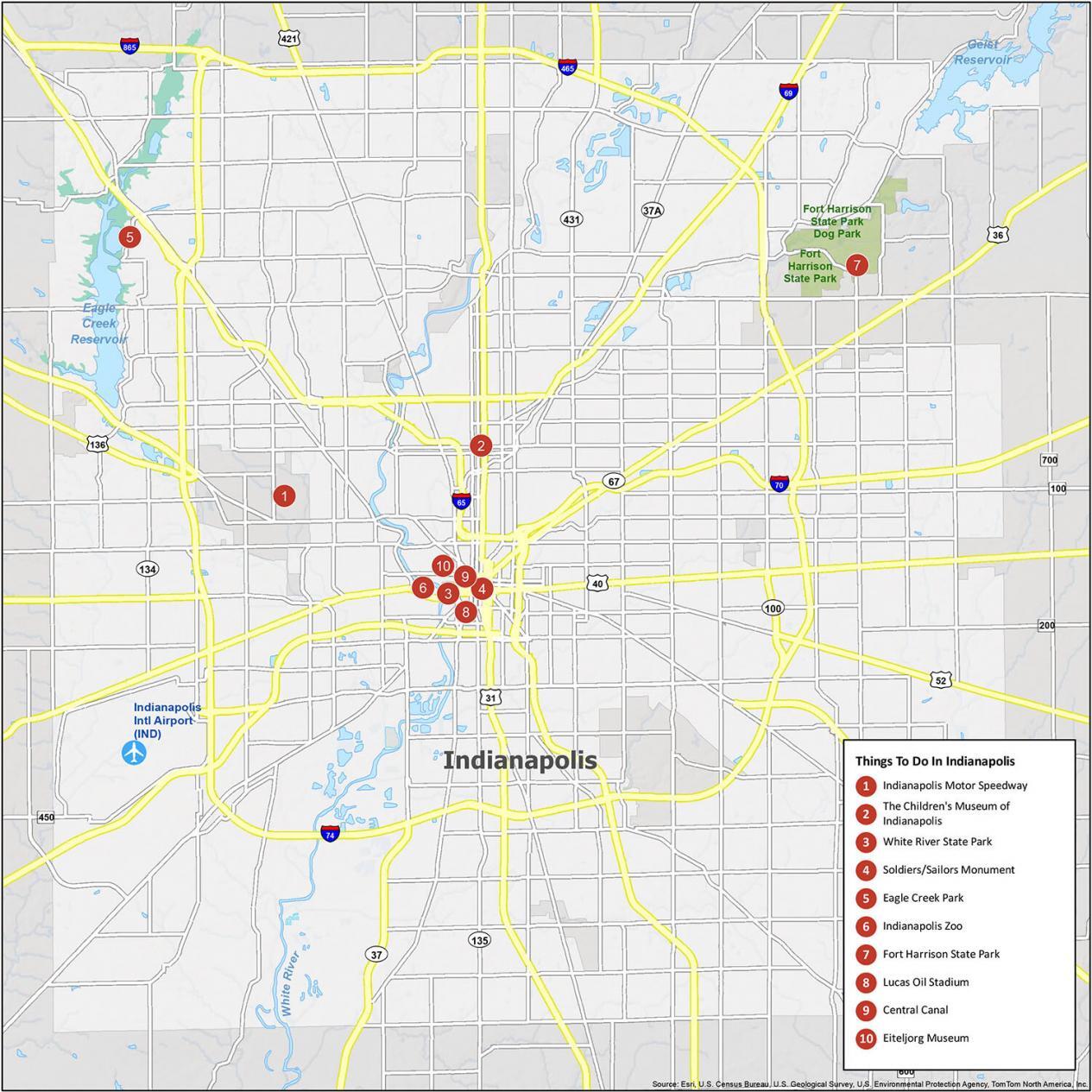 Indianapolis is home to the Motor Speedway and is the largest city in Indiana. If you ever decide to go to Indianapolis, we highly recommend it from our list of 10 things to do.
Indianapolis Motor Speedway
The Children's Museum of Indianapolis
White River State Park
Soldiers/Sailors Monument
Eagle Creek Park
Indianapolis Zoo
Fort Harrison State Park
Lucas Oil Stadium
Central Canal
Eiteljorg Museum
Indianapolis Reference Map
This map is a great way to get an overview of your trip and plan when you visit Indianapolis. Whether it's your first time in Indy or you just need a change of scenery, we can help you discover everything there is to do and see. This map includes detailed maps and directions of major attractions, points of interest, and popular neighborhoods. Overall, this map is the perfect guide for all your future travels.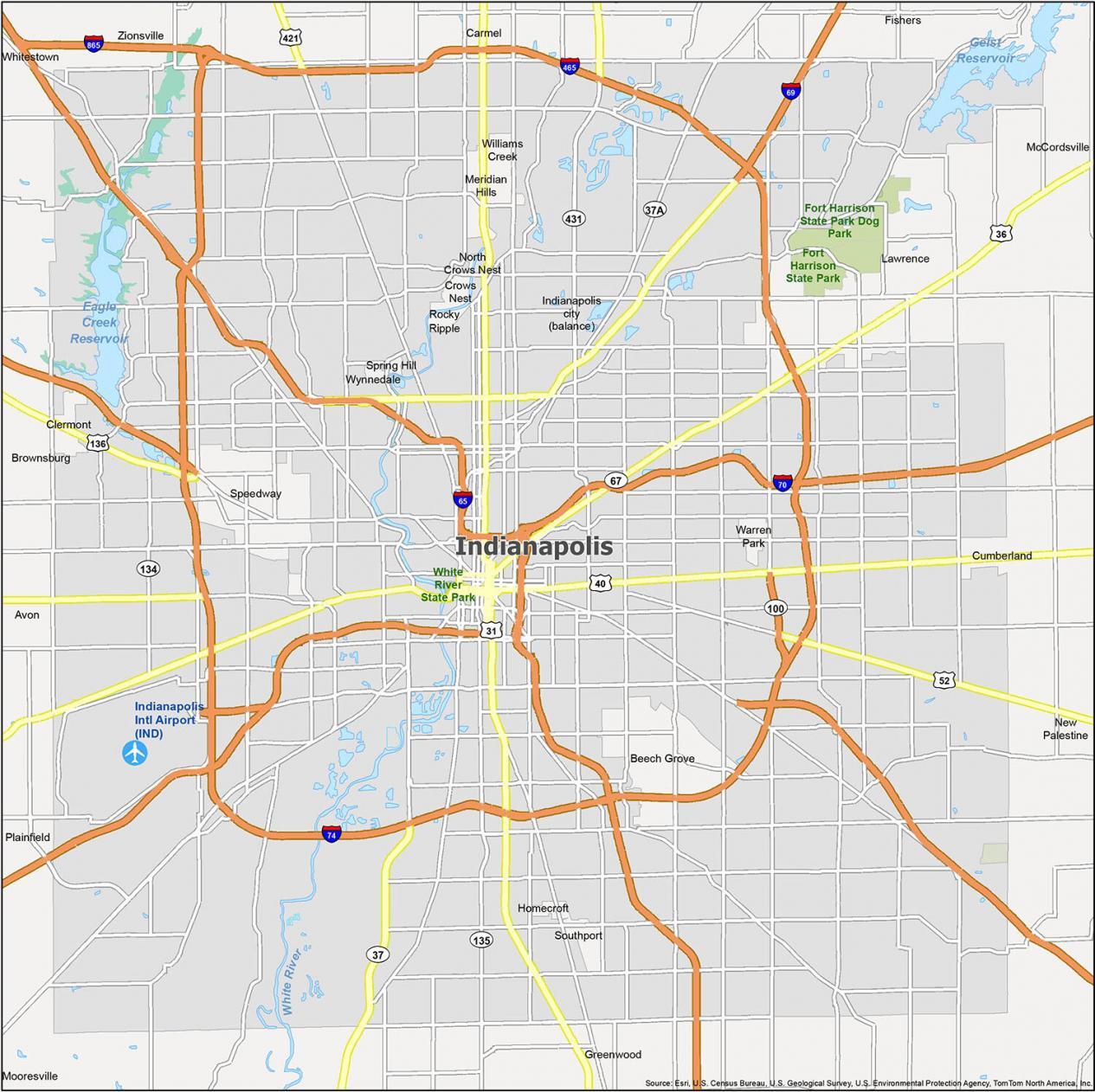 Airports: Indianapolis International Airport (IND)
Cities: Beech Grove, Carmel, Fishers, Greenwood, Lawrence, Southport
Towns: Avon, Brownsburg, Clermont, Crows Nest, Cumberland, Homecroft, McCordsville, Meridian Hills, Mooresville, New Palestine, North Crows Nest, Plainfield, Rocky Ripple, Speedway, Spring Hill, Warren Park, Whitestown, Williams Creek, Wynnedale, Zionsville
Water Features: Eagle Creek Reservoir, Geist Reservoir, White River