Map of Jacksonville, Florida

Map of Jacksonville
Jacksonville is known for its parks and is also the most populous city in Florida with 950,000 people. If you ever go, use this Jacksonville map with roads, things to do, and reference information.
Jacksonville Florida is a beautiful city and the perfect vacation destination. With its long history, and many historic sites and attractions, this guide will also show you the best places to visit in Jacksonville, Florida.
Get the most out of your time while you travel. Travel the capital of the Sunshine State and discover its diverse culture, natural wonders, and world-class attractions. But first, get to know the city with our interactive map provided by Google Maps.
Jump To: Interactive Map | Printable Road Map | 10 Things to Do | Reference Map
Jacksonville map collection
Interactive Map of Jacksonville
Interested in seeing what Jacksonville has to offer? How about the Jacksonville Riverwalk? Or maybe, you're more interested in experiencing the beaches of Florida. With this map, you can experience everything Florida has to offer, as well as take in the sights of Jacksonville. Use our interactive map to explore the city.
Jacksonville Road Map
This road map gives all the information you need to get around so you can find your way. All your transportation information is in one, easy-to-carry, convenient road map. This Jacksonville road map is perfect for visitors and locals alike so you can get directions for all around the city. With this detailed Jacksonville road map, you will know exactly where to go and how to get there with no hassle. But for travel outside the city, take a look at this Florida road map for highway and interstate information.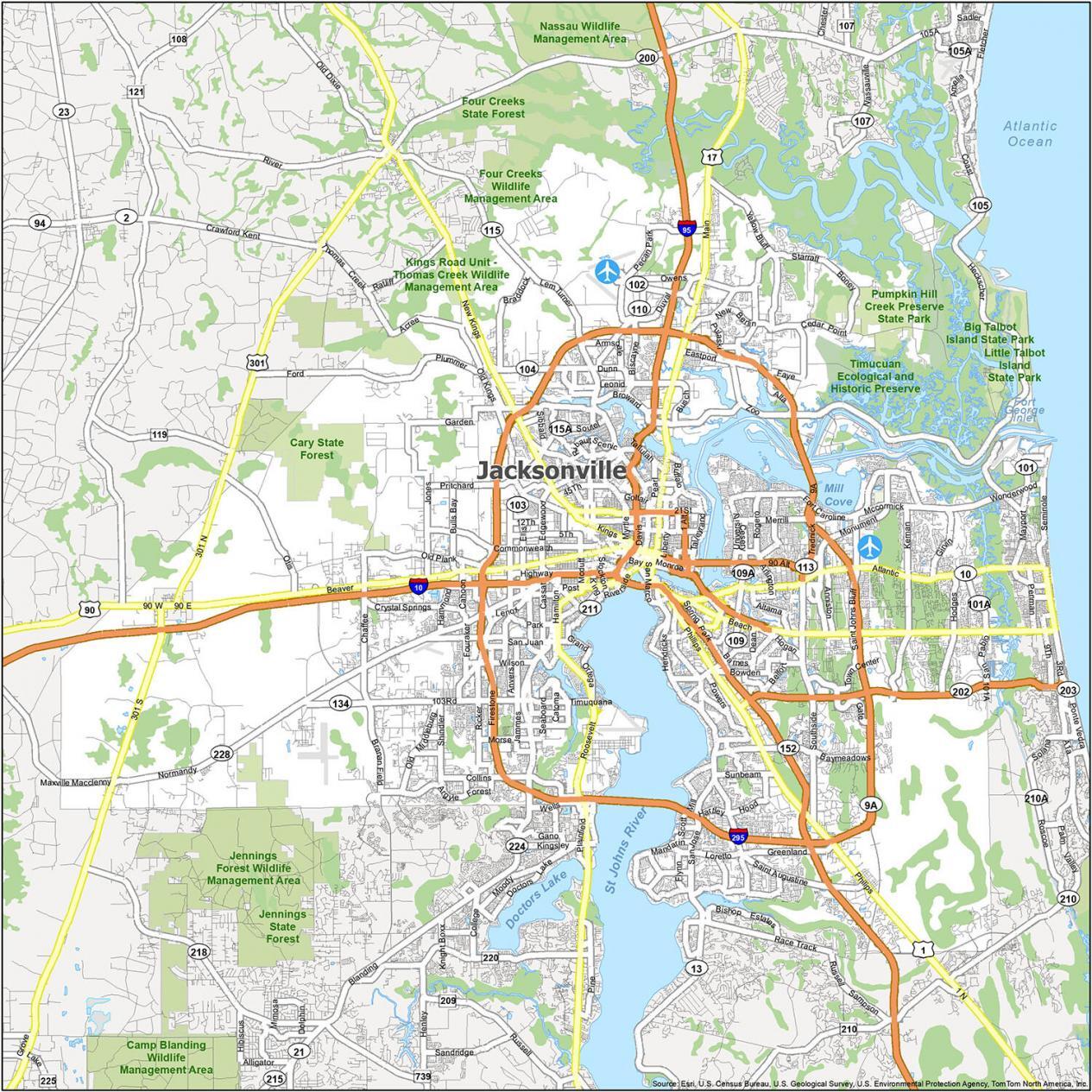 Interstate Highways: I-10, I-65, I-69, I-70, I-74, I-95, I-295, I-465
US Highways: 17, 23, 40, 52, 90, 105, 113, 115, 119, 202, 228, 295, 301, Maxville MacClenny Hwy, Philips Hwy, San Pablo Pky, Town Center Pky
Parkways/Expressways: Arlington Expy, Emerson Expy, Haines St Expy, Zoo Pky
Major Roads: Atlantic Blvd, Beach Blvd, Emerson St, Greenland Rd, Heckscher Dr, Kings Rd, Park Ave, Roosevelt Blvd, Southside Blvd, State St, SR 421, Union St
10 Things To Do in Jacksonville
Discover the best places and experiences in Jacksonville, Florida. With this map, you can easily find your way around the city and see what's worth visiting. This map will provide you with an overview of Jacksonville, including the top attractions and their locations. Not only does it show major attractions, but it also shows you how to get from one to the next. Overall, you will be able to see all the sites, events, and activities that are available and easily locate your favorite spots.
Jacksonville is known for its lush parks and is the largest city in Florida. If you ever decide to go to Jacksonville, here is our list of top 10 things to do.
Jacksonville Zoo and Gardens
The Catty Shack Ranch Wildlife Sanctuary
Cummer Museum of Art & Gardens
Little Talbot Island State Park
Big Talbot Island State Park
Kingsley Plantation
Kathryn Abbey Hanna Park
Pumpkin Hill Creek Preserve State Park
Timucuan Ecological and Historic Preserve
TIAA Bank Field
Jacksonville Reference Map
There are many things to do in Jacksonville, and the city has a lot to offer. This map is the perfect companion for your next visit to this great city. It's a great way to start planning your trip and getting acquainted with the area. You can mark down where you want to go and what you want to see. From its wildlife areas, parks, beaches, forests, preserves, rivers, lakes, and swamps, it has everything you need to find the perfect place for your adventure.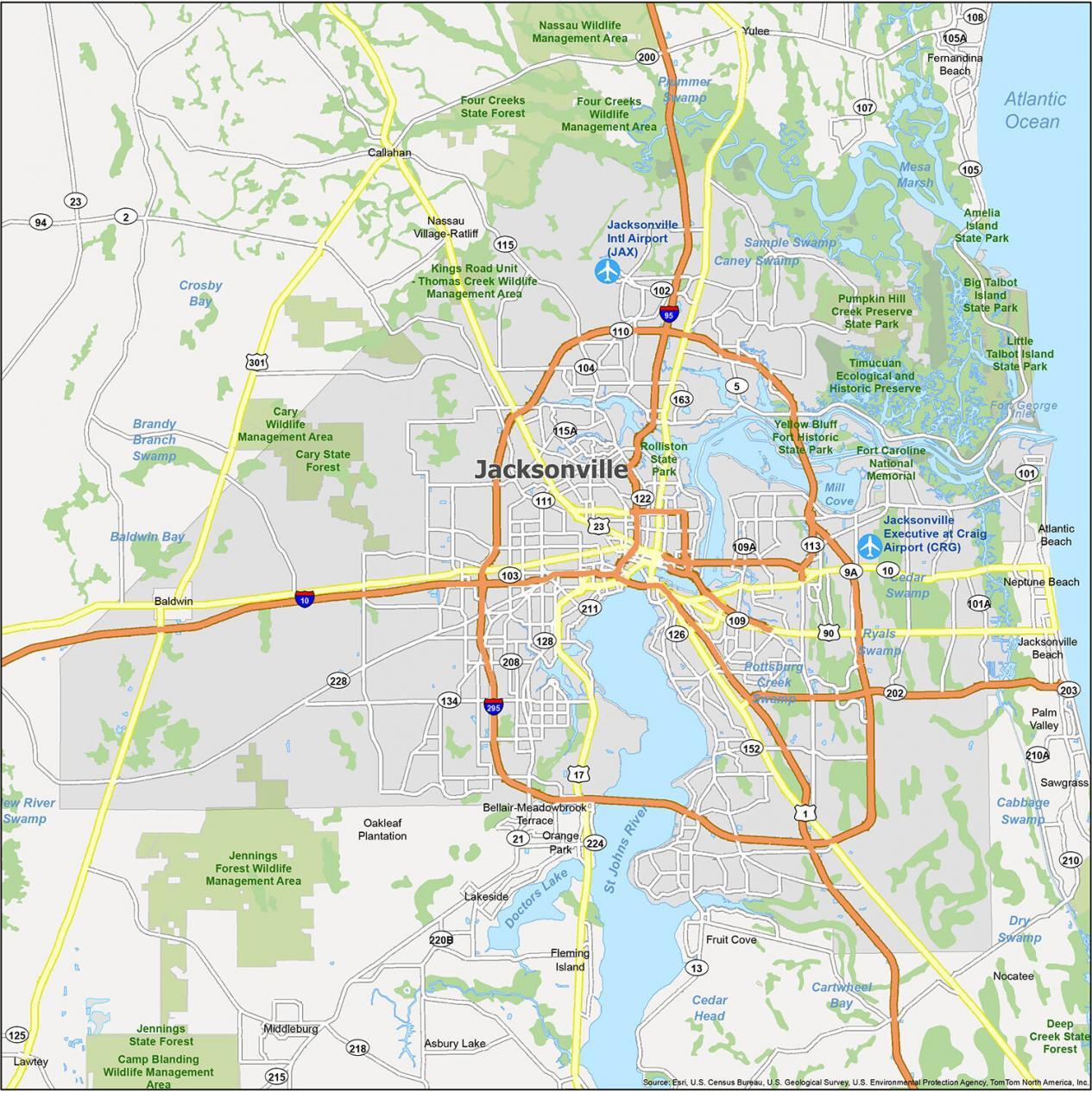 Airports: Jacksonville International Airport (JAX)
Cities: Atlantic Beach, Fernandina Beach, Jacksonville, Jacksonville Beach, Lawtey, Neptune Beach
Towns: Baldwin, Callahan, Orange Park
Census-designated place (CDP): Asbury Lake, Bellair-Meadowbrook Terrace, Fleming Island, Fruit Cove, Lakeside, Middleburg, Nassau Village-Ratliff, Nocatee, Oakleaf Plantation, Palm Valley, Sawgrass, Yulee
Jacksonville, Florida maps
Florida map collection