Map of Jersey City, New Jersey

Map of Jersey City
For a printable map of Jersey City, look no further. We highlight major roads, reference information, and things to do. If you need an interactive map of Jersey City, explore the city with our map below provided by Google Maps.
If you are looking for a place to live or a vacation getaway, you're sure to find it in Jersey City. With a population of over 260,000 people, the city is one of the most ethnically diverse in the country.
Jersey City is one of the most exciting places to live in the state. With vibrant communities and a booming economy, there's no better way to explore the city than with a map in your hand.
Jump To: Interactive Map | Printable Road Map | 10 Things to Do | Reference Map
Jersey City map collection
Interactive Map of Jersey City
Our interactive map is your guide to the best things to do, see, and eat in Jersey City. It includes photos of some of the best spots in the city. It also provides key information including locations of restaurants, bars and shops, parks, sights, and more. Find out what's nearby, find your way to the top attractions, and locate the perfect places to eat and sleep.
Jersey City Road Map
Explore the city and find your way to your destination with this road map of Jersey City. Although its location might not seem enticing at first, Jersey City is one of the most connected cities in the metro area. Our map is the perfect tool for getting around the city. See the major highways and road network of Jersey City so you can find your way around the city. This map is free and ideal for planning your next adventure designed for easy navigation. But if you plan to travel outside the city, then take a look at our New Jersey road map that you can use for free.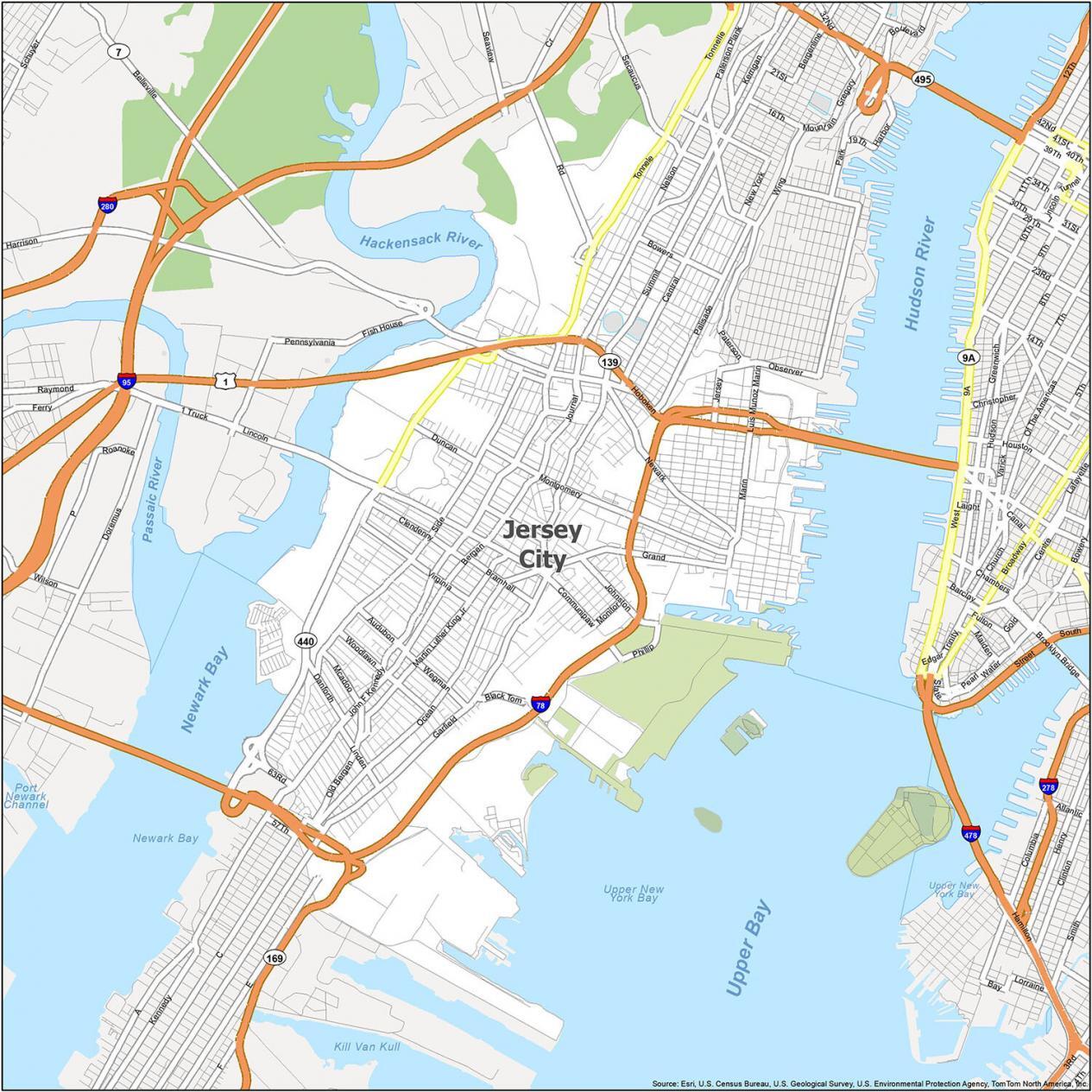 Interstate Highways: I-78
US Highways: 1, 7, 78, 139, 169, 440, 501, 681
Parkways/Expressways: Wegman Pky
Major Roads: 5th St, 12th St, 14th St, Audubon Ave, Belmont Ave, Bennett St, Bergen Ave, Black Tom Rd, Bowers St, Bramhall Ave, Broadway, Central Ave, Christopher Columbus Dr, Clendenny Ave, Communipaw Ave, Danforth Ave, Duncan Ave, Garfield Ave, Grand St, Hoboken Ave, Ivy Pl, Jersey Ave, John F Kennedy Blvd, Johnston Ave, Journal Sq, Linden Ave, Long St, Luis Munoz Marin Blvd, Manhattan Ave, Marin Blvd, Martin Luther King Jr Dr, Mcadoo Ave, Merritt St, Monitor St, Montgomery St, Nelson Ave, Newark Ave, Newark St, Oakland Ave, Ocean Ave, Old Bergen Rd, Palisade Ave, Paterson Plank Rd, Phillip St, Rd, Rose Ave, Secaucus Rd, Side Ave, Sipersteins Plz, Summit Ave, Tonnele Ave, Van Nostrand Ave, Virginia Ave, Wing Via, Woodlawn Ave
10 Things To Do in Jersey City
No need to waste time looking for the best places to go on a visit, our map will have you covered. With detailed maps and descriptions of everything you'll need to know, we make exploring Jersey City easy. Take a look at this map and see what you can find. Our map shows where everything is located and if you want to work up an appetite or find out what's nearby. Learn the best places to visit and the best things to do on this map of Jersey City.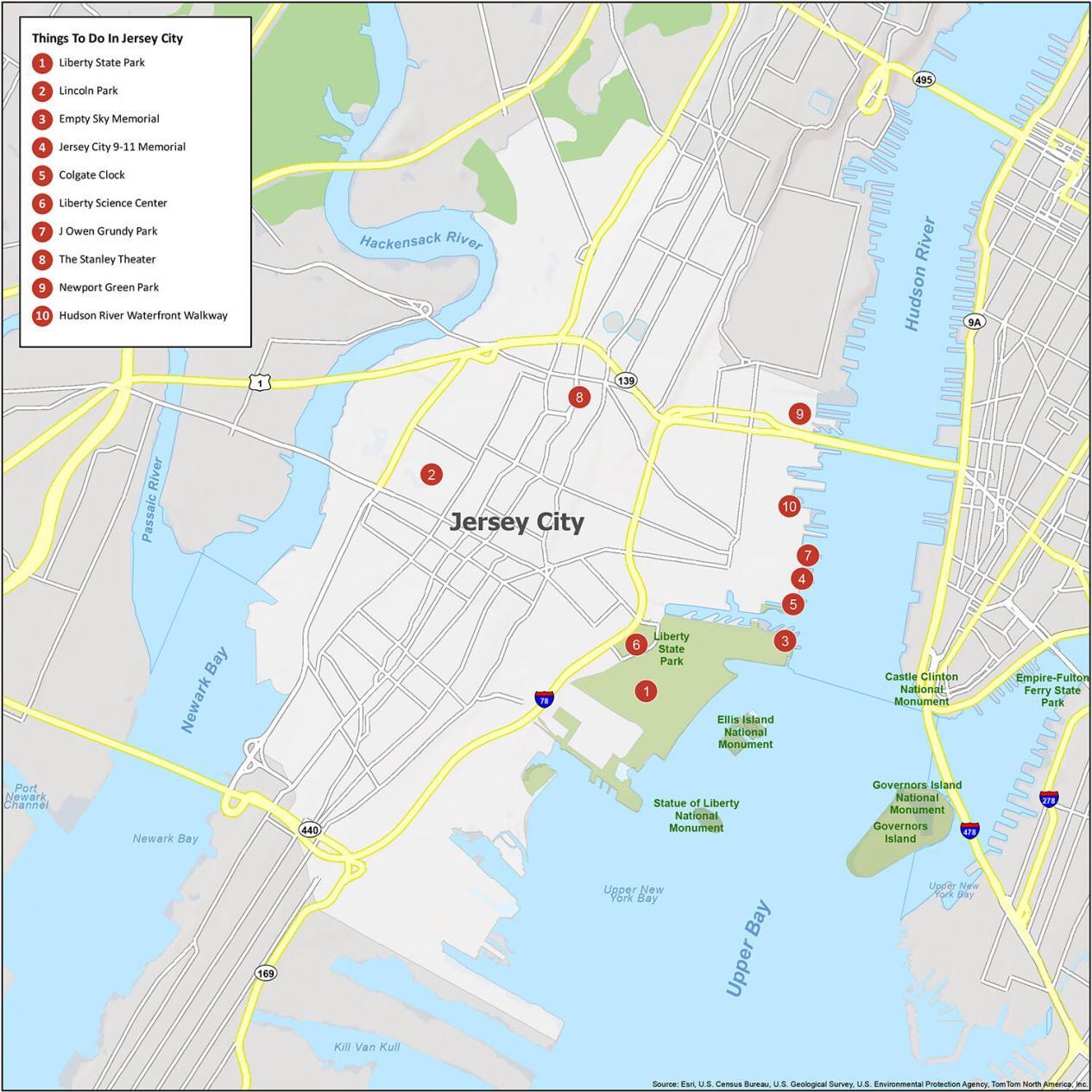 Jersey City is surrounded by water between Newark Bay, Hudson River, and Upper Bay. It's in the Upper Bay where the Statue of Liberty stands tall. As you glare into the Manhattan skyline, it's that panoramic view that will be forever engrained in your memory. That's why it all starts with Liberty State Park as the first thing to do in Jersey City. But don't stop there, and make sure to check out our entire list of travel recommendations.
Liberty State Park
Lincoln Park
Empty Sky Memorial
Jersey City 9-11 Memorial
Colgate Clock
Liberty Science Center
J Owen Grundy Park
The Stanley Theater
Newport Green Park
Hudson River Waterfront Walkway
Jersey City Reference Map
See the beauty of this diverse, urban city and get a real taste of what it is like to live in Jersey City. This map offers a comprehensive and easy-to-use reference for the city of Jersey City. This map is the perfect way to get a first-hand feel of the city and its neighborhoods. It also shows parks, monuments, and bays. If you're looking to move to or visit Jersey City, this reference map can help you get started.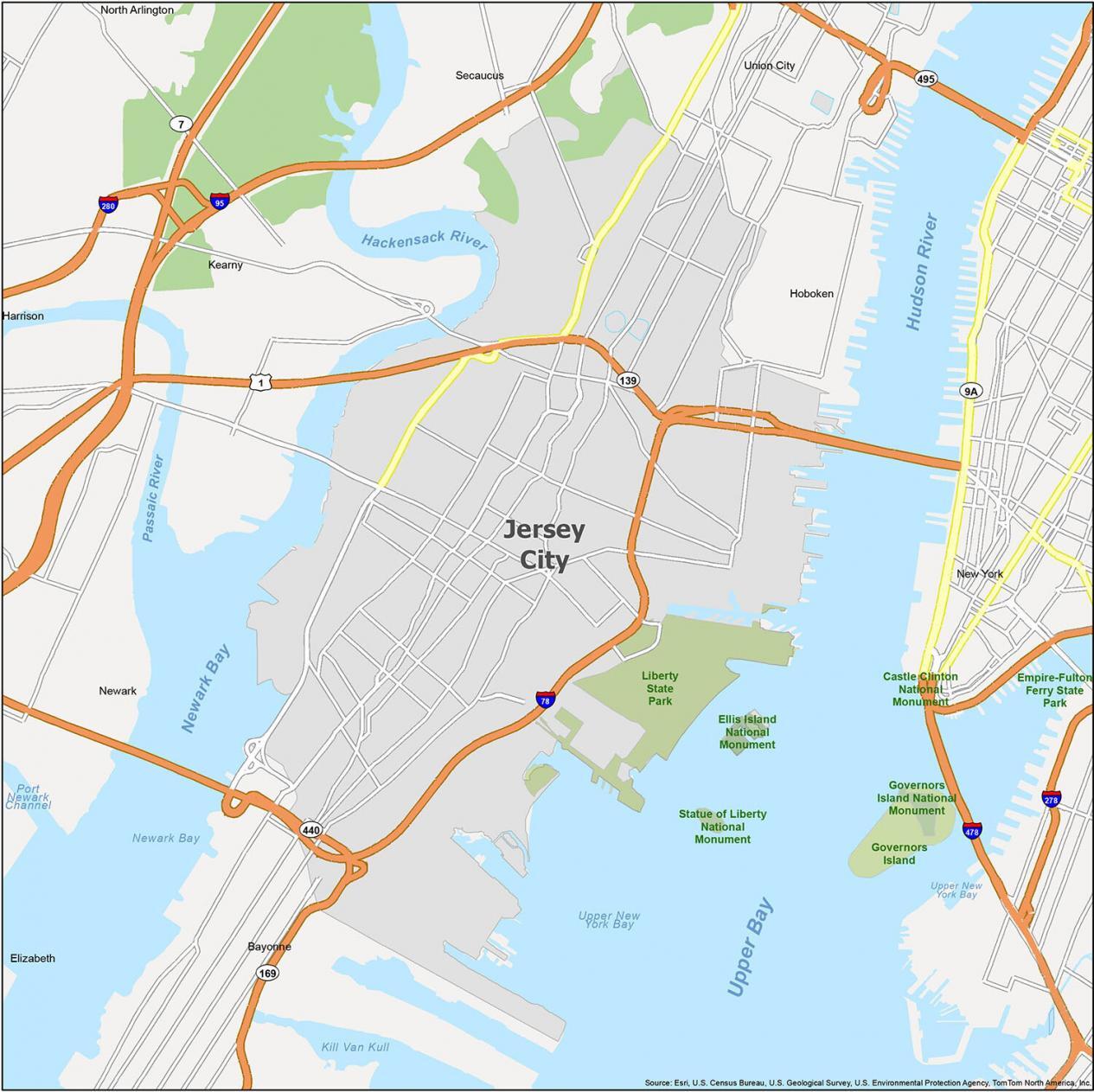 Cities: Bayonne, Hoboken, Jersey City, New York, Newark, Union City
Towns: Kearny, Secaucus
Boroughs: North Arlington
Water Features: Hackensack River, Hudson River, Kill Van Kull, Newark Bay, Passaic River, Port Newark Channel, Upper Bay
Parks: Berry Lane Park, Liberty State Park, Lincoln Park, Mary Benson Park, Hamilton Park
New Jersey map collection
References