Map of Kauai
There are many islands in the beautiful state of Hawaii, but none offer the same allure as Kauai. Nicknamed the Garden Island, we provide you with a unique Kauai Island Map collection.
From the lush tropical foliage to the unspoiled beaches, there's something about the Hawaiian Islands that makes you feel like you're stepping into a different world.
If you ever decide to travel to this Hawaiian island, make sure to check out this Kauai map with highways, roads, reference information, and things to do. But first, take a look at our interactive map of Kauai provided by Google Maps.
Jump To: Interactive Map | Printable Road Map | 10 Things to Do | Reference Map
Kauai map collection
Interactive Map of Kauai
If you are looking for a unique getaway experience, Hawaii has plenty of activities to keep you busy. The island of Kauai has it all – beaches, parks, and active volcanoes. Revitalize your sense of adventure by exploring the island by car. With Kauai's most complete and detailed map available, this interactive map will get you outside and start making new memories.
Kauai Road Map
Kauai Island is a magical and beautiful place that has so many wonderful things to offer. Whether you're planning to visit Kauai for the first time or are ready to plan your next trip, we've got everything you need to know about the best things to do on Kauai. Discover the beauty of this island and the best way to get from one point to another with this road map. For all of Hawaii, make sure to check out the Hawaii road map with highway information.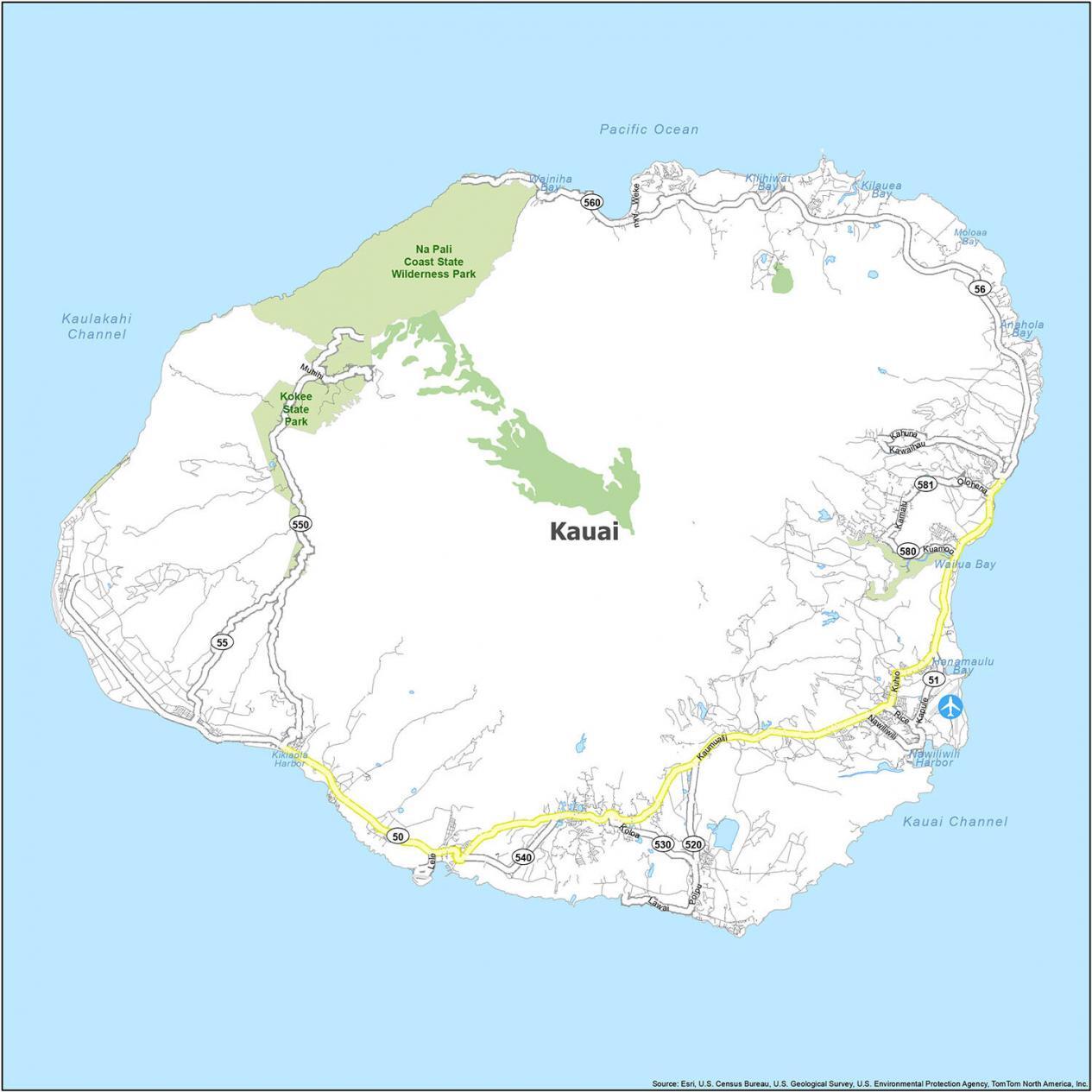 Highways: 50, 51, 55, 56, 58, 520, 530, 540, 550, 560, 580, 581, Kapule Hwy, Kaumualii Hwy, Kuhio Hwy
Major Roads: Aku Rd, Kaalani Rd, Kahuna Rd, Kamalu Rd, Kawaihali Rd, Kawaihau Rd, Kokee State Park, Kokee State Park Rd, Koloa Rd, Kuamoo Rd, Kukui St, Lawai Rd, Lele Rd, Lolokai Rd, Muhihi Rd, Nawiliwili Rd, Olohena Rd, Poipu Rd, Rice St, Waapa Rd, Weke Rd
10 Things To Do in Kauai
Kauai Island is full of adventure waiting to be explored. The island is home to the lush tropical rainforest, a string of blue lagoons, the unique protected north shore harbor, and world-class snorkeling and diving spots. Have the perfect travel companion at your fingertips. This map is fully loaded with a variety of information such as its parks, beaches, trails, and more.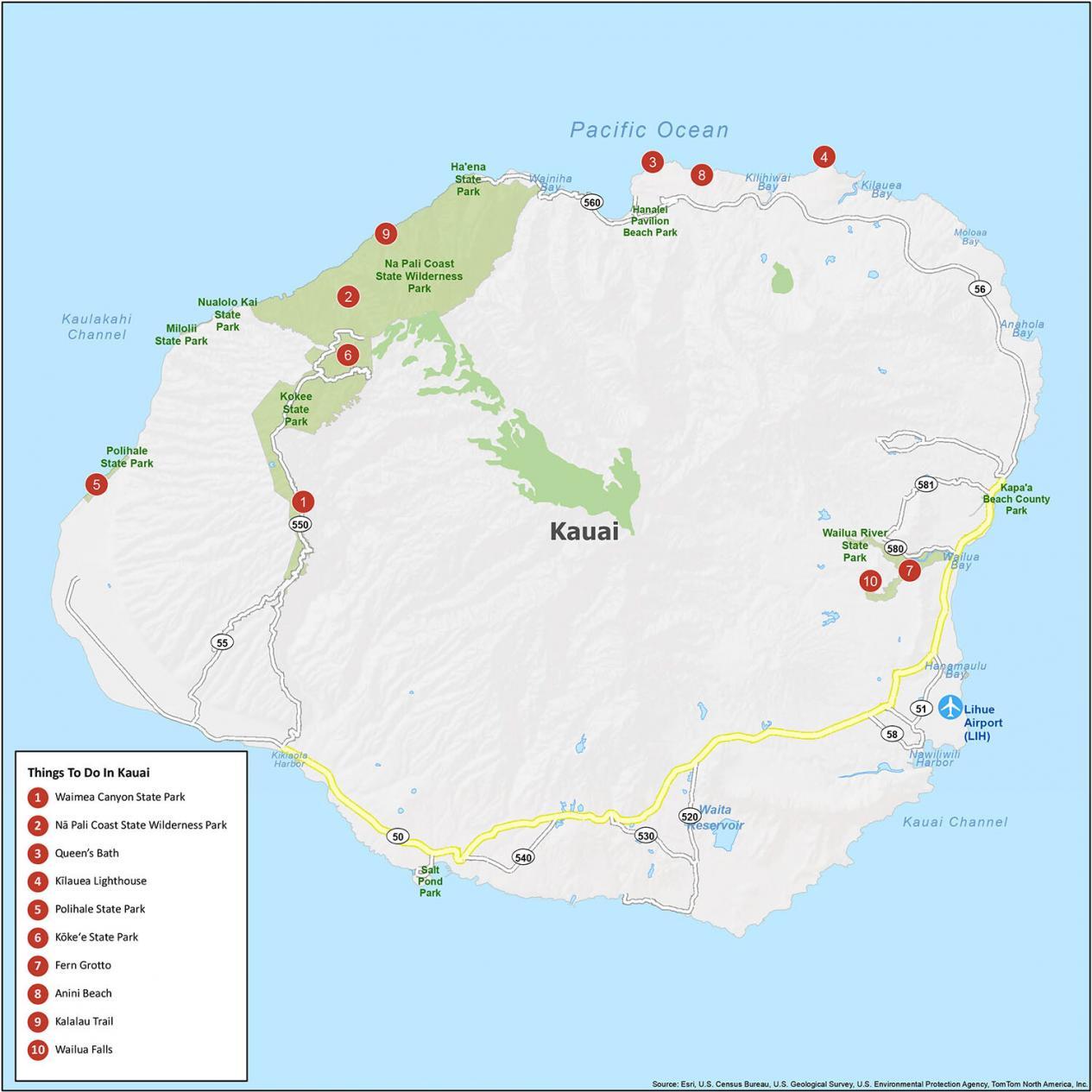 Kauai is known for its beaches, parks, and active volcanoes. For example, Kilauea Volcano is a shield volcano erupting as early as 2018. If you ever plan to go, check out our list of travel recommendations for Kauai.
Waimea Canyon State Park
Nā Pali Coast State Wilderness Park
Queen's Bath
Kīlauea Lighthouse
Polihale State Park
Kōkeʻe State Park
Fern Grotto
Anini Beach
Kalalau Trail
Wailua Falls
Kauai Reference Map
Kauai Island is a place to turn around, a place to land and a place to explore. Located in the northern part of the Hawaiian Islands, you can get a clear look at the Island's main attractions and points of interest. With this reference map of the Island, you'll never get lost on your next adventure.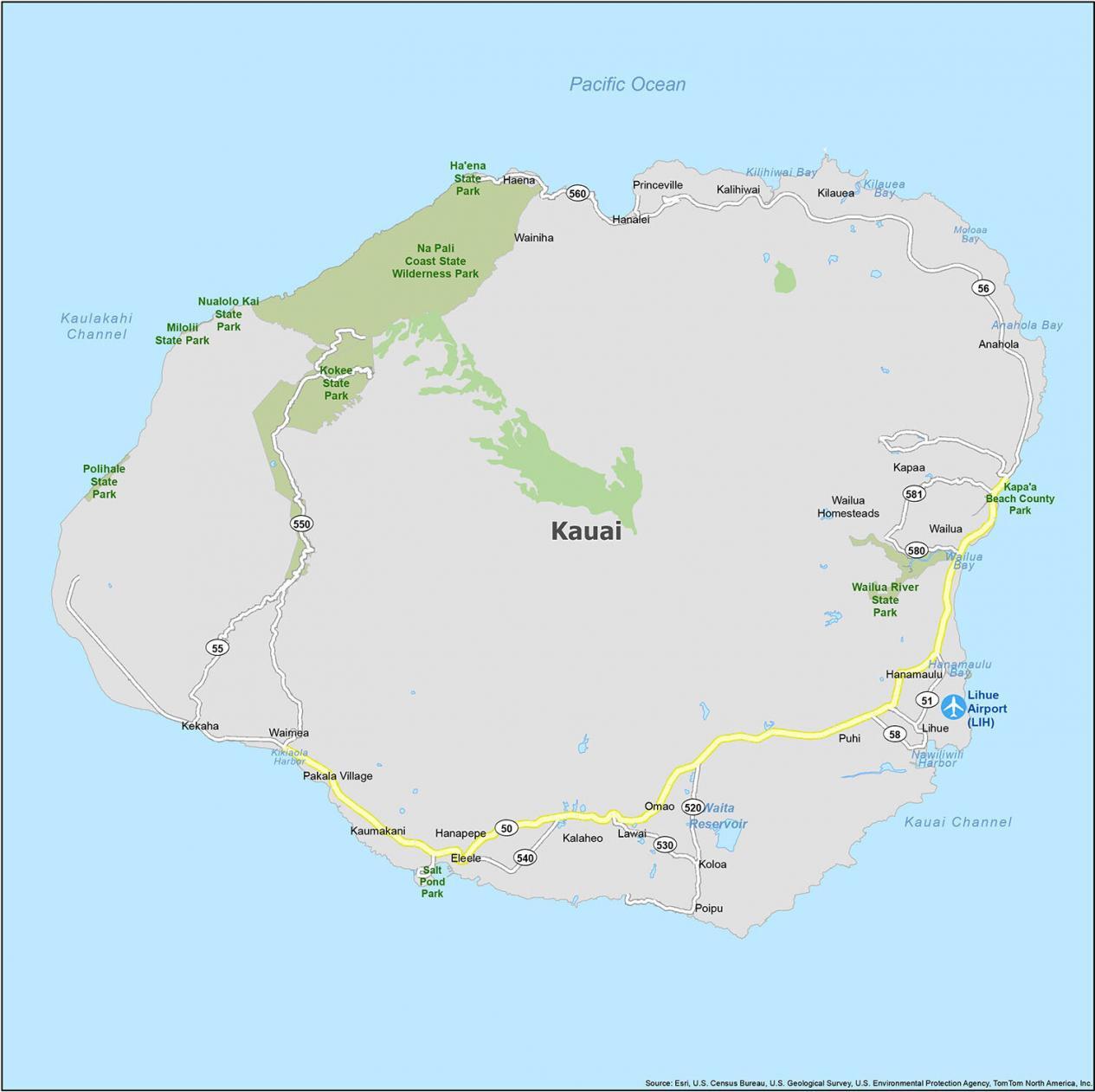 Airports: Lihue Airport (LIH)
Census-designated place (CDP): Anahola, Eleele, Haena, Hanalei, Hanamaulu, Hanapepe, Kalaheo, Kalihiwai, Kapaa, Kaumakani, Kekaha, Kilauea, Koloa, Lawai, Lihue, Omao, Pakala Village, Poipu, Princeville, Puhi, Wailua, Wailua Homesteads, Waimea, Wainiha
Water Features: Anahola Bay, Hanamaulu Bay, Kauai Channel, Kaulakahi Channel, Kikiaola Harbor, Kilauea Bay, Kilihiwai Bay, Nawiliwili Harbor, Pacific Ocean, Moloaa Bay, Wailua Bay, Wainiha Bay
Hawaii map collection
References