About the map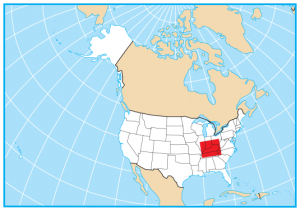 This Kentucky State Map shows major landmarks and places in Kentucky. For example, it features national forests, military bases, preserves, wildlife refuges and other federal lands in Kentucky.
One of the most beautiful sites in Kentucky is Mammoth Cave National Park. It's the world's longest cave below ground at 400+ miles! Not only that, but it's surrounded by 53,000 acres of forest.
There are number of other natural landmarks in Kentucky such as the Daniel Boone and Jefferson National Forest. Also, Big South Fork National River and Recreation Area has some of the most scenic gorges with of course the Cumberland River. Finally, the Cumberland Gap National Historical Park is a gateway with miles of trails and scenic features found in the park.
Federal lands
National Park (NP)
Mammoth Cave National Park
National Forests (NF)
Daniel Boone National Forest
Jefferson National Forest
National Wildlife Refuge (NWR)
Reelfoot NWR
Clarks River NWR
Ohio River Islands NWR
Reelfoot NWR
National Recreation (NRA)
Big South Fork National River and Recreation Area
Other Landmarks
Cumberland Gap National Historical Park
Lexington-Blue Grass
Kentucky lakes, rivers and reservoirs
Kentucky Lake
Lake Barkley
Land Between the Lakes
Rough River Lake
Lake Cumberland
Cave Run Lake
Lake Carr
Cumberland River
Green River
Laurel River
Martin's Fork Lake
Dewey Lake
Fishtrap Lake
Buckhorn Lake
Dale Hollow Reservoir
Grayson Lake
Licking River
Ohio River
Fort Campbell
Fort Knox
Army Depot (Closed)
Energy
Paducah Uranium Plant
Other Landmarks and places
Louisville
Lexington
Frankfort
Bowling Green
Covington
Henderson
Hopkinsville
Owensboro
Paducah
Pleasure Ridge
Park
Ashland
Bardstown
Cynthiana
Danville
Elizabethtown
Glasgow
Harlan
Hazard
London
Madisonville
Mayfield
Maysville
Mount Vernon
Princeton
Russellville
Florence
Paris
Somerset
Middlesboro
State capital
Frankfort
Free US Maps
Select a state to view its map
Still looking for a real map?
National Geographic
carries a full range of Country Maps, US Maps, World Maps, Regional Maps, Historical Maps and Celestial Maps.