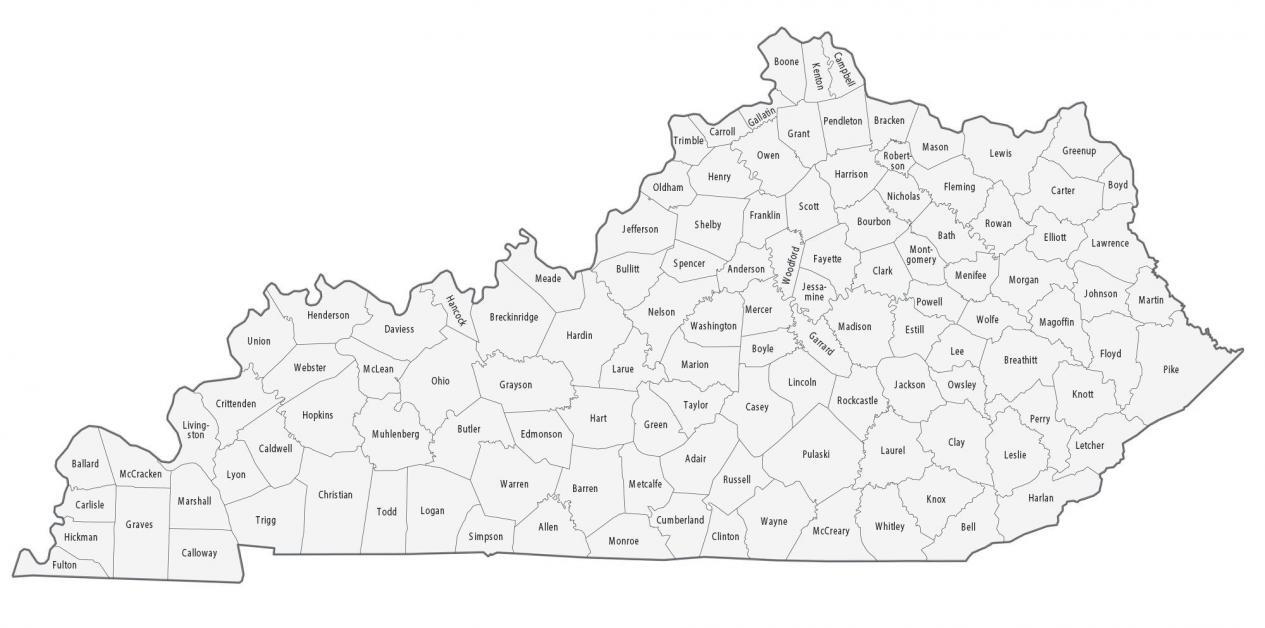 About the map
This Kentucky county map displays its extensive 120 counties. In fact, its number of counties represents the fourth most in the United States. Only Texas, Georgia, and Virginia have more counties and administrative units than Kentucky.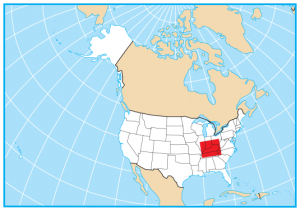 Jefferson County is the most populated county in Kentucky, which includes the major city of Louisville. Next, Fayette, Kenton, and Boone counties have the highest population. But the least populated is Robertson County with just over 2,000 people.
In terms of area, Pike County is the largest occupying an area of 785.7 square miles, bordering both states of Virginia and West Virginia. Robertson County is not only the least population. But it's also the smallest occupying just 100.3 square miles.
Kentucky map collection
You are free to use our county map of Kentucky for educational and commercial uses. Attribution is required. How to attribute?
Kentucky county list
| County Name | Population (2020 est) | County Map | Area (sq mi) | Locator Map | FIPS Code |
| --- | --- | --- | --- | --- | --- |
| Adair County | 19,555 | Adair County | 412.2 | Adair County Map | 21001 |
| Allen County | 21,303 | Allen County | 351.8 | Allen County Map | 21003 |
| Anderson County | 22,833 | Anderson County | 204 | Anderson County Map | 21005 |
| Ballard County | 7,769 | Ballard County | 269.4 | Ballard County Map | 21007 |
| Barren County | 44,300 | Barren County | 500.3 | Barren County Map | 21009 |
| Bath County | 12,481 | Bath County | 283.1 | Bath County Map | 21011 |
| Bell County | 25,482 | Bell County | 361.2 | Bell County Map | 21013 |
| Boone County | 135,396 | Boone County | 256.8 | Boone County Map | 21015 |
| Bourbon County | 19,901 | Bourbon County | 291.9 | Bourbon County Map | 21017 |
| Boyd County | 46,516 | Boyd County | 161.3 | Boyd County Map | 21019 |
| Boyle County | 30,367 | Boyle County | 183.3 | Boyle County Map | 21021 |
| Bracken County | 8,286 | Bracken County | 208.3 | Bracken County Map | 21023 |
| Breathitt County | 12,550 | Breathitt County | 495.3 | Breathitt County Map | 21025 |
| Breckinridge County | 20,537 | Breckinridge County | 585.6 | Breckinridge County Map | 21027 |
| Bullitt County | 82,182 | Bullitt County | 300.5 | Bullitt County Map | 21029 |
| Butler County | 12,703 | Butler County | 431.5 | Butler County Map | 21031 |
| Caldwell County | 12,687 | Caldwell County | 347.7 | Caldwell County Map | 21033 |
| Calloway County | 39,300 | Calloway County | 411.6 | Calloway County Map | 21035 |
| Campbell County | 94,020 | Campbell County | 159.1 | Campbell County Map | 21037 |
| Carlisle County | 4,692 | Carlisle County | 198.8 | Carlisle County Map | 21039 |
| Carroll County | 10,730 | Carroll County | 137.3 | Carroll County Map | 21041 |
| Carter County | 26,542 | Carter County | 412.1 | Carter County Map | 21043 |
| Casey County | 16,066 | Casey County | 445.6 | Casey County Map | 21045 |
| Christian County | 71,478 | Christian County | 724.3 | Christian County Map | 21047 |
| Clark County | 36,463 | Clark County | 255.6 | Clark County Map | 21049 |
| Clay County | 19,631 | Clay County | 470.9 | Clay County Map | 21051 |
| Clinton County | 10,110 | Clinton County | 206 | Clinton County Map | 21053 |
| Crittenden County | 8,847 | Crittenden County | 370.9 | Crittenden County Map | 21055 |
| Cumberland County | 6,523 | Cumberland County | 310.7 | Cumberland County Map | 21057 |
| Daviess County | 101,978 | Daviess County | 476.3 | Daviess County Map | 21059 |
| Edmonson County | 12,235 | Edmonson County | 307.8 | Edmonson County Map | 21061 |
| Elliott County | 7,372 | Elliott County | 235.3 | Elliott County Map | 21063 |
| Estill County | 14,109 | Estill County | 255.2 | Estill County Map | 21065 |
| Fayette County | 324,735 | Fayette County | 285.5 | Fayette County Map | 21067 |
| Fleming County | 14,603 | Fleming County | 351.4 | Fleming County Map | 21069 |
| Floyd County | 34,974 | Floyd County | 395.4 | Floyd County Map | 21071 |
| Franklin County | 51,118 | Franklin County | 212 | Franklin County Map | 21073 |
| Fulton County | 5,952 | Fulton County | 230.1 | Fulton County Map | 21075 |
| Gallatin County | 8,779 | Gallatin County | 105 | Gallatin County Map | 21077 |
| Garrard County | 17,719 | Garrard County | 233.2 | Garrard County Map | 21079 |
| Grant County | 25,387 | Grant County | 260.8 | Grant County Map | 21081 |
| Graves County | 36,818 | Graves County | 556.8 | Graves County Map | 21083 |
| Grayson County | 26,480 | Grayson County | 510.7 | Grayson County Map | 21085 |
| Green County | 10,995 | Green County | 288.7 | Green County Map | 21087 |
| Greenup County | 34,865 | Greenup County | 352.6 | Greenup County Map | 21089 |
| Hancock County | 8,742 | Hancock County | 199.2 | Hancock County Map | 21091 |
| Hardin County | 111,309 | Hardin County | 629.9 | Hardin County Map | 21093 |
| Harlan County | 25,566 | Harlan County | 468 | Harlan County Map | 21095 |
| Harrison County | 18,920 | Harrison County | 309.7 | Harrison County Map | 21097 |
| Hart County | 19,013 | Hart County | 417.8 | Hart County Map | 21099 |
| Henderson County | 44,740 | Henderson County | 467.3 | Henderson County Map | 21101 |
| Henry County | 16,067 | Henry County | 291 | Henry County Map | 21103 |
| Hickman County | 4,364 | Hickman County | 253.2 | Hickman County Map | 21105 |
| Hopkins County | 44,662 | Hopkins County | 554.6 | Hopkins County Map | 21107 |
| Jackson County | 13,340 | Jackson County | 347.1 | Jackson County Map | 21109 |
| Jefferson County | 767,452 | Jefferson County | 398.3 | Jefferson County Map | 21111 |
| Jessamine County | 54,057 | Jessamine County | 174.3 | Jessamine County Map | 21113 |
| Johnson County | 22,002 | Johnson County | 263.9 | Johnson County Map | 21115 |
| Kenton County | 167,949 | Kenton County | 164.9 | Kenton County Map | 21117 |
| Knott County | 14,512 | Knott County | 353 | Knott County Map | 21119 |
| Knox County | 31,022 | Knox County | 387.3 | Knox County Map | 21121 |
| Larue County | 14,431 | Larue County | 263.7 | Larue County Map | 21123 |
| Laurel County | 61,238 | Laurel County | 442.6 | Laurel County Map | 21125 |
| Lawrence County | 15,436 | Lawrence County | 419.9 | Lawrence County Map | 21127 |
| Lee County | 7,268 | Lee County | 211.5 | Lee County Map | 21129 |
| Leslie County | 9,637 | Leslie County | 404.3 | Leslie County Map | 21131 |
| Letcher County | 21,213 | Letcher County | 339.1 | Letcher County Map | 21133 |
| Lewis County | 13,262 | Lewis County | 491.1 | Lewis County Map | 21135 |
| Lincoln County | 24,466 | Lincoln County | 336.5 | Lincoln County Map | 21137 |
| Livingston County | 9,041 | Livingston County | 342.4 | Livingston County Map | 21139 |
| Logan County | 27,416 | Logan County | 556.9 | Logan County Map | 21141 |
| Lyon County | 8,133 | Lyon County | 257.2 | Lyon County Map | 21143 |
| Madison County | 94,265 | Madison County | 443.5 | Madison County Map | 21151 |
| Magoffin County | 12,017 | Magoffin County | 309.4 | Magoffin County Map | 21153 |
| Marion County | 19,314 | Marion County | 346.7 | Marion County Map | 21155 |
| Marshall County | 31,163 | Marshall County | 340 | Marshall County Map | 21157 |
| Martin County | 11,031 | Martin County | 230.7 | Martin County Map | 21159 |
| Mason County | 17,035 | Mason County | 244.3 | Mason County Map | 21161 |
| McCracken County | 65,644 | McCracken County | 268.1 | McCracken County Map | 21145 |
| McCreary County | 17,071 | McCreary County | 430.8 | McCreary County Map | 21147 |
| McLean County | 9,075 | McLean County | 256.3 | McLean County Map | 21149 |
| Meade County | 28,616 | Meade County | 324.2 | Meade County Map | 21163 |
| Menifee County | 6,502 | Menifee County | 206.3 | Menifee County Map | 21165 |
| Mercer County | 21,889 | Mercer County | 253.2 | Mercer County Map | 21167 |
| Metcalfe County | 10,058 | Metcalfe County | 291.1 | Metcalfe County Map | 21169 |
| Monroe County | 10,549 | Monroe County | 331.4 | Monroe County Map | 21171 |
| Montgomery County | 28,186 | Montgomery County | 198.7 | Montgomery County Map | 21173 |
| Morgan County | 13,142 | Morgan County | 383.8 | Morgan County Map | 21175 |
| Muhlenberg County | 30,457 | Muhlenberg County | 479.4 | Muhlenberg County Map | 21177 |
| Nelson County | 46,450 | Nelson County | 424 | Nelson County Map | 21179 |
| Nicholas County | 7,234 | Nicholas County | 196.9 | Nicholas County Map | 21181 |
| Ohio County | 23,899 | Ohio County | 596.6 | Ohio County Map | 21183 |
| Oldham County | 66,999 | Oldham County | 196.6 | Oldham County Map | 21185 |
| Owen County | 11,017 | Owen County | 353.7 | Owen County Map | 21187 |
| Owsley County | 4,331 | Owsley County | 198.4 | Owsley County Map | 21189 |
| Pendleton County | 14,586 | Pendleton County | 282 | Pendleton County Map | 21191 |
| Perry County | 25,456 | Perry County | 342.7 | Perry County Map | 21193 |
| Pike County | 57,057 | Pike County | 785.7 | Pike County Map | 21195 |
| Powell County | 12,218 | Powell County | 180.1 | Powell County Map | 21197 |
| Pulaski County | 65,530 | Pulaski County | 677 | Pulaski County Map | 21199 |
| Robertson County | 2,136 | Robertson County | 100.3 | Robertson County Map | 21201 |
| Rockcastle County | 16,750 | Rockcastle County | 318.9 | Rockcastle County Map | 21203 |
| Rowan County | 24,682 | Rowan County | 286.9 | Rowan County Map | 21205 |
| Russell County | 17,998 | Russell County | 283 | Russell County Map | 21207 |
| Scott County | 58,470 | Scott County | 285 | Scott County Map | 21209 |
| Shelby County | 49,611 | Shelby County | 385.7 | Shelby County Map | 21211 |
| Simpson County | 18,635 | Simpson County | 236.1 | Simpson County Map | 21213 |
| Spencer County | 19,585 | Spencer County | 191.8 | Spencer County Map | 21215 |
| Taylor County | 25,707 | Taylor County | 277 | Taylor County Map | 21217 |
| Todd County | 12,448 | Todd County | 376.9 | Todd County Map | 21219 |
| Trigg County | 14,776 | Trigg County | 480.6 | Trigg County Map | 21221 |
| Trimble County | 8,481 | Trimble County | 156.1 | Trimble County Map | 21223 |
| Union County | 14,443 | Union County | 363.5 | Union County Map | 21225 |
| Warren County | 134,510 | Warren County | 547.9 | Warren County Map | 21227 |
| Washington County | 12,147 | Washington County | 301.5 | Washington County Map | 21229 |
| Wayne County | 20,209 | Wayne County | 483.9 | Wayne County Map | 21231 |
| Webster County | 12,923 | Webster County | 335.6 | Webster County Map | 21233 |
| Whitley County | 36,451 | Whitley County | 445.4 | Whitley County Map | 21235 |
| Wolfe County | 7,106 | Wolfe County | 222.9 | Wolfe County Map | 21237 |
| Woodford County | 26,765 | Woodford County | 192.5 | Woodford County Map | 21239 |
References