Map of Louisville
Louisville is located in northern Kentucky and south of the Ohio River. This Louisville map collection features roads, highways, places, and things to do in Derby City.
Louisville is a great place to visit. It is home to some of the nation's most beautiful parks and historic sites, exciting festivals, and some of the most hospitable people. It is also known as the Gateway to the South because it's an important transportation hub in the region.
If you want to download a map of Louisville to explore the city known for horse racing, bourbon, baseball bats, and chicken, then keep reading below. But first, take a look at our interactive map of Louisville.
Jump To: Interactive Map | Printable Road Map | 10 Things to Do | Reference Map
Louisville map collection
Interactive Map of Louisville
Did you know that Louisville is the birthplace of bourbon whiskey? But there's much more to this city than bourbon. Louisville is a proud home of the Kentucky Derby, the Louisville Slugger Museum, Muhammad Ali Center, and it's just west of the Appalachian Mountain range. Louisville has a lot to offer with mountains, trails, and rivers. This interactive map is a great way to explore the city and all it has to offer.
Louisville Road Map
Louisville is a big city, with a lot of things to see and do. But it all boils down to how you want to get around. Whether you're in town for a few days or for the week, we've got a road map to show you the best ways to get around town. This road map was designed to help you discover Louisville Kentucky and all its major highways and roads. But for travel outside the city, take a look at the Kentucky road map to learn about its interstates and highways.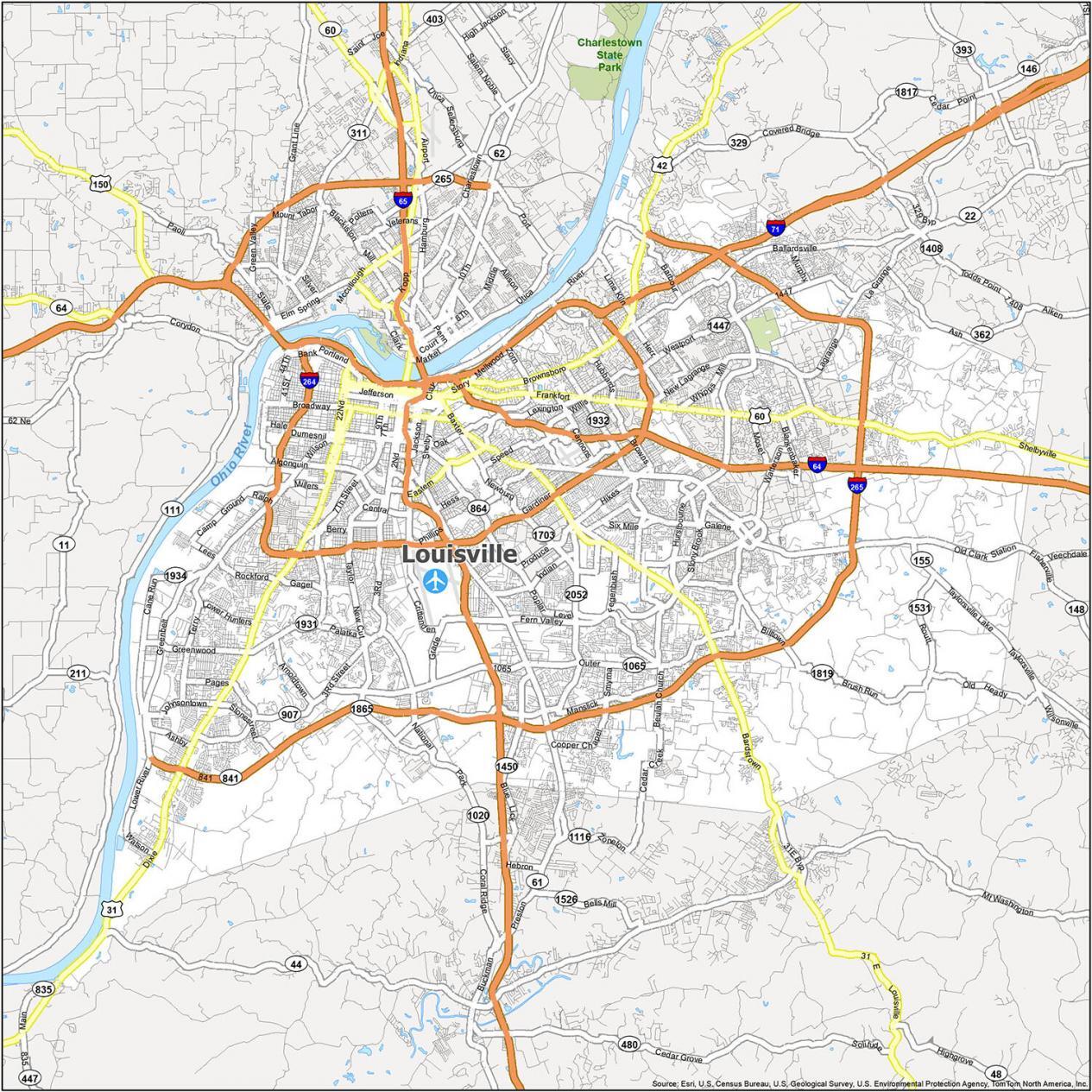 Interstate Highways: I-64, I-65, I-71, I-264, I-265
US Highways: 22, 31, 31E, 31W, 42, 44, 60, 61, 146, 150, 155, 362, 841, 864, 1934, Buechel Byp, Greenbelt Hwy
Freeways/Parkways: Algonquin Pky, Cherokee Pky, Eastern Pky, Hurstbourne Pky, Northwestern Pky, Smyrna Pky, Southern Pky, Southside Dr, Southwestern Pky
Major Roads: 1st St, 21st St, 22nd St, 2n St, Arthur St, Ballardsville Rd, Bardstown Rd, Baxter Ave, Brandeis Ave, Broadway, Brownsboro Rd, Campbell St, Cane Run Rd, Chestnut St, Dixie Hwy, Finzer St, Frankfort Ave, Grade Ln, Jackson St, Lagrange Rd, Logan St, Lynn St, Main St, Market St, Mellwood Ave, Muhammad Ali Blvd, Preston Hwy, Preston St, Shelby St, Shelbyville Rd, Story Ave, Taylorsville Lake Rd, Taylorsville Rd
10 Things To Do in Louisville
From its thriving arts scene to its unique national parks and world-class parks, to its sports teams and venues, Louisville has a lot of great attractions for you. If you're visiting or looking for places to visit in the Louisville KY area, this map of the area is a must-have. Discover the hidden gems around you, from beautiful architecture to museums.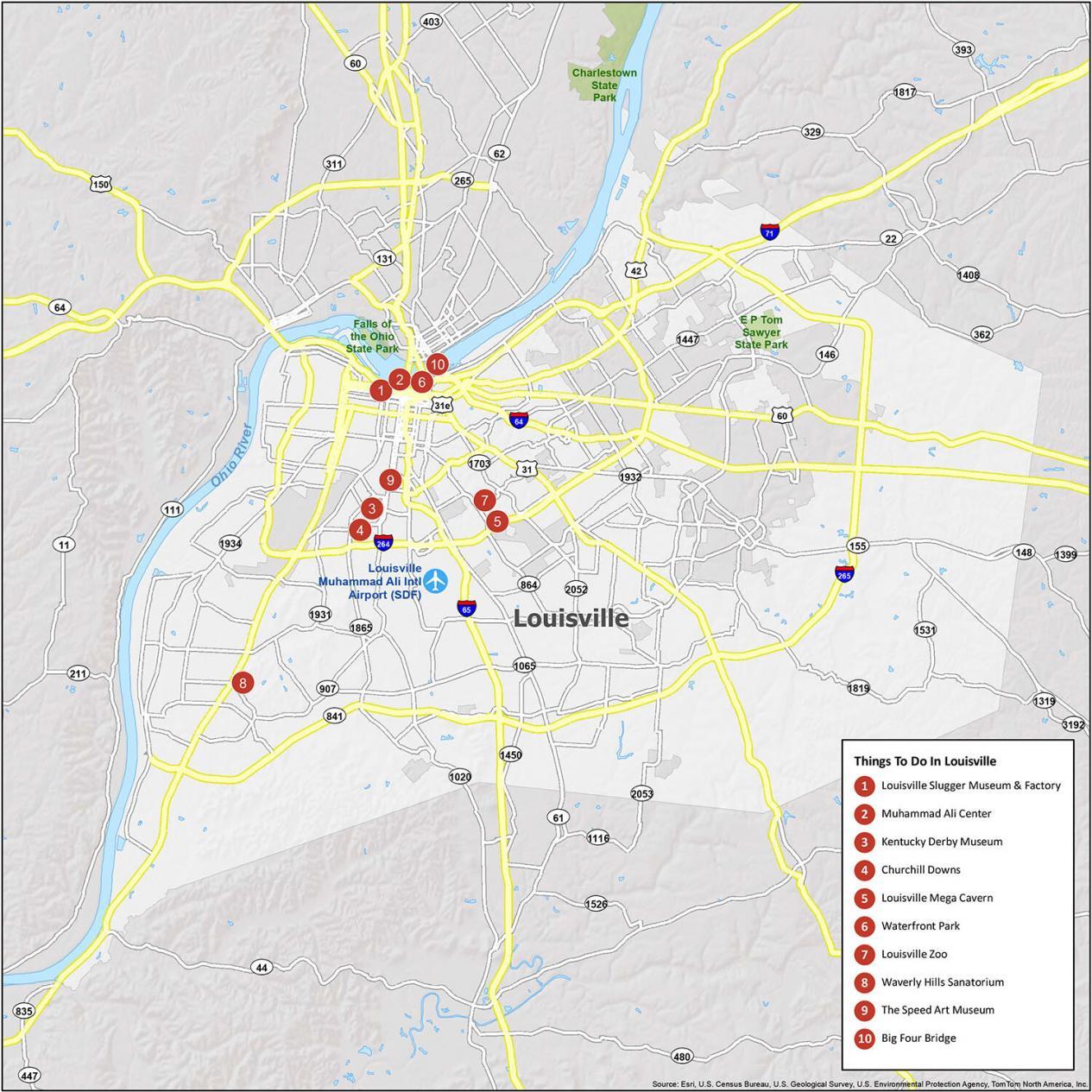 Louisville is best known for a lot. Think about the Kentucky Derby, the Louisville Slugger, Kentucky Fried Chicken, and bourbon! If you ever go to Louisville, KY, here are our recommendations for the top 10 things to do.
Louisville Slugger Museum & Factory
Muhammad Ali Center
Kentucky Derby Museum
Churchill Downs
Louisville Mega Cavern
Waterfront Park
Louisville Zoo
Waverly Hills Sanatorium
The Speed Art Museum
Big Four Bridge
Louisville Reference Map
Louisville is a very diverse city, so there are a lot of different neighborhoods to explore. A city rich in culture, history, and cuisine, it's a destination for many people as a vacation destination, a home base for many, and is also a great place to raise a family. Discover surrounding cities, towns, and populated places in this reference map of Louisville Kentucky.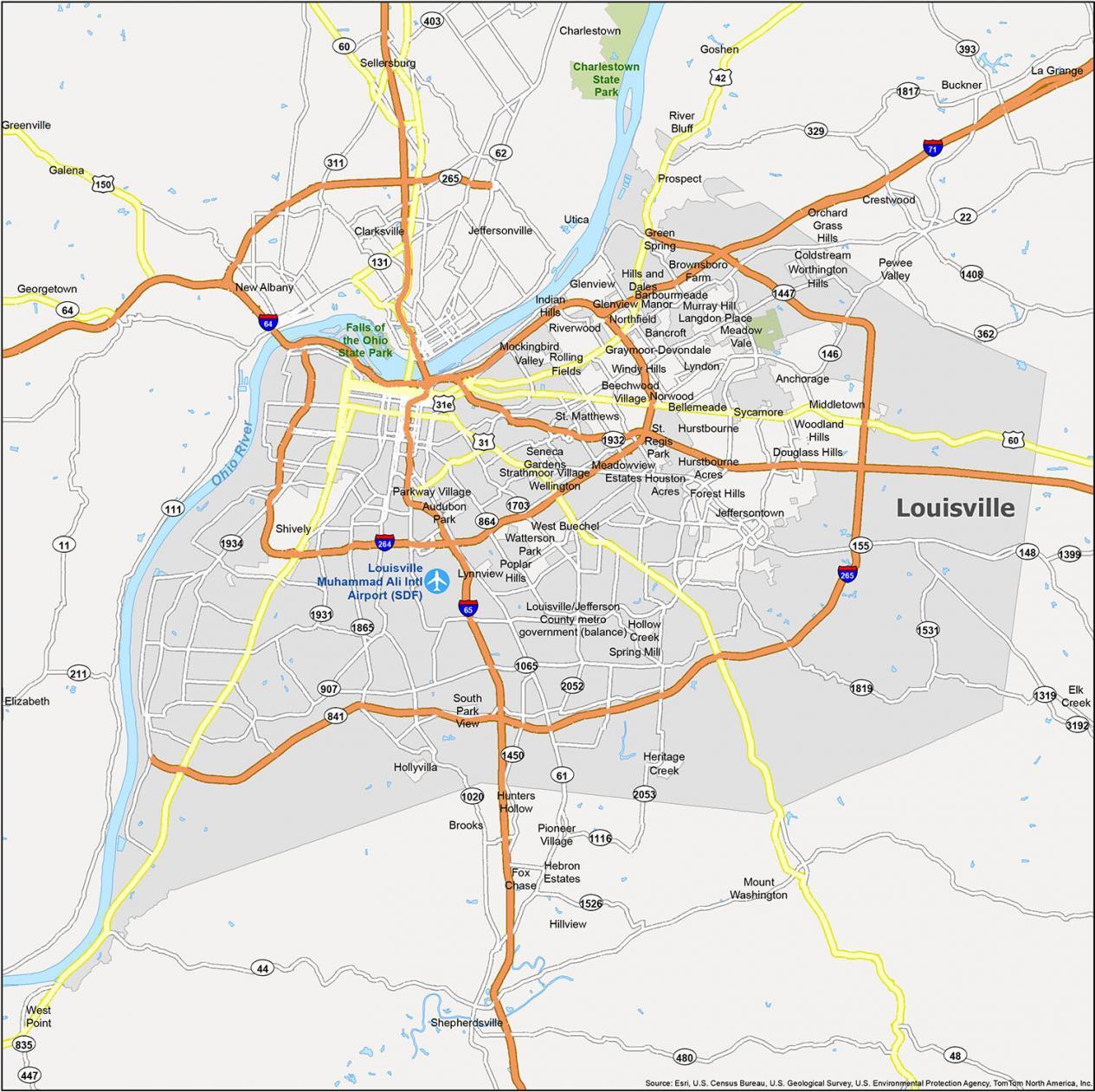 Airports: Louisville Muhammad Ali International Airport (SDF)
Census-designated place (CDP): Brooks, Buckner, Elk Creek, Galena
Towns: Clarksville, Elizabeth, Georgetown, Greenville, Sellersburg, Utica
Cities: Anchorage, Audubon Park, Bancroft, Barbourmeade, Beechwood Village, Bellemeade, Bellewood, Blue Ridge Manor, Briarwood, Broeck Pointe, Brownsboro Farm, Cambridge, Charlestown, Coldstream, Creekside, Crestwood, Crossgate, Douglass Hills, Druid Hills, Fincastle, Forest Hills, Fox Chase, Glenview, Glenview Hills, Glenview Manor, Goose Creek, Goshen, Graymoor-Devondale, Green Spring, Hebron Estates, Heritage Creek, Hickory Hill, Hills and Dales, Hillview, Hollow Creek, Hollyvilla, Houston Acres, Hunters Hollow, Hurstbourne, Indian Hills, Jeffersontown, Jeffersonville, Kingsley, La Grange, Langdon Place, Lincolnshire, Louisville, Lyndon, Lynnview, Manor Creek, Maryhill Estates, Meadow Vale, Meadowview Estates, Middletown, Mockingbird Valley, Moorland, Murray Hill, New Albany, Norbourne Estates, Northfield, Norwood, Parkway Village, Pewee Valley, Pioneer Village, Poplar Hills, Prospect, Richlawn, River Bluff, Riverwood, Rolling Fields, Rolling Hills, Seneca Gardens, Shepherdsville, Shively, South Park View, Spring Mill, Spring Valley, St. Matthews, St. Regis Park, Strathmoor Manor, Strathmoor Village, Sycamore, Ten Broeck, Thornhill, Watterson Park, Wellington, Westwood, Wildwood, Windy Hills, Woodland Hills, Woodlawn Park, Worthington Hills
Louisville map collection
Kentucky map collection
References