About the map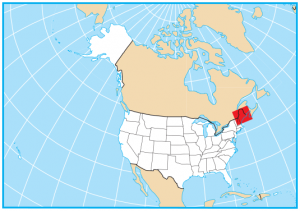 In this map, you will find major rivers, reservoirs and lakes of Maine. In general, rivers in Maine flow into the Atlantic Ocean.
The entire southern border of Maine is the Gulf of Maine. In the east, St. Croix River creates a border between New Brunswick. Then in the north, it's the St. John River.
The largest lakes in Maine are Moosehead Lake, Sebago Lake and Chesuncook Lake. So Maine is not only home to mountains, forests and coastlines, but it has over 6,000 lakes and ponds in the state alone.
Maine lakes, rivers and reservoirs
Lakes and reservoirs
Moosehead Lake
Chamberlain Lake
Sebago Lake
Flagstaff Lake
Chesuncook Lake
Pemadumcook Lakes
Richardson Lakes
Mooselookmeguntic Lake
Great Pond
Casco Bay
Pushaw Lake
Graham Lake
Schoodic Lake
West Grand Lake
Big Lake
Baskahegan Lake
Square Lake
Long Lake
Eagle Lake
Bay of Fundy
Penobscot Bay
Gulf of Maine
Rivers, channels and streams
St John River
Kennebec River
Penobscot River
Allagash River
St Lawrence River
St Croix River
Androscoggin River
Aroostook River
Saco River
Piscataquis River
Grand Manan Channel
Mattawamkeag River
Free US Maps
Select a state to view its map
Still looking for a real map?
National Geographic
carries a full range of Country Maps, US Maps, World Maps, Regional Maps, Historical Maps and Celestial Maps.