Maine map collection
You are free to use our map of Maine for educational and commercial uses. Attribution is required. How to attribute?
About the map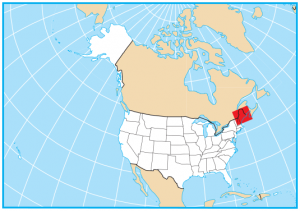 This Maine State Map shows major landmarks and places in Maine. For example, it features national forests, parks, preserves, military bases, and federal lands in Maine.
Acadia National Park is Maine's sole national park. With over 3.5 million visitors per year, visitors enjoy its historic motor roads, hiking trails, and carriage roads.
Maine is the most forested state in the entire United States with close to 90% as treed canopy cover. For example, White Mountain National Forest is a federally-managed forest with everything from mountainous hardwoods to alpine forests.
Federal lands
National Park (NP)
Acadia National Park
National Forests (NF)
White Mountain National Forest
National Wildlife Refuge (NWR)
Aroostook NWR
Moosehorn NWR
Sunkhaze Meadows NWR
Cross Island NWR
Petit Manan NWR
Lake Umbagog NWR
Rachel Carson NWR
Maine lakes, rivers and reservoirs
Lakes, rivers and reservoirs
St John River
Moosehead Lake
Kennebec River
Bay of Fundy
Chamberlain Lake
Allagash River
Penobscot River
Indian Reserves (IR)
Passamaquoddy IR
Penobscot IR
Army, naval and military
Loring Air Force Base (Closed)
U.S. Naval Radio Station
U.S. Naval Survival Escape and Evasion Training Facility
Brunswick Naval Air Station
Maine Map – Landmarks and places
Augusta
Bangor
Lewiston
Portland
Bath
Eastport
Ellsworth Waterville
Rockland
Belfast
Calais
Caribou
Presque Isle
Vanceboro
Jackman
Orono
Brunswick
Bucksport
Dover-Foxcroft
Greenville
Machias
Millinocket
Rumford
Bar Harbor
Houlton
Fort Kent
State capital
Augusta
A US national parks map that displays the 5 regions and 62 national parks of the United States. Hawaii and Alaska have inset maps with outlines and names.
In this US election map collection, you will find the history of presidential elections from 1789 to 2020. Who won the electoral vote in each election year?
References
US State Maps
Select a state to view its map