Map of Maui Island, Hawaii
Map of Maui
Maui is best known for its sandy beaches, blue water, and landmark volcanoes. Check out our Maui map collection with roads and a list of things to do. If you want to explore the island in all its beauty, then use the interactive map of Maui island below.
Maui is a beautiful island to the northwest of the main island of Hawaii. It has only about 725 square miles (1,880 km2) of land, but it is home to more than 165,000 people. Maui is a great place to relax, and it is a paradise for nature enthusiasts.
Although Maui is one of the most beautiful places in the world, it can be hard to plan a trip there. This map collection will help you find your way around, so you can see all the exotic sights and breathtaking beauty that Maui has to offer.
Jump To: Interactive Map | Printable Road Map | 10 Things to Do | Reference Map
Maui map collection
Interactive Map of Maui
If you're looking for the perfect place to vacation in Hawaii, there's a good chance that Maui is at the top of your list. With the Maui map, you can explore all the wonders of the island with a clear and easy-to-follow immersive map. Explore the island of Maui while you learn all about the different areas and activities on offer. If you are planning a trip to Maui, Hawaii, or are just curious about the beautiful island, this interactive map is your ultimate guide.
Maui Road Map
If you're looking for a map of Maui, we've got you covered with this road map. It gives you highway and road information that you need to plan your trip. The best way to get around is by car as it doesn't have a lot of options for public transportation. So remember to download or print this map for free so you can find your way around the island of Maui. But for any travel in Hawaii, make sure to download our Hawaii road map for interstates and highway information.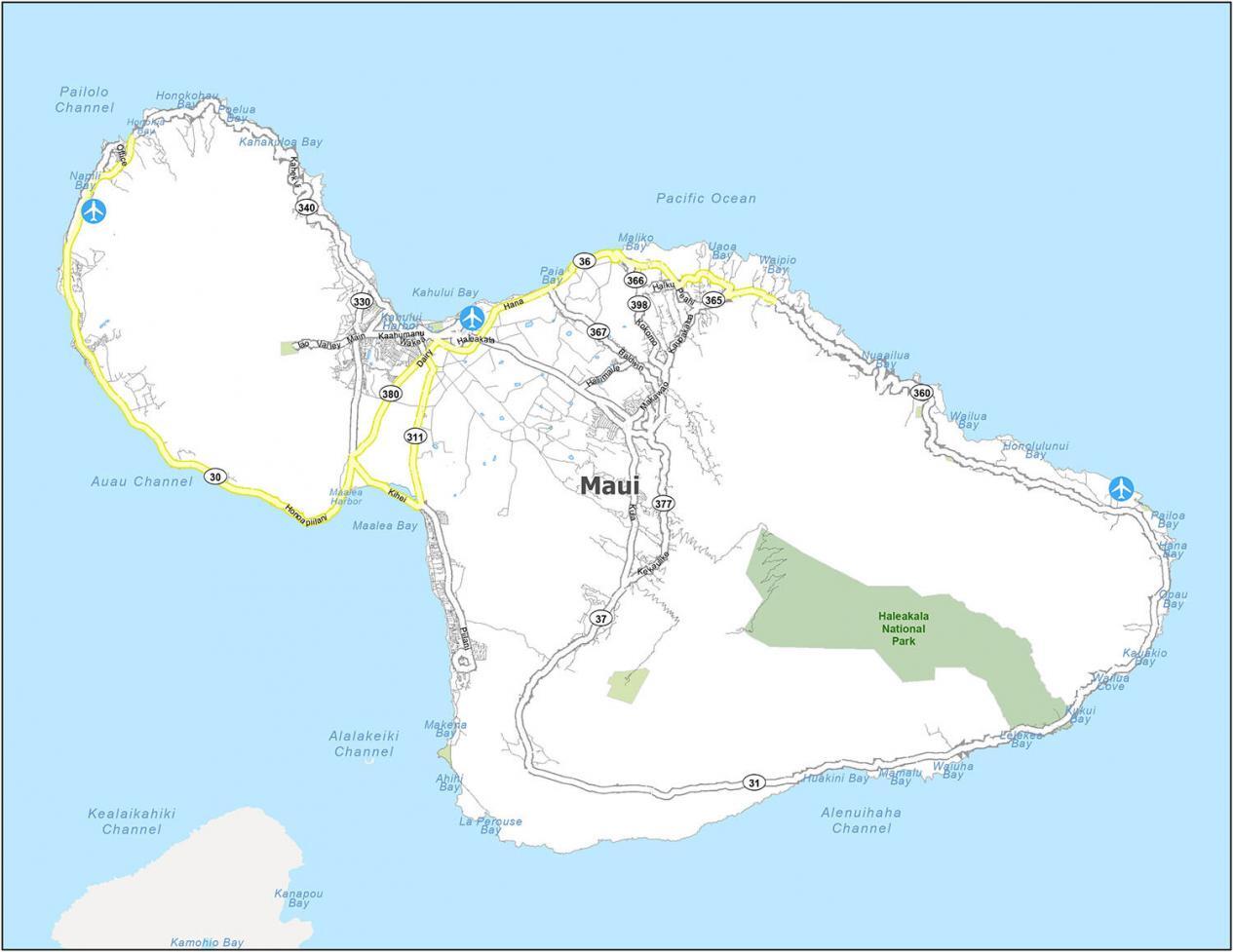 US Highways: 30, 31, 32, 36, 37, 311, 320, 340, 350, 360, 365, 366, 367, 377, 380, 398, Haleakala Hwy, Hana Hwy, Honoapiilani Hwy, Kahekili Hwy, Kula Hwy, Old Haleakala Hwy, Piilani Hwy
Major Roads: 371 Rd, Baldwin Ave, Church St, Dairy Rd, Haiku Rd, Haliimaile Rd, Hanamu Rd, High St, Iao Valley Rd, Kaahumanu Ave, Kahului Airport Rd, Kahului Beach Rd, Kaupakalua Rd, Kealaloa Ave, Kekaulike Ave, Keolani Pl, Kihei Rd, Kokomo Rd, Lanui Cir, Lower Honoapiilani Rd, Main St, Makawao Ave, Market St, Office Rd, Okolani Dr, Old Haleakala Hwy, Olinda Rd, Peahi Rd, Puunene Ave, Vineyard St, Waiehu Beach Rd, Wailea Alanui Dr, Wailea Ike Dr, Wakea Ave
10 Things To Do in Maui
Maui Hawaii is a beautiful place, with many places to explore. Whether you want to relax in one of its many high-end resorts or enjoy a splash in the ocean and explore its rainforests, Maui has something for every kind of traveler. Our map of Maui Hawaii is the perfect guide for planning your perfect Maui vacation. Get an easy-to-use map with handy details to help you plan your adventures with the top attractions and more.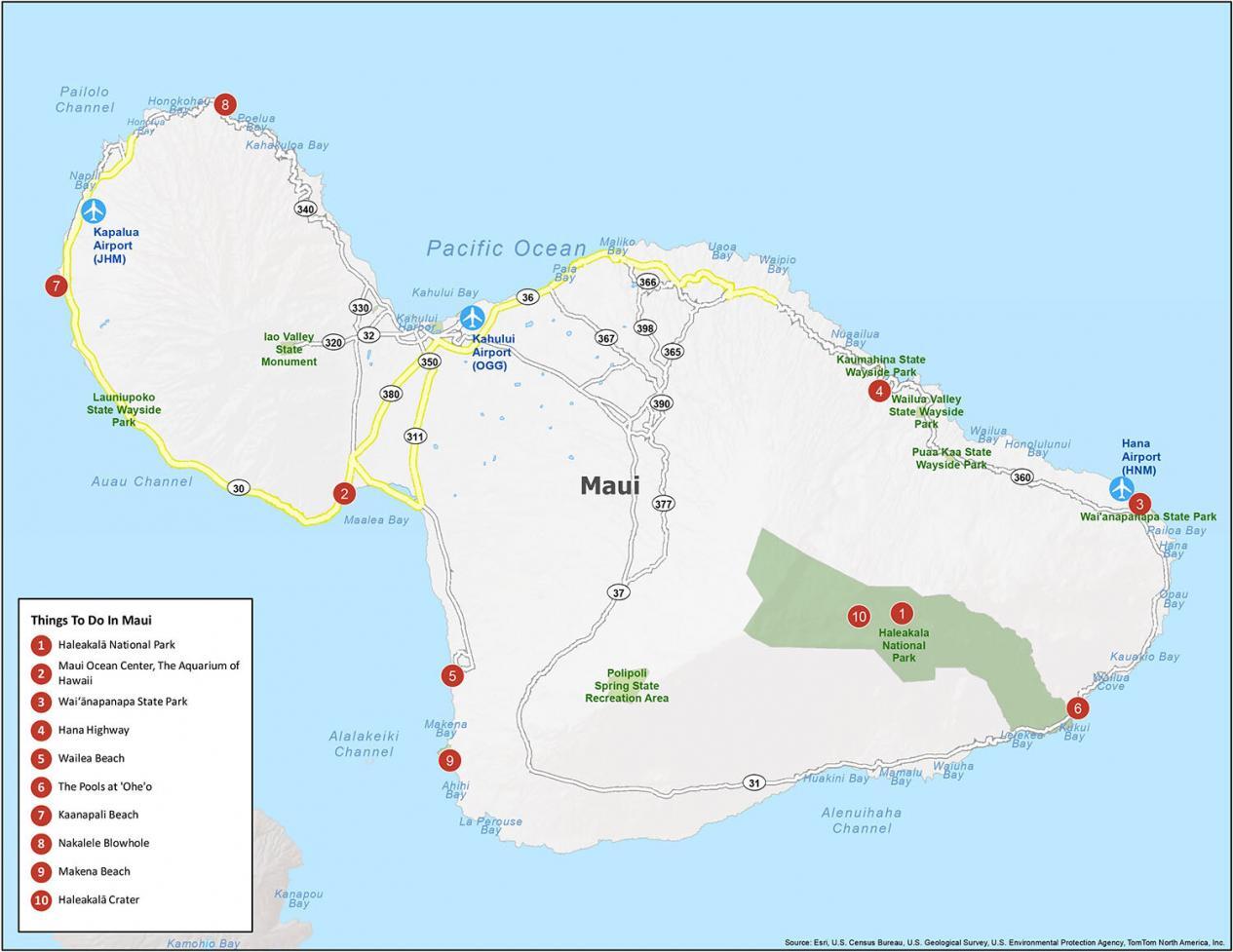 Maui is best known for its sandy beaches, blue water, and landmark volcanoes. If you ever go there, here are our recommendations for the top 10 things to do.
Haleakalā National Park
Maui Ocean Center, The Aquarium of Hawaii
Waiʻānapanapa State Park
Hana Highway
Wailea Beach
The Pools at 'Ohe'o
Kaanapali Beach
Nakalele Blowhole
Makena Beach
Haleakalā Crater
Maui Reference Map
What better way to get acquainted with the island of Maui than to have the chance to explore it with a map? See the places you want to visit and find out where you are by using our simple and effective map. With this map, you can easily see the bays and populated areas on the island.
Airports: Hana Airport (HNM), Kahului Airport (OGG), Kapalua Airport (JHM)
Census-designated place (CDP): Haiku-Pauwela, Haliimaile, Hana, Kaanapali, Kahului, Kapalua, Keokea, Kihei, Kula, Lahaina, Launiupoko, Maalaea, Mahinahina, Makawao, Makena, Napili-Honokowai, Olinda, Olowalu, Paia, Pukalani, Waihee-Waiehu, Waikapu, Wailea, Wailuku
Water Features: Ahihi Bay, Auau Channel, Alenuihaha Channel, Hana Bay, Honokohau Bay, Honolua Bay, Honolulunui Bay, Huakini Bay, Kahakuloa Bay, Kahului Bay, Kahului Harbor, Kauakio Bay, Kukui Bay, La Perouse BayLelekea Bay, Maalea Bay, Maalea Harbor, Makena Bay, Mamalu Bay, Napili Bay, Nuaailua Bay, Opau Bay, Paia Bay, Pailoa Bay, Pai lolo Channel, Poelua Bay, Uaoa Bay, Wailua Bay, Wailua Cove, Waipio Bay, Waiuha Bay
Hawaii map collection
References