Map of Memphis, Tennessee

Map of Memphis
Use this map of Memphis to guide you through the city nicknamed "Bluff City". It highlights major highways, roads, places of interest, and things to do. If you want to explore the surrounding area, then start with our interactive map of Memphis, Tennessee.
Memphis is a city with a vibrant art and music scene with roots tracing back to Elvis Presley. Other than its ties to music like blues, soul, and rock 'n' roll, Memphis has a thriving arts and entertainment scene, and a diverse population of people taking part in new ideas and cultures.
Memphis is located in the southwest of Tennessee and to the east of the Mississippi River. If you're looking for a unique vacation, Memphis is the perfect city to explore where the fun doesn't stop.
Jump To: Interactive Map | Printable Road Map | 10 Things to Do | Reference Map
Memphis map collection
Interactive Map of Memphis
This is the map to take you on a guided tour of the city. You'll learn about the history, see the landmarks, and discover the best places to eat, drink, and get entertained. You are sure to find something that excites you. Whether you love the architecture, the cuisine, the nightlife, or something else, Memphis is a city that is worth exploring.
Memphis Road Map
Make the most of your trip to Memphis with detailed maps of the city and information on the best places to visit. Whether you're visiting Memphis for business or on vacation, this road map is the perfect companion to help you navigate the city with interstates, highways, and major roads. There are also plenty of things to see and do, even if you only have a day or two to spare. But if you plan on getting outside the city, then take a look at our Tennessee road map to find all the interstates and highways statewide.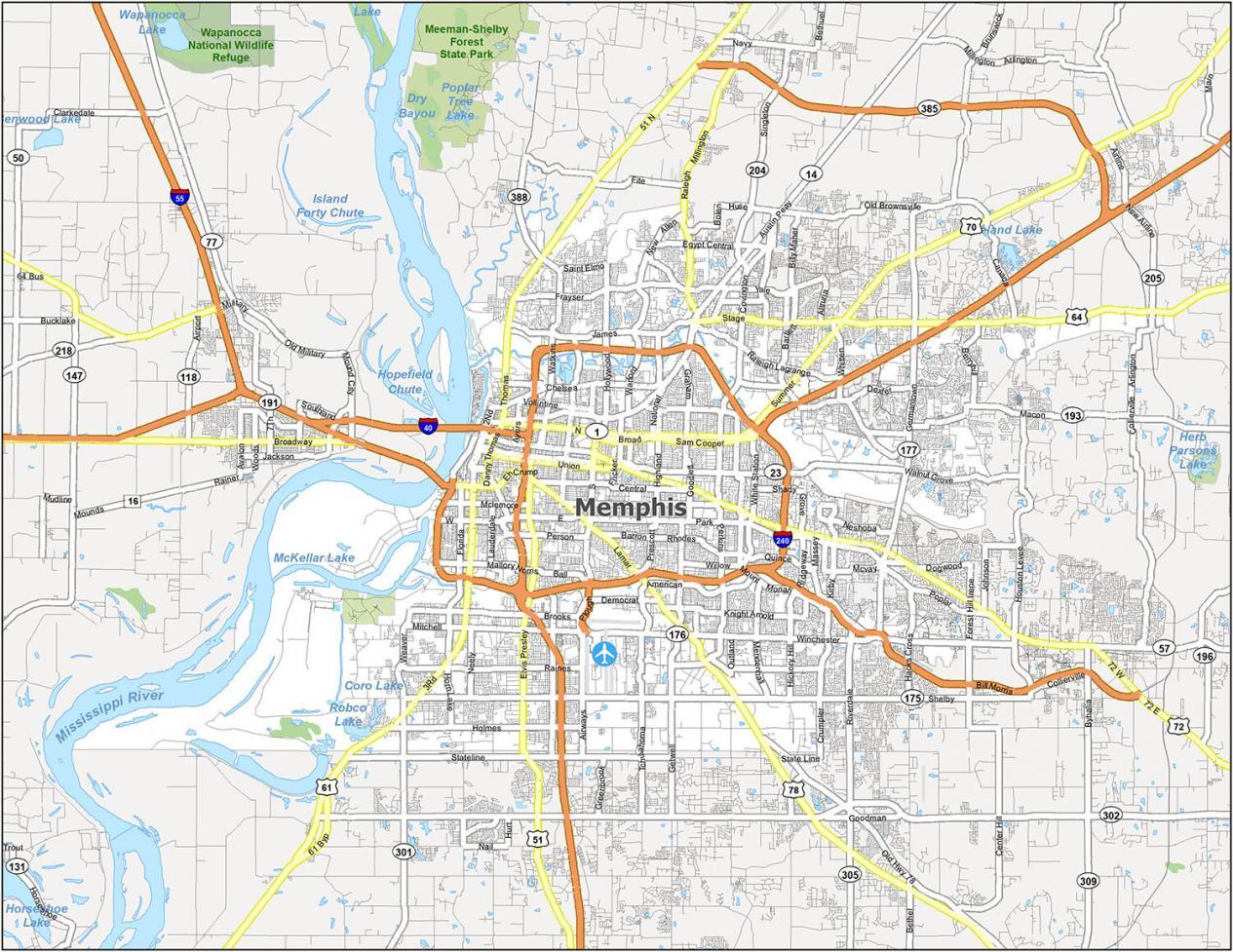 Interstate Highways: I-40, I-55, I-240
US Highways: 14, 15, 51, 57, 61, 64, 70, 72, 78, 79, 175, 177, 193, 277, Austin Peay Hwy, Covington Pike, Poplar Pike
Parkways: Bill Morris Pky, Germantown Pky, Jim McGehee Pky, Kirby Pky, North Pky, Singleton Pky, Truse Pky
Major Roads: 2nd St, 3rd St, Airways Blvd, Arkansas St, Bellevue Blvd, Broad Ave, Brooks Rd, Chelsea Ave, Danny Thomas Blvd, Elvis Presley Blvd, Eh Crump Blvd, GE Patterson Ave, Germantown Rd, Holly Cir, Hollywood St, Jackson Ave, James Rd, Kirby Whitten Rd, Lamar Ave, Macon Rd, National St, Plough Blvd, Poplar Ave, Prescott St, Riverside Dr, Sam Cooper Blvd, Shelby Dr, Stage Rd, Summer Ave, Terminal Access Rd, Thomas St, Trezevant St, Union Ave, White Station Rd, Whitten Rd, Winchester Rd
10 Things To Do in Memphis
There's so much to see and do in Memphis. If you're planning on visiting Memphis, Tennessee this year, here's everything you need to know. From Graceland to Beale Street, this map will show you everything Memphis has to offer. This map is the perfect way to get around and explore. With this detailed map of attractions, you will always know the best places to go and what you should see.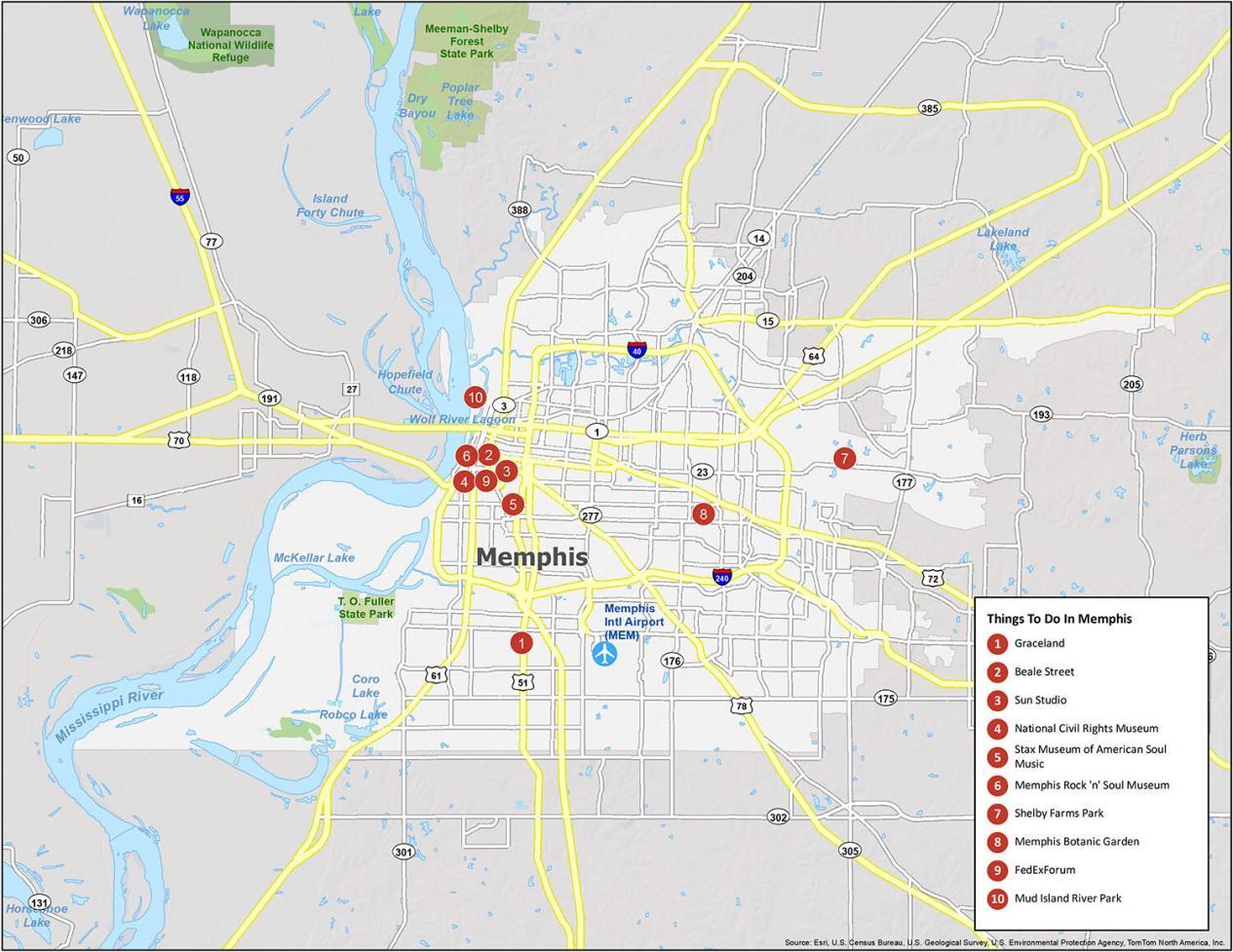 Memphis is known for Graceland and being the home of Elvis Presley. If you ever swing by Memphis Tennessee, here are our recommendations for the top 10 things to do.
Graceland
Beale Street
Sun Studio
National Civil Rights Museum
Stax Museum of American Soul Music
Memphis Rock 'n' Soul Museum
Shelby Farms Park
Memphis Botanic Garden
FedExForum
Mud Island River Park
Memphis Reference Map
If you ever find yourself in Memphis, you'll quickly realize its charm. The city has a rich history that is constantly being discovered and reinvented, and a population that is proud of their city. This map is great for those looking to plan their vacation or business trip to Memphis. With this map, you can easily find your way around the city and print it out to take with you.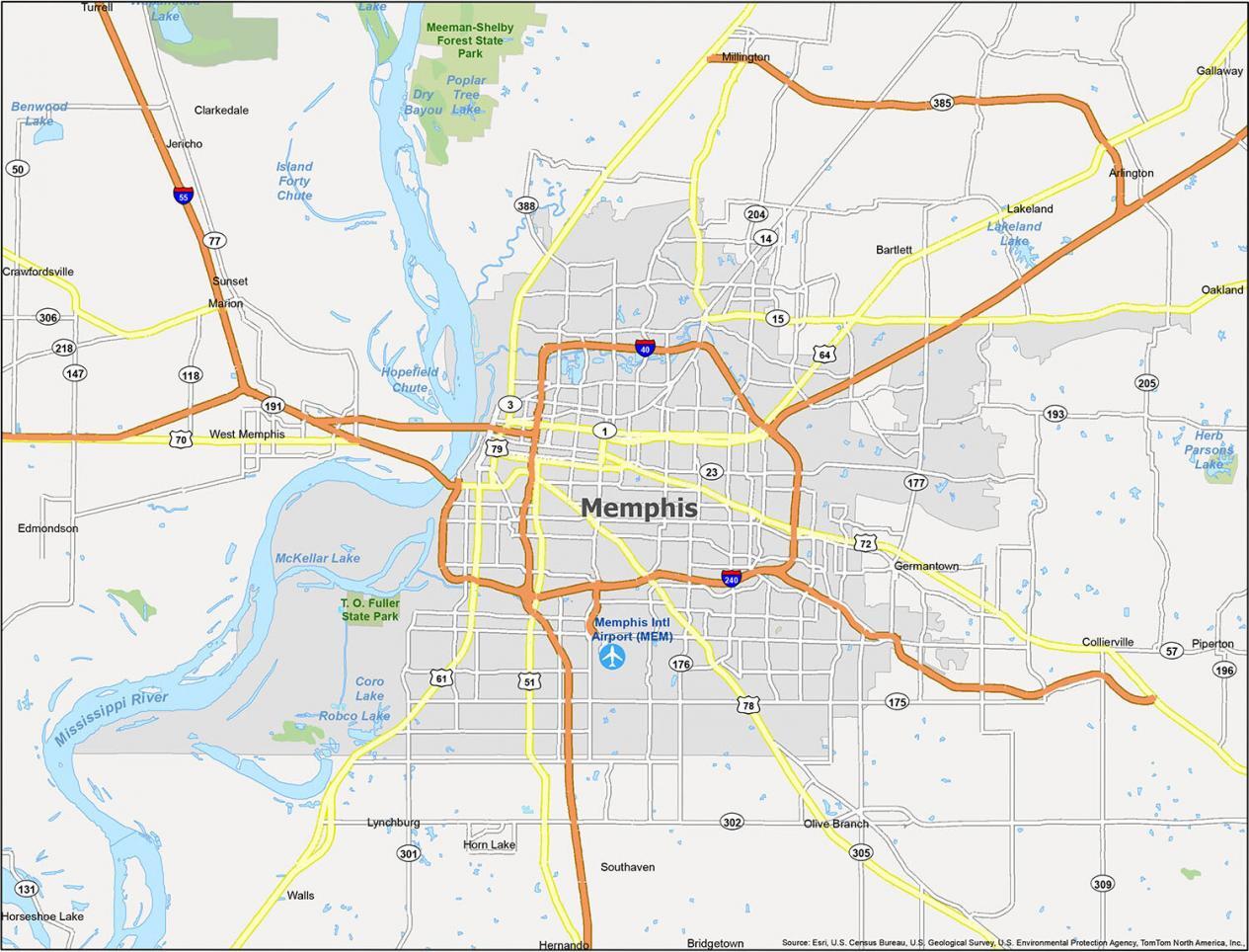 Airports: Memphis International Airport (MEM)
Cities: Bartlett, Clarkedale, Gallaway, Germantown, Hernando, Horn Lake, Lakeland, Marion, Memphis, Millington, Olive Branch, Piperton, Southaven, Turrell, West Memphis
Towns: Arlington, Byhalia, Collierville, Crawfordsville, Edmondson, Horseshoe Lake, Jericho, Oakland, Sunset, Walls
Census-designated place (CDP): Bridgetown, Lynchburg
Memphis map collection
Tennessee map collection
References