About the map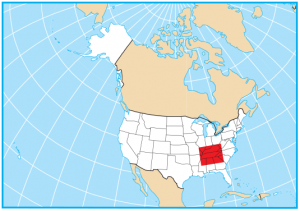 This Tennessee map contains cities, roads, rivers and lakes. For example, the major cities in this map of Tennessee are Nashville, Memphis and Knoxville.
Tennessee has a country music vibe going for it. The country music record industry is big in Tennessee and produces a ton of record deals. But it's also known for its bluegrass music too.
The state of Tennessee is home of the Appalachians in the southeast of the United States. And the shape of Tennessee is long in the east-west direction and borders Kentucky, Missouri, Arkansas, Mississippi, Alabama, Georgia, North Carolina and Virginia. This is tied for the most with the state of Missouri, with each bordering 8 other states.
Tennessee map collection





State capital
Nashville
Major cities and towns
Nashville
Memphis
Knoxville
Clarksville
Chattanooga
Cleveland
Columbia
Franklin
Germantown
Hendersonville
Jackson
Johnson City
Kingsport
Murfreesboro
Oak Ridge
Smyrna
Athens
Brownsville
Dickson
Dyersburg
Fayetteville
Gallatin
Gatlinburg
Greeneville
Lawrenceburg
Lebanon
Lexington
Linden
Livingston
Martin
Maryville
McMinnville
Milan
Millington
Morristown
Newport
Oneida
Paris
Pulaski
Savannah
Selmer
Shelbyville
Tullahoma
Union City
Waverly
Bristol
Cookeville
Bolivar
Portland
Interstate highways
Interstate-24 (I-24)
Interstate-40 (I-40)
Interstate-65 (I-65)
Interstate-75 (I-75)
Interstate-81 (I-81)
Interstate-155 (I-255)
Lakes, rivers and creeks
Kentucky Lake
Lake Barkley
Duck River
Dale Hollow Lake
Norris Lake
Holston River
Center Hill Lake
Pickwick Lake
Mississippi River
Cumberland River
Tennessee River
Landmarks in Tennessee
Cumberland Plateau
Great Smoky Mountains
Clingmans Dome
References
Free US Maps
Select a state to view its map