Tennessee State Map – Places and Landmarks



Download
About the map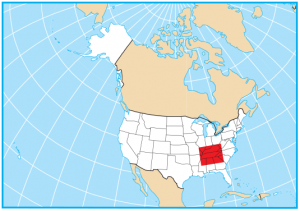 This Tennessee State Map shows major landmarks and places in Tennessee. For example, it features national forests, military bases, preserves, wildlife refuges, and other federal lands in Tennessee.
Great Smoky Mountains National Park is one of the top sites to visit in Tennessee. The park is known for its tranquility in the mountain range that separates North Carolina and Tennessee. This explains why it's America's most visited national park.
Cumberland Gap National Historical Park covers 24,000 acres, straddling along the Cumberland Mountains. One of the main sites is the Wilderness Road, which was used by early settlers to reach Kentucky from the East.
Tennessee map collection
Tennessee Maps
City Maps in Tennessee
Federal lands
National Park (NP)
Great Smoky Mountains National Park
Cumberland Gap National Historical Park
National Forests (NF)
Cherokee National Forest
National Wildlife Refuge (NWR)
Hatchie NWR
Lower Hatchie NWR
Chickasaw NWR
Beech Lake Tennessee NWR
Tennessee NWR
Lake Isom NWR
Reelfoot NWR
Cross Creeks NWR
National Recreation (NRA)
Big South Fork National River and Recreation Area
Land Between the Lakes Recreation Area
Research
Oak Ridge National Laboratory
Arnold Engineering Development Center
Tennessee lakes, rivers and reservoirs
Lakes and reservoirs
Pickwick Lake
Kentucky Lake
Center Hill Lake
J Percy Priest Lake
Old Hickory Lake
Cordell Hull Lake
Dale Hollow Reservoir
Cherokee Lake
Norris Lake
Tellico Lake
Watts Bar Lake
Fort Loudoun Lake
Douglas Lake
Davy Crockett Lake
South Holston Lake
Boone Lake
Watauga Lake
Melton Hill Lake
Ocoee Lake
Normandy Lake
Woods Reservoir
Tims Ford Lake
Chickamauga Lake
Nickajack Lake
Kentucky Lake
Cheatham Lake
Lake Barkley
Rivers and streams
Duck River
Tennessee River
Shiloh National Military Park
Chickamauga and Chattanooga National Military Park
Milan Arsenal and WMA
Fort Campbell
Memphis Naval Air Station (Closed)
National battlefields
Stones River National Battlefield
Fort Donelson National Battlefield
Tennessee Map – Landmarks and places
Memphis
Nashville
Knoxville
Columbia
Franklin
Germantown
Jackson
Johnson City
Kingsport
Murfreesboro
Smyrna
Chattanooga
Knoxville
Clarksville
Athens
Gatlinburg
Lawrenceburg
Martin
Maryville
McMinnville
Oneida
Shelbyville
Union City
Waverly
Bristol
Cookeville
State capital
Nashville
References
There are really several ways to see elevation in the United States. But the most common way to see a US elevation map is through a digital elevation model.
A US national parks map that displays the 5 regions and 62 national parks of the United States. Hawaii and Alaska have inset maps with outlines and names.
A physical map of the United States that features mountains, plateaus, lakes, rivers, cities and capitals. It includes inset maps for Hawaii and Alaska.
Free US Maps
Select a state to view its map