Map of Miami
Check out this Miami map featuring highways, roads, places, and a list of things to do. Plus, explore our interactive map of Florida to see why Miami attracts over 23 million visitors per year.
Miami is a subtropical city located in the Sunshine State of Florida, between the everglades and the Atlantic Ocean. Miami, Florida is known for its palm trees, sandy beaches, and warm weather year-round.
It's a city that has something to offer for everyone with the perfect mix of cultures, trends, and history. No matter what brings you to Miami, there's plenty to do and see, whether you're looking for a family vacation, a romantic getaway, or an adventure.
Jump To: Interactive Map | Printable Road Map | 10 Things to Do | Reference Map
Miami map collection
Interactive Map of Miami
From museums and cultural institutions to unique cafes and unique boutiques, Miami is home to some of the best cultural experiences in the country. It's also home to many of the most beautiful outdoor spaces in the country, from Biscayne Bay to the Everglades. With this interactive map, discover all the hidden gems that Miami has to offer.
Miami Road Map
Miami is one of the most beautiful cities in the world, known for its colorful buildings, beautiful people, and beautiful weather. It's also an international hub for sport, fashion, art, music, and culture. Don't worry about getting lost. Because whether you're a local or a visitor, this detailed road map is perfect for navigating the city. For traveling outside the city, take a look at our Florida road map for detailed interstates and highway information.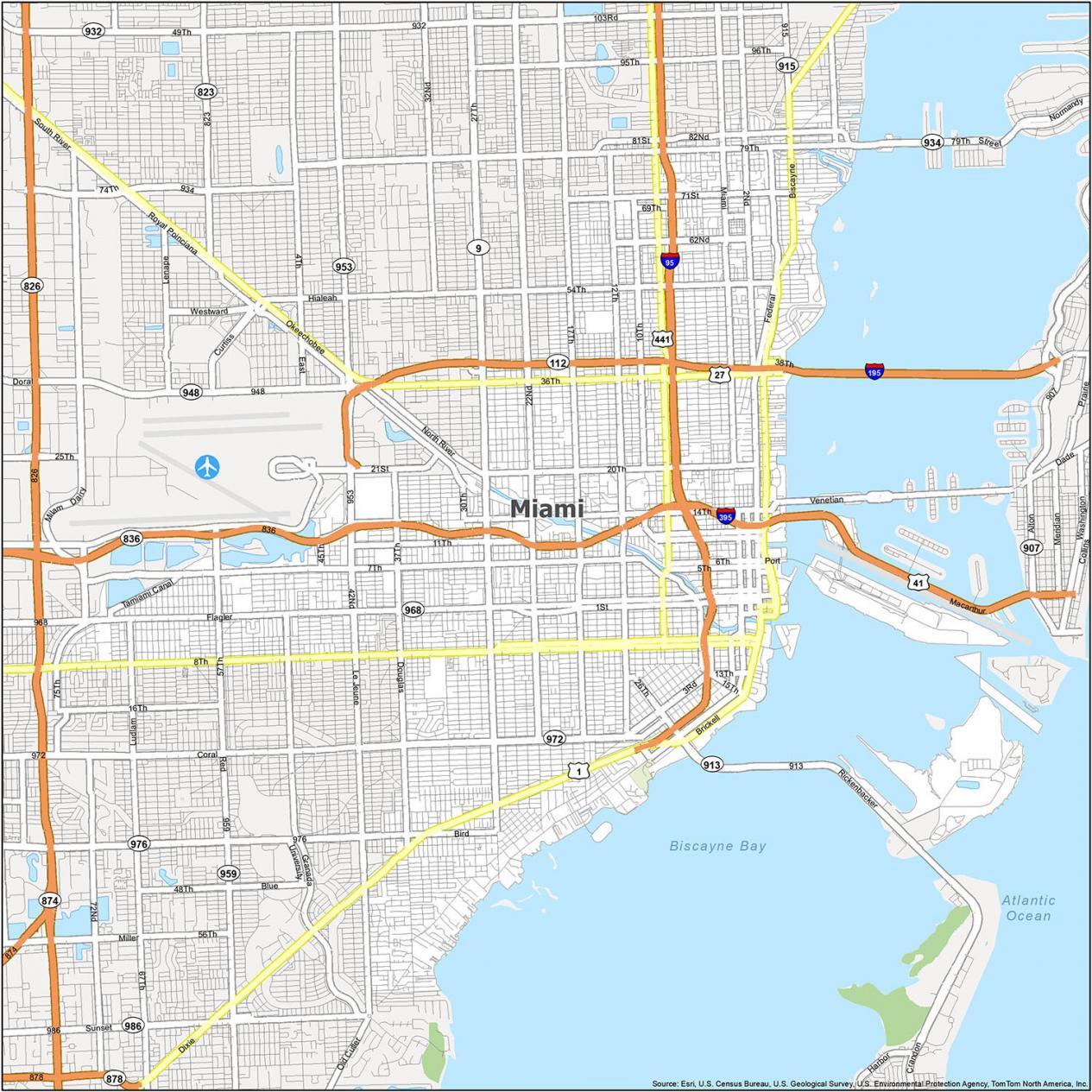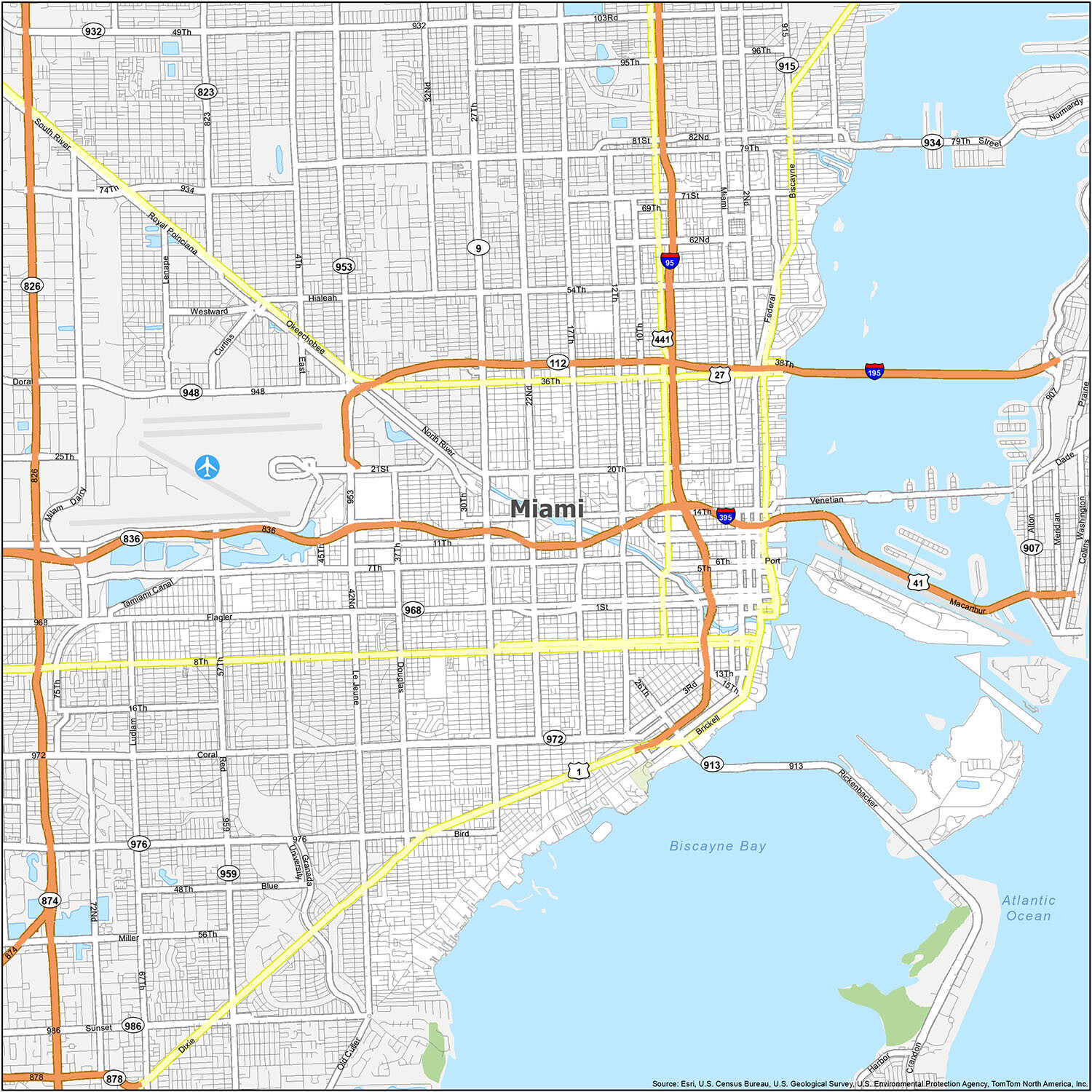 Interstate Highways: I-95, I-195, I-395,
US Highways: 1, 9, 27, 41, 112, 441, 836, 934, 953, 968, 972, Dolphin Expy, Dixie Hwy, Federal Hwy
Causeway/Parkways: Little River Pky, Delaware Pky, Venetian Cswy
Major Roads: 1st St, 2nd St, 3rd Ave, 4th Ave, 7th St, 8th St, 12th St, 13th St, 15th Rd, 20th St, 22nd St, 27th Ave, 36th St, 38th St, 42nd Ave, 79th St, 82nd St, Bayshore Dr, Beacom Blvd, Bird Rd, Biscayne Blvd, Brickell Ave, Coral Way, Design Blvd, Douglas Rd, Flagler St, Granada Blvd, Le Jeune Rd, North River Dr, Martin Luther King Blvd, Miami Ave, Port Blvd, Rickenbacker Cswy, South River Dr, Tamiami Canal Rd, Venetian Way
10 Things To Do in Miami
Miami is a city known for its rich culture, shopping, fine dining, nightlife, and incredible art scene. It's also a great place to visit, especially if you're in the mood for sun and a little bit of sand. With all of these things to love about Miami, it's little wonder that the city is known as a mecca for tourism and culture. Discover the sights and sounds of Miami with this list of things to do.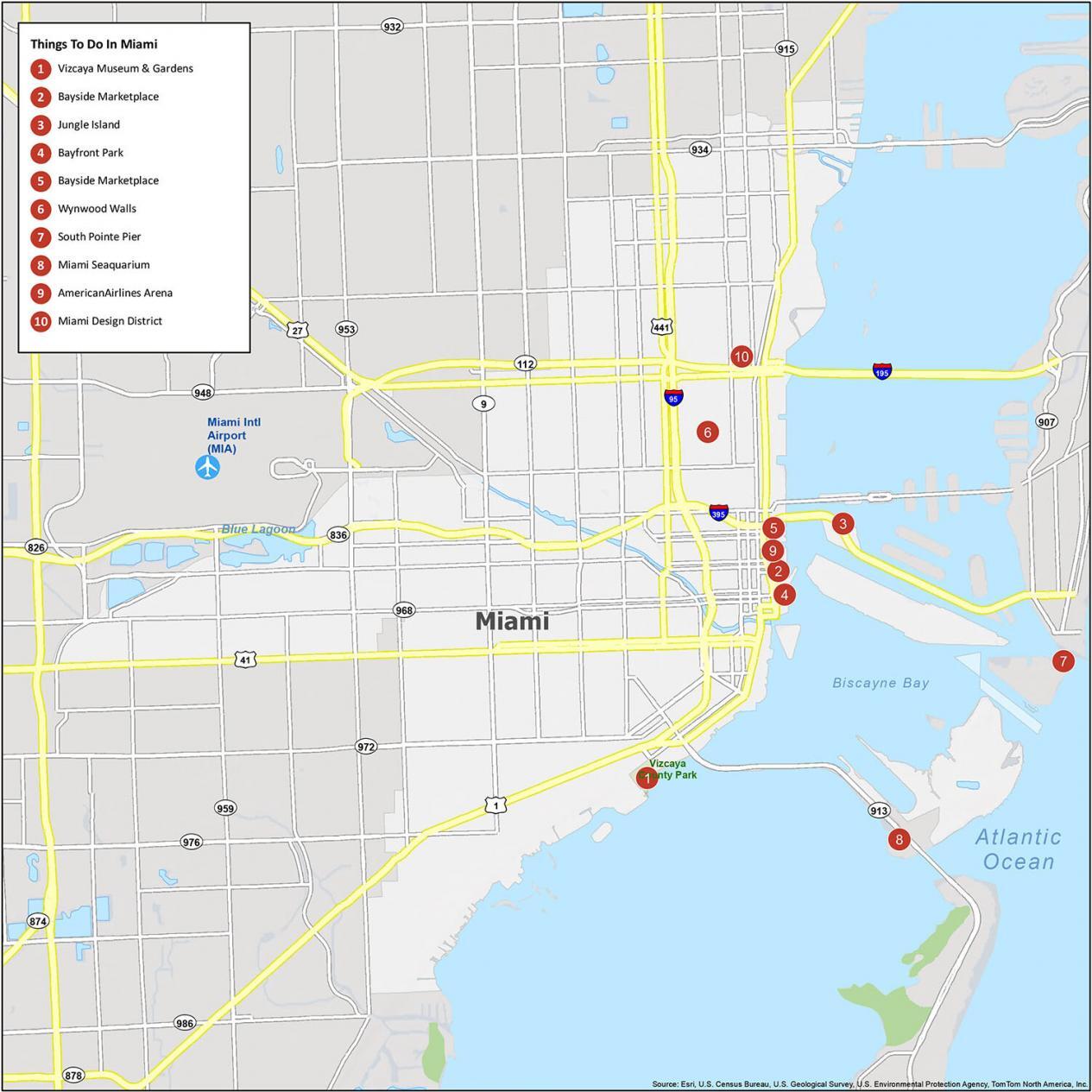 Miami, Florida is known for its sandy beaches and warm weather. If you ever go there, here are our recommendations for the top 10 things to do.
Vizcaya Museum & Gardens
Bayside Marketplace
Jungle Island
Bayfront Park
Bayside Marketplace
Wynwood Walls
South Pointe Pier
Miami Seaquarium
AmericanAirlines Arena
Miami Design District
Miami Reference Map
This reference map will take you on a tour of Miami, exploring the different neighborhoods, highlighting their locations, and showing you where to go and what to do. This reference map includes lakes, rivers, state parks, and populated areas. The Gulf Coast is a magical place, with sandy beaches, beautiful mangroves, and vibrant little towns that are right on the water.
Airports: Miami International Airport (MIA)
Cities: Coral Gables, Doral, Hialeah, Hialeah Gardens, Miami, Miami Beach, Miami Springs, North Bay Village, South Miami, West Miami
Towns: Medley
Villages: El Portal, Key Biscayne, Miami Shores, Virginia Gardens
Census-designated place (CDP): Brownsville, Coral Terrace, Fisher Island, Fountainebleau, Gladeview, Glenvar Heights, Olympia Heights, Pinewood, West Little River, Westchester, Westview
Miami, Florida maps
Florida map collection
References