Milwaukee Map Collection, Wisconsin

Map of Milwaukee
This Milwaukee map collection features a road map, reference map, and things to do. Plus, you can explore the city interactively with our Google Map of Milwaukee for the latest updated information on places to visit.
Wisconsin is the most populous city in Wisconsin with 600,000 people. It's situated directly beside Lake Michigan at the confluence of the Menomonee, Kinnickinnic, and Milwaukee Rivers.
There are so many reasons to love Milwaukee. The city is historic, offers great access to lakes for fishing, hiking, and more, and has plenty of great places to experience during your stay. Discover Milwaukee with this map collection below.
Jump To: Interactive Map | Printable Road Map | 10 Things to Do | Reference Map
Milwaukee map collection
Interactive Map of Milwaukee
From museums to parks, breweries to art galleries, you're sure to find something fun to do in Milwaukee. While the city has a bevy of great attractions, you'll want to make sure you don't miss any of these hidden gems. This interactive map highlights some of the best places you shouldn't miss while you're visiting the city of Milwaukee.
Milwaukee Road Map
Milwaukee is a large city with many sites, so it's important to know where you're going, whether you're planning a weekend getaway or a business trip. With this Milwaukee road map, you'll find yourself on the right path with detailed interstate, state highway, and major road information within the city and surrounding areas. It's available in a free, convenient, printable one-page road map. But if you're looking to get outside the city, then take a look at our Wisconsin road map for more highway information.
Interstate Highways: I-43, I-94, I-794, I-894
US Highways: 18, 24, 32, 36, 38, 41, 45, 57, 59, 100, 119, 145, 175, 181, 190, 794,
Causeway/Parkways: Menomonee River Pky, Milwaukee River Pky
Major Roads: 1st St, 6th St, 9th St, 11th St, 16th St, 17th St, 20th St, 27th St, 35th St, 76th St, 84th St, 97th St, 124th St, Appleton Ave, Bluemound Rd, Boundary Rd, Bradford Ave, Broadway, Brown Deer Rd, Capitol Dr, Cesar E Chavez Dr, Chase Ave, Clybourn St, Farwell Ave, Fond Du Lac Ave, Forest Home Ave, Franklin Pl, Grange Ave, Green Bay Ave, Green Bay Rd, Highland Ave, Howell Ave, Jackson St, Kinnickinnic Ave, Knapp St, Lake Dr, Layton Blvd, Lincoln Ave, Lincoln Memorial Dr, Lisbon Ave, Loomis Rd, Lovers Lane Rd, Mayfair Rd, McKinley Ave, Michigan St, Milwaukee St, Mineral St, National Ave, Oklahoma Ave, Old Orchard Rd, Pittsburgh Ave, Prospect Ave, Saint Paul Ave, Silver Spring Dr, State St, Superior St, Van Buren St, Walker St, Wauwatosa Rd, Wells St, Wisconsin Ave
10 Things To Do in Milwaukee
Milwaukee is a city with a ton to offer, making it an ideal place for family vacations. It's known for being family-friendly and has many fun attractions and activities to keep the whole clan happy. But did you know Milwaukee has a few hot spots beyond the typical day at the zoo or a trip to the amusement park? From historic brewing museums to an unrivaled museum filled with Harley Davidson motorcycles, take a look at this map for the hidden gems in the city of Milwaukee.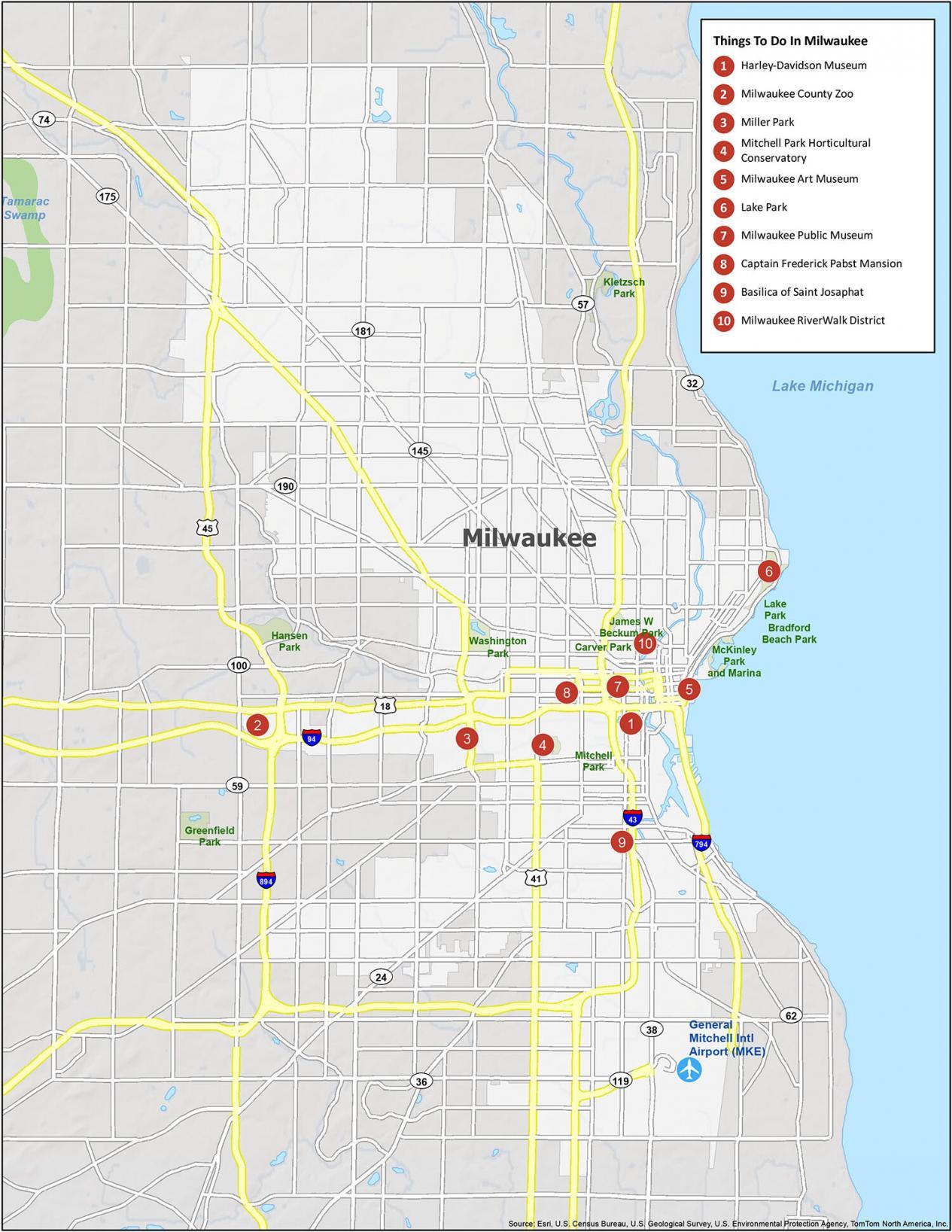 Milwaukee, Wisconsin is best known for its breweries. In fact, it's why they've named their baseball team the "Brewers". If you ever go there, here are our recommendations for the top 10 things to do.
Harley-Davidson Museum
Milwaukee County Zoo
Miller Park
Mitchell Park Horticultural Conservatory
Milwaukee Art Museum
Lake Park
Milwaukee Public Museum
Captain Frederick Pabst Mansion
Basilica of Saint Josaphat
Milwaukee RiverWalk District
Milwaukee Reference Map
The city of Milwaukee is known for its rich culture and diverse architecture, and the various neighborhoods and landmarks that are spread throughout are worth exploring. Milwaukee is also home to several well-preserved historic structures, as well as a number of parks that are worth exploring. Learn more about the state parks and populated areas within the nicknamed, "Cream City".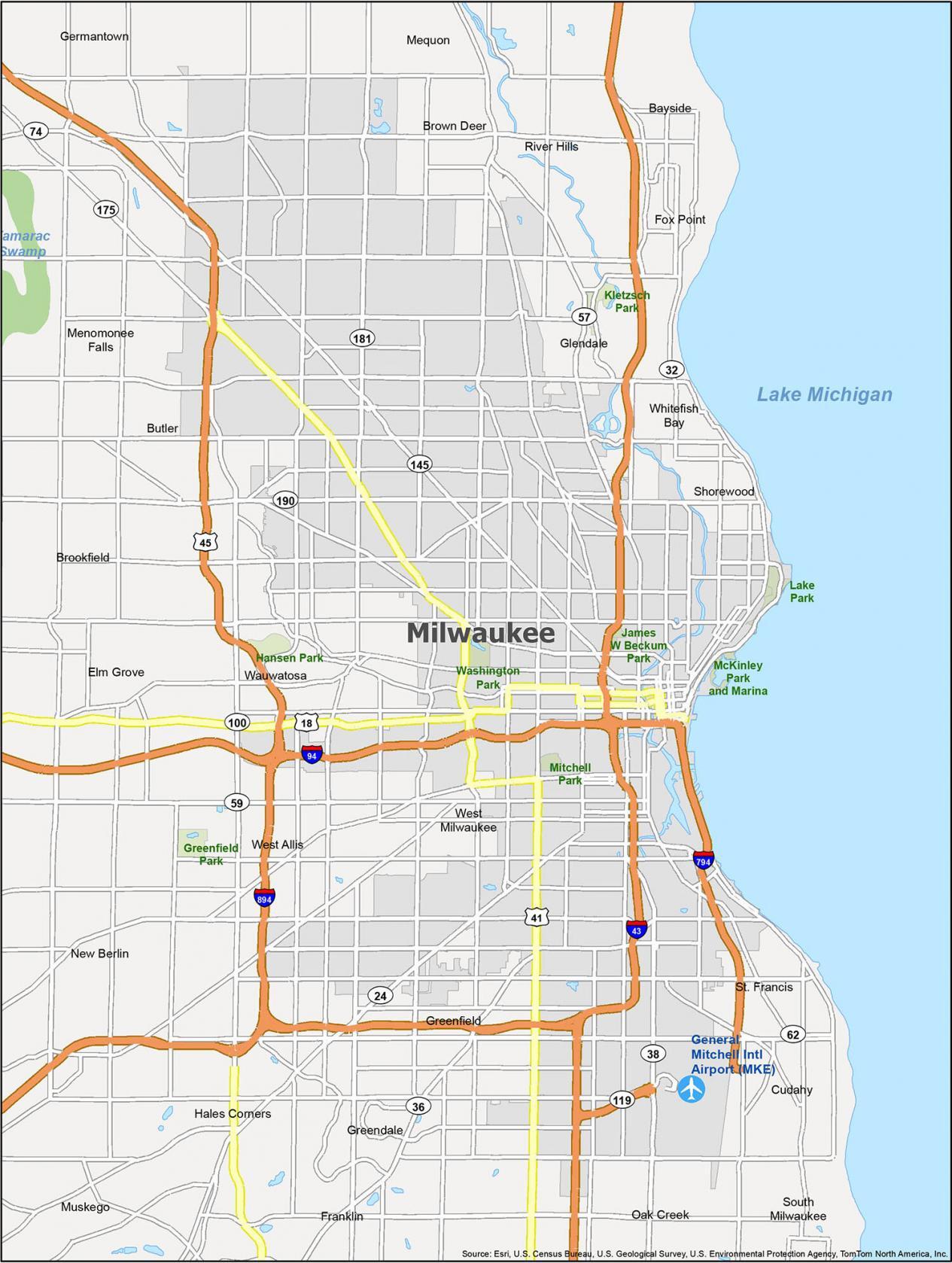 Airports: General Mitchell International Airport (MKE)
Cities: Brookfield, Cudahy, Franklin, Glendale, Greenfield, Mequon, Milwaukee, Muskego, New Berlin, Oak Creek, South Milwaukee, St. Francis, Wauwatosa, West Allis
Villages: Bayside, Brown Deer, Butler, Elm Grove, Fox Point, Germantown, Greendale, Hales Corners, Menomonee Falls, River Hills, Shorewood, West Milwaukee, Whitefish Bay