Nebraska State Map – Places and Landmarks
About the map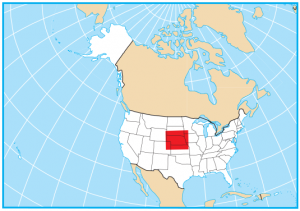 This Nebraska State Map shows major landmarks and places in Nebraska. For example, it includes national forests, military bases, preserves, wildlife refuges, and other federal lands in Nebraska.
Scotts Bluff towers 800 feet above the North Platte River and is a landmark for the indigenous people.
The Agate Fossil Beds National Monument is recognized internationally for its various fossils. For example, it features a pony-sized rhinoceros (Menoceras), a bear dog (Amphicyon) and a prehistoric horse (Miohippus).
Nebraska has two national forests, seven national wildlife refuges, and several national monuments.
Nebraska Maps
Nebraska Cities
Federal lands
National Forests (NF)
Samuel R McKelvie NF
Nebraska NF
National Wildlife Refuge (NWR)
North Platte NWR
Crescent Lake NWR
Valentine NWR
Fort Niobrara NWR
Boyer Chute NWR
DeSoto NWR
National Recreation (NRA)
Pine Ridge NRA
Missouri National Recreational River
Other Landmarks
Scotts Bluff NM
Agate Fossil Beds National Monument
Oglala National Grassland
Research
Roman L Hruska US Animal Meat Research Center
Nebraska lakes, rivers and reservoirs
Lakes and reservoirs
Box Butte Reservoir
Lewis And Clark Lake
Calamus Reservoir
Merritt Reservoir
Harlan County Lake
Platte Lake
McConaughy Lake
Swanson Lake
Enders Reservoir
Hugh Butler Lake
Harry Strunk Lake
Davis Creek Reservoir
Sherman Reservoir
Lake Minatare
Rivers and streams
Niobrara River
Elkhorn River
Big Blue River
Missouri River
North Platte River
Indian Reserves (IR)
Winnebago IR
Omaha IR
Santee Sioux IR
Sac And Fox IR
Iowa IR
Cornhusker Army Ammunition Plant
Kearney Rifle Range
Prototype Low Frequency Communications System
Mead Army National Guard
Facility Offutt AFB
Army Reserve Outdoor Training Area
Nebraska Map – Landmarks and places
Bellevue
Kearney
Fremont
Omaha
Lincoln
Alliance
Alma
Beatrice
Benkelman
Broken Bow Columbus
Fairbury Falls City
Hastings
Holdrege
Hyannis
Imperial
Kimball
Lexington
Nebraska City
Neligh
North Platte
O'Neill
Scottsbluff
Sidney
Superior
Thedford
York
Bridgeport
Burwell
Gordon
Norfolk
Ogallala
Valentine
State capital
Lincoln
References
In this US election map collection, you will find the history of presidential elections from 1789 to 2020. Who won the electoral vote in each election year?
From Alabama to Wyoming, we display all 50 US states and capital cities. This United States map with capitals is a simple representation of continental US.
There are really several ways to see elevation in the United States. But the most common way to see a US elevation map is through a digital elevation model.
Free US Maps
Select a state to view its map