Map of Omaha
Are you looking for a map of Omaha? You're in luck! We have one of the largest map collections for Omaha, Nebraska. It includes highways, roads, major landmarks, and an interactive map to explore the city.
Omaha is the largest city in Nebraska and is nicknamed "The Gateway to the West". Situated in eastern Nebraska directly beside Iowa, it's known for being the home of Warren Buffet and Berkshire Hathaway.
Home to world-famous breweries, railways, and thriving food scenes, this Midwestern city is a local's delight. If you're looking for a city that's a little bit different from the usual, look no further than Omaha, Nebraska.
Jump To: Interactive Map | Printable Road Map | 10 Things to Do | Reference Map
Omaha map collection
Interactive Map of Omaha
The best way to explore Omaha is to see it with your own eyes. Get the most out of your stay by using this interactive map to help you find everything from local attractions to hot spots to eateries. This map includes all of the most popular attractions, places to eat, and things to do in and around Omaha. You can also visit the city's historic sites and learn more about the city's rich cultural heritage with this interactive map.
Omaha Road Map
Omaha is a deceivingly large city so it's easy to get lost. This is the perfect solution for anyone who loves to explore, loves maps, and loves Omaha. This map of the city will help you get around the city with color-coded highways and major roads. Whether you're visiting for business or leisure, this road map will help you get around Omaha and find what you're looking for. But for road trips outside the city, take a look at our Nebraska road map for highway information.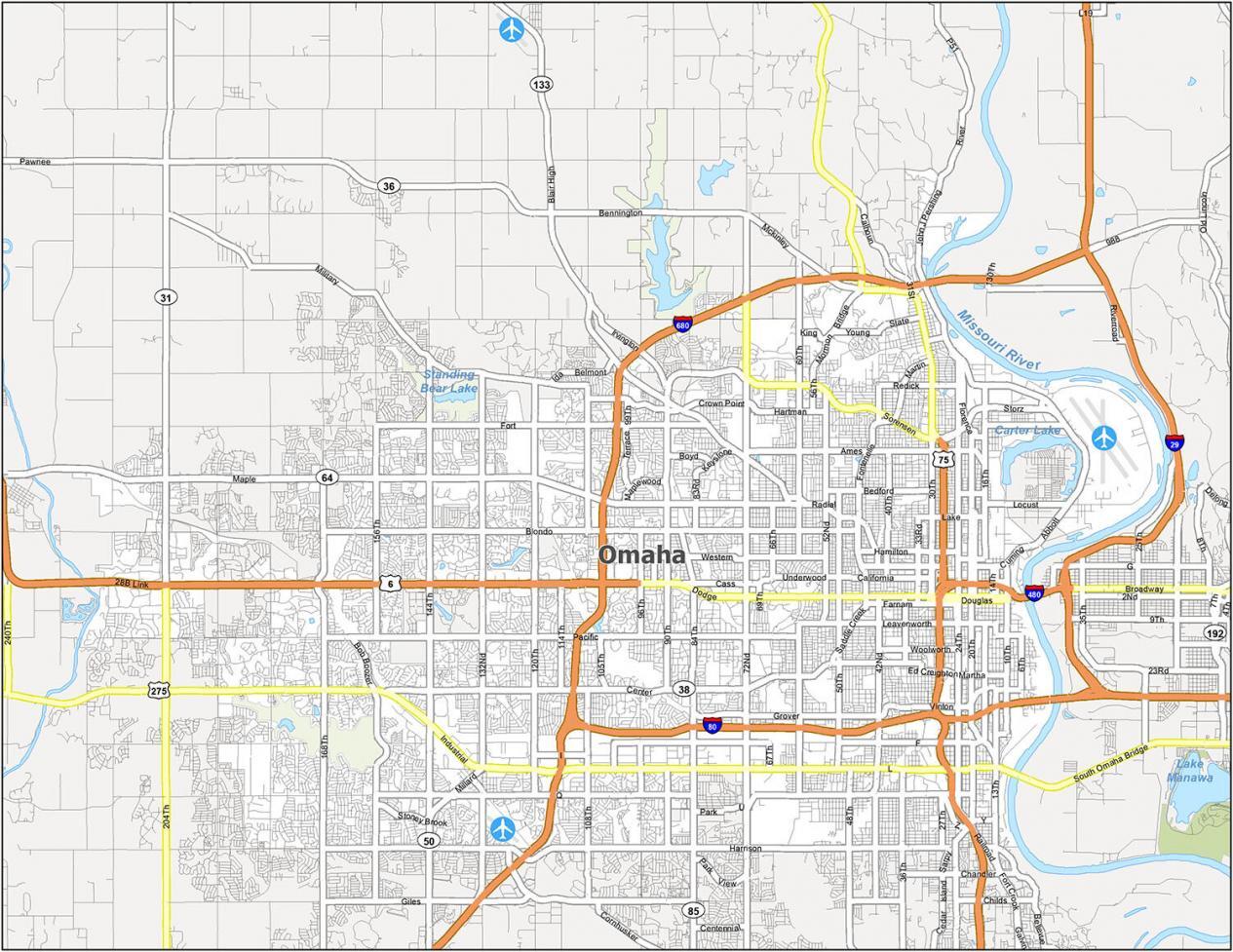 Interstate Highways: I-80, I-480, I-680
US Highways: 6, 31, 38, 50, 64, 75, 85, 133, 275,
Expressways/Parkways: Sorensen Pky, Storz Expy
Major Roads: 30th St, 31st St, 32nd Ave, 63rd St, 84th St, 90th St, 132nd St, 144th St, 204th St, Center Rd, Center St, Cuming St, Dodge Rd, Douglas St, Ed Creighton Ave, Industrial Rd, L St, Maple Rd, Maple St, Military Ave, Millard Ave, Missouri Ave, Radial Hwy, State St
10 Things To Do in Omaha
If you're the sort of person who enjoys learning about new places, then you'll surely love exploring the rich history hidden in Omaha, Nebraska. Our map is the perfect way to find the best things to do in Omaha for your next trip which includes its parks, museums, and zoo. This high-quality map is a true city guide. With detailed attraction information and points of interest, the map will help you to find your way around.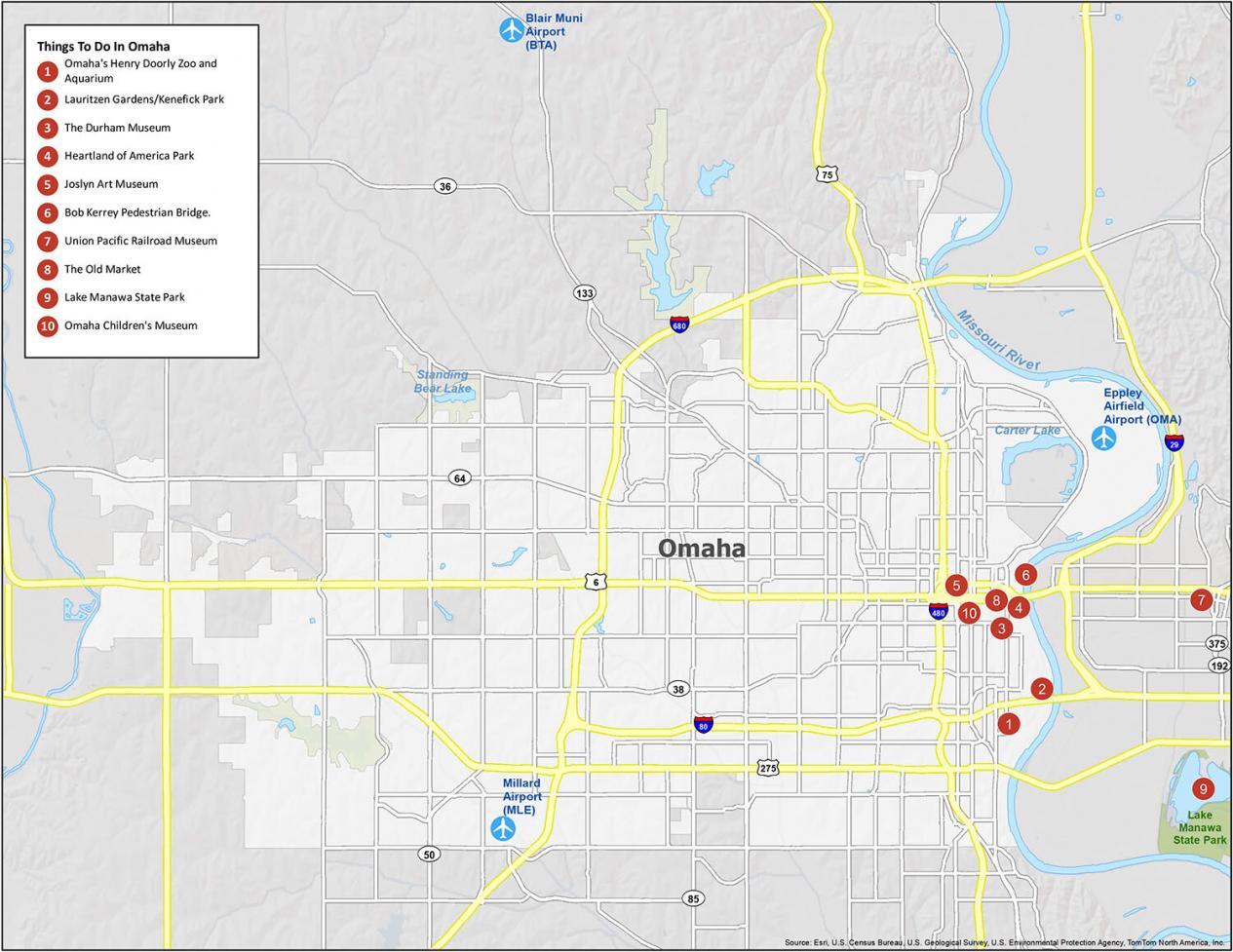 If you ever go there, we highly recommend these 10 things to do.
Omaha's Henry Doorly Zoo and Aquarium
Lauritzen Gardens/Kenefick Park
The Durham Museum
Heartland of America Park
Joslyn Art Museum
Bob Kerrey Pedestrian Bridge
Union Pacific Railroad Museum
The Old Market
Lake Manawa State Park
Omaha Children's Museum
Omaha Reference Map
The city of Omaha, Nebraska is located along the west side banks of the Missouri River. Omaha is also known for its strong business culture and is nicknamed "The Gateway to the West". Omaha has so much to offer, but sometimes it can be difficult to plan a trip. With this map, you can see what each neighborhood has to offer and decide where you want to visit such as its lakes, rivers, and populated areas.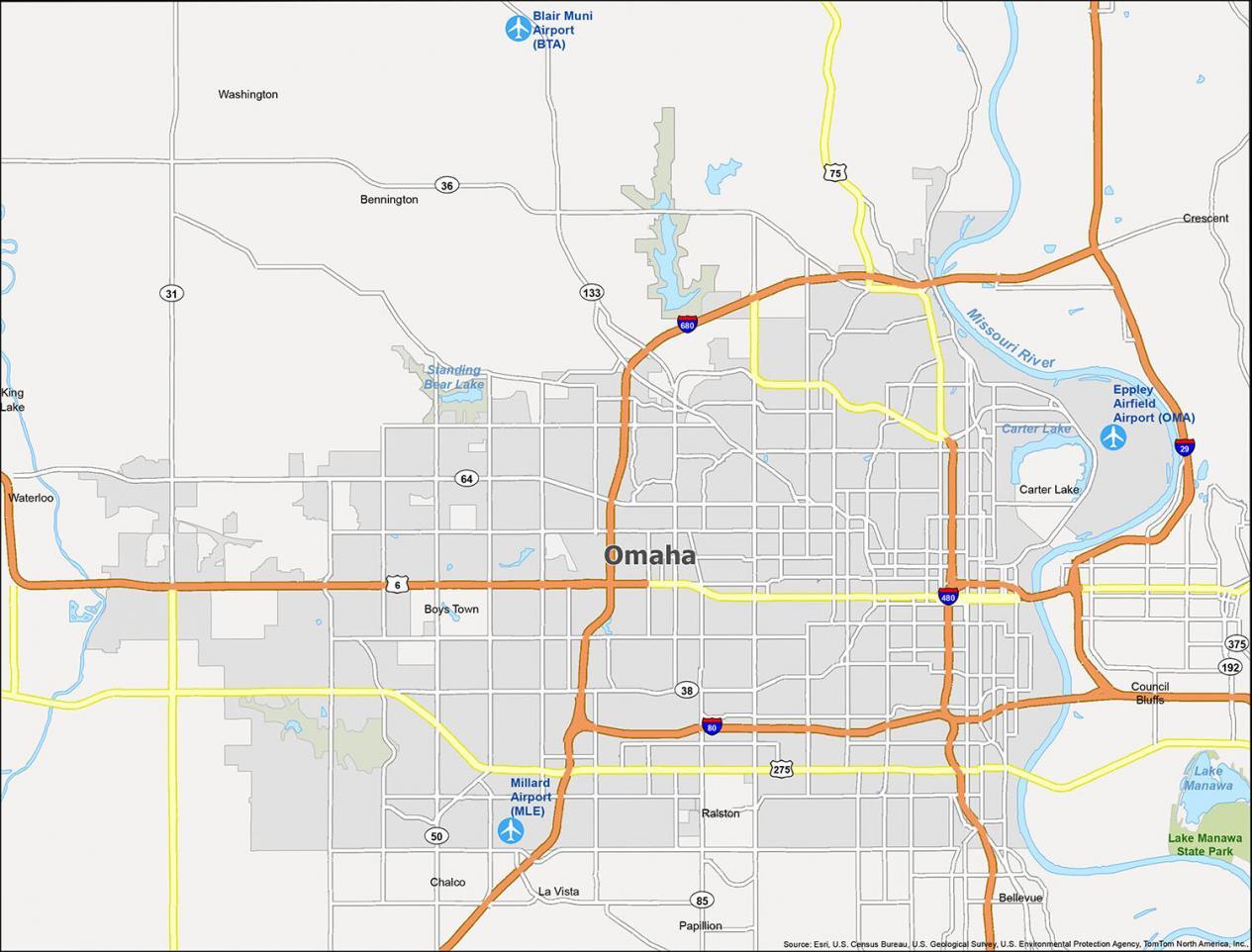 Airports: Blair Muni Airport (BTA), Millard Airport (MLE), Eppley Airfield Airport (OMA)
Cities: Bellevue, Bennington, Carter Lake, Council Bluffs, Crescent, La Vista, Omaha, Papillion, Ralston
Villages: Boys Town, Washington, Waterloo
Census-designated place (CDP): Chalco, King Lake