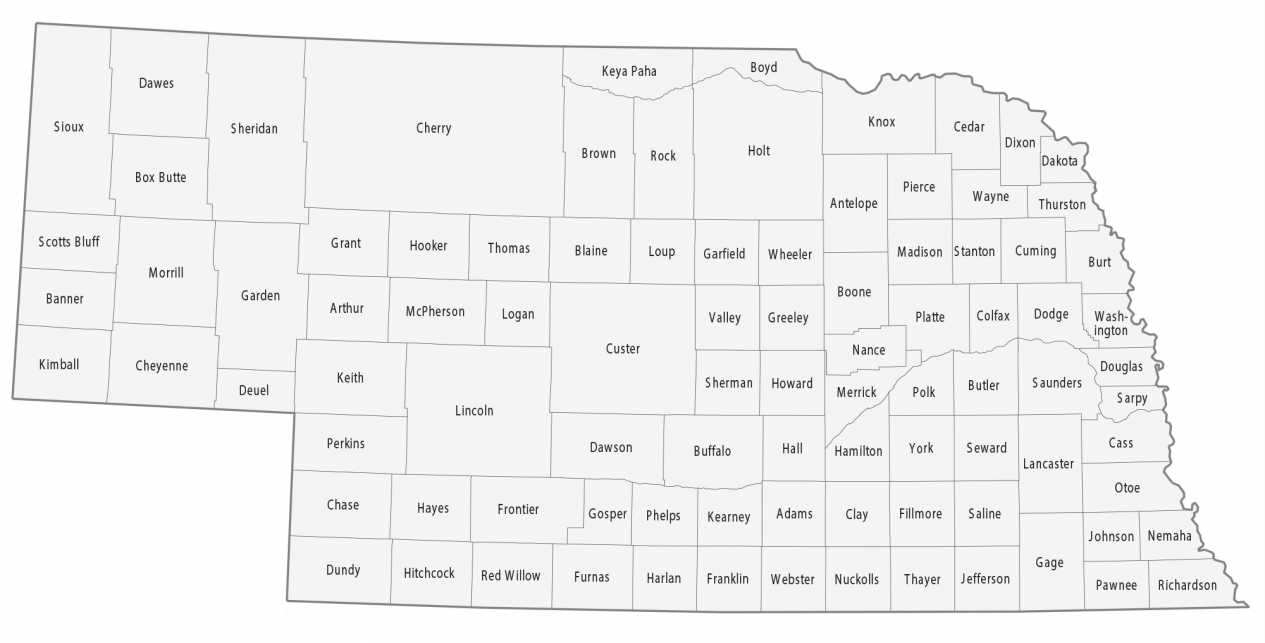 About the map
This Nebraska county map displays its 93 counties. 93 counties represent the 11th most counties in the entire United States, so Nebraska has quite a few. But one unique thing about Nebraska is that it has some of the emptiest counties in the US. It has 9 counties out of the 20 least populated counties.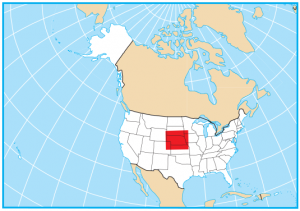 Each one of these counties has less than 750 people including Logan, Banner, Thomas, Hooker, Loup, Grant, McPherson, Blaine, and Arthur County. But in the whole United States, the least populated county is Kalawao County in Hawaii. The county with the highest population in Nebraska is Douglas County because it's home to Omaha, Nebraska. In fact, one-quarter of Nebraska's population resides in Douglas County.
In terms of size, Cherry County is the largest occupying over 6000 square miles. It more than doubles the second-largest county in Nebraska, Custer County. Conversely, the smallest county in Nebraska is Sarpy County with an area of less than 250 square miles.
Nebraska map collection
You are free to use our county map of Nebraska for educational and commercial uses. Attribution is required. How to attribute?
Nebraska county list
| County Name | Population (2020 est) | County Map | Area (sq mi) | Locator Map | FIPS Code |
| --- | --- | --- | --- | --- | --- |
| Adams County | 31,321 | Adams County | 564.2 | Adams County Map | 31001 |
| Antelope County | 6,264 | Antelope County | 858.6 | Antelope County Map | 31003 |
| Arthur County | 466 | Arthur County | 718.3 | Arthur County Map | 31005 |
| Banner County | 786 | Banner County | 746.3 | Banner County Map | 31007 |
| Blaine County | 457 | Blaine County | 714.4 | Blaine County Map | 31009 |
| Boone County | 5,096 | Boone County | 687.2 | Boone County Map | 31011 |
| Box Butte County | 10,696 | Box Butte County | 1077.7 | Box Butte County Map | 31013 |
| Boyd County | 1,860 | Boyd County | 544.7 | Boyd County Map | 31015 |
| Brown County | 2,981 | Brown County | 1225.1 | Brown County Map | 31017 |
| Buffalo County | 50,114 | Buffalo County | 973.2 | Buffalo County Map | 31019 |
| Burt County | 6,477 | Burt County | 497 | Burt County Map | 31021 |
| Butler County | 7,960 | Butler County | 590.8 | Butler County Map | 31023 |
| Cass County | 26,232 | Cass County | 565.9 | Cass County Map | 31025 |
| Cedar County | 8,414 | Cedar County | 745.5 | Cedar County Map | 31027 |
| Chase County | 3,840 | Chase County | 897.4 | Chase County Map | 31029 |
| Cherry County | 5,781 | Cherry County | 6010.8 | Cherry County Map | 31031 |
| Cheyenne County | 9,111 | Cheyenne County | 1196 | Cheyenne County Map | 31033 |
| Clay County | 6,216 | Clay County | 573.5 | Clay County Map | 31035 |
| Colfax County | 10,587 | Colfax County | 416.5 | Colfax County Map | 31037 |
| Cuming County | 8,798 | Cuming County | 574.7 | Cuming County Map | 31039 |
| Custer County | 10,626 | Custer County | 2576 | Custer County Map | 31041 |
| Dakota County | 20,070 | Dakota County | 267 | Dakota County Map | 31043 |
| Dawes County | 8,361 | Dawes County | 1401 | Dawes County Map | 31045 |
| Dawson County | 23,510 | Dawson County | 1019.4 | Dawson County Map | 31047 |
| Deuel County | 1,793 | Deuel County | 440.6 | Deuel County Map | 31049 |
| Dixon County | 5,596 | Dixon County | 482.3 | Dixon County Map | 31051 |
| Dodge County | 36,222 | Dodge County | 543.8 | Dodge County Map | 31053 |
| Douglas County | 574,332 | Douglas County | 339.3 | Douglas County Map | 31055 |
| Dundy County | 1,671 | Dundy County | 920.5 | Dundy County Map | 31057 |
| Fillmore County | 5,519 | Fillmore County | 576.5 | Fillmore County Map | 31059 |
| Franklin County | 2,940 | Franklin County | 576 | Franklin County Map | 31061 |
| Frontier County | 2,587 | Frontier County | 980.1 | Frontier County Map | 31063 |
| Furnas County | 4,653 | Furnas County | 720.6 | Furnas County Map | 31065 |
| Gage County | 21,431 | Gage County | 859.9 | Gage County Map | 31067 |
| Garden County | 1,847 | Garden County | 1730.9 | Garden County Map | 31069 |
| Garfield County | 1,956 | Garfield County | 571.4 | Garfield County Map | 31071 |
| Gosper County | 1,986 | Gosper County | 462.7 | Gosper County Map | 31073 |
| Grant County | 630 | Grant County | 783.2 | Grant County Map | 31075 |
| Greeley County | 2,319 | Greeley County | 570.6 | Greeley County Map | 31077 |
| Hall County | 61,028 | Hall County | 552.1 | Hall County Map | 31079 |
| Hamilton County | 9,237 | Hamilton County | 547 | Hamilton County Map | 31081 |
| Harlan County | 3,311 | Harlan County | 574.1 | Harlan County Map | 31083 |
| Hayes County | 916 | Hayes County | 713.3 | Hayes County Map | 31085 |
| Hitchcock County | 2,773 | Hitchcock County | 718.5 | Hitchcock County Map | 31087 |
| Holt County | 9,956 | Holt County | 2417.5 | Holt County Map | 31089 |
| Hooker County | 647 | Hooker County | 721.5 | Hooker County Map | 31091 |
| Howard County | 6,488 | Howard County | 575.6 | Howard County Map | 31093 |
| Jefferson County | 7,099 | Jefferson County | 575.7 | Jefferson County Map | 31095 |
| Johnson County | 5,057 | Johnson County | 376.7 | Johnson County Map | 31097 |
| Kearney County | 6,652 | Kearney County | 518.1 | Kearney County Map | 31099 |
| Keith County | 7,983 | Keith County | 1109.7 | Keith County Map | 31101 |
| Keya Paha County | 759 | Keya Paha County | 774.6 | Keya Paha County Map | 31103 |
| Kimball County | 3,495 | Kimball County | 952.1 | Kimball County Map | 31105 |
| Knox County | 8,304 | Knox County | 1137.2 | Knox County Map | 31107 |
| Lancaster County | 320,650 | Lancaster County | 846.4 | Lancaster County Map | 31109 |
| Lincoln County | 34,347 | Lincoln County | 2575.1 | Lincoln County Map | 31111 |
| Logan County | 747 | Logan County | 571.1 | Logan County Map | 31113 |
| Loup County | 650 | Loup County | 571.1 | Loup County Map | 31115 |
| Madison County | 34,813 | Madison County | 575.4 | Madison County Map | 31119 |
| McPherson County | 474 | McPherson County | 860 | McPherson County Map | 31117 |
| Merrick County | 7,809 | Merrick County | 494.6 | Merrick County Map | 31121 |
| Morrill County | 4,625 | Morrill County | 1429.9 | Morrill County Map | 31123 |
| Nance County | 3,532 | Nance County | 448.2 | Nance County Map | 31125 |
| Nemaha County | 7,044 | Nemaha County | 409.6 | Nemaha County Map | 31127 |
| Nuckolls County | 4,134 | Nuckolls County | 575.8 | Nuckolls County Map | 31129 |
| Otoe County | 15,965 | Otoe County | 619 | Otoe County Map | 31131 |
| Pawnee County | 2,601 | Pawnee County | 432.9 | Pawnee County Map | 31133 |
| Perkins County | 2,867 | Perkins County | 884.9 | Perkins County Map | 31135 |
| Phelps County | 9,006 | Phelps County | 540.9 | Phelps County Map | 31137 |
| Pierce County | 7,184 | Pierce County | 574.6 | Pierce County Map | 31139 |
| Platte County | 33,364 | Platte County | 684.6 | Platte County Map | 31141 |
| Polk County | 5,201 | Polk County | 440.5 | Polk County Map | 31143 |
| Red Willow County | 10,627 | Red Willow County | 718 | Red Willow County Map | 31145 |
| Richardson County | 7,791 | Richardson County | 554.8 | Richardson County Map | 31147 |
| Rock County | 1,377 | Rock County | 1011.7 | Rock County Map | 31149 |
| Saline County | 13,987 | Saline County | 576.3 | Saline County Map | 31151 |
| Sarpy County | 188,856 | Sarpy County | 247.5 | Sarpy County Map | 31153 |
| Saunders County | 21,927 | Saunders County | 759 | Saunders County Map | 31155 |
| Scotts Bluff County | 35,299 | Scotts Bluff County | 745.2 | Scotts Bluff County Map | 31157 |
| Seward County | 17,186 | Seward County | 575.9 | Seward County Map | 31159 |
| Sheridan County | 5,150 | Sheridan County | 2469.8 | Sheridan County Map | 31161 |
| Sherman County | 2,986 | Sherman County | 571.6 | Sherman County Map | 31163 |
| Sioux County | 1,200 | Sioux County | 2070 | Sioux County Map | 31165 |
| Stanton County | 5,880 | Stanton County | 431 | Stanton County Map | 31167 |
| Thayer County | 4,887 | Thayer County | 575 | Thayer County Map | 31169 |
| Thomas County | 739 | Thomas County | 713.7 | Thomas County Map | 31171 |
| Thurston County | 7,220 | Thurston County | 396.1 | Thurston County Map | 31173 |
| Valley County | 4,103 | Valley County | 570.5 | Valley County Map | 31175 |
| Washington County | 20,901 | Washington County | 393.9 | Washington County Map | 31177 |
| Wayne County | 9,492 | Wayne County | 443.3 | Wayne County Map | 31179 |
| Webster County | 3,419 | Webster County | 575 | Webster County Map | 31181 |
| Wheeler County | 790 | Wheeler County | 575.6 | Wheeler County Map | 31183 |
| York County | 13,511 | York County | 575.8 | York County Map | 31185 |
References