New Mexico Maps
New Mexico City Maps
New Mexico map collection
You are free to use our map of New Mexico for educational and commercial uses. Attribution is required. How to attribute?
About the map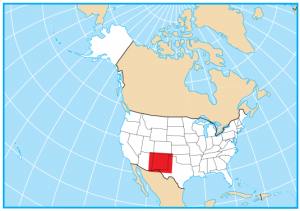 This New Mexico State Map shows major landmarks and places in New Mexico. For example, it includes national forests, military bases, preserves, wildlife refuges, and other federal lands in New Mexico.
Carlsbad Caverns National Park is a collection of 119 caves hidden beneath the Chihuahuan Desert. Whereas Pecos National Historic Park preserves 12,000 years of history from the Pueblo ruins in New Mexico.
New Mexico is home to some of the most beautiful landscapes in the country with deserts, mountains, and forests providing ample opportunity for exploration.
Federal lands
National Park (NP)
Pecos National Historic Park
Chaco Culture National Historic Park
Carlsbad Caverns National Park
National Forests (NF)
Coronado NF
Gila NF
Apache NF
Santa Fe NF
Cibola NF
Carson NF
Lincoln NF
National Wildlife Refuge (NWR)
Grulla NWR
Maxwell NWR
Las Vegas NWR
Bosque del Apache NWR
Bitter Lake NWR
San Andres NWR
Sevilleta NWR
National Monuments (NM)
Gila Cliff Dwellings NM
Kasha-Katuwe Tent Rocks NM
Bandelier NM
Salinas Pueblo Missions NM
Capulin Volcano NM
Fort Union NM
Petroglyph NM
Aztec Ruins NM
White Sands NM
El Morro NM
Other Landmarks
Los Alamos National Laboratory
Jemez National Recreation Area
El Malpais National Conservation Area
Kiowa National Grassland
New Mexico lakes, rivers and reservoirs
Lakes and reservoirs
Sumner Lake
Conchas Lake
Santa Rosa Lake
Jemez Canyon Reservoir
Cochiti Lake
Navajo Reservoir
Two Rivers Reservoir
Heron Reservoir
El Vado Reservoir
Abiquiu Reservoir
Avalon Reservoir
Elephant Butte Reservoir
Caballo Reservoir
Brantley Reservoir
Rivers and streams
Pecos River
Rio Grande
Indian Reserves (IR)
Zia IR
Jemez IR
Tesuque IR
Nambe IR
San Ildefonso IR
Pojoaque IR
Isleta IR
Sandia IR
San Felipe IR
Santa Ana IR
Santo Domingo IR
Cochiti IR
Ute Mountain IR
Taos IR
Picuris IR
San Juan IR
Santa Fe NF
Santa Clara IR
Mescalero Apache IR
Laguna IR
Canoncito IR
Ramah Navajo IR
Acoma IR
Alamo Navajo IR
Zuni IR
Navajo IR
Army, naval and military
Fort Wingate Depot Activity (Closed)
Cannon Air Force Base
Melrose Air Force Range
Sandia Military Reservation
Jornada Experimental Range
White Sands Missile Range
Fort Bliss
McGregor Range
Holloman Air Force Base
New Mexico populated places
Alamogordo
Carlsbad
Clovis
Farmington
Hobbs
Las Cruces
Roswell
Albuquerque
Santa Fe
Artesia
Belen
Carrizozo
Cimarron
Deming
Shiprock
Estancia
Fort Sumner
Gallup
Grants
Hatch
Las Vegas
Logan
Lordsburg
Lovington
Mosquero
Raton
Reserve
Santa Rosa
Silver City
Socorro
Springer
Taos
Tucumcari
Vaughn
Truth or Consequences
State capital
Santa Fe
This map of USA displays states, cities and census boundaries. An elevation surface highlights major physical landmarks like mountains, lakes and rivers.
A US road map that displays major interstate highways, limited-access highways and principal roads in the United States including states and capital cities.
A US national parks map that displays the 5 regions and 62 national parks of the United States. Hawaii and Alaska have inset maps with outlines and names.
How much rain falls in the United States? Take a close look at this US precipitation map to see where it falls the most and least. You'll see it fluctuates.
This US time zone map shows the six time zones of the United States such as the Eastern, Central, Mountain, Pacific, Alaska and Hawaii-Aleutian time zones.
References
US State Maps
Select a state to view its map