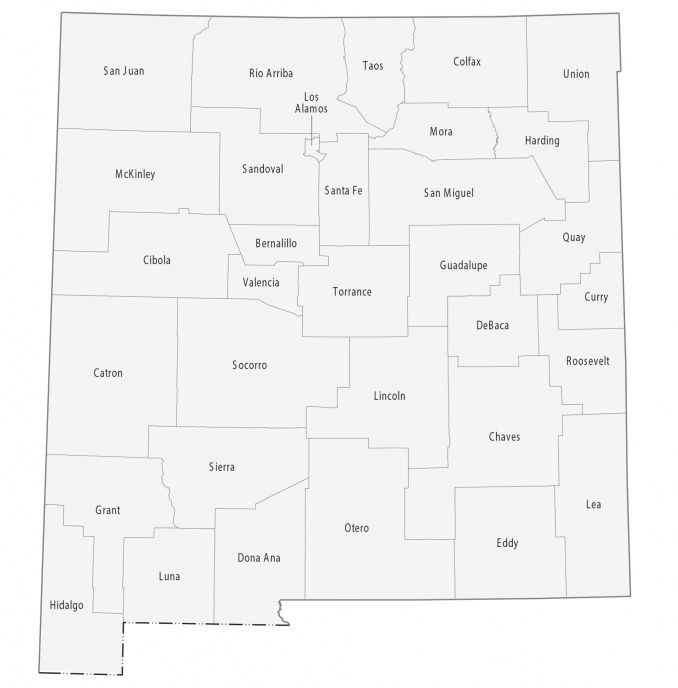 About the map
This New Mexico county map displays its 33 counties. New Mexico shares a border with Arizona, Colorado, Utah, Texas, and Oklahoma. Not to mention, it also shares an international border with Mexico.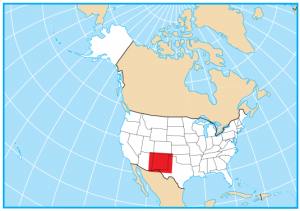 For area, Catron County is the largest county in New Mexico occupying an area of almost 7000 square miles. The smallest county is Los Alamos with an area of just over 100 square miles in size. In fact, the Los Alamos Scientific Laboratory located here was the primary site of the Manhattan Project atomic bomb fabrication.
Bernalillo is the most populated county in New Mexico and is home to the city of Albuquerque. New Mexico also has one of the least populated counties in the entire United States, Harding County.
New Mexico map collection
You are free to use our county map of New Mexico for educational and commercial uses. Attribution is required. How to attribute?
New Mexico County List
| County Name | Population (2020 est) | County Map | Area (sq mi) | Locator Map | FIPS Code |
| --- | --- | --- | --- | --- | --- |
| Bernalillo County | 681,666 | Bernalillo County | 1168.6 | Bernalillo County Map | 35001 |
| Catron County | 3,623 | Catron County | 6929.1 | Catron County Map | 35003 |
| Chaves County | 64,711 | Chaves County | 6075 | Chaves County Map | 35005 |
| Cibola County | 26,354 | Cibola County | 4541.7 | Cibola County Map | 35006 |
| Colfax County | 11,927 | Colfax County | 3768.1 | Colfax County Map | 35007 |
| Curry County | 48,793 | Curry County | 1408 | Curry County Map | 35009 |
| DeBaca County | 1,673 | DeBaca County | 2333.9 | DeBaca County Map | 35011 |
| Doña Ana County | 221,262 | Doña Ana County Map New Mexico | 3812.3 | Doña Ana County Map New Mexico Locator | 35013 |
| Eddy County | 58,418 | Eddy County | 4197.2 | Eddy County Map | 35015 |
| Grant County | 27,007 | Grant County | 3967.5 | Grant County Map | 35017 |
| Guadalupe County | 4,275 | Guadalupe County | 3031.6 | Guadalupe County Map | 35019 |
| Harding County | 638 | Harding County | 2126.6 | Harding County Map | 35021 |
| Hidalgo County | 4,106 | Hidalgo County | 3446.5 | Hidalgo County Map | 35023 |
| Lea County | 71,830 | Lea County | 4394.8 | Lea County Map | 35025 |
| Lincoln County | 19,939 | Lincoln County | 4831.3 | Lincoln County Map | 35027 |
| Los Alamos County | 19,462 | Los Alamos County | 109.2 | Los Alamos County Map | 35028 |
| Luna County | 23,905 | Luna County | 2965.2 | Luna County Map | 35029 |
| McKinley County | 70,824 | McKinley County | 5455.2 | McKinley County Map | 35031 |
| Mora County | 4,478 | Mora County | 1933.4 | Mora County Map | 35033 |
| Otero County | 67,967 | Otero County | 6625.2 | Otero County Map | 35035 |
| Quay County | 8,197 | Quay County | 2882 | Quay County Map | 35037 |
| Rio Arriba County | 38,521 | Rio Arriba County | 5895.7 | Rio Arriba County Map | 35039 |
| Roosevelt County | 18,350 | Roosevelt County | 2454.7 | Roosevelt County Map | 35041 |
| San Juan County | 123,312 | Sandoval County | 5538.4 | Sandoval County Map | 35045 |
| San Miguel County | 27,144 | San Juan County | 4735.7 | San Juan County Map | 35047 |
| Sandoval County | 148,904 | San Miguel County | 3714.4 | San Miguel County Map | 35043 |
| Santa Fe County | 151,946 | Santa Fe County | 1910.9 | Santa Fe County Map | 35049 |
| Sierra County | 10,867 | Sierra County | 4236.2 | Sierra County Map | 35051 |
| Socorro County | 16,541 | Socorro County | 6648.7 | Socorro County Map | 35053 |
| Taos County | 32,593 | Taos County | 2204.3 | Taos County Map | 35055 |
| Torrance County | 15,486 | Torrance County | 3345.8 | Torrance County Map | 35057 |
| Union County | 4,026 | Union County | 3830.9 | Union County Map | 35059 |
| Valencia County | 77,574 | Valencia County | 1068.3 | Valencia County Map | 35061 |
References