New Mexico Map – Cities and Roads
New Mexico Maps
New Mexico City Maps
About the map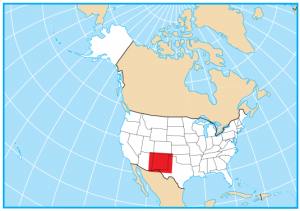 This New Mexico map contains cities, roads, rivers, and lakes. For example, Albuquerque, Las Cruces, and Rio Rancho are major cities shown in this map of New Mexico.
New Mexico is like Arizona's little brother. It's the home of Breaking Bad, Roswell aliens, and even the primary site of the Manhattan Project atomic bomb fabrication.
For geography, New Mexico is located in the south of the United States. It borders Arizona, Utah (sort of), Colorado, Oklahoma, Texas and Mexico.
State capital
Santa Fe
Major cities and towns
Albuquerque
Las Cruces
Rio Rancho
Alamogordo
Carlsbad
Clovis
Farmington
Hobbs
Roswell
Santa Fe
Artesia
Aztec
Belen
Bernalillo
Carrizozo
Cimarron
Clayton
Deming
Des Moines
Espanola
Estancia
Fort Sumner
Gallup
Grants
Hatch
Las Vegas
Logan
Lordsburg
Lovington
Mosquero
Portales
Raton
Reserve
Santa Rosa
Silver City
Socorro
Springer
Taos
Tucumcari
Vaughn
Truth or Consequences
Cuba
Shiprock
Zuni
Los Alamos
Mora
Tierra Amarilla
Interstate highways
Interstate-10 (I-10)
Interstate-25 (I-25)
Interstate-40 (I-40)
Lakes, rivers and creeks
Elephant Butte Reservoir
Pecos River
Rio Grande
Conchas Lake
Caballo Reservoir
Navajo Reservoir
Abiquiu Reservoir
Canadian River
Red Bluff Reservoir
Landmarks in New Mexico
San Francisco Mountains
Chuska Mountains
Sangre De Cristo Mountains
Zuni Mountains
Black Range
San Andres Mts
Sacramento Mts
Llano Estacado
Guadalupe Mountains
Animas Peak
Ship Rock
South Baldy
Mount Taylor
Wheeler Peak
References
Check out the US temperature map to visualize how climate varies across the United States of America. Each one is derived from NESDIS, a branch of NOAA.
A US national parks map that displays the 5 regions and 62 national parks of the United States. Hawaii and Alaska have inset maps with outlines and names.
From Alabama to Wyoming, we display all 50 US states and capital cities. This United States map with capitals is a simple representation of continental US.
Free US Maps
Select a state to view its map