Albuquerque Map, New Mexico

Map of Albuquerque
The city of Albuquerque is the home of Breaking Bad, blue skies, and sunshine. If you are in search of an Albuquerque map, we have quite the collection for you. For example, we include an interactive map, a road map, and 10 things to do.
Albuquerque's official nickname is "Duke City" with a variety of unique attractions. For example, it has a large number of cultures, arts, festivals, music, and restaurants. From museums to parks to art fairs, there are plenty of activities to keep you busy like the Albuquerque International Balloon Fiesta.
Albuquerque is the largest city in New Mexico and a great place to live. Whether you're planning a trip or just looking for something new, this Albuquerque map is perfect for any traveler who's looking to make their trip as smooth as possible. Along with the map, we'll also share some itineraries that you might want to consider.
Jump To: Interactive Map | Printable Road Map | 10 Things to Do | Reference Map
Albuquerque map collection
Interactive Map of Albuquerque (ABQ)
Albuquerque has drawn visitors for decades because of its unique culture, population, and history. Today, more than 550,000 people live in the metropolitan area of Albuquerque. By using this interactive map, you can explore the many tourist attractions to see.
Albuquerque Road Map
Albuquerque is situated in an arid high desert area on the Rio Grande close to the foothills of the Sandia Mountains and immediately south of the Jemez Mountains. If you're in need of a road map for Albuquerque, New Mexico, then look no further.
This Albuquerque road map is not only functional and convenient to use, but it also includes helpful information on highways and road names. Alternatively, you can use our New Mexico road map if you're looking for highways and interstates of the entire state.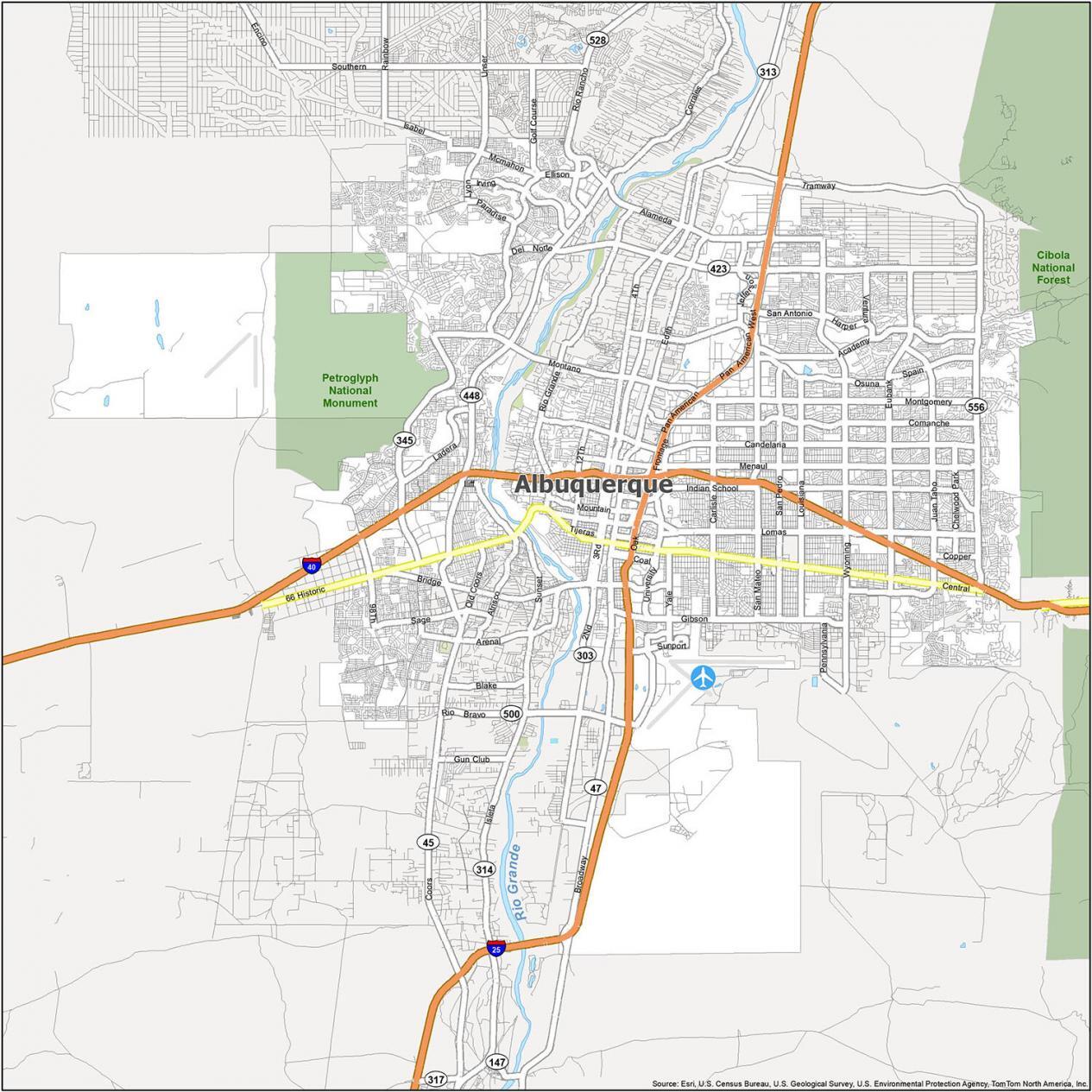 Interstate Highways: 25, 40
State Highways: 45, 47, 303, 313, 314, 345, 448, 423, 500, 528, 556
Major Roads: Alameda Blvd, Candelaria Rd, Central Ave, Comanche Rd, Del Norte, Indian School Rd, Lomas Blvd, Menaul Blvd, Montgomery Blvd, Pan American East Fwy, Pan American Fwy, Pan American West Fwy, Spain Rd, Tramway Blvd
Roads: Academy Rd, Candelaria Rd, Cesar Chavez, Coors Blvd, Del Norte, Eubank Blvd, Frontage Rd, Gibson Blvd, Juan Tabo Blvd, Locust St, Lomas Blvd, Menaul Blvd, Montano Rd, Montgomery Blvd, Mountain Rd, Oak St, Osuna Rd, Pan American Fwy, Rio Bravo Blvd, San Mateo Blvd, Stadium Blvd, Sunport Blvd, Taylor Ranch Rd, University Blvd, Unser Blvd, Wyoming Blvd, Yale Blvd
10 Things To Do in Albuquerque
The Albuquerque map for travel will help you explore the diverse landscape of this city by showing the best places to get around. With many different areas that are worth exploring, it's easy to navigate with tons of amenities that can be easily found. From Old Town to Downtown Plaza to Nob Hill to Balloon Fiesta Park and beyond, there's always something new going.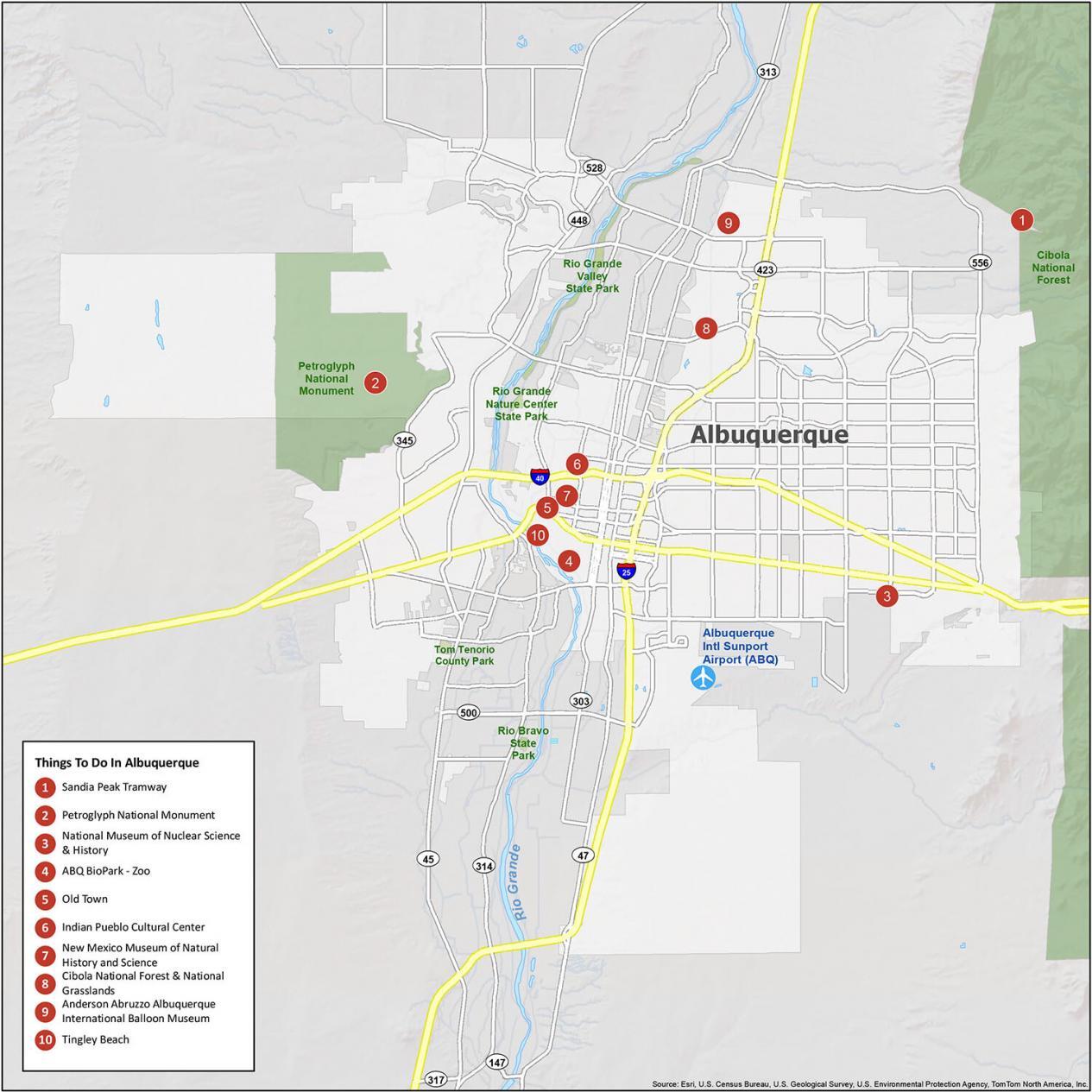 Some of the top sites in Albuquerque include the Old Town, the National Museum of Nuclear Science & History, and the ABQ BioPark.
1. Sandia Peak Tramway
2. Petroglyph National Monument
3. National Museum of Nuclear Science & History
4. ABQ BioPark – Zoo
5. Old Town
6. Indian Pueblo Cultural Center
7. New Mexico Museum of Natural History and Science
8. Cibola National Forest & National Grasslands
9. Anderson Abruzzo Albuquerque International Balloon Museum
10. Tingley Beach
Albuquerque Map with Villages and Places
If you're heading to this great American city for a weekend getaway or are visiting for longer than a few days, consult our map for some ideas on where to go! You'll find that from downtown Albuquerque and beyond there's something new around every corner.
This map will help you find what's best for your needs as well as some neat parks and places to visit during your stay here. If you're looking for natural features in Albuquerque, you can also find our New Mexico lakes and rivers map at a state level.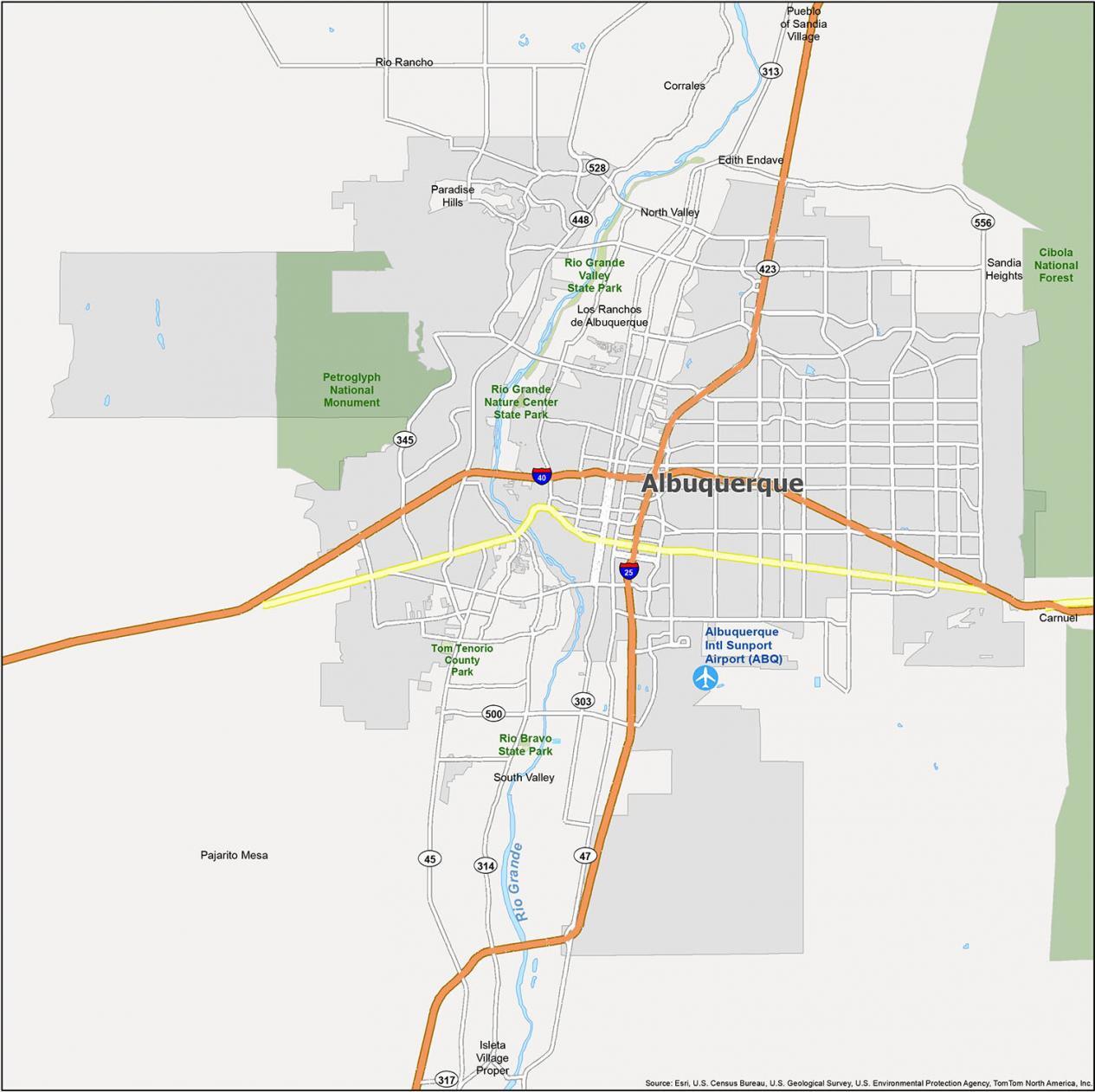 Villages: Corrales, Los Ranchos de Albuquerque
Census Designated Place (CDP): Carnuel, Edith Endave, Isleta Village Proper, North Valley, Pajarito Mesa, Paradise Hills, Pueblo of Sandia Village, Sandia Heights, South Valley
City: Rio Rancho
Albuquerque map collection
New Mexico map collection
References