Map of Newport
Sail into the winds with this Newport map collection that includes roads, points of interest, and things to do. Then, explore the city with our interactive map provided by Google Maps.
Newport is a city situated on Aquidneck Island. It's home to the longest suspension bridge in the state of New England, the Newport Bridge/Claiborne Pell. This connects it across the East Passage of Narragansett Bay.
Located along the North Atlantic Ocean, there's no wonder why it's known for its sailing and panoramic seaside views. Get the most out of your stay in Newport with this map collection.
Jump To: Interactive Map | Printable Road Map | 10 Things to Do | Reference Map
Newport map collection
Interactive Map of Newport
This interactive map allows you to explore Newport Rhode Island with ease. You can find all your favorite attractions so you can explore them on your next visit. Whether you're planning a vacation or just looking for a new place to explore, this interactive map will help you find the best restaurants, hotels, and beaches in Newport.
Newport Road Map
This detailed road map has all the necessary information for planning your day out. With color-coded highways, you will be able to find your way around Newport in no time. It's also the perfect tool for navigating the roads and walking tours because of its detailed labels. But for travel outside the city, you can download our Rhode Island road map for more highway information.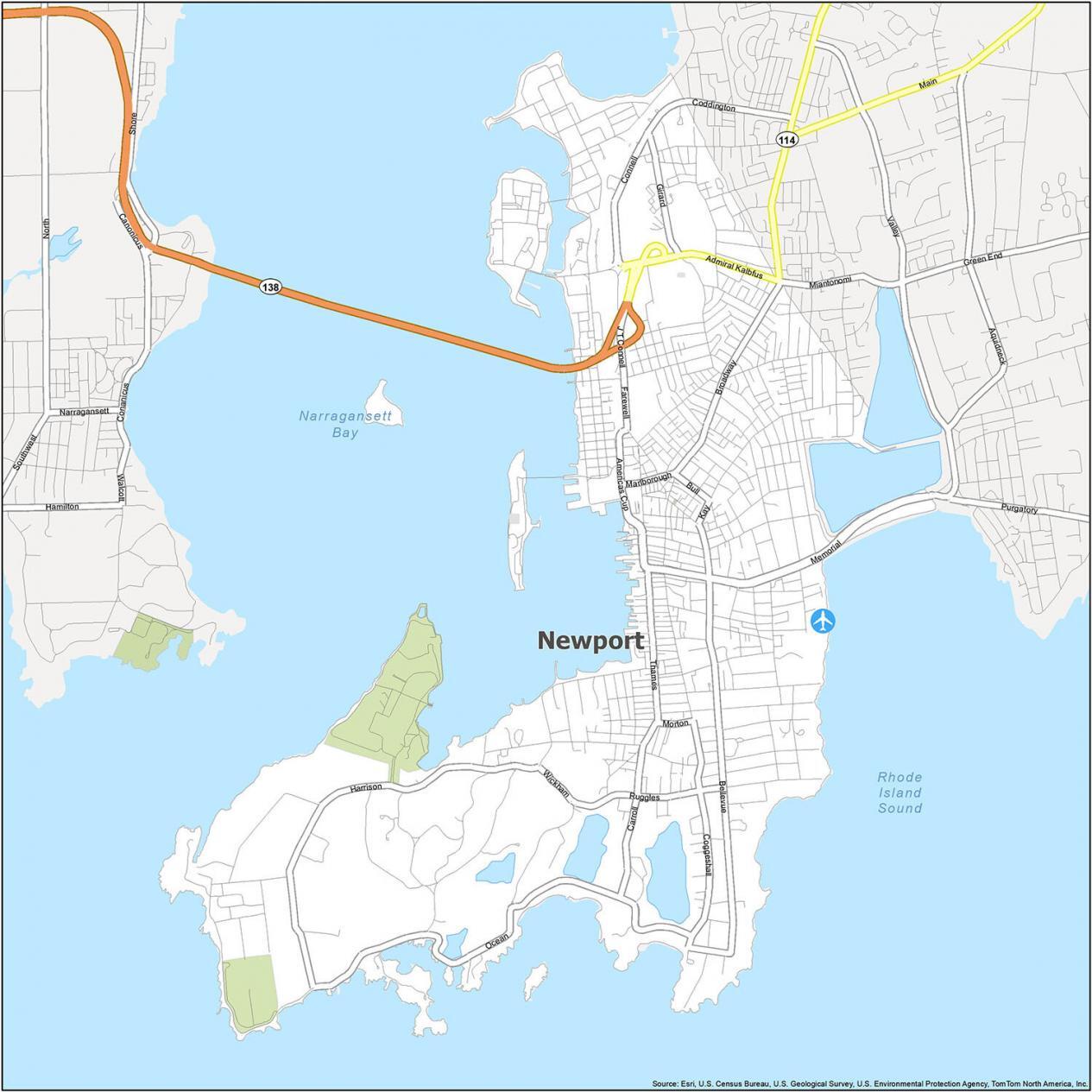 US Highways: 138, Coddington Hwy, Connell Hwy
Major Roads: Admiral Kalbfus Rd, Americas Cup Ave, Bellevue Ave, Broadway, Bull St, Carroll Ave, Coggeshall Ave, Farewell St, Girard Ave, Harrison Ave, J T Connell Rd, Kay St, Marlborough St, Memorial Blvd, Morton Ave, Ocean Ave, Ruggles Ave, Thames St, Wickham Rd
10 Things To Do in Newport
This map is a comprehensive guide to the city that helps you find the best places to go and things to do. Whether you need to find a nearby park or just find your way around, this map helps you find the top attractions in Newport quickly and easily.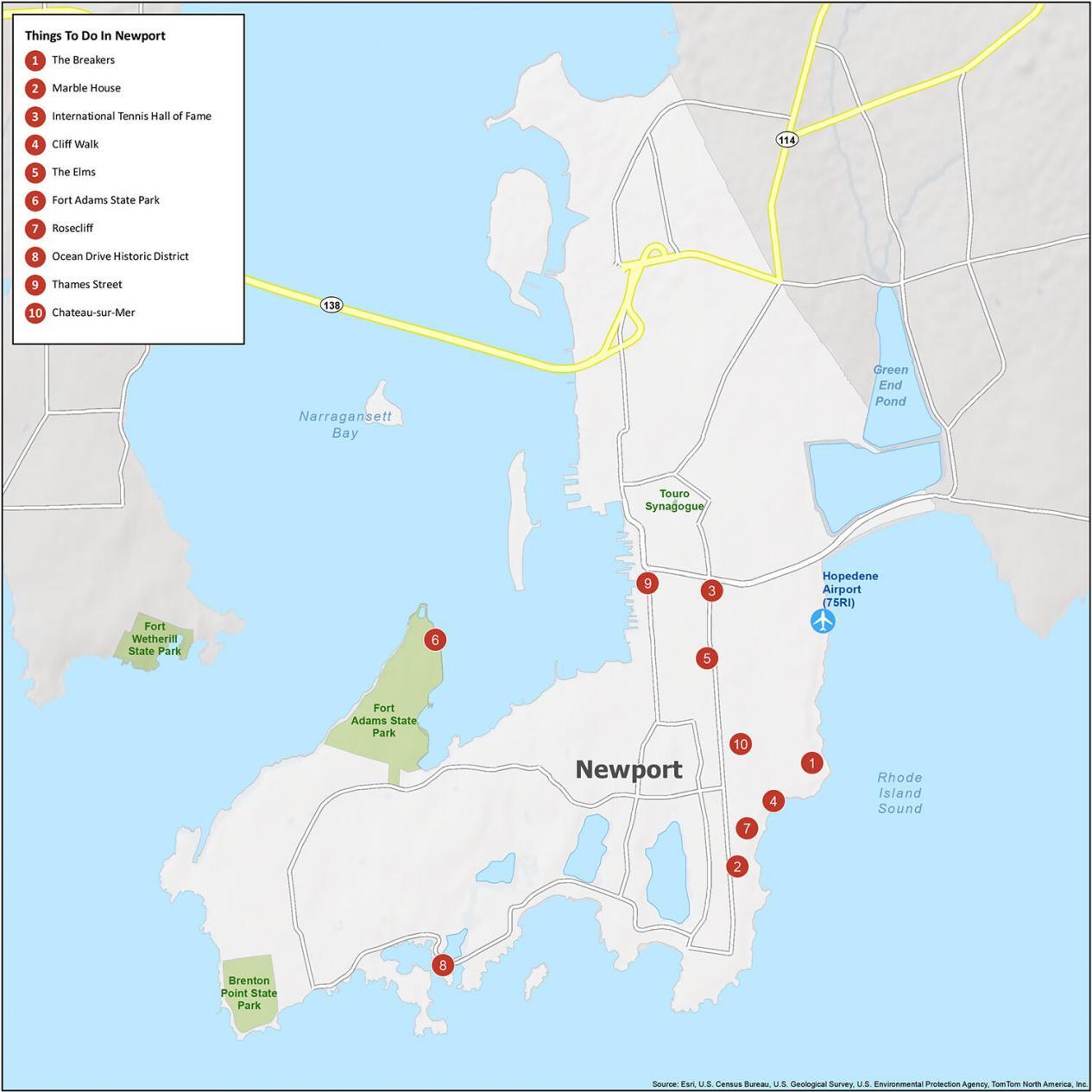 Newport is known for its sailing, mansions, and beautiful seaside. If you ever go to the city next to the sea, here are our recommendations for the top 10 things to do.
The Breakers
Marble House
International Tennis Hall of Fame
Cliff Walk
The Elms
Fort Adams State Park
Rosecliff
Ocean Drive Historic District
Thames Street
Chateau-sur-Mer
Newport Reference Map
We have created a map that perfectly captures the beauty of this coastal city. With state parks and water features, we show you all that Newport has to offer. Because you can't explore a city without a map, this map is your key to understanding the geography and cultural landmarks of Newport, RI.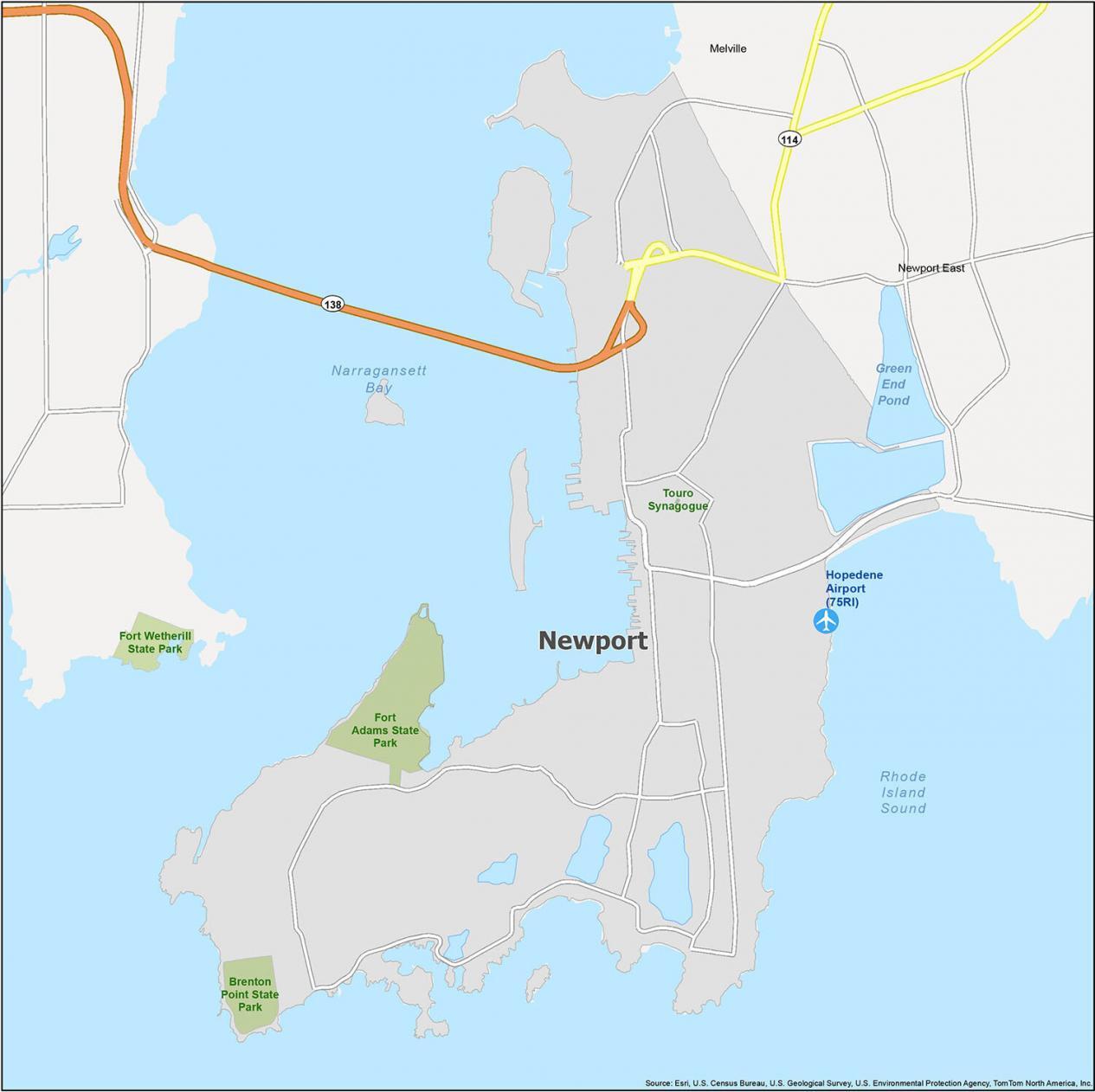 Airports: Hopedene Airport (75RI)
Census-designated place (CDP): Melville, Newport East
Bays/Sounds: Green End Pond, Narragansett Bay, Rhode Island Sound
Parks: Brenton Point State Park, Fort Adams State Park, Touro Synagogue
Rhode Island map collection