North Dakota State Map – Places and Landmarks
About the map
This North Dakota state map shows major landmarks and places in North Dakota. For example, it features national forests, military bases, preserves, wildlife refuges, and other federal lands in North Dakota.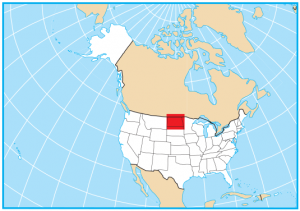 The only national park in North Dakota is the Theodore Roosevelt National Park. It's named after former President Theodore Roosevelt, who was known to hunt bison in the area.
North Dakota is filled with national wildlife refuges with 60+ scattered in the state. It's also recognized for its natural grassland-designated areas. Overall, it has two national historic sites including Knife River Indian Villages and the Fort Union Trading Post. If you are looking for a quiet and relaxing holiday, then North Dakota is the place to go.
North Dakota map collection
You are free to use our map of North Dakota for educational and commercial uses. Attribution is required. How to attribute?
Federal lands
National Park (NP)
Theodore Roosevelt National Park
National Wildlife Refuge (NWR)
Stewart Lake NWR
White Lake NWR
Appert Lake NWR
Springwater NWR
Sunburst Lake NWR
Lake Patricia NWR
Pretty Rock NWR
Lake Ilo NWR
Long Lake NWR
Bone Hill NWR
Maple River NWR
Storm Lake NWR
Wild Rice Lake NWR
Tewaukon NWR
Dakota Lake NWR
Arrowwood NWR
Lake George NWR
Florence Lake NWR
Lost Lake NWR
Canfield Lake NWR
Hutchinson Lake NWR
Half-Way Lake NWR
Slade NWR
Tomahawk NWR
Stoney Slough NWR
Johnson Lake NWR
Sibley Lake NWR
Stump Lake NWR
Little Goose NWR
Lambs Lake NWR
Hobart Lake NWR
Wood Lake NWR
Sullys Hill NWR
Rose Lake NWR
Buffalo Lake NWR
Lake Zahl NWR
Lostwood NWR
Des Lacs NWR
Upper Souris NWR
Shell Lake NWR
McLean NWR
Hiddenwood NWR
Audubon NWR
Lake Nettie NWR
Sheyenne Lake NWR
Wintering River NWR
Cottonwood Lake NWR
Lake Otis NWR
Camp Lake NWR
Ardoch NWR
Silver Lake NWR
Lake Alice NWR
Pleasant Lake NWR
J. Clark Salyer NWR
Snyder Lake NWR
Brumba NWR
Lords Lake NWR
Rock Lake NWR
Willow Lake NWR
School Section Lake NWR
Rabb Lake NWR
Kellys Slough NWR
Other Landmarks
Cedar River National Grassland
Sheyenne National Grassland
Little Missouri National Grassland
Knife River Indian Villages NHS
Fort Union Trading Post National Historic Site
US Tree Planting Station
North Dakota lakes, rivers and reservoirs
Lakes and reservoirs
Pipestem Lake
Jamestown Reservoir
Lake Tschida
Bowman Haley Lake
Edward Arthur Patterson Lake
Lake Oahe
Lake Ashtabula
Devils Lake
Lake Sakakawea
Homme Lake
Rivers and streams
Cannonball River
Red River
Souris River
Little Missouri River
Missouri River
Heart River
Sheyenne River
James River
Indian Reserves (IR)
Standing Rock IR
Lake Traverse IR
Spirit Lake IR
Fort Berthold IR
Turtle Mountain IR
Army, naval and military
Minot Air Force Base
Grand Forks Air Force Base
North Dakota Map – Landmarks and places
Fargo
Bismarck
Grand Forks
Minot
Ashley
Beach
Bowman
Carrington
Cooperstown
Crosby
Dickinson
Fort Yates
Garrison
Hettinger
Hillsboro
Jamestown
Langdon
Linton
Lisbon
Mott
Pembina
Portal
Rugby
Stanley
Wahpeton
Washburn
Watford City
Williston
Beulah
Edgeley
Oakes
State capital
Bismarck
City Maps of North Dakota
References