Map of Fargo, North Dakota
Map of Fargo
This Fargo map collection displays highways/roads, points of reference, and a list of top things to do when traveling there. The city has become popular not only in the movie "Fargo" but also in the TV show.
Fargo is the largest city in North Dakota with a population of about 125,000 people. It is a major transportation and agriculture hub in the northern United States.
The city is located along the Red River and is just west of the Minnesota state boundary. Let's tour the city with our interactive map to see where you want to go.
Jump To: Interactive Map | Printable Road Map | 10 Things to Do | Reference Map
Fargo map collection
Interactive Map of Fargo
Get to know the city through the lens of this interactive map. Use the zoom feature and explore Fargo North Dakota in more detail than ever before. Locate the most popular attractions, hotels, and restaurants in town. This map is made for you to explore Fargo, North Dakota. You will have all the necessary information to know what to do, where to go, where to eat, and where to stay.
Fargo Road Map
If you are new to this city, this map is a must-have. Get your bearings with this detailed map of Fargo North Dakota — without having to worry about getting lost. Learn about our major interstate highways like I-29 and I-94. This Fargo North Dakota map shows you the transportation network in one easy-to-view map. But if you're going outside the city, take a look at this North Dakota road map for more highway and street information.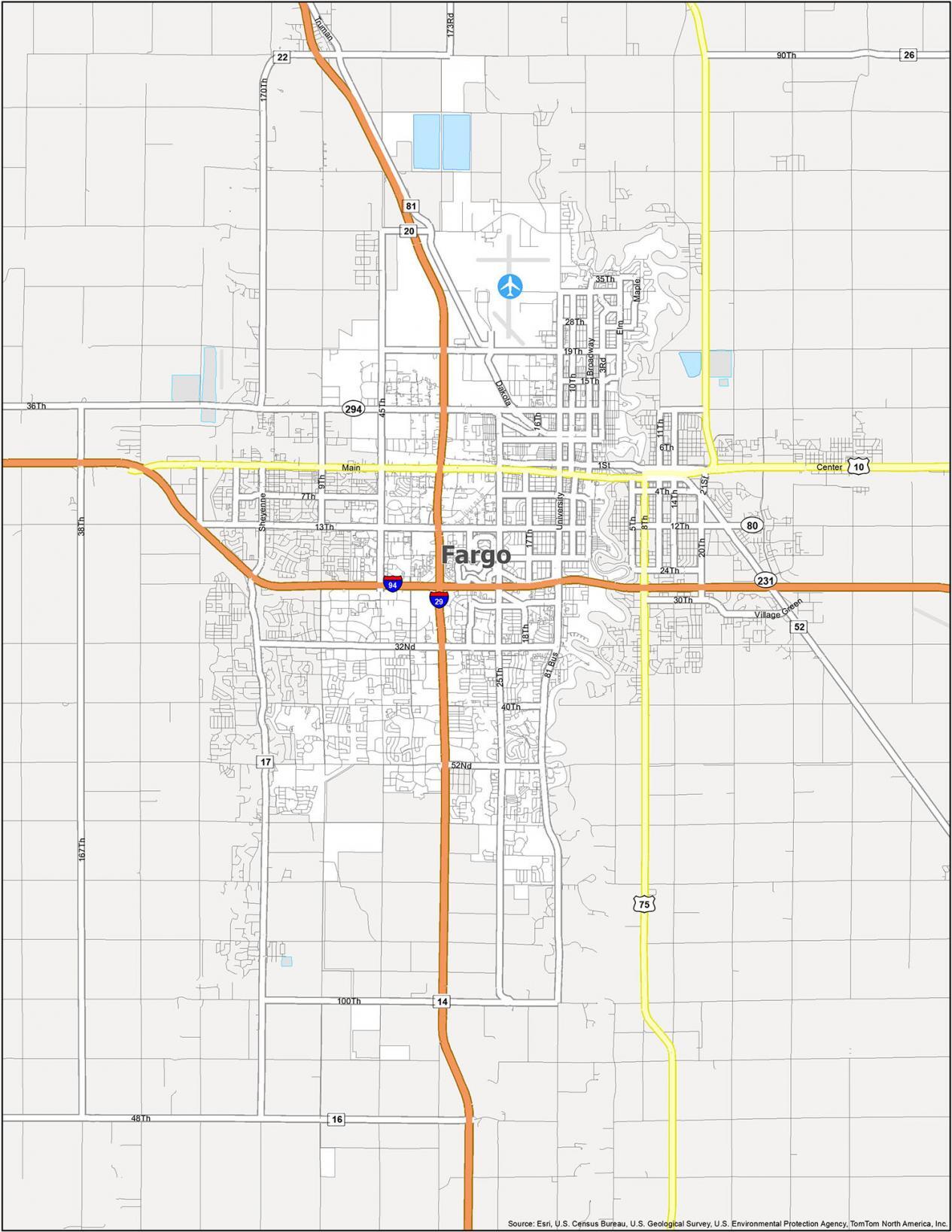 Interstate Highways: I-29, I-94
US Highways: 10, 16, 20, 24, 81, 294
Major Roads: 1st Ave, 3rd St, 5th Ave, 5th St, 6th Ave, 7th Ave, 8th Ave, 9th St, 10th St, 12th Ave, 13 1/2 St, 13th Ave, 15th Ave, 16, 17th Ave, 18th St, 19th Ave, 20th Ave, 24th Ave, 25th Ave, 25th St, 26th Ave, 28th Ave, 29th Ave, 32nd Ave, 32nd St, 35th Ave, 40th Ave, 45th St, 52nd Ave, 100th Ave, Broadway St, Dakota Dr, Elm St, Gateway Cir, Great Northern Dr, Joe Parmer Dr, Main Ave, Maple St, Meadowlark Ln, Prairiewood Dr, University Dr, Westrac Dr
10 Things To Do in Fargo
If you're looking for a list of things to do in Fargo, North Dakota, you've come to the right place. This map is an attractions map of the city and it comes with a detailed map of its most popular places to visit. From the most popular museums in Fargo to its parks, the map includes a list of Fargo's greatest attractions and activities.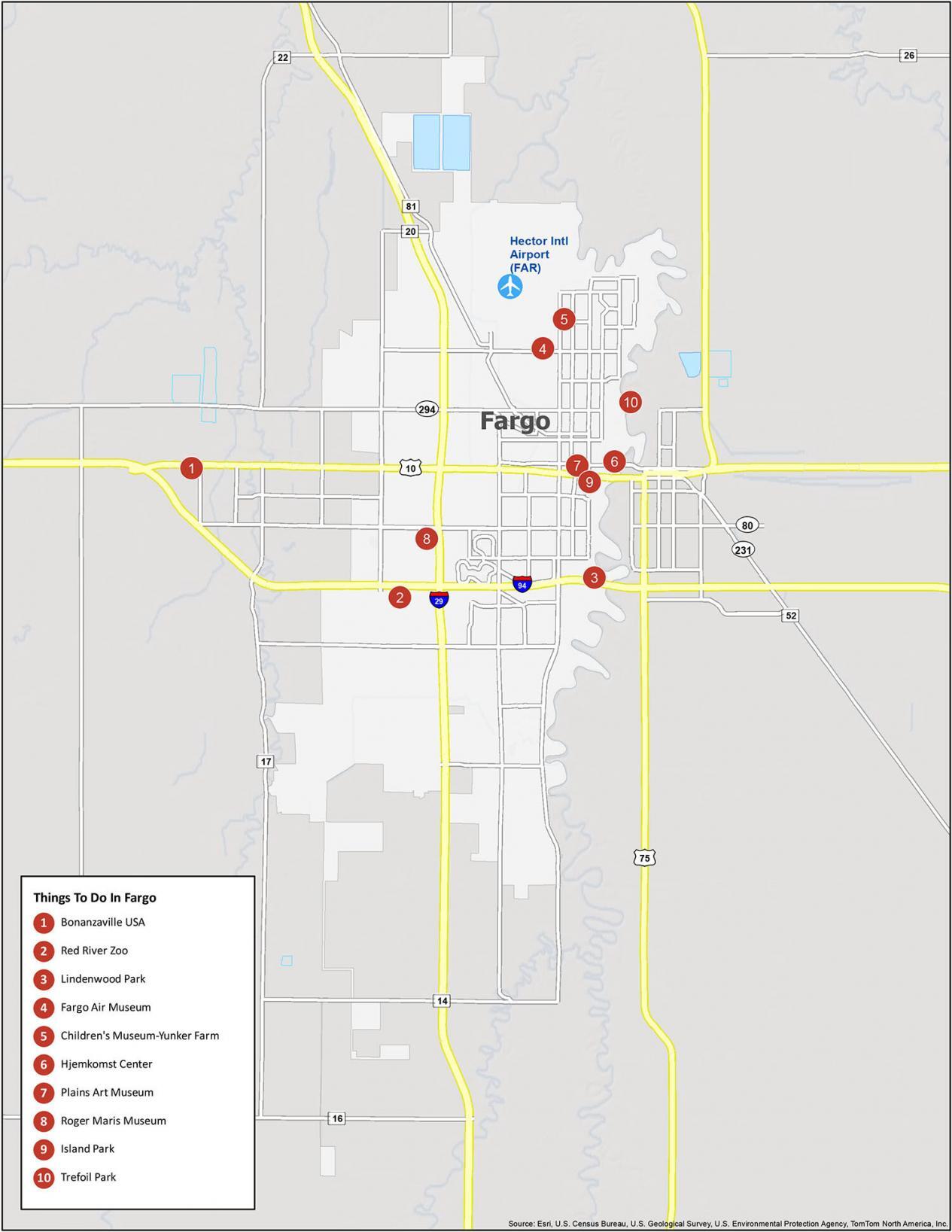 Fargo is known for its museums like Bonanzaville USA, consisting of 42 buildings on 12 acres of land. Otherwise, it's filled with unique parks and of course the Red River Zoo. If you travel to Fargo, North Dakota, here are our top 10 travel recommendations.
Bonanzaville USA
Red River Zoo
Lindenwood Park
Fargo Air Museum
Children's Museum-Yunker Farm
Hjemkomst Center
Plains Art Museum
Roger Maris Museum
Island Park
Trefoil Park
Fargo Reference Map
Fargo North Dakota is a northern city that has a lot to offer. This map is designed to help you stay on top of things. Because if you're planning a trip to the Fargo area, then you've come to the right place. The following Fargo North Dakota map shows the boundaries of the city in relation to other cities, towns, and villages.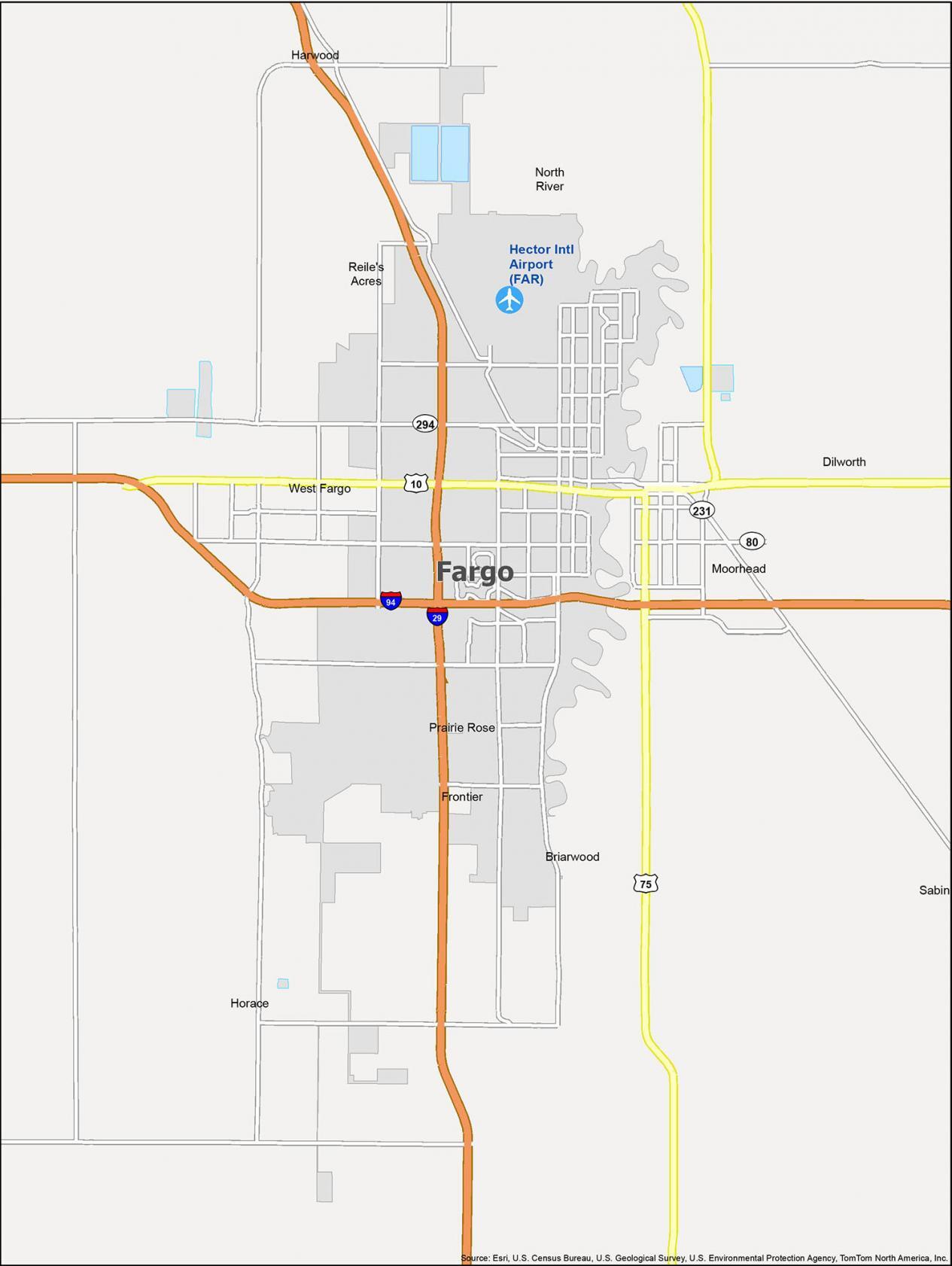 Airport: Hector International Airport (FAR)
Cities: Briarwood, Dilworth, Fargo, Frontier, Harwood, Horace, Moorhead, North River, Prairie Rose, Reile's Acres, Sabin, West Fargo
Water Features: Red River
North Dakota map collection