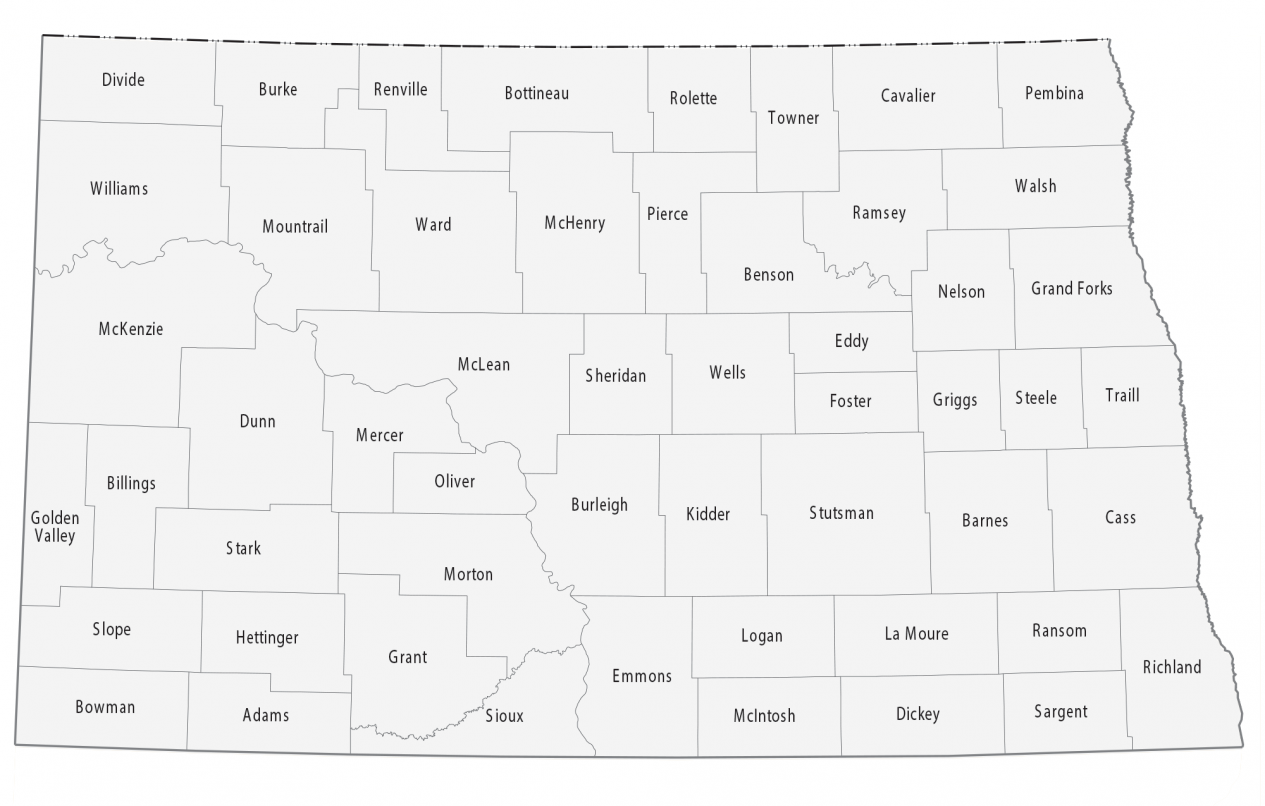 About the map
This North Dakota county map displays its 53 counties. Cass, Burleigh, and Grand Forks County have the highest population of all counties in North Dakota.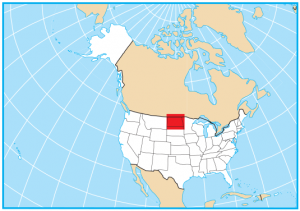 Cass County has the highest population with an estimated population of 181,923 with the major city of Fargo, North Dakota. But the least populated is Slope County with just 750 residents. In fact, it has such few people that it's ranked as the 21st least populated county in the United States.
In terms of size, McKenzie County is the largest with an area of 2858.2 square miles. This farming and oil county borders the east boundary of Montana. Conversely, the smallest county in North Dakota is Eddy County with an area of 643.8 square miles in size.
North Dakota map collection
You are free to use our county map of North Dakota for educational and commercial uses. Attribution is required. How to attribute?
North Dakota County List
| County Name | Population (2020 est) | County Map | Area (sq mi) | Locator Map | FIPS Code |
| --- | --- | --- | --- | --- | --- |
| Adams County | 2,188 | Adams County | 988.7 | Adams County Map | 38001 |
| Barnes County | 10,402 | Barnes County | 1513.4 | Barnes County Map | 38003 |
| Benson County | 6,762 | Benson County | 1439.5 | Benson County Map | 38005 |
| Billings County | 890 | Billings County | 1153.5 | Billings County Map | 38007 |
| Bottineau County | 6,287 | Bottineau County | 1697.8 | Bottineau County Map | 38009 |
| Bowman County | 2,986 | Bowman County | 1167 | Bowman County Map | 38011 |
| Burke County | 2,118 | Burke County | 1128.9 | Burke County Map | 38013 |
| Burleigh County | 96,212 | Burleigh County | 1668.4 | Burleigh County Map | 38015 |
| Cass County | 183,904 | Cass County | 1767.6 | Cass County Map | 38017 |
| Cavalier County | 3,713 | Cavalier County | 1509.9 | Cavalier County Map | 38019 |
| Dickey County | 4,705 | Dickey County | 1142.2 | Dickey County Map | 38021 |
| Divide County | 2,277 | Divide County | 1294.5 | Divide County Map | 38023 |
| Dunn County | 4,465 | Dunn County | 2082 | Dunn County Map | 38025 |
| Eddy County | 2,179 | Eddy County | 643.8 | Eddy County Map | 38027 |
| Emmons County | 3,187 | Emmons County | 1558 | Emmons County Map | 38029 |
| Foster County | 3,165 | Foster County | 646.8 | Foster County Map | 38031 |
| Golden Valley County | 1,737 | Golden Valley County | 1002.4 | Golden Valley County Map | 38033 |
| Grand Forks County | 69,481 | Grand Forks County | 1439.3 | Grand Forks County Map | 38035 |
| Grant County | 2,215 | Grant County | 1665.4 | Grant County Map | 38037 |
| Griggs County | 2,207 | Griggs County | 716.5 | Griggs County Map | 38039 |
| Hettinger County | 2,438 | Hettinger County | 1133.8 | Hettinger County Map | 38041 |
| Kidder County | 2,458 | Kidder County | 1432.9 | Kidder County Map | 38043 |
| LaMoure County | 4,033 | LaMoure County | 1150.9 | LaMoure County Map | 38045 |
| Logan County | 1,880 | Logan County | 1011.2 | Logan County Map | 38047 |
| McHenry County | 5,695 | McHenry County | 1911.5 | McHenry County Map | 38049 |
| McIntosh County | 2,440 | McIntosh County | 994.7 | McIntosh County Map | 38051 |
| McKenzie County | 15,242 | McKenzie County | 2858.2 | McKenzie County Map | 38053 |
| McLean County | 9,416 | McLean County | 2329.4 | McLean County Map | 38055 |
| Mercer County | 8,174 | Mercer County | 1112 | Mercer County Map | 38057 |
| Morton County | 31,503 | Morton County | 1942.2 | Morton County Map | 38059 |
| Mountrail County | 10,502 | Mountrail County | 1941.3 | Mountrail County Map | 38061 |
| Nelson County | 2,789 | Nelson County | 1009.1 | Nelson County Map | 38063 |
| Oliver County | 1,926 | Oliver County | 730.1 | Oliver County Map | 38065 |
| Pembina County | 6,658 | Pembina County | 1121.3 | Pembina County Map | 38067 |
| Pierce County | 3,928 | Pierce County | 1082.3 | Pierce County Map | 38069 |
| Ramsey County | 11,388 | Ramsey County | 1300.9 | Ramsey County Map | 38071 |
| Ransom County | 5,173 | Ransom County | 863.7 | Ransom County Map | 38073 |
| Renville County | 2,283 | Renville County | 892.7 | Renville County Map | 38075 |
| Richland County | 16,156 | Richland County | 1445.9 | Richland County Map | 38077 |
| Rolette County | 14,165 | Rolette County | 939.5 | Rolette County Map | 38079 |
| Sargent County | 3,913 | Sargent County | 866.9 | Sargent County Map | 38081 |
| Sheridan County | 1,275 | Sheridan County | 1005.6 | Sheridan County Map | 38083 |
| Sioux County | 4,173 | Sioux County | 1128.9 | Sioux County Map | 38085 |
| Slope County | 747 | Slope County | 1219.2 | Slope County Map | 38087 |
| Stark County | 32,107 | Stark County | 1340.2 | Stark County Map | 38089 |
| Steele County | 1,890 | Steele County | 715.5 | Steele County Map | 38091 |
| Stutsman County | 20,498 | Stutsman County | 2297.9 | Stutsman County Map | 38093 |
| Towner County | 2,108 | Towner County | 1041.7 | Towner County Map | 38095 |
| Traill County | 7,959 | Traill County | 862.6 | Traill County Map | 38097 |
| Walsh County | 10,437 | Walsh County | 1294 | Walsh County Map | 38099 |
| Ward County | 68,466 | Ward County | 2056 | Ward County Map | 38101 |
| Wells County | 3,709 | Wells County | 1290.4 | Wells County Map | 38103 |
| Williams County | 38,700 | Williams County | 2150.7 | Williams County Map | 38105 |
References