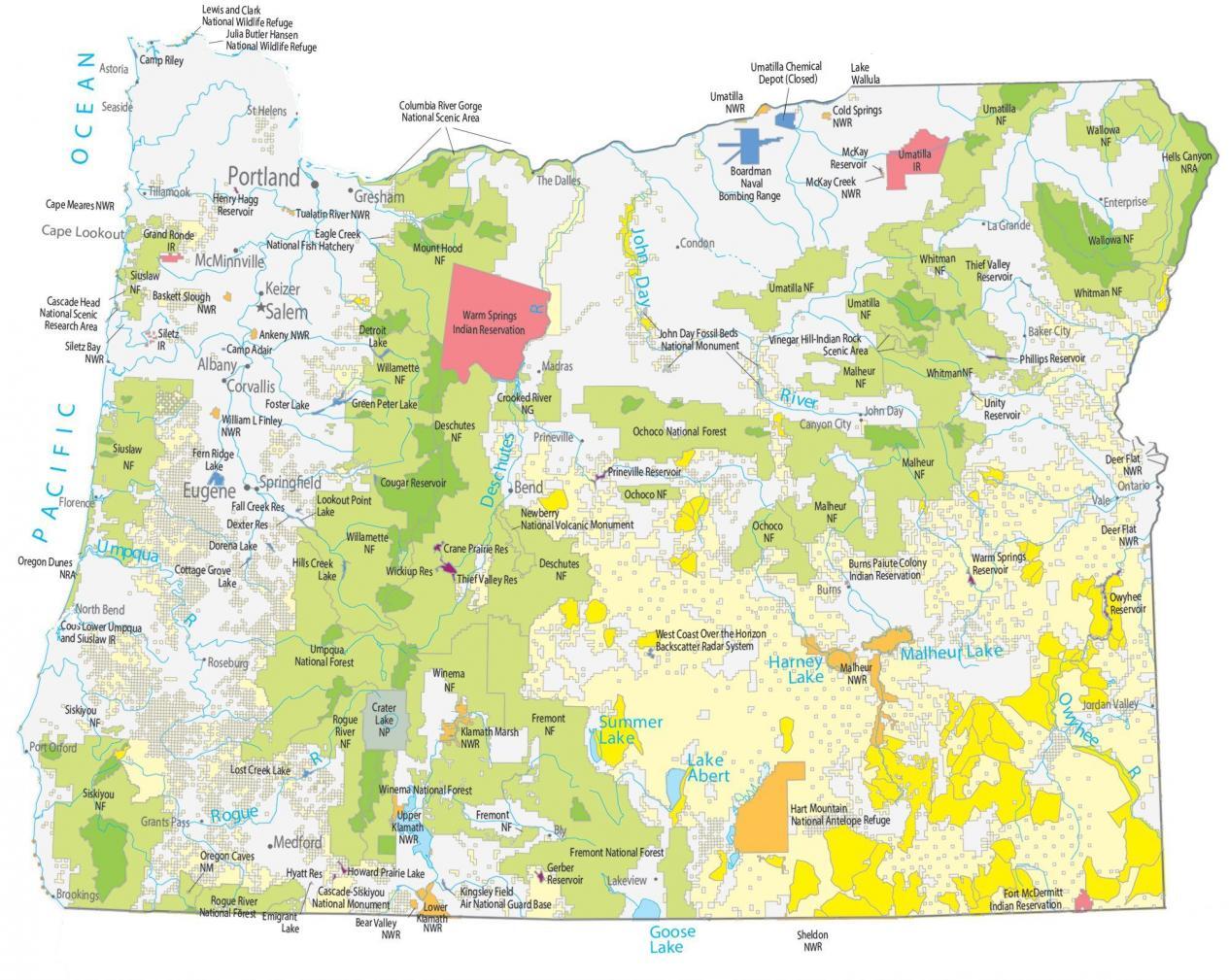 Download
You are free to use our reference map of Oregon for educational and commercial uses. Attribution is required. How to attribute?
About the map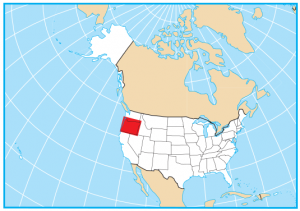 This Oregon State Map shows major landmarks and federal lands in Oregon such as national parks, forests, monuments, preserves, wildlife refuges, and military bases. And as you can see, Oregon is absolutely jam-packed with forests, parks, and preserves!
Take a look: Oregon has 11 national forests, 21 national wildlife refuges, a national scenic area, and a national grassland. There is just so much wilderness to explore! But which one should you see? First, we'd recommend Crater Lake.
It's big national park is the one-and-only Crater Lake National Park. This park formed 7,700 years ago after a violent eruption triggered the collapse of its peak. No lake in the United States is deeper than Crater Lake and it goes uncontested for its intense blue color.
Oregon map collection
Oregon Maps
City Maps in Oregon
Federal lands
National Park (NP)
Crater Lake National Park
National Forests (NF)
Klamath NF
Fremont NF
Winema NF
Siskiyou NF
Rogue River NF
Umpqua NF
Malheur NF
Whitman NF
Willamette NF
Ochoco NF
Deschutes NF
Siuslaw NF
Umatilla NF
Mount Hood NF
Wallowa NF
National Wildlife Refuge (NWR)
Sheldon NWR
Klamath Marsh NWR
Bear Valley NWR
Lower Klamath NWR
Upper Klamath NWR
Malheur NWR
Deer Flat NWR
William L Finley NWR
McKay Creek NWR
Umatilla NWR
Cold Springs NWR
Baskett Slough NWR
Siletz Bay NWR
Tualatin River NWR
Ankeny NWR
Lewis and Clark NWR
Julia Butler Hansen NWR
Cape Meares NWR
Oregon Islands NWR
National Monuments (NM)
Cascade-Siskiyou NM
Oregon Caves NM
John Day Fossil Beds NM
National Recreation (NRA)
Oregon Dunes NRA
Hells Canyon NRA
Other Landmarks
Hart Mountain National Antelope Refuge
Crooked River National Grassland
Newberry National Volcanic Monument
Vinegar Hill-Indian Rock Scenic Area
Eagle Creek National Fish Hatchery
Cascade Head National Scenic Research Area
Columbia River Gorge National Scenic Area
Cape Lookout
Oregon lakes, rivers and reservoirs
Lakes and reservoirs
Howard Prairie Lake
Emigrant Lake
Hyatt Reservoir
Gerber Reservoir
Warm Springs Reservoir
Lost Creek Lake
Owyhee Reservoir
Fall Creek Reservoir
Dexter Reservoir
Lookout Point Lake
Hills Creek Lake
Crane Prairie Reservoir
Wickiup Reservoir
Harney Lake
Malheur Lake
Prineville Reservoir
Pacific Ocean
Thief Valley Reservoir
Fern Ridge Lake
Dorena Lake
Cottage Grove Lake
Foster Lake
Cougar Reservoir
Thief Valley Reservoir
McKay Reservoir
Unity Reservoir
Phillips Reservoir
Detroit Lake
Green Peter Lake
Lake Wallula
Henry Hagg Reservoir
Goose Lake
Summer Lake
Lake Abert
Rivers and streams
Columbia River
Umpqua River
Deschutes River
Rogue River
John Day River
Owyhee River
Indian Reserves (IR)
Fort McDermitt IR
Burns Paiute Colony IR
Coos Lower Umpqua and Siuslaw IR
Umatilla IR
Warm Springs IR
Siletz IR
Grand Ronde IR
Army, naval and military
Kingsley Field Air National Guard Base
West Coast Over the Horizon Backscatter Radar System
Umatilla Chemical Depot (Closed)
Boardman Naval Bombing Range
Camp Adair
Camp Riley
Oregon Map – Landmarks and places
Portland
Albany
Bend
Corvallis
Keizer
Medford
Springfield
Gresham
McMinnville
Eugene
Salem
Astoria
Baker City
Brookings
Burns
Canyon City
Condon
Enterprise
Florence
Grants Pass
John Day
Jordan Valley
La Grande
Lakeview
Madras
Newport
Ontario
Port Orford
Prineville
Roseburg
St Helens
Seaside
Tillamook
Vale
North Bend
Bly
The Dalles
State capital
Salem
References
Maps of America
A United States federal lands map where the US government owns. It includes national parks, Indian Lands, national forest and fish/wildlife.
From Alabama to Wyoming, we display all 50 US states and capital cities. This United States map with capitals is a simple representation of continental US.
Check out the US temperature map to visualize how climate varies across the United States of America. Each one is derived from NESDIS, a branch of NOAA.
Oregon Maps
City Maps in Oregon
US State Maps
Select a state to view its map